Gambling Stories
U.S. Open 2022: I bet (big time) on the most random group at Brookline, and sweating it in person was insanely fun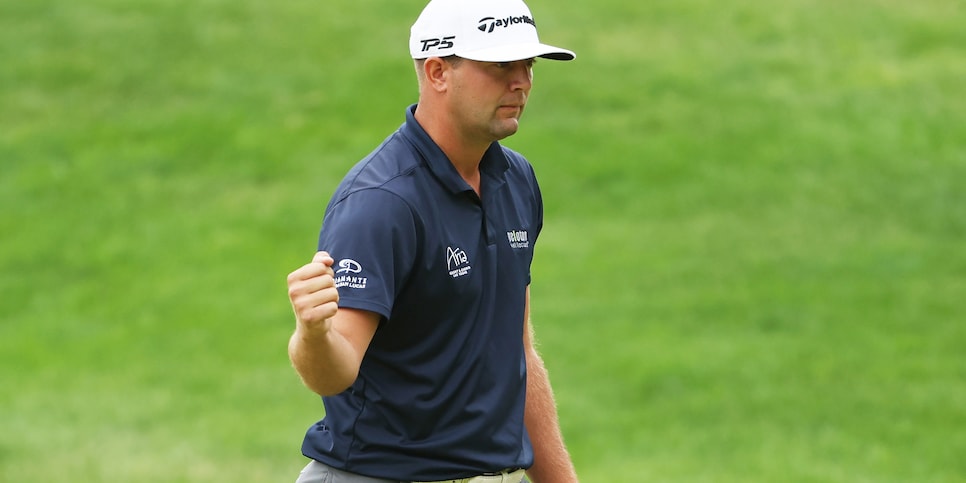 BROOKLINE, Mass. -- Rule No. 1 of sportswriting is no cheering in the press box. So placing a bet on an event you're covering is tricky.
Of course, journalists have been betting on the sports they cover in Europe for decades. Sports betting has been legal over there forever. I'll never forget the story of Tom Callahan cashing in big on a parlay on Phil Mickelson winning the 2004 Masters (more details at the end of this story), then Phil finding out about it. It was the stuff of legend around the Golf Digest office.
Being Golf Digest's gambling editor, of course I placed a few bets in New Jersey before driving up to Boston to cover the U.S. Open. One of my big wagers … wait for it … was Taylor Montgomery to beat Sean Crocker and Jediah Morgan in a Day 1 three-ball matchup. Why? Well, I got a tip from a friend, and we gamblers are always looking for an edge—even if it's a wager on three guys who I had never seen hit a golf shot.
It was an all-time experience.
I'll touch on the details below, because it really was quite entertaining. I even got to talk to Montgomery after they finished playing, knowing that he's from Vegas, and that he'd probably appreciate the story. After I introduced myself and asked him in general about the round, I told him about my bet and he let out a long laugh. "That's so funny man, wow."
More than anything, it made me truly believe that if more people got to watch every shot of every player in every event (like we do at some tournaments like the Masters or the Players), it would convert more people into golf gamblers, which in turn would create more golf fans.
I say this because this was one of the most satisfying experiences I've had gambling on sports. And I was just alone walking the course with a group of three names that I'd venture to say very few of the tens of thousands of fans at Brookline even knew. So. Much. Fun.
First, here's why I bet on this random group:
Like I said, I wouldn't ignore a tip. My guy @pennycheck on Twitter pointed out that Montgomery was +110 in his three-ball matchup (a $100 wager would net $110), and the 27-year-old really should've been favored by much more. Morgan had missed five of his past 10 cuts on the Australasia PGA Tour, and Crocker had made only two cuts in 2022. Meanwhile, Montgomery had five top-10 finishes in 12 starts on the Korn Ferry Tour. I used his tip and wrote about it in our pre-tournament prop bets post. Like I said, the bet hit by nine shots; Montgomery shot a 3-over 73 while Morgan shot an 82 and Crocker had 83.
On Thursday night, when most sportsbooks posted Thursday three-ball matchups, there was one group missing. Enough people must've taken Vegas to the cleaners. I eventually found one book to take my money Friday. Though the odds were less attractive (-125, so a $100 bet would now net $80), I was locked in.
Montgomery was three strokes up on Crocker and Morgan through 13 holes for the round when I left the media center. I was in comfortable shape, but anything can happen at a U.S. Open with five holes to go.
You really can't make up what happened next. Montgomery had a difficult bunker shot left of 14 green, but he escaped to nine feet. He missed the putt, a hit of a dagger but not a problem. But then he missed the two-footer. A violent rim-out. Suddenly, after the three-putt for a double bogey and a Crocker birdie, the three-shot lead was gone.
As I muttered: "oh my god" to myself as Montgomery cleaned up his putt for double, I heard one fan saying to another after seeing the walking scorer "+16 and +17? This is not the group you want to follow."
15th tee: Montgomery, +3; Crocker; Morgan, +4
At this point, I was in shock at what I was watching … I could only imagine how Montgomery felt. He was playing great, trending toward making the cut at the U.S. Open, but now he was just punched in the gut.
He was last to hit on 15, and he fanned his shot way right and short. I heard another fan mutter: "That's why you're +15." Again, sir, if you only knew. Montgomery's one of the most talented young players on the Korn Ferry Tour, who will almost assuredly be on the PGA Tour next season. He's eighth on the current points list (the top 25 guys at the end of the regular season get PGA Tour status).
Next, another gut punch. Montgomery had to lay up from a lie in the deep rough and missed a long-ish par putt. Meanwhile, Morgan stuck his approach to two feet. As polite applause rained out, I couldn't believe it. The guy had bogeyed seven of his first nine holes, but he was heating up, somehow making his third birdie in six holes. And now, he was BEATING Montgomery.
To make matters worse, Crocker nearly holed a cross-green, 60-footer for birdie, too. Why do I gamble popped into my head? I texted my buddies: "This is getting tragic." Being the unbiased journalist I am, I soldiered on, now sensing I might have a heckuva heartbreaking story on my hands.
16th tee: Montgomery, +4; Morgan, +3; Crocker, +3
This is where it all turned around. Somehow. Montgomery, hitting last, stuck his tee shot on the par 3 to inside three feet.
As I walked up to the green, a polite New England couple said to me: "You need to see this lie!" They were referring to Morgan, who had a brutal fried egg in the bunker. "I'd never be able to get this out," the wife said.
"Maybe he should take an unplayable," I suggested to them. "He's in dead-last place, and he shouldn't risk hurting himself being (checks phone) 12 shots off the cut line." OK, that was me being a little biased, but I was just having a little fun. They laughed and nodded.
I was not unhappy when Morgan made bogey (expected), but Crocker from about 40 feet three-putted (unexpected). Montgomery poured in the birdie putt, and all of a sudden, I had LIFE again—what a big-time reversal!
17th tee: Montgomery, +3; Morgan, +4; Crocker, +4
The oohs, ahhhs and laughs of disbelief were warranted as Montgomery hit a piercing, drawing fairway wood off the tee that left him about 50 yards for his second on the historic par 4. Incredible. He hit a flip wedge to six feet and calmly made another birdie.
Morgan went from bunker to bunker around the green, so his bogey left him three back and out of it. Crocker made a nice up-and-down par to stay within two shots and keep me from celebrating anything early.
18th tee: Montgomery, +2; Morgan +5; Crocker, +4
Again, Montgomery—who averages 309.8 yards off the tee, which ranks 23rd on the KFT—hit a PURE fairway wood, but he expected it to cut and the wind held it up. He found the menacing bunker complex on the left side of the fairway. Uh oh …
I resisted the urge to fist pump as Crocker pulled his tee shot wayyy left. Phew. He was fortunate not to need to drop, but all he had was a chip out into the fairway.
At this point, the group—who was first off the first hole at 6:45 a.m. on Friday—had caught another group … and they had at least five minutes to wait before hitting their approaches.
I was so struck by Montgomery's poise. Here he was, at four-over for the tournament, with a par probably meaning he'd play the weekend at the U.S. Open and having a chance at a life-changing week. Maybe I had a big bet (for me) on the line, but it was for actual pennies compared to Montgomery's stakes. And yet now my stomach was in knots. These guys don't get enough credit for handling these nerves.
Montgomery stood across the fairway, laughing with his caddie/father, Monte, who's actually the GM at Shadow Creek. Amazing … they had this super long wait to see whether or not they'd get to spend Father's Day playing in the U.S. Open together … an experience any father/son would dream about. And it was super casual.
The green finally cleared, and Montgomery clipped his approach so cleanly from the bunker, but the wind gusted big time, and he ended up in the sand short of the green.
OK, this would probably be fine, I thought as I walked up there. And it was, although not without a little drama. Morgan holed his chip shot for birdie, which led to a resounding applause to which I wasn't sure who it applied. And Crocker holed a 17-footer for par. Montgomery would go on to make a bogey, but it was still good enough for a one-shot victory over both his playing competitors.
In the end, it was of the best betting sweats I've had, and I got to enjoy every shot of it in person.
I caught Montgomery after the round as he was walking out of scoring. I told him I was following his group and how impressive his tee shots on 16 and 17 were. "Yeah, I knew I probably needed to birdie the last three holes to make the cut," he said. And he nearly did. A huge gust of wind prevented him from having a chance.
"I knew I had to hit really high to have a chance of landing it soft, and we wanted to wait till the wind died down, but yeah, that was tough."
Again, for just a bit more context, Montgomery finished 26th on the Korn Ferry Tour points list last season—and he opted to play the U.S. Open at Torrey Pines instead of a KFT event. If he would've made the cut in the KFT event he skipped, it would've been a virtual certainty he would've finished inside the top 25.
A year later, here he was, again, a heartbreak kid at the U.S. Open, missing the cut by just one. But he couldn't have been cooler when I explained he won me my three-ball bet for the second straight day.
"Golf gambling's fun," he said. "And anything can happen at any time."
It really, really can. Now quickly to finish the Callahan/Mickelson story. Callahan made about $74,000 on a free parlay wager he earned by virtue of a book he wrote in 2003. He parlayed Sean Penn to win Best Actor for "Mystic River" (Penn won) with Phil Mickelson to win the 2004 Masters at 28-1.
When Phil was told about Callahan's bet, he had an even better reaction than Montgomery. Phil said: "After me, he's got to be the second-happiest I won."
One more quick Callahan betting story (courtesy of our longtime executive editor Mike O'Malley): He also hit a nice one on Ernie Els (his guy) at Royal Lytham: The week before, Golf Digest's John Huggan told Ernie, "I've got bad news. Callahan's picking you next week." When Els came into the press room after he won, he looked at Callahan and asked, "How much did you make?" "Nine hundred quid," Callahan said. "You're better than General Motors."
A similar sweat, but just like Callahan, I think I proved that it's OK for a sportswriter to have some skin in the game in the press box.
MORE U.S. OPEN COVERAGE FROM GOLF DIGEST