1 / 5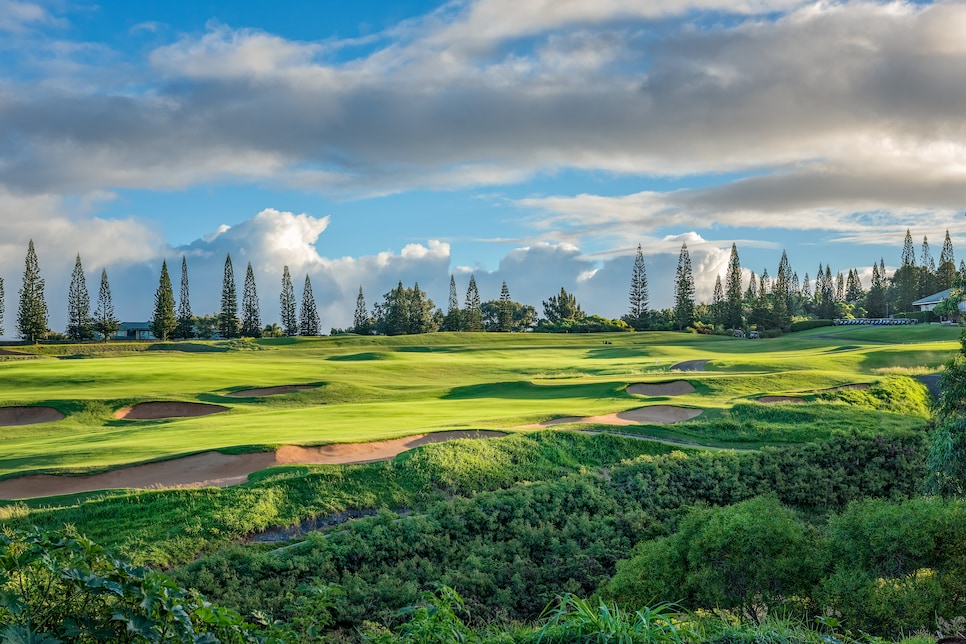 2 / 5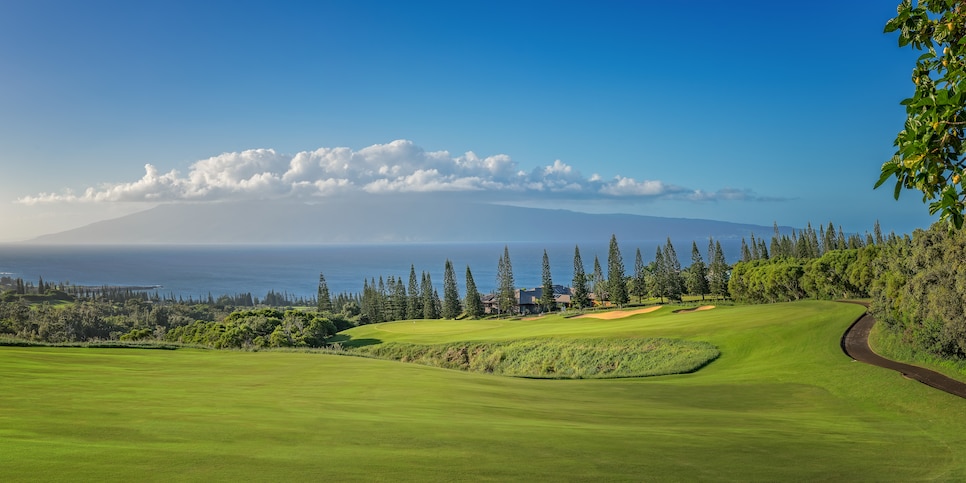 3 / 5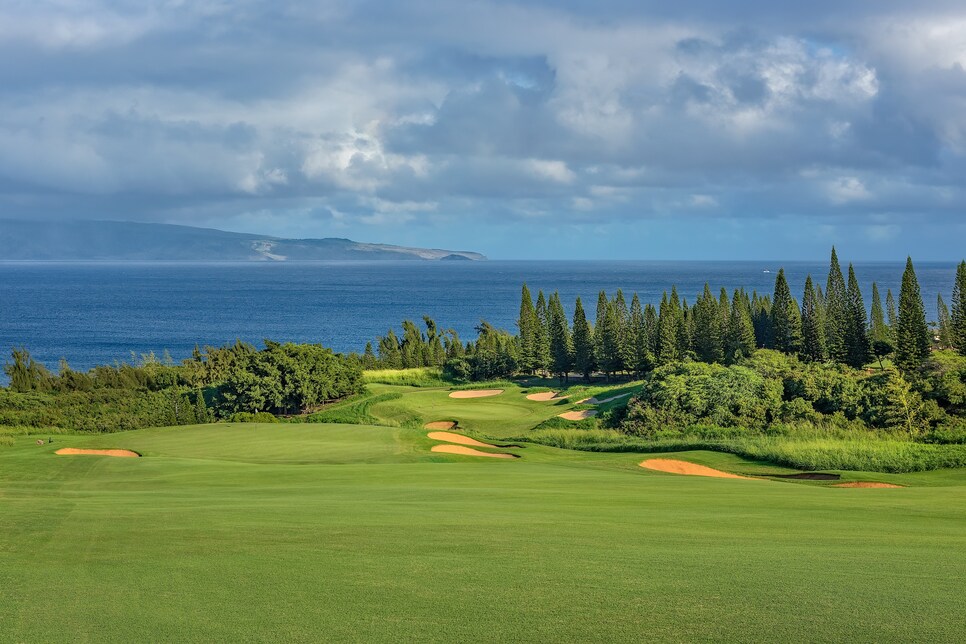 4 / 5

5 / 5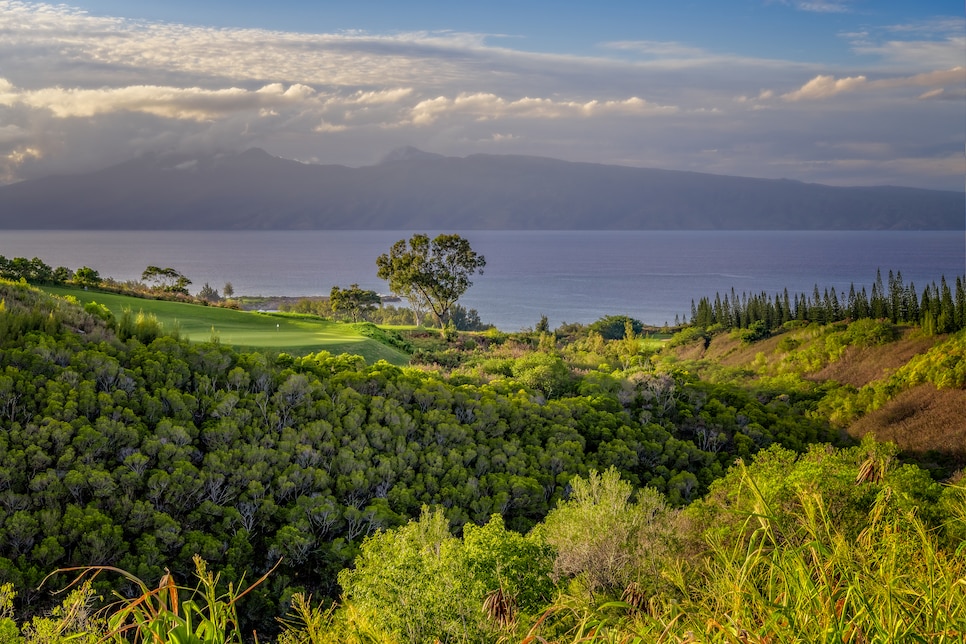 Overview
From Golf Digest Architecture Editor emeritus Ron Whitten:
Most golf fans are familiar with Kapalua Golf Club's Plantation Course, home of the PGA Tour's opening event each year. Located on the north shore of the Hawaiian island of Maui, the Plantation was built from open, windswept pineapple fields on the pronounced slope of a volcano and is irrigated by sprinklers pressured solely by gravity.

As the first design collaboration by Bill Coore and Ben Crenshaw, it unveiled their joint admiration for old-style courses. The blind drive on the fourth, the cut-the-corner drives on the fifth and sixth are all based on tee shots found at National Golf Links. So, too, are its punchbowl green and strings of diagonal bunkers. It's also a massive course, built on a huge scale, Coore says, to accommodate the wind and the slope and the fact that it gets mostly resort play.

So it's a big course. But what sets it apart in my mind are the little things. When I played the course years ago with Coore, it took only one hole for me to appreciate one of its subtleties. We were on the tee of the par-3 second, an OK hole but nothing riveting, nothing like the canyon-carry par-3 eighth or the ocean-backdropped par-3 11th. The second sits on a rare flat portion of the property. The green sits at a diagonal, angling left to right, and there's a string of bunkers staggering up the right side of the green. The first bunker appears to be directly in front of the green but is actually 40 yards short of it. When pointed out to me, I called it Gingerbread. Bill disagreed.

"The wind quarters off your left shoulder from behind you," he pointed out. "The green goes ever so slightly away from you from front to back and left to right. It is a very obvious situation, given the wind condition and the angle of this green; you know you should hit a shot left-to-right to fit the shot with the green.

"But if the flag is at the front, there's no way to fly that ball all the way to the hole and stop it close. You may stop it somewhere on the green, but nowhere within a reasonable putt. So you have to aim short of the green. They maintain the approaches so beautifully over here—firm approaches mowed at probably a quarter of an inch; you can literally putt from out there if you chose to do so.

"But that brings that first bunker in play," Coore continued. "When the flag is up front, you are absolutely required to land your ball just over that first bunker in order to get it to bounce and run to that front pin position."

Kapalua's second is a simple-looking hole with a great deal of thought behind it. I suppose a lot of present-day architects would not have placed that forwardmost bunker on the hole, in the interests of playability for high-handicap resort golfers. But most of the old-time architects probably would have used such carry bunkers, especially in the days before irrigation, when greens were hard as a rock and every approach shot had to be bounced aboard.

Another reason why studying the history of architecture might just help your score.

About
Designer
Ben Crenshaw/Bill Coore
Awards
Second 100 Greatest: Ranked since 2015.
2023-'24 ranking: 149th.
Previous ranking: 139th.
100 Greatest: Ranked 2011-2014.
Highest ranking: 88th, 2011-'12.
100 Greatest Public: Ranked since the inaugural edition in 2003.
2023-'24 ranking (and previous): 23rd.
Highest ranking: No. 17, 2011-'12.
Best in State: Ranked first, 2011-'12. Ranked second 2013-'16, 2019-'20. Ranked third, 2017-'18, 2021-'22, 2023-'24.
Current ranking: 3rd.
Panelists
Ratings from our panel of 1,900 course-ranking panelists
100 GREATEST/BEST IN STATE SCORES
Reviews
1 / 14
Review
"Big, fun golf course. In the wind, it can be brutal. Super wide fairways add to the fun factor. Playing the right set of tees is critical here. Lots of elevation changes makes it a challenge to choose the right club on approaches."
Read More
2022
2 / 14
Review
"Incredible views throughout the day as the ocean and the neighboring island of Molokai are visible from every shot on the course other than 15 tee. Design variety would be outstanding other than seemingly all par 5's played to about the same yardage when the prevailing wind is blowing....good balance of uphill/downhill, change in hole direction, and dogleg variety throughout all holes. Somewhat forgiving off the tee and w/ approach shots which fits w/ the resort atmosphere of the course. Several standout holes include 5 an uphill dogleg right par 5 around a canyon, 7 a long downhill par 4 dogleg right around a canyon w/ majestic ocean views, 8 a downhill and long par 3 w/ a shallow green complex, 11 a downhill par 3 w/ majestic views of both state park land and the ocean, 17 a long par 4 downhill w/ a generous yet severe green complex, and 18 the long par 5 downhill which doglegs to the left between the clubhouse and a severe droopy again w/ a demanding green complex. Summer trade winds tend to be much more severe than in the winter so difficulty can vary dramatically based on time of year played."
Read More
2022
3 / 14
Review
"Yes, it's fun to play a course that the tour plays, but it can also be very frustrating and not that much fun if you do not know the green complexes and shots to play. The first time I played it I did not think it was that fun, but the views made up for it. The second time I played it I appreciated the course more and understood how I was to play the course, which made it more fun."
Read More
2022
4 / 14
Review
"Kapalua Plantation is one of the most fun rounds I've played. The course plays up and down the mountain more than it looks on TV -- the course and views are spectacular!"
Read More
2021
5 / 14
Review
"Coore and Crenshaw have designed some of the best courses in the USA and world, but Plantation Course falls low on their impressive list. Despite recent renovations, course has too many severely sloping fairways and greens which lead to too many awkward bounces and lies. Course provides many outstanding vistas, but green fee is inappropriately too high (may be the highest in Hawaii for a resort course)."
Read More
2020
6 / 14
Review
"Some of the most iconic views in golf. Despite the hillyness of the property, the Coore-Crenshaw design makes it all work very well. Might be a bit pricey, but a round there will not be forgotten. The course has gotten a touch soft over the years but they are planning to get it back to the orginal firm conditions needed to take full advantage of the prevailing trade winds."
Read More
2018
7 / 14
Review
"Amazing views. Great variety of holes and at least two all-world holes. One of the best in all of Hawaii. A round on the Plantation Course and a Mai Tai afterward are about as good as a day can get."
Read More
2018
8 / 14
Review
"It took great imagination to design this course on such severe land. Forget that the PGA TOUR plays here, it is unwalkable. The only reason they walk it is because golf carts drive them around in places. The course itself is fun and demanding. Watch the slope on both the fairways and greens. They dictate where you hit the ball. Have dinner in the clubhouse. It won't disappoint."
Read More
2018
9 / 14
Review
"Fabulous piece of land, great design work by Coore/Crenshaw, 17 and 18 are great finishing holes."
Read More
2018
10 / 14
Review
"Truly an epic golf course, that never seems to disappoint. Fun golf with some of the best views on the planet. The entire experience from start to finish is impressive. The Pro Shop, professionals, clubhouse, locker room, cart boys, starters, practice range, etc. are all top notch. The weather can be a bit of a thorn in the side, but it is almost always warm, so the trade winds and passing showers can cool things off."
Read More
2018
11 / 14
Review
"Site of the PGA tour's winners only event. Lots of elevation changes that present some interesting shot selections. Often windy which adds to the challenge. Great views of the Pacific Ocean with whales frequently in view."
Read More
2018
12 / 14
Review
"Top to bottom one of the best courses in the state. Demanding but fun, constant views of the Pacific add enjoyment."
Read More
2018
13 / 14
Review
"Fantastic layout and great team and service"
Read More
2018
14 / 14
Review
"Some courses with "big names" are just to hard, others are over rated but this course is challenging and FUN to play. Wide open fairways give forgiveness but makes your second shot difficult if you miss the tee shot. High risk reward type course. The views are incredible. Great practice facilities. Good restaurant. Does not get much better than this."
Read More
2018
Readers
Collection of reviews from our readers
There are no reader ratings yet
Reviews
There are no readers reviews yet. Be the first to write a review.