PGA Championship
PGA Championship 2022: Tiger's humblebrag, Koepka's Beergate take, and Phil thoughts highlight Tuesday interviews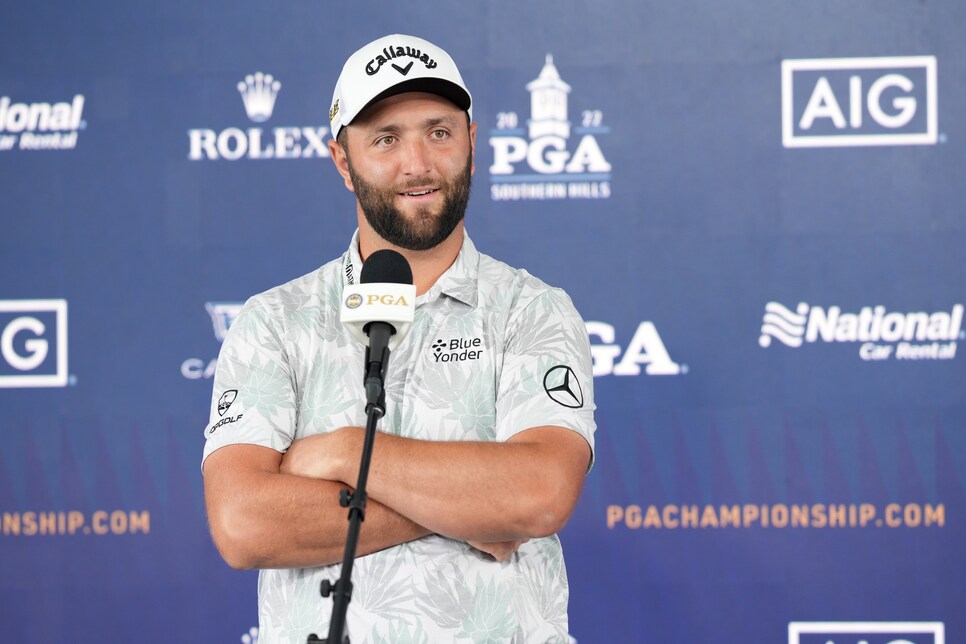 Jon Rahm speaks at press conference for the PGA Championship.
Darren Carroll/PGA of America
TULSA — Tuesday serves as car wash day at the PGA Championship, with player after player paraded through the interview area at Southern Hills. Most discussions centered on the tournament and the course, the presence of a certain 15-time major winner and the absence of a defending champ. But sometimes the interview or interviewee takes a detour, and those detours are what give these interactions life. Here are our favorite moments from Tuesday's media day at the PGA Championship.
Best breakdown of Beergate
For those who missed it—and consider yourself lucky if you did—social media went to town when discovering the concession-stand prices this week at Southern Hills. The highlights, er, lowlights: $15 for a Kona Golden Ale, $18 for Michelob Ultra, $19 for Stella Artois. Wine is a steal for $13 but a seltzer or cocktail will run you $19. Essentially, trendy Tribeca bar prices for a golf event in Tulsa.
Two-time PGA champ and Michelob Ultra spokesperson Brooks Koepka was asked his thoughts on this grave injustice, and Koepka did not disappoint.
"Yeah. Michelob Ultra is 18 bucks, but it's a tall boy, so you get … I mean, it's bigger than the normal 12 ounces, 16 ounces," Koepka said. "It's bigger than the normal ones, so you'll be all right. You drink enough, you'll be fine."
Perhaps a pro-binge drinking message is not what the fine folks of the PGA of America hoped for, but when you choose to charge damn-near 20 bucks for a spiked seltzer, you choose chaos.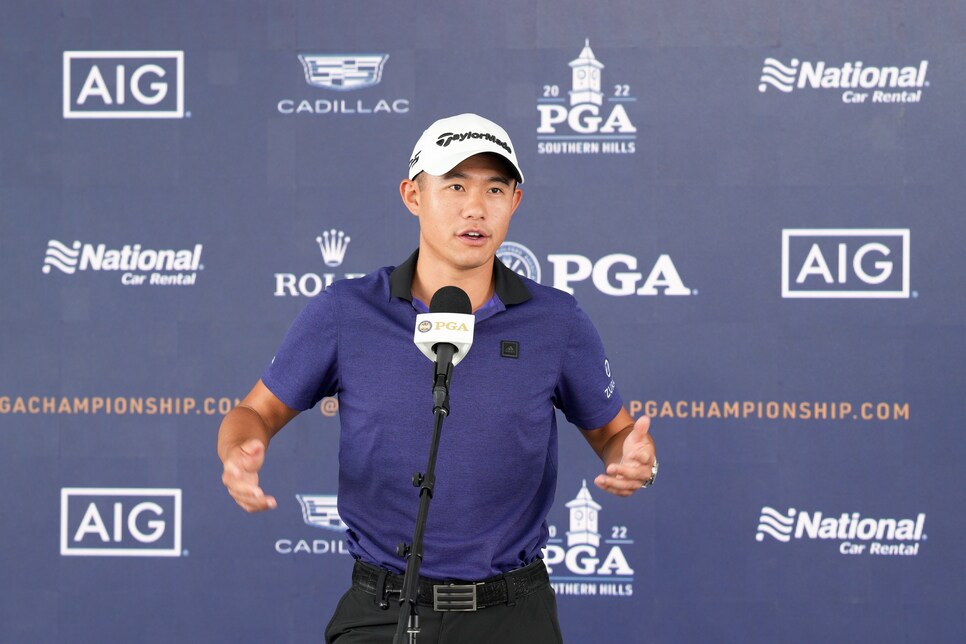 Darren Carroll/PGA of America
Collin Morikawa behind a mic is a lot like Collin Morikawa with an iron: polished, precise, proficient. Even when Morikawa makes the rare mistake he cleans it up so quickly you don't realize he erred in the first place. Such as Tuesday morning, when Morikawa was asked about his curiosity and how that manifests in learning from other players, as the two-time major winner realized his response didn't quite come out the way he wanted.
"Yeah, I'm kind of like a silent hunter. I don't really like go and ask and just like chirp and bother these guys," Morikawa said. "I kind of just watch from afar, which sounds really creepy when I say it. But that's what I do."
Attaway to defuse that explosive, Collin. Also the "Silent Hunter" has a nice ring to it.
The best summation of the Phil situation
Phil Mickelson chose not to defend his PGA title this week, after becoming the oldest player to win a major at the 2021 PGA, continuing his sabbatical from the sport. While there is a lot to unpack from that U-Haul, Rory McIlroy gave the most empathetic response.
"Unfortunate; sad," McIlroy said. "This should be a celebration, right? He won a major championship at 50 years old. It was possibly his last big, big moment in the game of golf. He should be—I think he should be here this week and celebrating what a monumental achievement he achieved last year. It's unfortunate. It's sad. Yeah, I don't know what else I can say."
Second best summation of the Phil situation
"Not here. There's not really much else I can say."
Suppose we should say that's from Koepka, but you already surmised as much, didn't you? It's great because Phil, indeed, is not here. Profound in its brevity. Says a lot without saying anything. And now that this explanation is three times longer than Koepka's quote, let's move on.
Best organic sponsor plug
Jon Rahm leads the PGA Tour in strokes gained/tee-to-green, which shouldn't be a surprise since he led the category last year and was third the season before. The reigning U.S. Open champ was asked about those ball-striking skills and how he's managed to get better, and while Rahm answered earnestly, he also managed to give a shoutout to one of his primary sponsors.
"I think a game changer is the shoes I'm using this year, they're different to last year," Rahm explained. "They're a lot more comfortable. I've done some great work with Equator and the Travis Matthew team, and I think it's allowed me to be a little bit more stable and up my ball speed and my swing speed without being concerned. I think I can keep that speed up first tee shot on Thursday to the last one on Sunday a little bit more consistently. But I haven't really proactively changed anything."
It's worth remembering that Rahm battles serious foot issues, with the Spaniard revealing last year that he was born with a club foot. "I shouldn't wear flat shoes like that because I end up with some pain," Rahm continued. "For any athlete, the only point of contact we have with the ground is our feet, so I think that should be the single most important thing." Still, to give a thoughtful answer that includes an endorsement plug has to make his agent proud.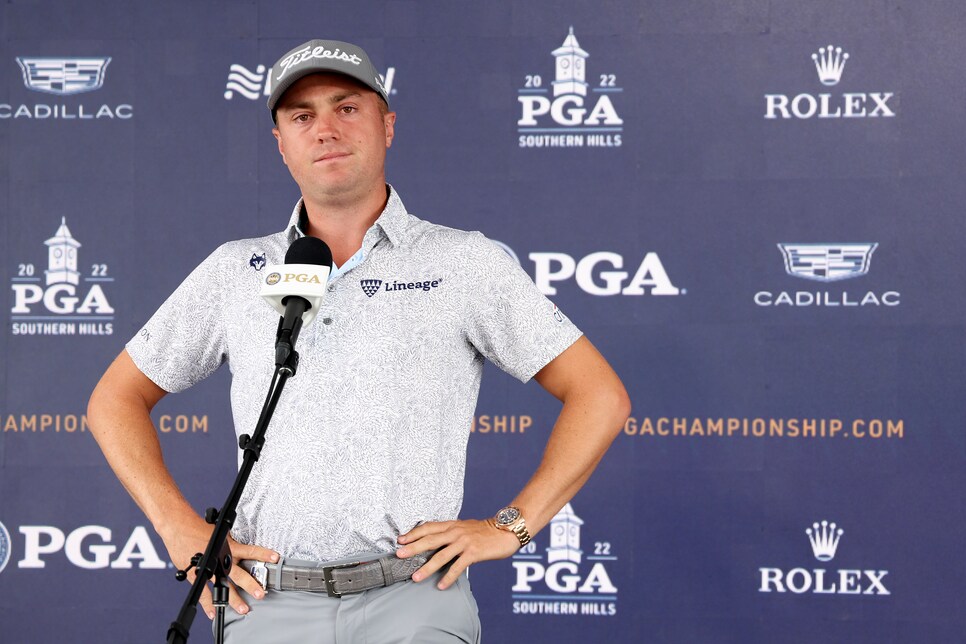 Maddie Meyer/PGA of America
The best realization that time moves fast
On the surface it was a simple question—How long did it take you to get comfortable with bermudagrass?—that should have beget a simple, nonsense response. Instead it produced a response that caused Justin Thomas to have an existential crisis.
"I couldn't give you a timeline but it definitely took through college," Thomas said. "So I mean, at least four—no, two years, wow, forgot about that. I only went to college for two years."
Thomas then looked off into the distance, wondering where time has gone. Perhaps, Thomas thought, with the new Name, Image and Likeness legislation, he still had two years of eligibility remaining. He could return to Tuscaloosa and join the football team. Alabama's special teams are historically a sore point; maybe he could be a punter or heck even a kicker. And he could have the chance to convert the game-winning field goal against Aubur…
Thomas snapped back into reality with the next question, but it's clear that Thomas is now questioning every decision he's ever made. (Note: This may or may not be a slight dramatization of what unfolded.)
Best "you miss every shot you don't take" remark
Cameron Smith's birdie at the 11th on Sunday at the Masters seemingly set up a mano-e-mano battle with Scottie Scheffler over the final seven holes; alas, Smith hit a ball in Rae's Creek, walked away with a triple and the coronation of Scheffler began.
But asked if he had any regrets about what went down at Augusta, Smith replied he'd do it all again.
"No, I wouldn't say I regret anything," Smith said. "I think there are shots that you have to hit to win golf tournaments, and sometimes they just don't work out. Frustrated, yes, for a little bit, but definitely no regrets."
That is golf's version of the Wayne Gretzky/Michael Jordan/Michael Scott "You miss 100 percent of the shots you don't take" quote. Or maybe it's the Aussie, "no worries" mentality. And it probably helps that Smith has won nearly $7 million this year. Anyways … carpe diem!
Best reminder that Patrick Cantlay is a national treasure
This was how Cantlay's press conference started:
Q: What was your familiarly with Southern Hills before this week?
CANTLAY: I played the 2009 U.S. Amateur here.
Q: Can you remind of us of your finish, how you played that week?
CANTLAY: I shot two rounds in the 80s and went home early.
He answered another dozen or so questions but it would have been high comedy if Cantlay decided to walk off at the moment.
Best sign that Tiger is back
There are a number of benchmarks—statistical, observational, sentimental—to denote Tiger Woods is truly "back." However, the surest sign that Woods is trending in the right direction is a patented "dad-joke-disguised-as-humblebrag" drop early in his press conference. Woods was asked if he was able to continue training following the Masters or if he needed a lull to recover.
"Yeah, there was a huge lull, Monday," Woods said with a grin. "That was it. That was it. Monday, it was not fun. It hurt. Ice baths and just trying to get the swelling out of there.
"Then we went back at it, leg day on Tuesday and we kept going from there. Said, let's go. Figured the first mountain you climbed was Everest. That's the steepest golf course you're going to play and that was the first one you climbed it, and climbed. It's going to get flatter and better. But still, I still have tough days, and things aren't going to be as easy as people might think.
"But I feel like I'm doing better. I'm having more days in which are better, more positive. Able to practice a little bit longer. So I'm able to do activities and things that I was hoping to do, and I'm finally able to do them."
In short expect Woods to win by six this week.
MORE PGA CHAMPIONSHIP COVERAGE FROM GOLF DIGEST