Year in Review
9 'things' that help tell the story of golf in 2021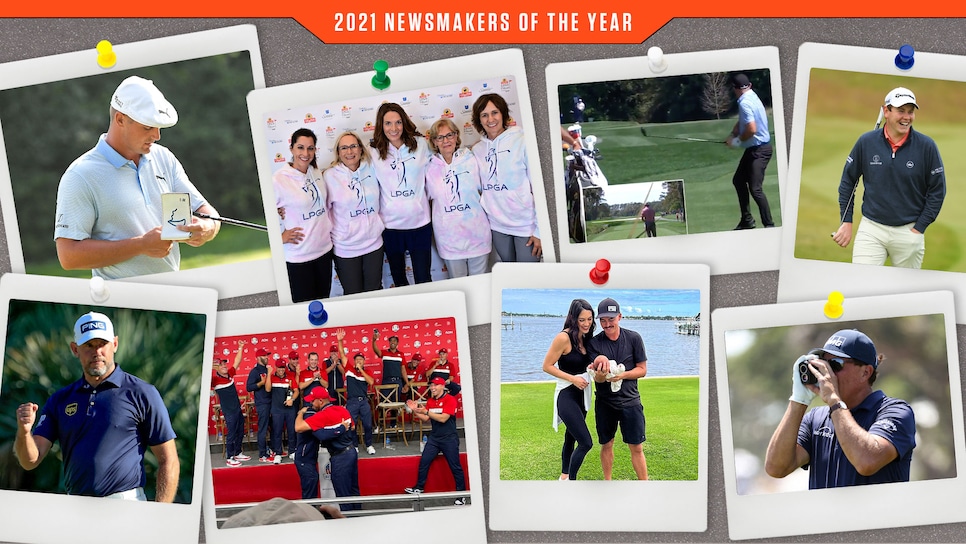 A few years ago, our team at Golf Digest came up with a new category to explore during our annual review of the golf season. We labeled it the things that helped define the year. And by "things" we meant just that: not individuals or tournaments themselves, but the stuff that had its own moments the previous 12 months. Granted, that's about as vague a designation as one can imagine, but it actually can be quite entertaining to research and recall things … and hopefully just as entertaining to read.
So here they are, and if you have a problem with babies or playoffs being "things," we're volunteering you to write this "thing" next year.
You can make a reasonable argument that handheld rangefinders, especially at the recreational level, are the single-best development in golf since the drink cart. And several tour pros would probably agree. The younger ones have used them since their junior golf days, and they're as ubiquitous in practice rounds as coaches strolling the fairways. The PGA of America took that into account in deciding to allow competitors to use them in its three largest championships in 2021, with plans to continue to do so in the future. Webb Simpson was strongly opposed to rangefinders before this year's PGA at Kiawah, but after only two rounds he flipped. Indeed, the reaction overall was fairly supportive of the change, though the jury is still out on whether it achieved one main objective: speeding up the pace of play. Unless the caddie lobby gets a lot louder quickly, it seems the PGA Tour and LPGA might not be far behind in buying in as well.
The image has become frustratingly familiar to golf viewers: A player and his caddie stand looking at a putt, and instinctively they reach for their green-reading notebook. Why not? The book is a gold mine of information about the degree of slope and break on any roll. But is it so detailed as to take the skill out of the game? In other words, is it too good? And does ruin the flow of a round? The PGA and European Tours thinks so, and late in 2021, the USGA and R&A created Model Local Rule G-11 so that these top tours could reign in their use. Starting in 2022, tour players will receive each week an approved, simplified version of a yardage book that will have far little green detail. Rory McIlroy is among those pleased, noting in June, "I think reading greens is a real skill that some people are better at than others, and [the book] just nullifies that." How players and caddies use the notes they've gathered over the years seems a bit murkier, and could there be on-course dustups over who is using what info? Maybe. John Woods, a longtime tour caddie turned on-course commentator, wrote for GolfChannel.com, "Greens books are an advancement in the game, like forgiving drivers and balls that go forever … ; like launch monitors, like distance/slope measuring devices. Why is the line drawn here? Why go backwards here?" If the books have been a crutch, expect more frustrated hand-waving and eye-rolling when a player misses that "perfect" putt.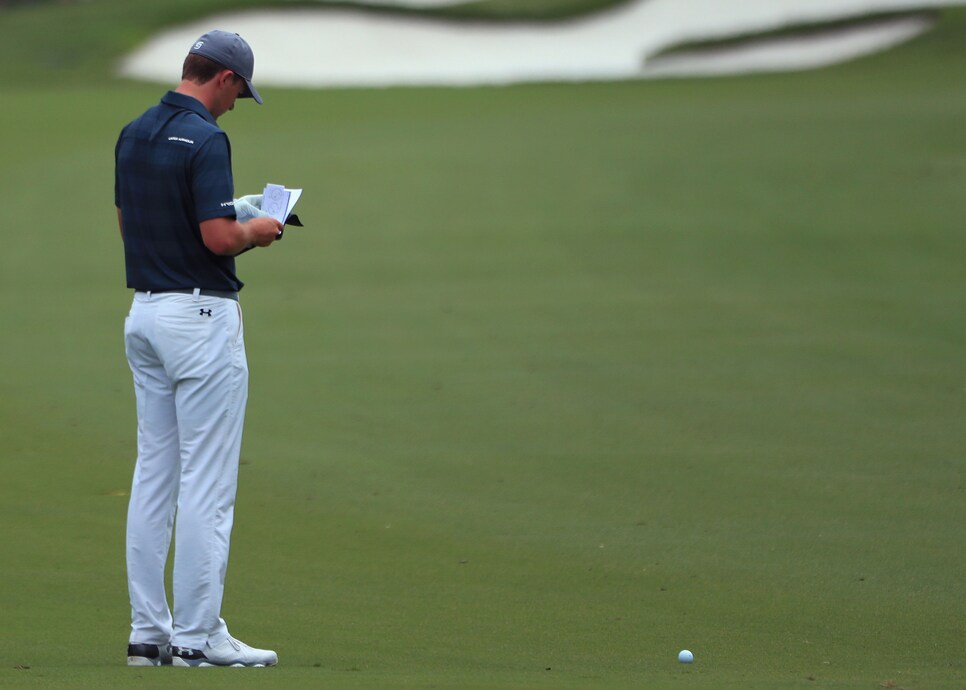 PGA Tour pros will have to do some adjusting in 2022 when the info in green-reading books will be severely reduced.
Tom Pennington
It was a busy year for the creation of high-profile "local rules," with the USGA and R&A announcing in October that tournament organizers could limit driver length beginning in 2022. It's a movement driven once again by the pro circuits, and the PGA Tour and LPGA jumped on board. Players won't be able to go longer than 46 inches with their driver—ostensibly to get ahead of further experiments with distance gains—but there aren't that many pros currently going beyond 46. The exceptions include Phil Mickelson, who wielded a 47.9-inch driver in winning May's PGA Championship, and the LPGA's Brooke Henderson, who chokes down on all of her clubs. Mickelson's criticism of the decision since has been withering, including his October tweet: "'Stupid is as stupid does.' Mrs Gump. Really though, are the amateurs trying their best to govern the professional game the stupid ones? Or the professionals for letting them?"
Phil Mickelson's TV microphone
Take one of the most visible and loquacious golfers in the world, one with endless opinions about virtually anything, and put him front and center on a TV broadcast. It's a no-brainer, and so it came as no surprise when Phil Mickelson's agent, Steve Loy, confirmed in February for FrontOfficeSports.com that they were in early talks with networks about Lefty eventually taking a seat in the broadcast booth. Ironically, it was at the 2020 PGA that Mickelson first got the attention of media watchers when he seemed very comfortable kibitzing with Jim Nantz. Then Phil won the 2021 PGA. It may drive up Mickelson's asking price even more, though that, along with a heavy travel schedule, might be a deterrent to any long-term commitment. Still, Phil's lively, scene-stealing repartee with Charles Barkley during November's The Match only fueled the speculation.
Michelle Wie West's LPGA hoodie
"We're trying to change the face of golf, and nothing says that louder than a tie-dye cotton hoodie," Michelle Wie West laughingly said in April. Yet fans of golf and sports seemed to agree as they opened their wallets en masse for Wie West's creation. When NBA players Kent Bazemore and Damion Lee unexpectedly donned the LPGA logoed sweatshirts on April 14, the first batch instantly sold out—five days before their planned launch. Then they sold out again. (Wie West, of course, has some NBA connections, given her husband is Jonnie West, Golden State's director of operations.) The best part of their popularity? The proceeds for their sale benefitts good causes: the Renee Powell Grant and Clearview Legacy Foundation. Get used to it golf, hoodies are here to stay.
An all-female golf broadcast team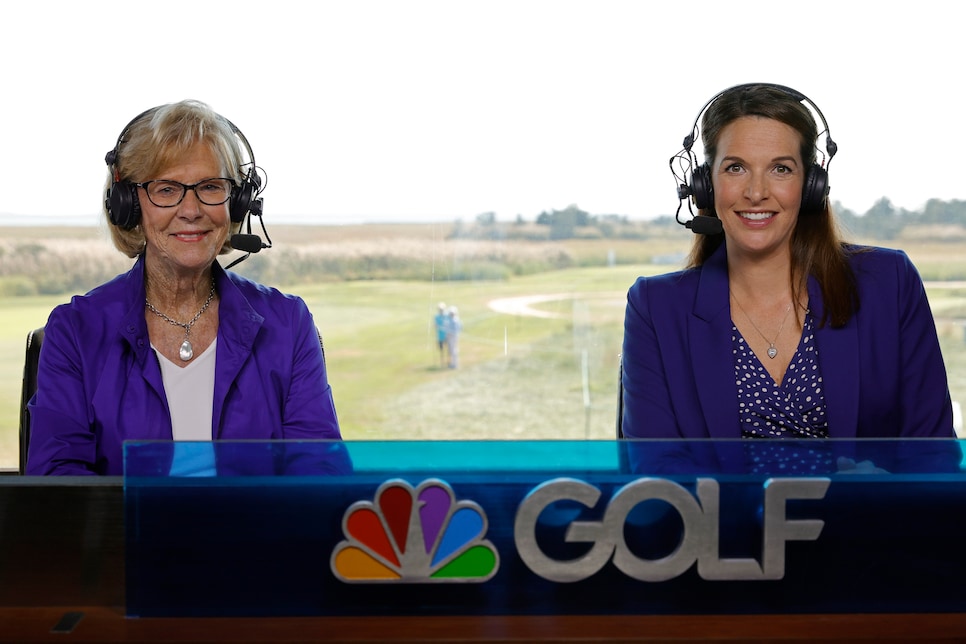 Judy Rankin (left) and NBC Sports and Golf Channel host Cara Banks pose in the booth during the ShopRite LPGA Classic.
Sarah Stier
In many ways, it was a watershed year for women in sports broadcasting. The Indy 500 on NBC had its first female producer, as did the Triple Crown races of the Preakness and Belmont. Golf contributed to these distinctions as well when Beth Hutter became the first woman to oversee the production of the U.S. Women's Open in June. More golf broadcast history was made in October with the sport's first all-female team was on the call for the LPGA's ShopRite Classic in New Jersey. NBC Sports and Golf Channel anchor Cara Banks handled the play-by-play duties in the booth with Paige Mackenzie and the incomparable Judy Rankin, while Karen Stupples and Kay Cockerill did the on-course reporting. Hutter, who's produced LPGA coverage for more than 15 years, was essentially the team captain. The work was predictably first-rate and each woman had reason to be proud in her own right, but it truly seemed like a moment of marching forward, arm-in-arm. "I feel like," Stupples said, "that we have a nice little bond that will never be broken now because we have this."
A PGA Tour season wouldn't feel complete without a memorable playoff or two, but 2021 produced some masterpieces, both in circumstances and the stories of those who won.
• Playing at Riviera in the Genesis Invitational, where he said he fell in love while watching Tiger Woods, Max Homa missed a three-foot putt for the win on the 72nd hole. Relegated to a playoff with victory-famished Tony Finau, it looked as if Homa was toast when he drove up against a tree on the first extra hole at Riv's renowned 10th. But the L.A. native made an incredible par save and won with a par on the next hole.
• Finau had to wait until August to end a 142-event victory drought, though the Monday playoff (because of weather delays) in The Northern Trust at Liberty National was made rather anti-climactic when Aussie Cam Smith nearly hooked his drive into the Hudson River on the first extra hole. Finau forced the playoff with a birdie-eagle-birdie stretch on the back nine of his closing 65.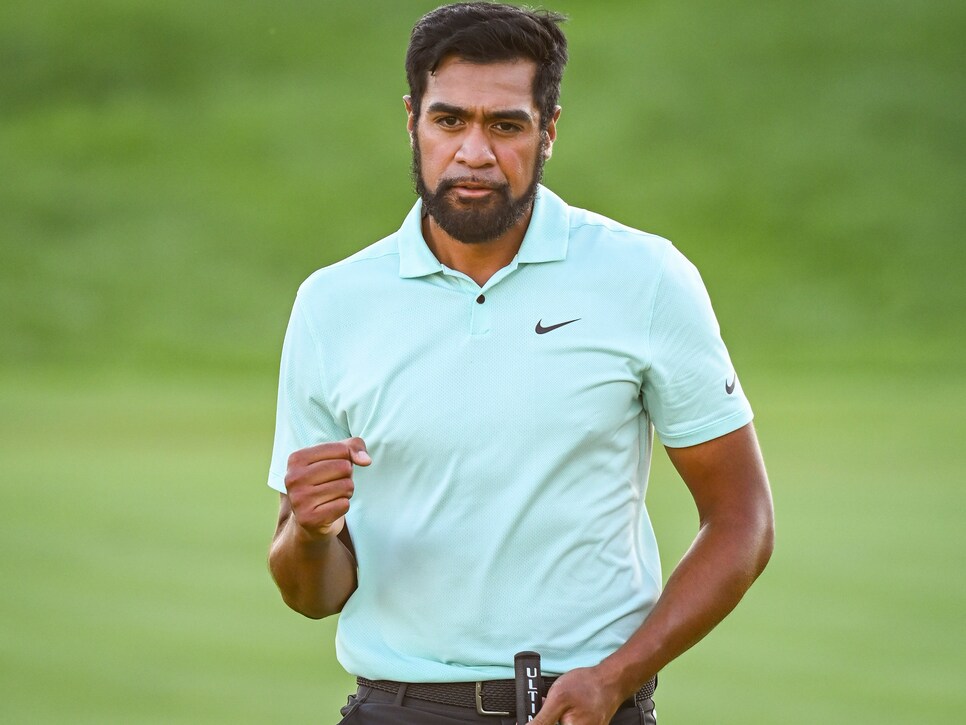 Tony Finau celebrates his playoff victory with a fist pump on the 18th hole green during the final round of the Northern Trust.
Keyur Khamar
• Living up to his nickname, "Patty Ice," Patrick Cantlay was the playoff victory king in '21. He was all the more impressive for the guys he beat: Collin Morikawa and Bryson DeChambeau. At the Memorial in June, remembered mostly for Jon Rahm's heartbreak WD after testing positive for COVID-19, Cantlay tied Morikawa on Sunday with a 25-foot birdie putt at 17, and then won the first extra hole by making a 12-footer for birdie. Even better was the wild six-hole playoff with DeChambeau in the BMW Championship, with Cantlay ultimately taking a win that would spur him to the FedEx Cup title.
Jon Rahm celebrates his 2021 U.S. Open victory with his wife Kelley and their infant son Kepa.
Donald Miralle
We've watched them grow up, so when the PGA Tour's "kids" start having their own kids, it's a bit of a shock. Just four days apart in mid-November, Jordan Spieth and his wife, Annie, welcomed their first child, son Sammy, and then Rickie Fowler's wife, Allison, gave birth to daughter Maya. Players sometimes speak of a "baby boost," of how it settles and focuses them, and Rory McIlroy's done just fine as a dad, with two wins since daughter Poppy arrived in August 2020. Then there's Jon Rahm, who had the ultimate first Father's Day, winning the U.S. Open after wife Kelley delivered son Kepa in April, just days before the Masters.
For those who understood the personality dynamics, Jordan Spieth accidentally hitting into Rory Sabbatini during the third round of the Players Championship was instantly hilarious. Spieth is the last person you'd expect to breach golf etiquette, while Sabbatini can be as prickly as they come. So Sabbatini's reaction—arms raised in a what-the-hell gesture—and Spieth's ensuing conversation with Collin Morikawa, caught on the PGA Tour's "Every Shot Live," was the stuff of web-click dreams. Spieth: "Is that Sabbatini? Gawdddd, I couldn't pick a worse person to hit into." And Spieth after Sabbatini stared back at him after a poor approach: "Right, because I'm the reason you hit a bad shot." In his defense, Spieth couldn't see Sabbatini in the dogleg fairway and did yell "fore right!" after his swing, but it kicked off a tree. As viewers, we didn't mind that bounce one bit.