Memorial Tournament
Patrick Cantlay deserves a star rather than an asterisk for this playoff victory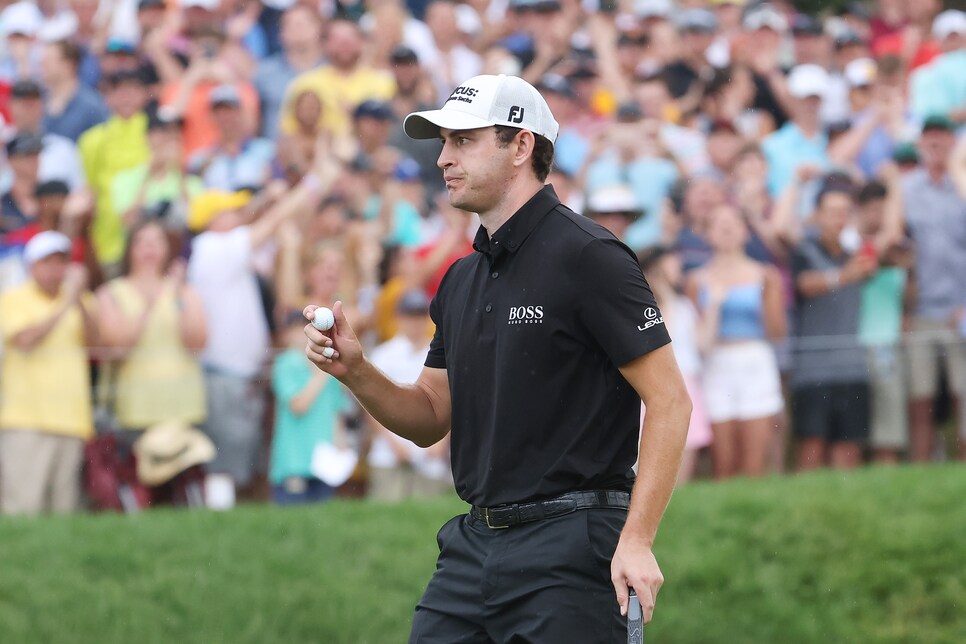 Patrick Cantlay, shaking off a stretch of subpar play, became the seventh player to claim multiple titles at Jack Nicklaus' home when he defeated Collin Morikawa with a par on the first hole of a sudden-death playoff. Which came one day after Jon Rahm, poised to be a repeat winner himself and only the second to win back-to-back, was given a sudden dismissal.
Cantlay and Morikawa, leaders by default after 54 holes, each posted 13-under 275 after closing with matching 71s on Nicklaus' revamped Muirfield Village layout. Of course, it's almost impossible to ignore the fact that Rahm, the 2020 winner, was out in a blazing 18 under through 54 holes, tying a tournament record, and then had his commanding lead wiped from the scoreboard because he tested positive for COVID.
Even Nicklaus said early Sunday that he had a trace of an empty feeling about the final round, and Cantlay and Morikawa seemed subdued in the final pairing. Stuck in neutral, they allowed a charging Scottie Scheffler to surge ahead at one point. But undone by bogeys from the fairway at Nos. 9 and 18, the former after shanking a wedge, Scheffler ended up third alone, posting 277 after a 70.
With his fourth PGA Tour title, Cantlay, 29, ended a brief interlude of frustration. He had missed the cut in four of his last seven starts and felt like he needed a victory, though he admitted, "Somehow I always feel like I badly need a win and a win will make things just a little bit better.
Even a win that he couldn't deny was achieved amid bizarre circumstances.
"There's maybe a little hint of something I can't quite put my finger on, but I mean, the emotions I feel out there and the focus that it took today was just as any other tournament," said Cantlay, who won the sixth playoff at Muirfield Village since 2014 and the fifth in the Memorial. "I would much rather have faced him [Rahm] down today and shot an extremely low round and beat him that way. But unfortunately, there's nothing I can do. I did everything I could with the cards I was dealt, and I really did a good job of focusing today on the task at hand and staying present and that's all you can do in this game."
Before Rahm was shown the door, the Memorial was shaping up as a showdown – if you can call it that – among the last three winners at Muirfield Village. Rahm, though, clearly had socially distanced himself from the field overall, not by six feet but by six shots and the thought of the final round being largely a formality lasted all of about 25 seconds. Then Rahm received the dyspeptic news and the chasers became the leaders.
"You're faced with a totally different mental approach," Nicklaus said of the challenge the new leaders faced. "Either [they think] 'I shouldn't be in this position or that I am in this position, and I've got to take advantage of it.'"
Morikawa, who obviously has an affinity for Nicklaus course designs, had to feel good about his chances. He beat Justin Thomas in a playoff here last July in the Workday Charity Open held the week before Rahm took the Memorial. In February, Morikawa posted a three-stroke victory at The Concession Club in Bradenton, Fla., another Nicklaus product that served as a replacement site for the WGC-Mexico Championship.
Ranked sixth in the world coming in, Morikawa, 24, recalibrated his mindset overnight and chose option B, ready to take advantage of the opportunity he was presented. Thus, he was surprised that he played poorly, hitting just eight fairways and nine greens. His putter kept him in it. He needed just 25 putts on Sunday and 49 for the weekend.
He might look back on the sixth hole as the place where he lost the tournament. After flying the green with his approach after an ideal tee shot, he whiffed on his first chip shot, his wedge sliding fully under the ball. He did well to save a bogey by sinking an 11-footer, but that sequence was damaging.
"Yeah, I was pretty shocked by that," said Morikawa, who is now fourth in the world. "I worked pretty hard on short game earlier in the week, trying all kinds of shots, so I felt good about what I wanted to do there. Never touched it. But I'm pretty sure I did the same thing here last year, too.
"Obviously it sucks to lose a playoff. But today was a grind and that's all I could focus on," he added. "I couldn't really hit a green for my life. … But to get into a playoff, to make the putts I needed to make, just to keep myself in it, I'm proud of myself and it's crazy. It's crazy what a game it is."
Equally crazy is that Cantlay, who won the 2019 Memorial thanks to a record closing 64, kept missing chances to pull ahead, but when he absolutely had to make one, he came through at the 17th hole. After waiting out a brief halt in play to let a passing downpour to pass, Cantlay poured in a 24-foot downhiller for birdie to tie Morikawa.
"There were a few short putts, mid-range putts, that I normally would make that today I didn't, which made it a little more of a grind," Cantlay admitted. "But made a few long ones, so it ended up being just enough."
Having burned the right edge on a winning birdie try on the 72nd hole from 26 feet, Cantlay faced 12 feet for par from a similar line in the playoff. That one he nailed. When Morikawa missed from six feet to tie, Cantlay got the handshake from Nicklaus, with whom Cantlay says he has "a connection" of sorts.
"We are, I would say, good friends at this point, and so that makes [the win] just a little more special," he added. "He's taken me under his wing, and to do it at his place with the advice and encouragement that he's given me over the years is very special for me.
The clouds that hovered over Muirfield Village in the final hour complemented a tournament conducted under a cloud of regret, and Cantlay and Morikawa and anyone else who was asked about it could only say that the turn of events late Saturday were "unfortunate." But in the end, there was a winner and a trophy presentation and a smile from a quiet young man who now has to be considered one of the favorites when the U.S. Open visits his home state of California the week after next at Torrey Pines.
"Obviously, it's nice to have some confidence and be playing well going into the U.S. Open," he said after moving up from 15th to seventh in the world.
The win was nice too. Different, yes, but nice.
"I think I'll definitely remember it slightly different," Cantlay allowed. "But I'll reiterate, you know, the way it felt today, it felt no different. And it is a very unfortunate situation and not anything I would wish on anybody. He [Rahm] played so great for the first three rounds. So, there's a little something that I can't quite put my finger on that make it's feel a little different, but I really hit a lot of clutch solid shots today and so I think I'll remember that mostly."