PGA Tour
The COVID protocols the PGA Tour followed with Jon Rahm and what it means for Sunday at Memorial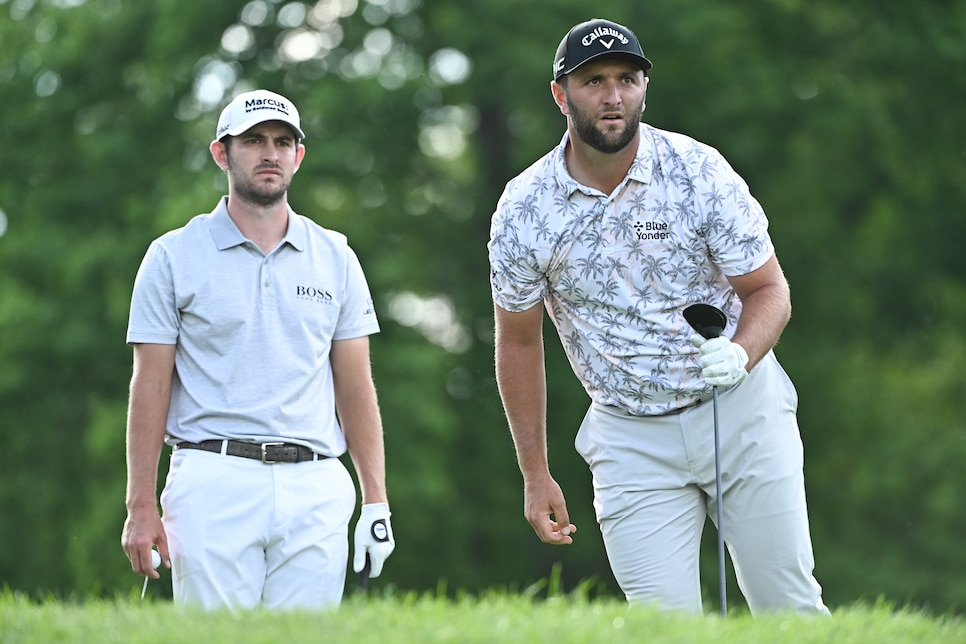 Jon Rahm watches his drive on the 18th tee box as Patrick Cantlay watches during the third round of the Memorial Tournament.
Ben Jared
DUBLIN, Ohio — Jon Rahm walked off the 18th green Saturday at Muirfield Village Golf Club with a tournament-record performance only to be met by PGA Tour officials delivering tournament-ending news.
Just moments after completing a third-round 64 in the Memorial Tournament that had given him a six-stroke lead, Rahm, the defending champion, was told that he had tested positive for COVID-19, and under the tour's protocols, he was being withdrawn from the competition. Rahm's six-stroke lead tied Tiger Woods for the largest 54-hole lead in tournament history, and his 18-under 198 total tied Scott Hoch's 1987 mark.
Two tour officials, one being the tour's medical advisor, Dr. Thomas Hospel, stopped Rahm just as he stepped off the 18th green after tapping in for par to inform him of the gut-wrenching revelation. Rahm doubled over as if in pain, and then when he stood up he threw his head back and said, "No way. Not again."
CBS Sports was caught off guard, and 18th hole announcers Jim Nantz and Nick Faldo had no idea what Rahm was told, but the network stayed on the air until Dottie Pepper reported the news of Rahm's positive test result. The tour said that Rahm remains asymptomatic.
According to a PGA Tour statement, Rahm immediately went into isolation for 10 days, per CDC guidelines, and must remain in isolation through Tuesday, June 15, which is the week of the U.S. Open at the South Course at Torrey Pines near San Diego. Rahm won his first PGA Tour title at the 2017 Farmers Insurance Open at Torrey Pines.
"The protocol that we have had in place for the last 50 events is being followed to the letter, and unfortunately we are in a situation where we are this evening," said Andy Levinson, the tour's Senior Vice President of Tournament Administration, on Saturday night.
It was not known if Rahm had been vaccinated ("I can't speak to Jon's vaccination status. That's an individual situation.," said Levinson). Rahm departed without comment, wearing a mask and being led off in a golf cart. He later issued this statement on social media.
"That's obviously really disappointing," said Patrick Cantlay, the 2019 Memorial winner who now inherits a share of the 54-hole lead with Collin Morikawa at 12-under 204. "It's kind of the worst situation for something like that to happen, and he played awesome today and it's just, it's really, it's a shame. It's unfortunate."
Cantlay, who said he already had COVID-19, played in the final threesome on Saturday with Rahm and Scottie Scheffler, who tested positive for COVID-19 in September and had to miss the U.S. Open. Scheffler is tied for third with Branden Grace at nine-under 207. Rahm played the first two rounds with Morikawa and Xander Schauffele.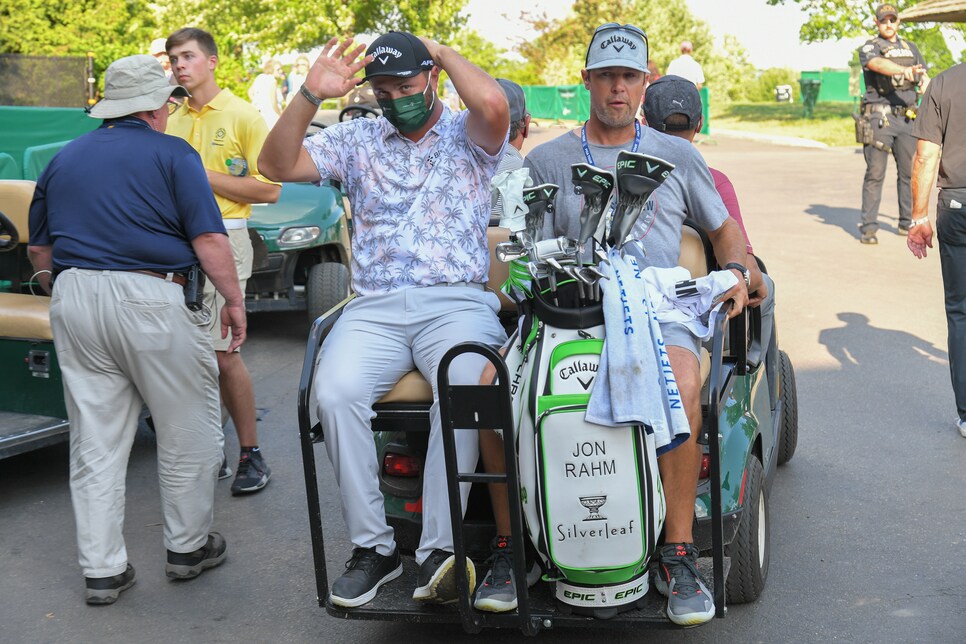 Morikawa won last year's Workday Charity Open at Muirfield Village, held the week before Rahm captured the Memorial last July. Rahm's victory ended in some controversy when he was assessed a two-stroke penalty after play was completed for unknowingly causing his ball to move before he chipped in for birdie on the 16th hole. He still won by three strokes.
Levinson said that Rahm's playing partners were being interviewed to determine if they had come in close contact with him, but, like Rahm, they are permitted to remain in the tournament, "as long as they are following our testing protocol and facility restrictions." He added that a fully vaccinated player would not have to go through the tour's testing procedures as a result of being a close contact to someone who had tested positive. The definition of a fully vaccinated player under the tour protocol, according to Levinson, is someone 14 days past the full cycle of a vaccination. "They do not have to test as a result of being a close contact," Levinson said.
The tour had notified Rahm, the No. 3 player in the world, on Monday that he was subject to contact-tracing protocols after learning he had come in close contact with a person who had tested positive. He was given the option to remain in the competition providing he undergo daily testing and that he avoid indoor club facilities. Rahm tested negative each day until Saturday, when a COVID test taken after he completed his second round returned positive at approximately 4:20 p.m. EDT. The result was confirmed at 6:05 p.m. with a second test, about 10 minutes before Rahm completed his third round.
Levinson declined to identify with whom Rahm had come in contact that prompted the contact-tracing protocol. Rahm could request to have a second test taken, but according to tour guidelines, it will not help him in time to compete further in the Memorial.
Rahm will receive a stipend to mitigate costs of isolation and lost earnings, but that's likely to be a negligible sum compared to the potential $1.674 million that Rahm could have taken home with a victory. Rahm has five tour wins, the last coming in August at the BMW Championship.