Takeaways
Jon Rahm's untimely positive COVID test, Justin Thomas continues to struggle, and a Bryson bomb you have to see to believe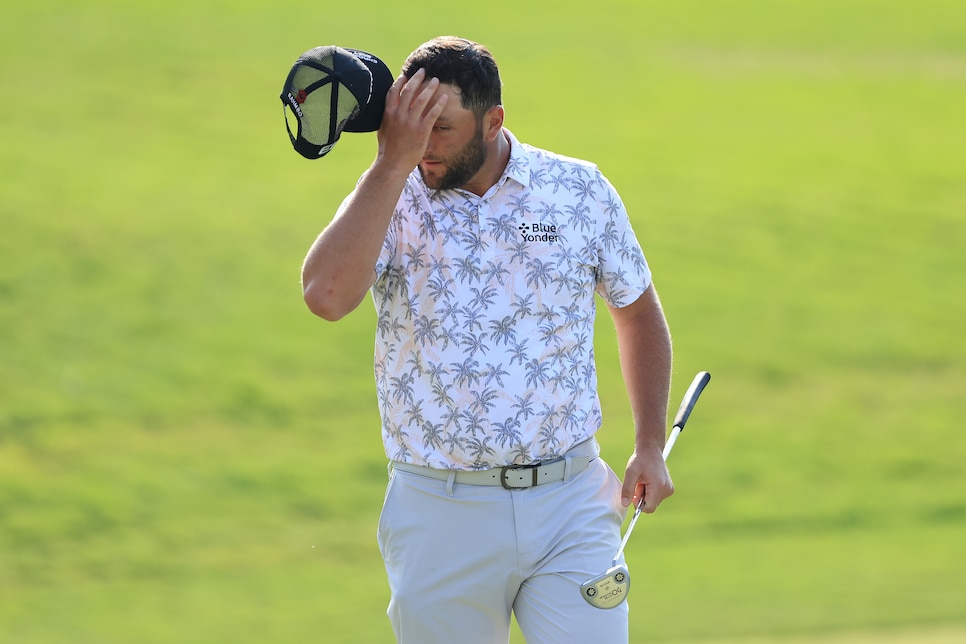 It couldn't have been going better for Jon Rahm on Saturday at the Memorial Tournament. The 26-year-old had to wake up earlier than he liked to finish his second round, but he made a hole-in-one in the morning and later went on a back-nine birdie binge in the afternoon to seize a six-shot 54-hole lead. A sixth PGA Tour title was firmly in his grasp—until he was told he had to go home.
It's been almost exactly a year since the PGA Tour restarted amid the COVID-19 pandemic, and while there have been a number of players contracting the virus—some of which led to forced withdrawals from tournaments—we had never seen anything like what happened in the immediate aftermath of the third round at Muirfield Village.
After tapping in for a 64, Rahm was told the bad news greenside. He had tested positive for COVID. The leader in the clubhouse was no longer even welcome in the clubhouse. Brutal.
In a statement released by the PGA Tour, it was explained that Rahm had been informed on Monday he was subject to contract-tracing protocols after coming in close contact with someone who had tested positive. Rahm had tested negative every day since and showed no signs of having the virus.
On Saturday, however, his test following the second round came back positive at about 4:30 p.m., or while he was playing a back nine in which he would shoot 30 on to extend his lead. Rahm wasn't pulled off the course then because the PGA Tour's medical advisor requested a second test of his sample. That positive result didn't come back until just minutes before Rahm finished his round.
Had Rahm remained in the tournament, he likely would have become the only player other than Tiger Woods to win the Memorial in back-to-back years. He had also matched Woods' record for the event's largest 54-hole lead, and at 18 under par, he was just two shots off Stewart Cink's 72-hole scoring record at Muirfield Village that was set in 1994.
The positive test very likely cost Rahm the nearly $1.7 million first-place prize. On the bright side—kidding, there's no bright side—he should be cleared to play just in time before the U.S. Open, which starts June 17.
Anyway, we should be celebrating what was an incredible performance that included a seven-hole stretch in which he was six under. But sadly, we're talking about this. And while the Rahm story will dominate golf—and sports—headlines for days, here are three other takeaways from Saturday at the Memorial:
(Whispers) Hey, we've got a tournament now …
We had our "There's one heckuva battle going on in the B-Flight!" jokes ready to go. Collin Morikawa and Patrick Cantlay have played some fantastic golf, but both had been left in the dust by Rahm come Sunday evening.
At 12 under par, the pair of future American Ryder Cup teammates were set to start Sunday a half-dozen shots back. Now, they'll be in the final pairing as co-leaders. Unreal. What a turn of events—and what a stroke of luck if you have a betting slip on either.
"It's kind of the worst situation for something like that to happen," Cantlay told reporters after, "and he played awesome today and it's just, it's really, it's a shame. It's unfortunate."
Then there's Scottie Scheffler and Branden Grace, who are tied for third at nine under. Starting the final round three back instead of nine is obviously quite a difference. Anyway, there should be more drama over who is going to shake Jack Nicklaus' hand after winning on Sunday. Well, if anyone is even shaking hands at this point. As Golf Digest contributor Rick Gehman pointed out, Rahm's playing partners didn't even high-five him after his ace:
Justin Thomas continues to struggle
OK, what's wrong with Justin Thomas? Since winning the Players in March, JT's best result is a T-13 at the Valspar, and he's looking at a fourth consecutive finish outside the top 25 after a third-round 75.
The putting has been the main culprit these past two months and it's certainly let him down again this week as he ranks 62nd in strokes gained out of the 69 players who made the cut. But Saturday, the best part of his game let him down as well as Thomas lost more than 1.3 shots to the field on approach shots.
For someone who ranks second on tour for the season in that category, he better hope that's just a blip.
Bryson's bomb turns heads
Let's talk about something a bit more fun, eh? It wasn't a great round for Bryson DeChambeau, but he still managed to hit the day's most-talked-about shot. To say he took a bold line off the tee on the par-5 fifth hole would be an understatement. Check out this phenomenal poke that wound up in a fairway where players usually lay up to:
Absolutely ridiculous. Just look at where DeChambeau's drive wound up compared to everyone else in the field on Saturday:
And it led to this funny exchange with playing partner Jordan Spieth, who says he was hoping to see Bryson try hitting it over the trees:
After having just 145 yards in for his second on the 540-yard hole, DeChambeau hit one to 15 feet—he described it as a "chip little wedge"—and two-putted for birdie. But his one-over-par 73 left him outside the top 30 entering the final round, and he seems a bit miffed at the whole "Brooksy" situation. He did acknowledge, "If [Brooks Koepka] keeps talking about me, that's great for the PIP Fund." So is channeling any anger towards Brooks into mammoth tee shots like this one.