Memorial Tournament
Defending champion Jon Rahm's ace gives him 36-hole lead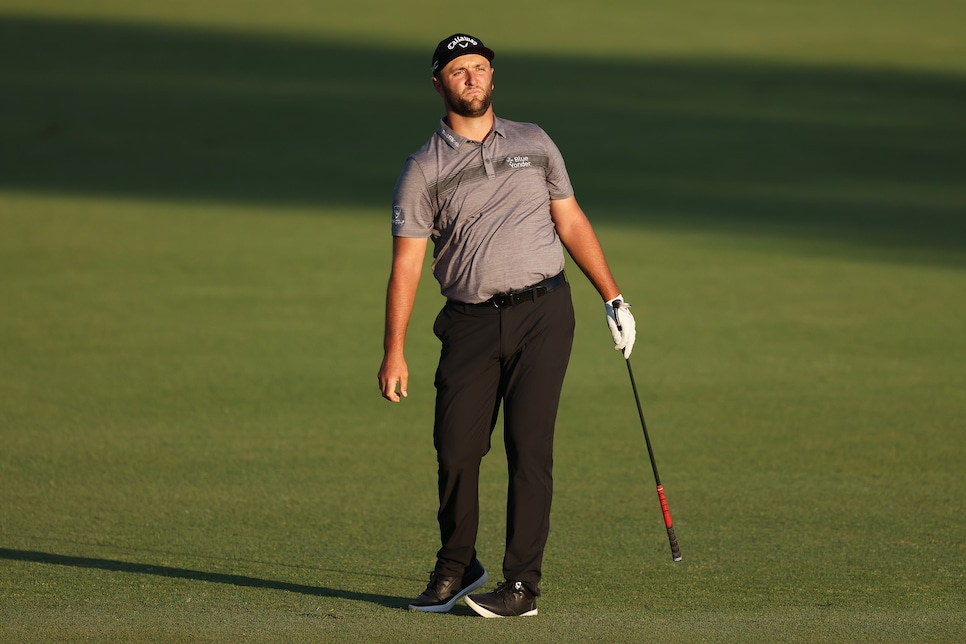 DUBLIN, Ohio – Jon Rahm's third career ace Saturday morning propelled him to the lead at the halfway mark of the Memorial Tournament. He was going to celebrate with a nap.
Rahm, who won last year's Memorial in July under some of the most severe conditions in tournament history when it was dry and windy, made a hole-in-one at the par-3 16th hole at Muirfield Village Golf Club to cap a second-round seven-under 65. At 10-under 134, the Spaniard leads 2019 winner Patrick Cantlay by two strokes. Cantlay had a 67 on Friday.
Four players, including first-round leader Collin Morikawa, were joint third at 6-under 138.
Because of several weather delays on Thursday, Rahm played 13 holes on Friday in five under and was tied with Cantlay when play was halted because of darkness. The world No. 3 was not happy, saying he was playing "unbelievable golf." Right out of the gate at 14 he bogeyed after a poor second shot, and then he failed to birdie the par-5 15th after reaching the right front greenside bunker in two.
"Had you given me a flashlight, I probably would have tried to finish yesterday," said Rahm, 26, who started to wonder if he was going to struggle all the way home.
Then he jarred his tee shot at 16 with a "stock" 8-iron from 186 yards after learning from the tee shot of Xander Schauffele. Rahm's effort was right at the flag, landed just short of the pin, checked up and died in the cup. It was the third ace at the 16th since tournament founder and host Jack Nicklaus changed it in 2010. He followed with another birdie at the par-4 17th by holing a six-footer.
At 10 under, Rahm already sits a stroke lower than his nine-under winning score of a year ago. Only Tiger Woods has successfully defended a title at Muirfield Village.
"I'm leading the tournament after 36, so, yeah, I'm in a good position. Yeah, I'm comfortable," said Rahm, seeking his sixth PGA TOUR title. "I've been looking forward to it, like I side, earlier in the week. I've been doing a lot of backdoor top 10s and I'm happy I'm in contention for once."
Rahm had a few hours before his afternoon tee time in the final group. He hoped to sleep on his lead, at least for a short spell. "Go to bed, lay down, I probably won't fall asleep, but kind of act like I'm waking up at 9, 10 and restart the day," Rahm said of his plans before the third round. "Probably get some food, shower, again, just like if it was a new day. If I can fall asleep, I'll try; that will definitely help."