Takeaways
Patrick Cantlay rounding back into form, a first for Spieth at Muirfield Village and a legendary Tiger record remains intact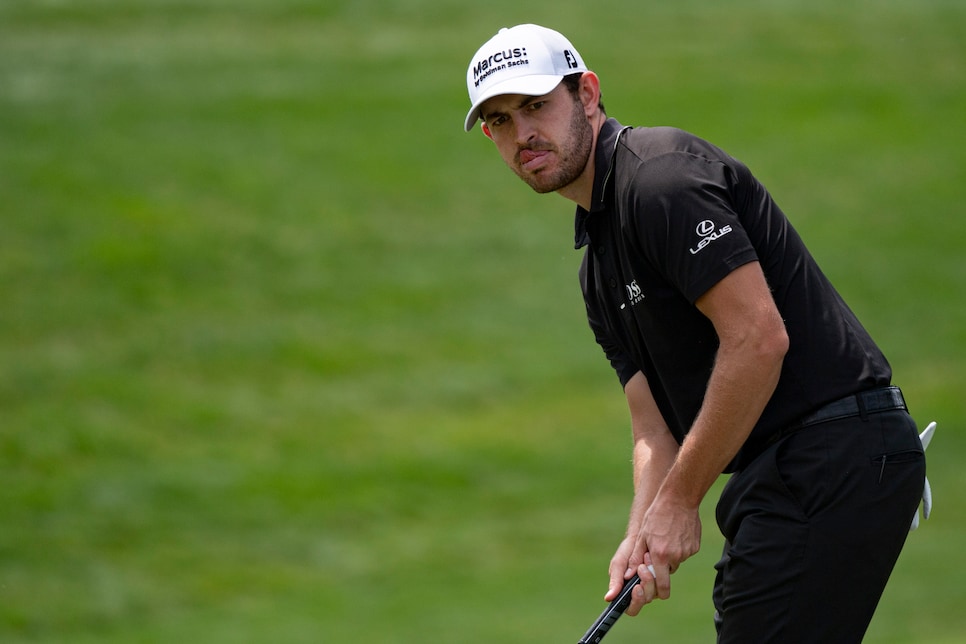 Since making his return to the PGA Tour in 2017, Patrick Cantlay has been Mr. Consistency, a top-10 machine. A three-time winner, too. Missing the cut? Never heard of it.
OK, so maybe there was an occasional MC here or there, but rarely, if ever, would he miss back to back, or three out of four. He made the weekend 13 out of 13 times in 2017, 21 out of 23 in 2018, 18 out of 21 in 2019 and 11 out of 12 in the pandemic-shortened 2020 season.
Over his last seven starts, though, Cantlay has MC'd four times. FOUR! For anybody else, that's a meh stretch, but one we wouldn't notice. For Cantlay, that's like the Shawshank alarm going off when the warden realized Andy Dufresne was missing from his jail cell. More alarming was that he hadn't posted a single top-10 during that seven-event stretch either.
Cantlay did, however, briefly flirt with the lead at the PGA Championship at Kiawah Island on Sunday, ultimately tying for 23rd. He also had a decent showing in the team event in New Orleans, tying for 11th alongside Xander Schauffele. The signs of him getting back to his consistent ways were there, he just didn't put four good rounds together.
He's put two very good ones together at this week's Memorial Tournament, opening with a 69 and backing it up with a five-under 67, 33 of those holes coming on Friday. It was a marathon, to say the least.
"I think you have to be aware of not falling asleep out there," said Cantlay, who woke up at 4:30 a.m. to begin his warm-up. "I think you have to really even tell yourself, click back in, this is what we're trying to do and get really specific with clicking back in and telling your computer what you're really trying to get it to do. We're out there for such a long time today that you could fall asleep at the wheel a little bit. So being cognizant of that and checking in with yourself, are you as focused as you can be, when you need to be, I think is key."
At eight under, Cantlay is firmly in the mix for his second Memorial Tournament victory, though he's got a number of high-profile guys chasing. We'll chalk up that rough recent stretch to his being asleep at the wheel.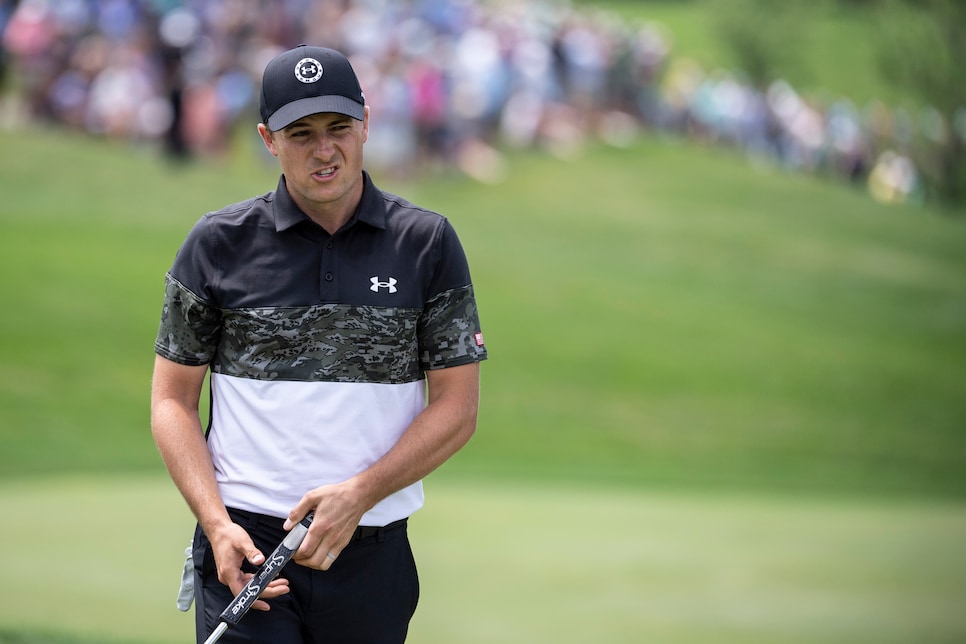 A first for Jordan Spieth at Muirfield Village
Spieth, still hungover from last week's rough finish at Colonial, struggled mightily in his first round, posting a four-over 76 that looked like it had him headed for just his second missed cut in eight Memorial appearances. But he bounced back in a big way Friday afternoon, shooting a five-under 67 to get back into red figures at one under.
He'll begin the weekend way off the lead, but one huge positive he can take into Saturday: he went bogey-free in Round 2, something he's never done at Muirifield Village. It's something he rarely ever does given his penchant for chaos, so it's always cause for celebration, but more so at Jack's Place, which is begging you to make bogey on every hole. Look no further than Bryson DeChambeau's second-round scorecard for proof of that. Speaking of …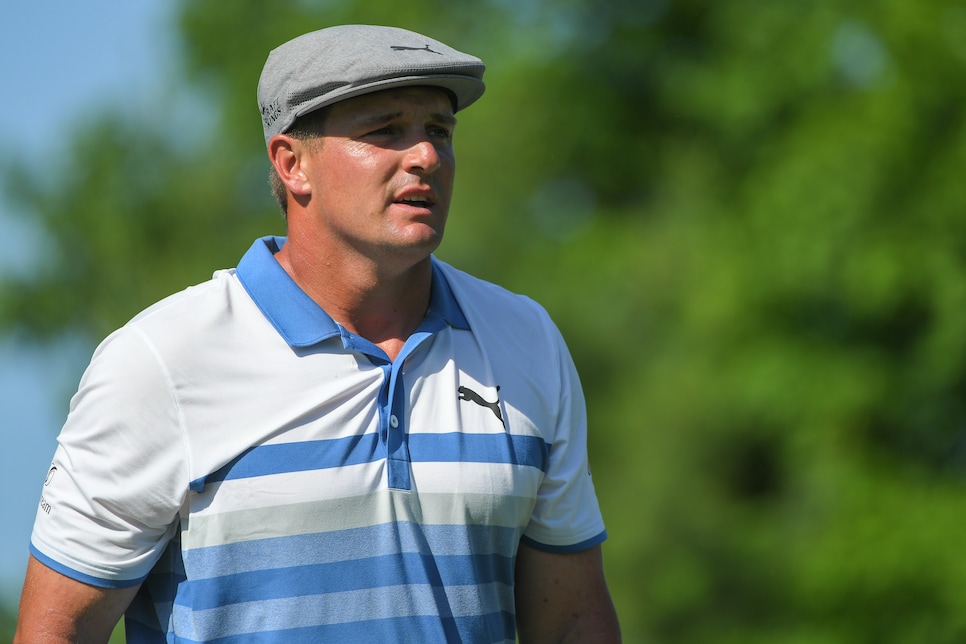 Bryson v. Brooks has another chapter
Our veteran writer Dave Shedloski, an Ohio native on site this week, has the full story on GolfDigest.com, so please read that. But we'd be remiss to not touch on Brooks v. Bryson here, a fight that might actually draw bigger numbers than whatever latest nonsense is being trotted out this Sunday between Floyd Mayweather and one of those YouTube brothers.
Quick rundown: There was a Twitter rumor early in the day that Bryson was having fans escorted off the premises for yelling "Brooksy!" at him. That rumor was quickly squashed, then it was re-ignited when Golf.com writer James Colgan tweeted this out:
Woof. It's hard to believe DeChambeau would really be this irked by it to have people removed, but you also have to remember how obnoxious fans can be, especially on a sunny Friday afternoon with a few drinks in them. Also, if the NBA Playoffs are any indication, fans are really feeling themselves these days, which is semi-understandable given we've all been cooped up inside for a year, while also being simultaneously unacceptable.
The point? Incessant "Brooksy" yelling probably gets VERY old after awhile, so you can see where Bryson is coming from there. He, of course, denied he had anyone removed, saying "The officers take care of that. I don't really care."
If he's telling the truth, fair enough. If not, then he definitely cares. By the way, so does Brooks, who got the brands involved Friday evening:
Don't care how manufactured this saga is, we don't ever want it to end.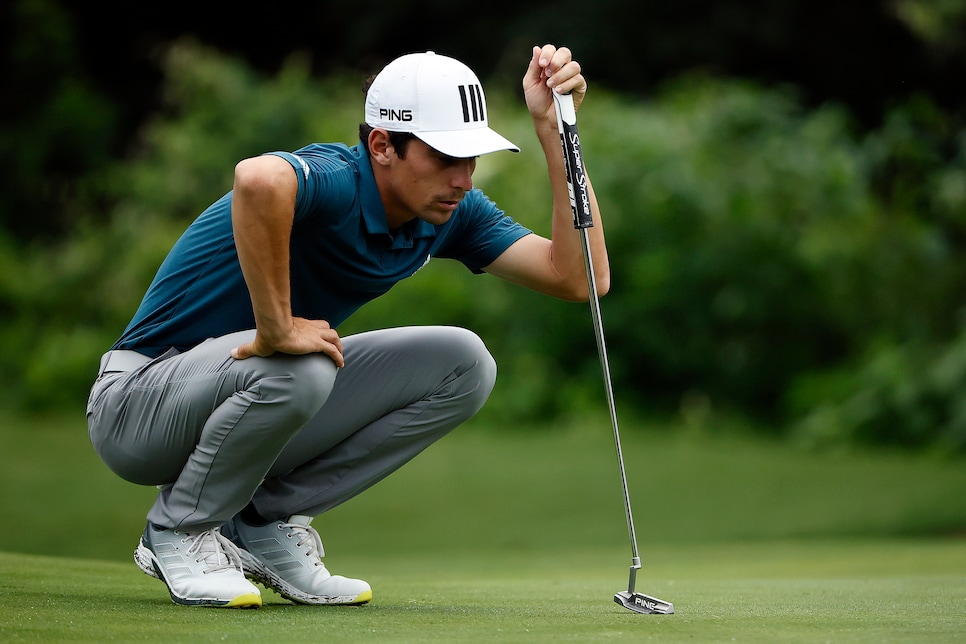 A legendary Tiger Woods record will remain intact
A couple times a year, somebody posts some ridiculous Tiger Woods stats on social media, and each one is more insane than the last. The one that always stands out above the rest, though, is his consecutive made cuts streak of 142, which is 29 more than next closest competitor Byron Nelson. Jack Nicklaus, the other GOAT, got to 105 before missing the cut at the 1976 World Open.
Welp, Woods can sleep easy tonight knowing that record will live to fight another day. Joaquin Niemann, who was gaining on Woods' magical number of 142, will not be around for the weekend in Ohio. And by "gaining on it," we mean he was at ... 20. OK, he wasn't even close, but he was leading the tour's consecutive cuts stat. Next up is Jason Kokrak with 13. Kokrak is not in the field this week, but the next time he tees it up he'll begin his quest to catch Woods. All he needs is 129 more in a row.