Extra Beef
Bryson DeChambeau insists Brooks Koepka taunts from Memorial fans are 'flattering'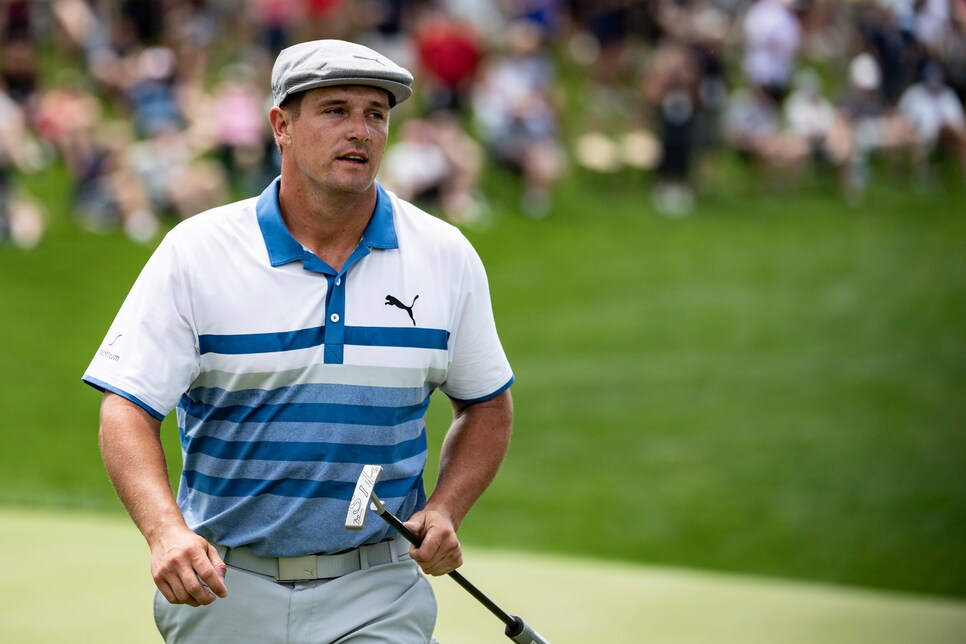 DUBLIN, Ohio – A few cheers went up for Brooks Koepka during the first two rounds of the Memorial Tournament. And he isn't even in the field.
The shouts were directed at Koepka's rival, Bryson DeChambeau, who got peppered by the gallery with shouts of "Hey Brooksy" as he made his way around Muirfield Village Golf Club.
That goes to show just how many people are aware of the contentious nature of Koepka's relationship with DeChambeau, perfectly illustrated by a leaked Golf Channel video that went viral May 24. In it, Koepka rolls his eyes as he sees DeChambeau standing nearby, off camera. He then closes his eyes and loses his train of thought in the middle of his interview as DeChambeau walks noisily behind him.
It was the latest evidence of a feud of sorts that began at the 2019 Northern Trust when the two butted heads over the issue of slow play – DeChambeau being the culprit – and it continues to simmer.
DeChambeau said he heard the taunts at the Memorial. But he did not ask for security to remove anybody from the grounds.
"Oh, they weren't taunts at all; it was flattering," he said after playing 33 holes on Friday because of weather delays to the opening round. "I think it's absolutely flattering what they're doing. They can keep calling me that all day if they want to, I've got no issue with it. When you look at it, there's obviously a distraction … to most people they think it's a distraction, but I grew up learning how to deal with that stuff, and I honestly thought it was flattering."
So, to recap, it was flattering. Which he repeated three more times.
DeChambeau, who carded rounds of 71 and 72, said he did point out a problem with one person on Thursday, but that was for shouting in the midst of his swing. "That was more of the person saying it in my backswing than anything that bothered me," he said. "It wasn't the fact that he said Brooksie or whatever. It was just, he said something at an inappropriate time. If he said peanut butter and jelly at the wrong time I would have probably said the same thing."
While Koepka, a four-time major winner, clearly isn't a fan of DeChambeau, the feeling isn't mutual said the reigning U.S. Open champion.
"Look, I've got nothing against him," DeChambeau said. "I've got no issues at all. If he wants to play that game, that's great. I'm going to keep trying to play my best game, and when it comes down to it, when somebody's that bothered by someone else it is flattering."
"No matter what, he's a great player, and he's won a lot of tournaments and it's like somebody calling me Jack or Payne or Hogan or whatever. I think it's kind of fun," DeChambeau added.
Jordan Spieth, playing in the same group with DeChambeau and Patrick Cantlay, advised DeChambeau to not react to the crowd or the jeers would get worse, and he thought his playing partner handled it well. He was amused by the gallery banter.
"Any bad hole, someone was yelling it, and then any good hole people were yelling, 'Go Bryson' almost louder. It was like a pseudo rivalry and he [Koepka] is not even here," said Spieth, who admitted that he's heard far worse playing with Patrick Reed, a polarizing figure in the game. He then added, "That whole thing was interesting last week, for sure."
He's not alone there. Just listen to Rory McIlroy.
"I sent Brooks a message last Monday morning when it all came out," McIlroy, a South Florida neighbor of Koepka's, said of the video. "I said, 'I don't care what happens to me for the rest of this week, this has made my week, this is like the best thing ever.'
"I think it's good for guys to show personality and pretty sure whoever leaked it from the Golf Channel got in trouble, I don't know if anyone's got to the bottom of that, but, hey, look, it is what it is. You're not going to … there's certainly people out here that don't like me, I'm sure, and there's a few people out here that I don't like."
That may be true. But does he have the video?