PGA Tour
Memorial host Jack Nicklaus feels 'a little empty' over Jon Rahm WD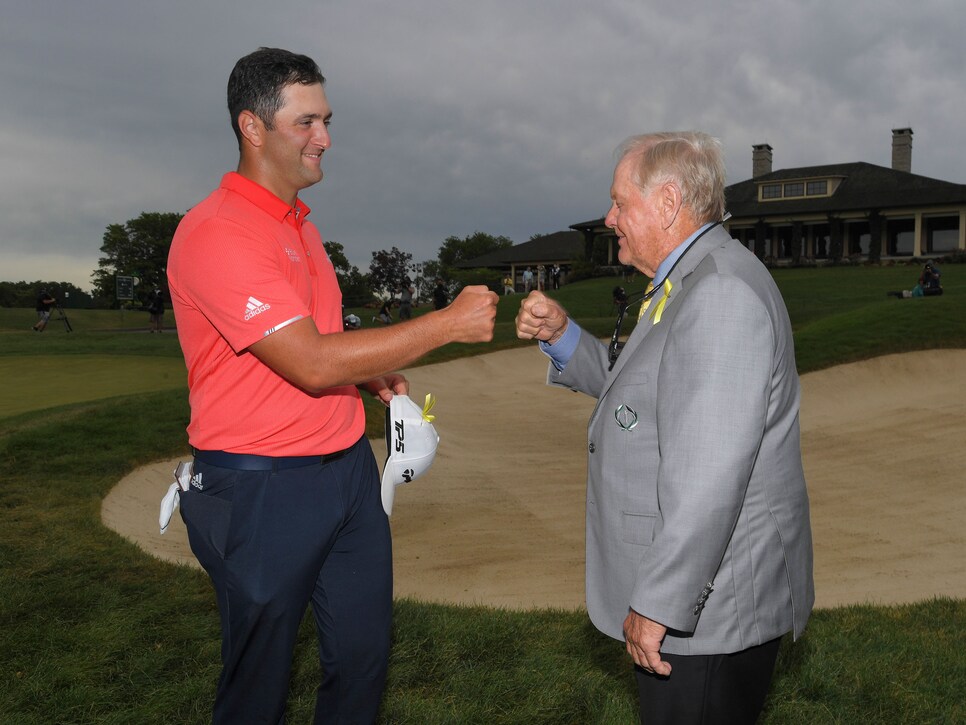 Jon Rahm celebrates with Jack Nicklaus after winning the 2020 Memorial Tournament.
Stan Badz
"Everybody here is devastated. It's a terrible thing to have happen," Nicklaus said at Muirfield Village Golf Club. "Jon handled it very well. He's a big boy. He understands that we have rules. And unfortunately, those are not something that you really may like, but those are the rules that we have right now. … We're sad for him, but the round will go on."
Rahm, the defending champion, had just completed a third-round eight-under 64 Saturday afternoon to take a commanding six-stroke lead in the 46th Memorial Tournament when he was met by PGA Tour officials as he came off the 18th green. On live TV they informed him of the positive test, and Rahm reacted as if in physical pain, doubling over.
The tour had notified Rahm on Monday that he was subject to contact-tracing protocols after learning he had come in close contact with a person who had tested positive. He was given the option to remain in the competition providing he undergo daily testing and that he refrain from entering club facilities. He tested negative each day until Saturday.
Nicklaus, 81, who revealed during last year's tournament that he had contracted the coronavirus, said he spoke to PGA Tour commissioner Jay Monahan Sunday morning by phone about the surreal turn of events that suddenly thrust Collin Morikawa and Patrick Cantlay into a share of the lead at 12-under 204 while Rahm was sent home.
A tour communications official confirmed that Rahm signed his scorecard and will be listed officially as the tournament's third-round leader. Rahm will be credited with tying the 54-hole scoring record of 18-under 198 Scott Hoch established in 1987. His six-shot lead equaled Tiger Woods' 2000 record.
"Jay said to me, 'There was nothing we could do about it. We were hoping we'd figure out a way [to keep Rahm in the tournament],'" Nicklaus said. "He said that they wrote the rules and we've got to stay by what the rules are, and so we're done with it, and we have to move forward."
Like practically everyone else watching the tournament, Nicklaus had no idea what the tour officials were telling Rahm. His first reaction was that there might be a rules issue or that a family member was ill. "You can't say that it was a good result," Nicklaus said, "but it was a better result than somebody being hurt."
Nicklaus said he will be ready to offer the winner the customary congratulatory handshake, and that he will be happy for whoever wins the title. "I think the winner will have a big smile on his face and will be very happy. And I will, too," the Golden Bear said.
Asked if perhaps there should be an asterisk affixed to the winner's name in a figurative sense, Nicklaus said no, not knowing what the outcome would have been, "though Jon was playing really well. He played incredible golf.
"He could have shot 64 or 74, and it might have been the same result, but we don't know," Nicklaus added. "I told Jay, I wish there was some way to give Jon three-quarters of a trophy."