Swing And A Miss
Collin Morikawa whiffs on chip out of thick Muirfield Village rough, reacts accordingly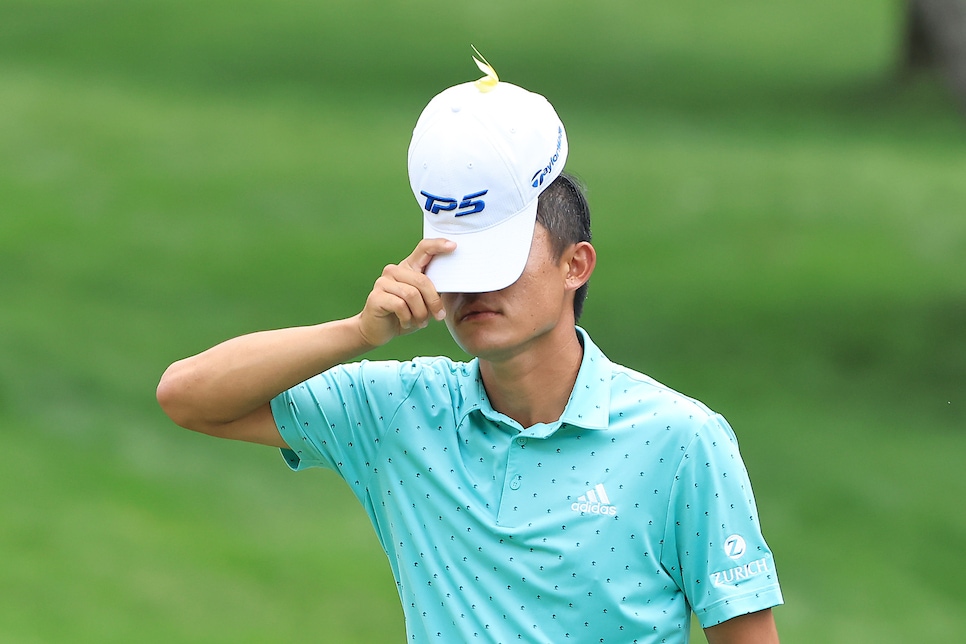 So far, Collin Morikawa has nothing but good memories from Muirfield Village. What happened to him on the par-4 sixth on Sunday won't be making his Memorial Tournament scrapbook, however.
Then again, if Morikawa goes on to win, he might look back on this moment fondly. After flying the green from 143 yards out in the fairway, a rare occurrence for the 2020 PGA champion, he faced a tricky chip from the thick Muirfield Village rough. With water lurking on the other side of the green, Morikawa attempted to flop one high so that it would land softly and roll out to the hole.
But that's, um, not what happened. His club went right under the ball, a complete whiff, marking the first time since his three-foot lip-out last June at Colonial that he's been relatable to the everyday golfer:
We've all been there is an overused phrase, but it's 100 percent accurate in this case. Anyone who says they've never gone right under the ball at least once like this is either lying or only plays courses that have zero rough.
The difference between us and Morikawa? He got up and down for bogey, keeping his round alive, then made birdie on the very next hole:
This bogey could prove to be huge, as Morikawa is now tied for the lead with Patrick Cantlay early on the back nine. If he goes on to win, it would be his second victory at Muirfield Village in the last year, though it would technically be his first Memorial Tournament win. Morikawa won the Workday Charity Open last year at Muirfield, then tied for 48th the following week in the Memorial.