SAN FRANCISCO — Being a TV producer is much like being an orchestra conductor. From keeping a cadre of camera operators in synch to coordinating the vocals of the on-air talent and pushing stagehands building graphics to round out the experience, the producer makes innumerable decisions to make what airs on screen come alive.
But a conductor is front and center to the performance. Producers remain unseen, masterminding the stories and litany of elements that go into broadcasting a tournament without direct interaction with the audience.
Beth Hutter is fine with all that. But it's worth pulling the 15-year veteran of LPGA Tour coverage on Golf Channel from out behind the curtain to acknowledge the milestone she'll achieve this week. For the first time since the U.S. Women's Open was first broadcast in 1965, a woman will oversee its production.
"At the end of the day, none of this is about me," Hutter told Golf Digest. "These players are the ones it's all about. If me being the first [producer] is a story that brings more eyeballs to them, great. I'm just here to showcase them. That's what this is for."
The University of Virginia graduate started out of school at ESPN, working there three years before joining Golf Channel as a replay operator for the network's first live event producer, Keith Hirshland. He took an eye to Hutter's work and occasionally put her in the producer's chair. She got her first opportunities on the Nationwide Tour in 2005 and produced all three of Jason Gore's wins as he earned a battlefield promotion to the PGA Tour. Hutter showed her ability to develop relationships with the athletes she covered quickly.
"Third [win] I said you should take me to the PGA Tour with you because you're bound to win if I go and produce that event," Hutter joked with Gore.
Hutter's relationships with the broadcast team that she will be working with at Olympic Club go back just as far. Jerry Foltz, a long-time analyst for Golf Channel, did play by play at a Nationwide Tour event early on in Hutter's producing career. It was Foltz's first time as a lead broadcaster. "She was a lot better at her new job than I was at mine," Foltz said.
Hutter laughed when recalling Foltz's play calling. "He thought he was like a game-show announcer in there," Hutter said. "He had no idea how to use his voice inflection. It was pretty funny."
Kay Cockerill was already working at Golf Channel when Hutter started producing. Grant Boone boomeranged from Golf Channel to Abilene Christian and back again, and Tom Abbott is a 12-year veteran working under Hutter. Karen Stupples started alongside her in 2014.
"I love having the same team week to week," Hutter said. "We all know what everyone is going to do and how they like things, and that in turn brings out the best in everyone."
The time together builds strong chemistry that enhances the telecast. "I think there's a lot of trust in her, and hopefully, it goes both ways in her trusting you," Abbott said.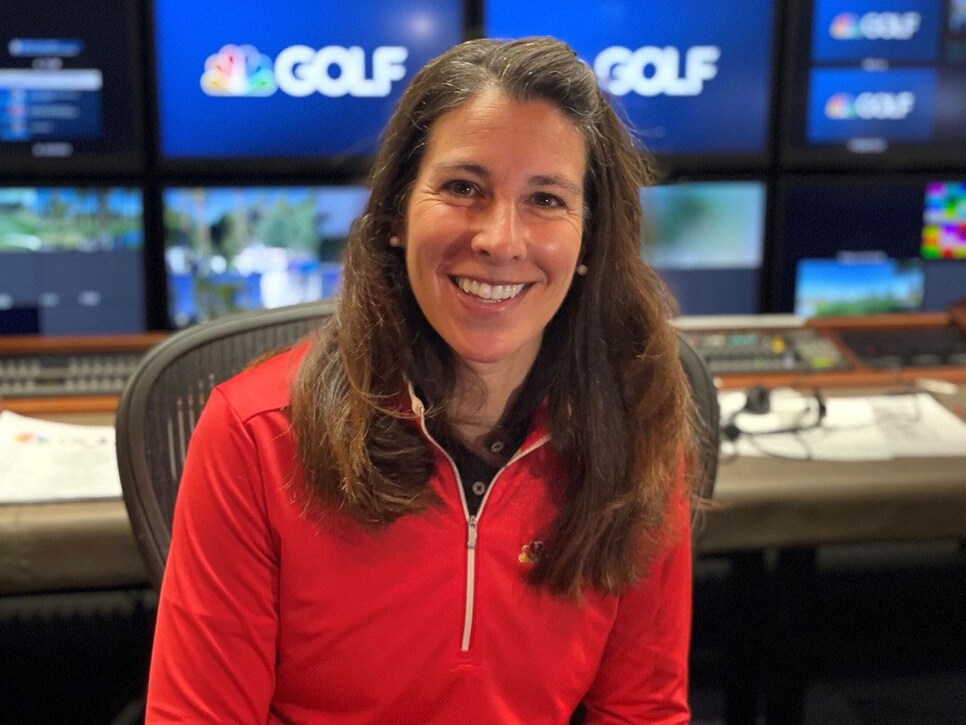 Hutter estimates that she's produced roughly 300 LPGA Tour telecasts, including several majors. (Photo courtesy of Golf Channel)
Hutter adds the U.S. Women's Open to an extensive resume of other major championships, from the ANA Inspiration to the Evian Championship and Solheim Cup. She estimates she's produced roughly 300 LPGA Tour telecasts, or more than a thousand days, captaining Golf Channel's LPGA coverage.
"She's very versed as a producer, and it's about time that she does a U.S. Women's Open," Cockerill said. "It's hard to believe that this will be just her first one producing, because she'll slip right into the chair and it will be like she's done a dozen of them."
Hutter had last week off from producing the Bank of Hope Shadow Creek LPGA Match-Play to prepare for Olympic Club. She's organizing a litany of new technology available, the additional on-air talent and the commercial-free hours on the air, which allows the broadcast to set up more shots and follow players as they walk between shots to see how they react and explain their thought process.
It'll be the first time Hutter will have drones at her disposal, primarily to show the striking topography of the Olympic Club. "For me, in terms of getting in the truck, I'll get in there digesting everything for a while and looking at everything," Hutter said. "Looking at all the holes, and we can see more which is always great."
Hutter says the keys to a successful broadcast she's taken from past experiences are communicating early on. It gets her team as reasonably prepared as possible. "I always say no little surprises," Hutter said. "We never know who's going to play well. That, to me, is the fun part, you try to prepare for every situation, you can't. We prepare for 90 percent of those situations, and the ones you don't prepare for, we've prepared so much that they know how to react."
One of Hutter's most notable unexpected moments as a producer came after Lexi Thompson received a penalty Sunday at the 2017 ANA Inspiration.
"When we get to 18, the entire crowd is chanting her name," Hutter said. "I've never been at a tournament where that's happened. It's literally, [I told] everyone shut up. Everyone is so used to talking, and it's just, you know, just stay quiet."
Her commanding ability to lead a team extends to the process of incorporating new talent as well. Morgan Pressel is sitting in the lead analyst chair for the first time and is in her third broadcast with Hutter. Pressel credits Hutter with how well she's adjusting to the camera. "She's especially helped me learn the ropes, understand my job, my role, and how we can communicate better throughout the telecast to add more insight," Pressel said.
Before the COVID-19 pandemic, Hutter held an open-door policy to any LPGA Tour player that wanted to come into the set or throw on a broadcasting pack and follow the commentators for a few holes. It provided an opportunity to learn more about broadcasting and if it was something players were interested in doing. It's how Stupples and Pressel started, along with Brittany Lang dipping her foot into the broadcasting pool a few weeks ago at the Hugel-Premia LA Open.
"We used to have players come in the booth all the time and do a segment or two," Hutter said. "They loved it. They would love coming in and putting on the headset.
"This group loves bringing everyone in."
It's the culture Hutter created that built the loyalty she inspires from her broadcast team. "I'd walk over hot coals for her," Foltz said. "I think the world of her as a human being and as a producer, and she really values the people that work with her and for her."
Her past successes and leadership earned her the opportunity to become the first woman to produce a U.S. Women's Open, which her team throws their full weight behind. "It's no surprise to us that know her," Paige McKenzie said. "I don't think for us it feels as big of a deal, because she deserves to be put in this position."