U.S. Women's Open Preview
Jin Young Ko's success comes from doing this better than anybody in golf history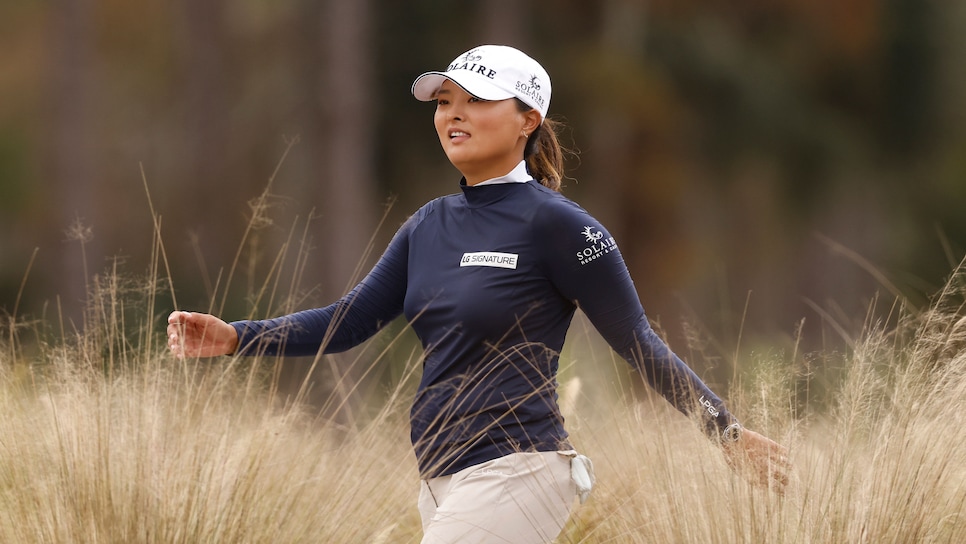 In 1998, then Michigan State football coach Nick Saban took his 4-4 Spartans into Ohio Stadium to face the No. 1 team in college football, Ohio State. Noticing his team lacked confidence, he turned to MSU psychology professor Dr. Lionel Rosen. Rosen proposed the team stop focusing on outcomes and instead focus on each play to the best of their ability.
The Spartans took the approach to heart and upset the Buckeyes, 28-24, making Saban a permanent believer in the system. It is the foundational philosophy of the Alabama college football dynasty, leading Saban to six national championships since becoming the Crimson Tide coach in 2007.
Born three years before Saban's upset victory over Ohio State, Jin Young Ko has followed a similar strategy to the legendary football coach that has allowed her to be the top ranked female golfer in the world for three of her four years as an LPGA Tour member.
"I don't think statistically. I just try my best every time, and that brings out the results," Ko told Golf Digest through her translator
Results, indeed. Ko comes into this week's U.S. Women's Open a consistent force under the brightest lights of the LPGA Tour. In her last seven major starts since winning the 2019 ANA Inspiration, she's averaged a sixth-place finish.
That run includes a victory at the 2019 Evian Championship and tie for second at the U.S. Women's Open last December. If not for A Lim Kim birdieing three straight holes on the back nine, Ko would've faced Amy Olson in a playoff for her third major championship.
During that time, Ko also posted a streak of 114 holes without a bogey, the longest in history on the PGA or LPGA Tour. "Her tee-to-green consistency is her key to her high standard," said David Brooker, Ko's current caddie. "Lots of fairways and lots of greens."
It's a strength of her game that, interestingly enough, has never been a specific point of emphasis, outside her father suggesting she aim for the middle of the green. Having no barometer other than the best of her ability has lifted Ko in rare statistical air.
The World's No. 1 is the all-time career leader in greens in regulation percentage hit (77.4 percent) on the LPGA and PGA Tour since statistics have been kept on both tours.
That's better than World Golf Hall of Famers Annika Sorenstam (74.6 percent) and Lorena Ochoa (73.2 percent). Same with Tiger Woods, who holds the high mark in an individual season on the PGA Tour of 75.2 percent in 2000.
Only two players have exceeded a 75-percent GIR rate for their careers: 2014 ANA Inspiration champion Lexi Thompson (75.4 percent) and five-time winner Ha Na Jang (75.7 percent).
At better than 77 percent, Ko is in her own stratosphere. "That's good thing to me. … If I hit lot of greens, it's going to be a lot of birdie chances, too," Ko said.
The emphasis, however, remains the same. Ko paused, then added, "Well, I don't care [about] greens in regulation or [any other stat.] Focus is on my game."
That focus also applies to her Saban-level standards while practicing. Recently recovered from a tweaked wrist that flared up just before the Hugel-Air Premia LA Open in April (where she finished T-3), Ko went to work when arriving in Las Vegas last week for the Bank of Hope LPGA Match Play. On Monday, she grabbed her lunch pail and practiced all aspects of her game for more than eight hours. On Tuesday, she grinded for five hours after her Pro-Am, hitting every club in her bag towards Brooker, standing on the range to know exactly how far each club goes in the Mojave Desert heat.
"She almost hits me all the time so I need my eyes to be sharp. But I like the adrenaline," Brooker said.
Ko sharpened her short game as the sun set Wednesday to anticipate the thick rough and slippery greens of Olympic Club.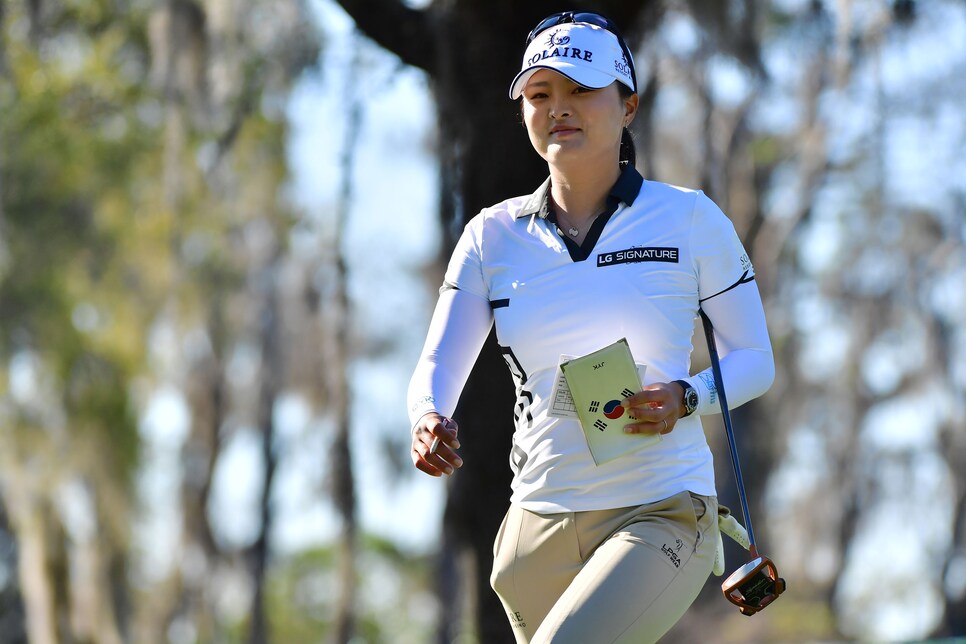 Jin Young Ko smiles before putting at the 11th green at the Gainbridge LPGA in February.
Julio Aguilar
Ko's focus on the process has resulted in a 109-week reign atop the Rolex World Rankings, the fifth player to be No. 1 for triple-digit weeks since the ranking's inception in 2006. She tied Yani Tseng this week for the second-longest streak of all time, passing Lydia Ko (104 weeks) and Inbee Park (106 weeks) over the last month and a half.
The historic company Ko is keeping is not something she thinks about. When asked if she didn't care for Rolex Rankings, Ko quipped, "Yep."
Ko's era at the top is a consequence of her strong performance rather than a goal that some of her contemporaries share. "I'm more into majors rather than thinking of Rolex Rankings No. 1," Ko said. "If I play well in majors or win or finish in top 10, I will keep that spot. I want to try my best throughout the year and don't think much about the Rolex Rankings."
Park is not surprised by Ko's success atop the world. "I mean, they call her rookie when she came over here four years ago, but I find she's definitely a lot more than a rookie when she came over here," Park said earlier this year. "She was always a great player when she was playing KLPGA as well and it's not surprising she became No. 1 over here with the consistent game that she has."
Park got the first taste of Ko's consistency in LPGA majors at the 2015 Ricoh Women's British Open. Ko was 20 and making her first start in a major on the LPGA Tour. She won four times on the KLPGA in her career at the time and three victories in 2015. Adding to the difficulty was Ko having just one practice round in sunny conditions at Turnberry on Wednesday that flipped once play began.
She kept the strong play going in a performance that turned out to be a preview of her future major success. She told her caddie Jeff Brighton, who made his professional debut on Ko's bag that week, her modest goal to make the cut and have fun at the start of the week.
Ko had no links experience going into play at Turnberry. Her first competitive round came in some of the strongest winds Brighton ever saw. The gusts got up to 30 miles per hour, taking reaching some of the par 4s in regulation out of play. The unflappable Ko poured in 12-footers for par in near darkness despite playing through links-style wind she had never encountered before to shoot one under on the back nine Friday.
"It's the greatest nine holes of golf I've ever seen," Brighton told Golf Digest.
The key to managing the testing introduction to links golf was how straight Ko hit the ball, a trademark of her game today. Ko soared over her initial goal by holding the 54-hole lead by focusing on what was in front of her. "I play the [LPGA Tour] just like I play on the Korean tour, same tempo. There is no changing at all. I just play as normal. That gives me better scores," Ko said after the third round.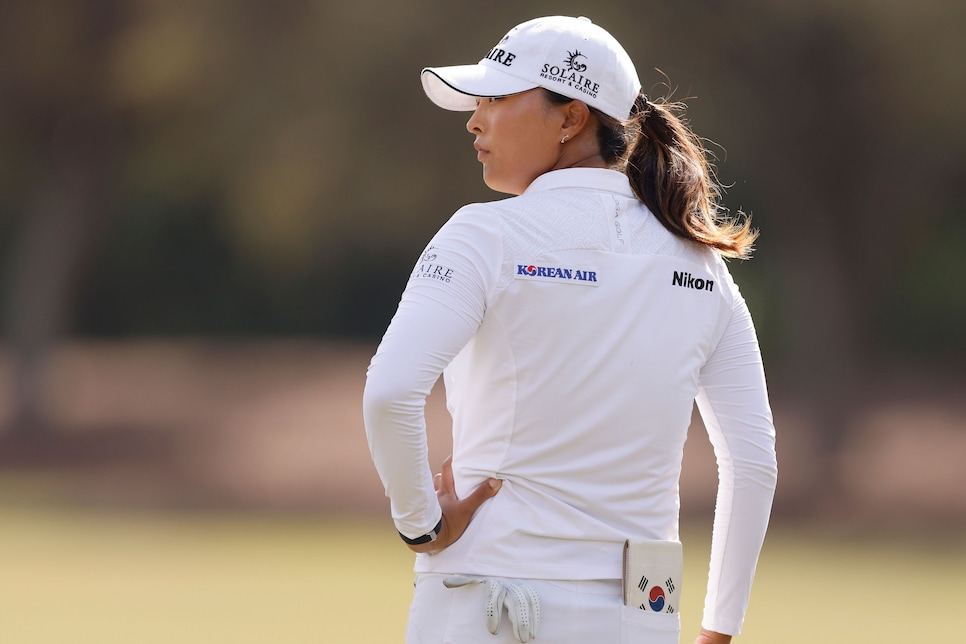 Ranked World No. 1 for the 109th straight week (counting the COVID-19 hiatus), Jin Young Ko now has the second longest streak at the top of the Rolex Rankings in history behind only Lorena Ochoa's 158 weeks.
Michael Reaves
Ko wasn't rattled by the moment either, shooting one under on Sunday. She ended runner up to Park after the seven-time major champion ripped the trophy away with a seven-under 65 on Sunday to win by three.
"Her demeanor and mindset are made for major golf," Brighton said.
Ko's mindset she has had since her first appearance on the LPGA stage led her to be in contention across the five majors. She has top-twos finishes or better in four of them in her career.
In the short term, Ko's eyes are fixated on performing well in Tokyo at the 2021 Olympics. As she orates her big picture goal, one could imagine Saban saying the exact same thing in her shoes.
"One of my goals is to achieve the Grand Slam," Ko said through her translator. "It's not an easy thing to do, but I'll keep working hard."