Family ties
Beyond this week, there's another Olympic dream for the Korda family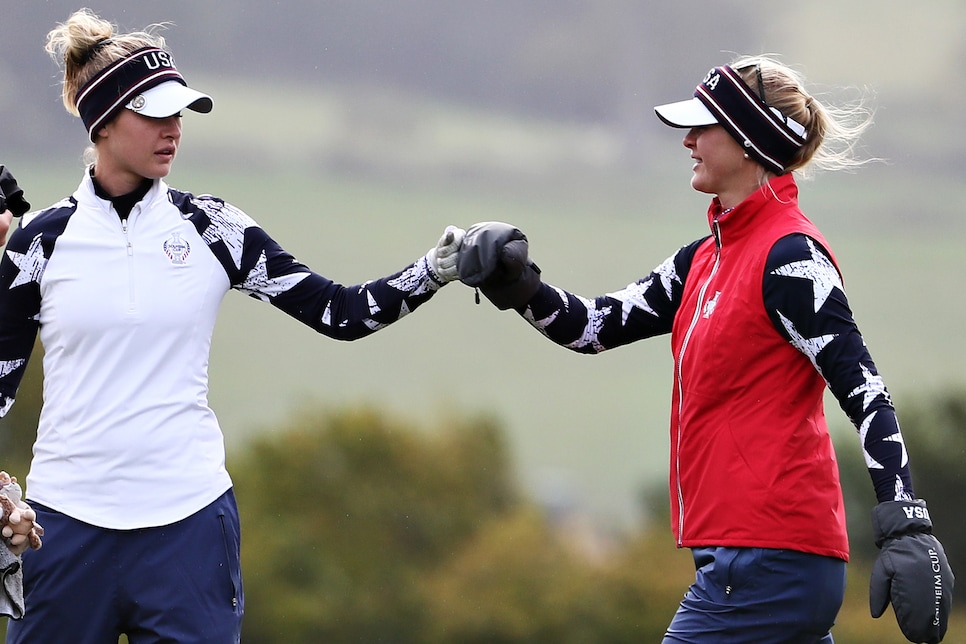 Jessica Korda (left) and Nelly Korda bump fists during Day 2 of the 2019 Solheim Cup.
Jamie Squire
SAN FRANCISCO — Jessica Korda was so distracted, so excited that she forgot just a couple of minor things as he rushed out of her Florida home for her trip to California for the U.S. Women's Open. She could play maybe the hardest major of her life as if eyes were smeared with Vaseline peering through a Coke bottle, right?
"We were leaving the driveway, and I go, Oh, my God, I don't have contacts," Korda recalled on Tuesday at The Olympic Club.
She rushed back in to get them, and all is good, but it shows how a little family exuberance can get the best of anybody. On Saturday, the big sister watched her TV, enthralled, as 20-year-old Sebastian Korda won his first ATP title in the Emilia-Romagna Open in Parma, Italy.
"We were so excited to see him win," Jessica, 28, said. "He's been in the finals a couple times, he's been close, and he just kept knocking on the door until it finally opened."
The victory produced the Korda Triple for 2021 only five months into the year. In January, Jessica Korda captured the LPGA's Diamond Resorts Tournament of Champions. One month later, 22-year-old Nelly Korda won the Gainbridge LPGA at Boca Raton.
"Our parents are so excited," Jessica said. "They're like, We don't have to walk 36 holes. We can all come at the same time. Nelly and I are just, you know, it is what it is. We like playing together, so there's no issue."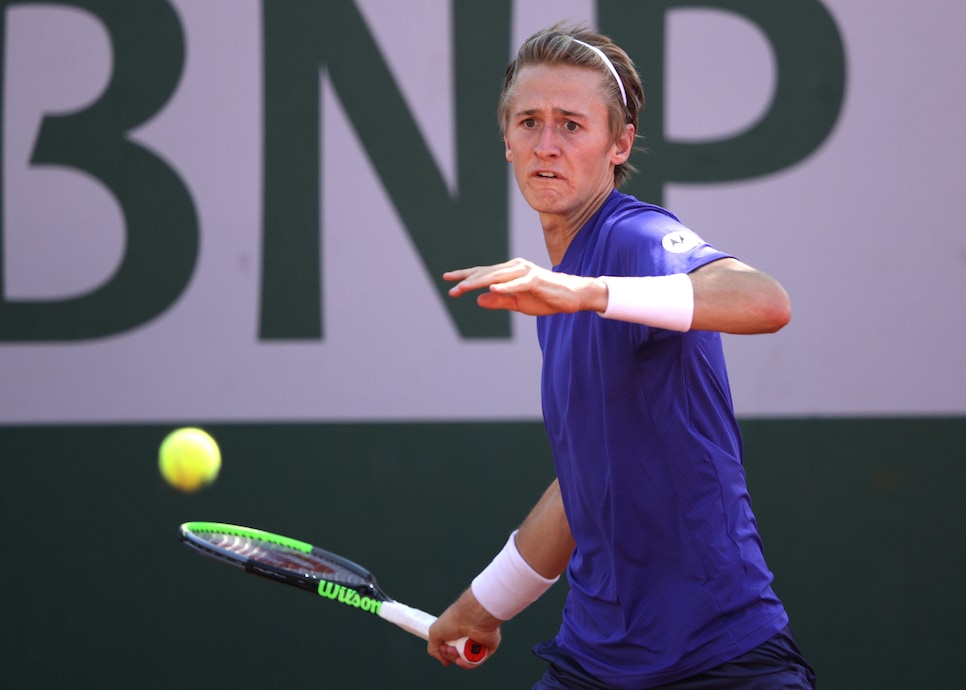 Sebastian Korda plays a forehand in their mens singles first round match against Pedro Martinez in 2021 French Open.
Adam Pretty
One subject on Tuesday was not Olympic Club, but the Olympics and the possibility that all three Kordas could represent America. Right now, at 50th in the world, Sebastian Korda is the third-highest ranked American men's player and also is inside the top 56 who would qualify for the Olympics. Only the top four Americans can go, and Korda is in a good spot, with Tommy Paul at No. 52 and Tennys Sandgren at 66. In the first round of this week's French Open, Korda lost to Pedro Martinez in straight sets.
In golf, there are a maximum of four golfers per country, and heading into this week, Nelly Korda is fourth in the Rolex Women's World Golf Rankings, followed by Danielle Kang (6), Lexi Thompson (9) and Jessica Korda (11). That would be the team if it were decided today, but women's qualifying doesn't end until June 28. The closest American to Korda is Ally Ewing, who moved up to No. 15 with her win last week in the LPGA Match-Play.
"It would be really cool," Jessica said of all three Kordas in the Olympics. "I think that's something that's so far in the future that I'm not necessarily looking at it just yet. I know that's probably not the right thing to say, but we still have a lot of majors left, and girls are playing well, and I'm kind of teetering. If it happens, great. If not, honestly, I'll be OK."
The majors have been elusive to the Kordas, though as Nelly politely pointed out to a reporter, they do have one on the mantle—their father Petr's triumph in the 1998 Australian Open in tennis. Jessica has played in 50 majors and has top-10 finishes in all of them, but has never won. Nelly has 24 major starts, with three top-3s, but no wins. That includes her playoff loss in the 2020 ANA, for which Sebastian stayed up all night cheering while competing in a tournament in Prague.
"It's definitely a number one goal of ours to contend in majors and to eventually lift a trophy, but it's all about preparation," Nelly Korda said.
"It's all about the mindset going into the week and not putting so much pressure on yourself, because I feel like when you put so much pressure on that one event, you kind of lose like the joy of actually being able to play an amazing golf course and just having fun."
Has she changed her mindset with experience?
"I think every single time you tee it up in a major or you contend, you learn more about yourself and how to handle a situation differently," Nelly said.