When eight was enough
Harris English becomes an instant Travelers legend after the playoff that wouldn't end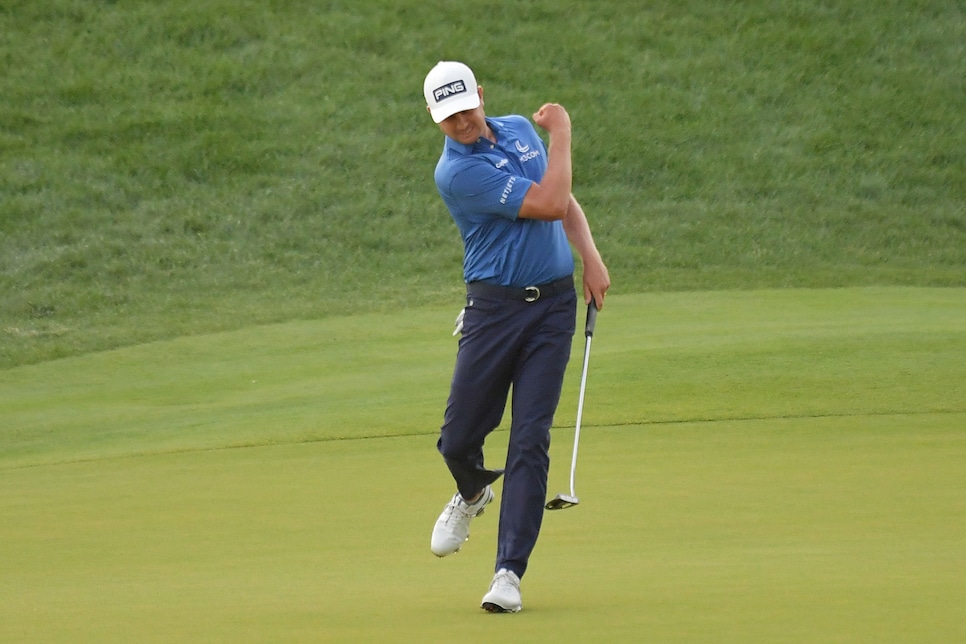 CROMWELL, Conn. — It carried on so long that the standard bearer tapped out. The simple task of carrying a scoreboard that read ENGLISH -13 and HICKOK -13 had become downright exhausting. He'd been working overtime for 90 minutes, and five extra holes proved to be his breaking point. Neither man would miss a par putt and neither man would make a birdie putt, and so he sought reinforcements because my goodness, this thing may never end.
However, a merciful finish seemed imminent right after our scoreboard-carrying friend called it quits. Kramer Hickok had blown his birdie effort a good 12 feet by, and Harris English had six feet for his birdie. So, of course, Hickok holed his and English's missed meekly on the low side. Back to the 18th tee. Again.
Remember, back in the old days of regulation, when both men birdied the 18th to get into this god forsaken playoff in the first place, English closing out a 65, Hickok a 67? Couldn't one of them just do that again, this being the seventh extra hole? There's a witty line there somewhere about seven being a lucky number, and seven being the hole that would save us, but witty lines went out the window four holes ago. We're in full stream-of-consciousness mode. Oh, and both guys just made par. They always make par.
The summer solstice happened five days ago, yet suddenly there was a fear that these two still might run out of daylight. The fans didn't know what to do with their hands so they're raising them­ in unison, a tired, drunk, half-ass wave. Any semblance of impartiality had gone out the window, and suddenly this is a Kramer Hickok home game. Kramer! Kramer! Kramer! If you're wondering when we're going to divulge who actually won this thing—well, we waited forever and now you have to as well.
Aaaaaand that's enough. You have a Mr. Harris English to thank.
English finally—freakin' finally—got a birdie to fall on the eighth playoff hole at TPC River Highlands to cap off an unforgettable (and interminable) Travelers Championship. It was the second-longest playoff in PGA Tour history; the only one that dragged on longer, the 1949 Motor City Open, ended after 11 holes when fed-up tournament organizers deemed Lloyd Mangrum and Cary Middlecoff mutual winners.
"Kind of sorry it took seven or eight holes," English said. It was eight, for the record, but apology accepted.
"It was tough. It was tough. I mean, my hamstrings were getting tired, my back was getting tired. I know Kramer was probably feeling the same thing. It's hard to stay mentally into it and not lose focus. The fans were keeping us in this, getting the juice from them."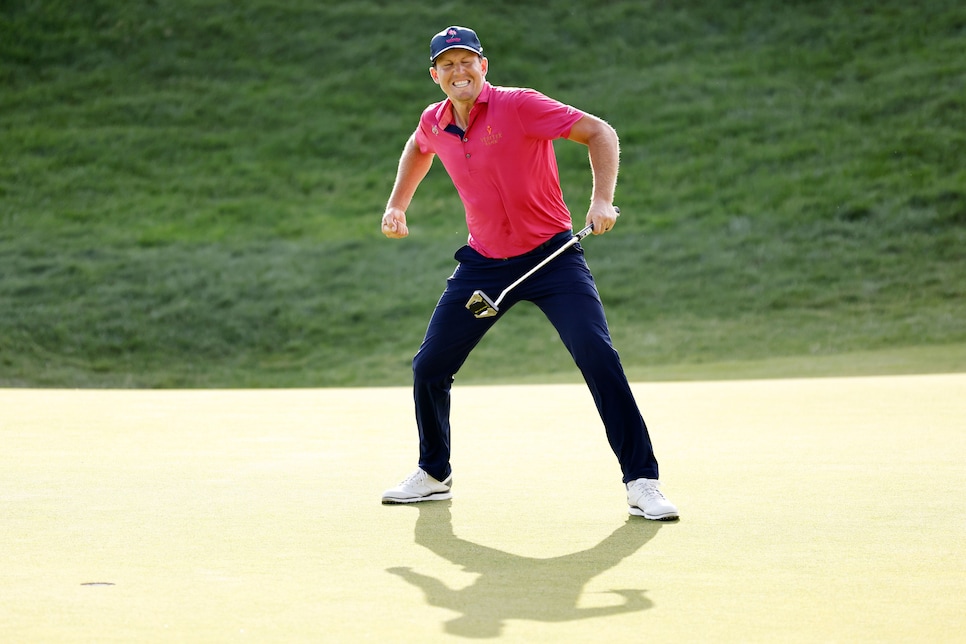 Kramer Hickok was in a battle not only for his first career PGA Tour win, but just to keep his card for next season.
Michael Reaves
English now has four PGA Tour wins and, with his W in Hawaii to begin 2021, he becomes just the fifth player to win multiple times in this wraparound season, A career renaissance that began 21 months ago with a T-3 in West Virginia has officially reached a new gear­—English is no longer a feel-good, inspirational tale of overcoming a slump and reclaiming your game. That was the story when he won in paradise in January, his first victory in seven years, but he's played his way out of the charming underdog role.
That happens when you're a constant presence near the top of leader boards. English briefly held the final-round lead two weeks ago at Congaree. He tip-toed his way to a solo third at last week's U.S. Open after finishing T-4 in last year's U.S. Open. With Sunday's victory, he's now projected to reach a career-high 12th in the World Ranking, and he sits firmly in the Ryder Cup picture and on the precipice of full-blown stardom.
"This is a validation win. It took me seven years to win in Maui, and I think this is validation of where my game is right now. The Ryder Cup is where I want to play… that's what I miss about playing golf at the University of Georgia. I miss that team atmosphere, and that's the pinnacle of our sport, to represent your country and play in one of the biggest tournaments in the world."
As for Hickok, the temptation is to portray this as a heartbreaking defeat. Truth is, this was the best day of his professional life. Coming into this week, the 29-year-old had two PGA Tour top-10s to his name, and both came in opposite-field events. This was his first time anywhere near contention on tour, playing in the final group alongside honorary Hartford resident Bubba Watson—who squandered a chance for a fourth Travelers title by playing his last five holes in six over par. All Hickok did was birdie the 18th hole to get into a playoff.
"I learned that I belong," Hickok said. "I just looked at it like it was a privilege. I just wanted to enjoy it and just take it like it is. I was just so happy to be in this situation, and I'm just going to draw on this going forward in my career and just hopefully learn a lot from it."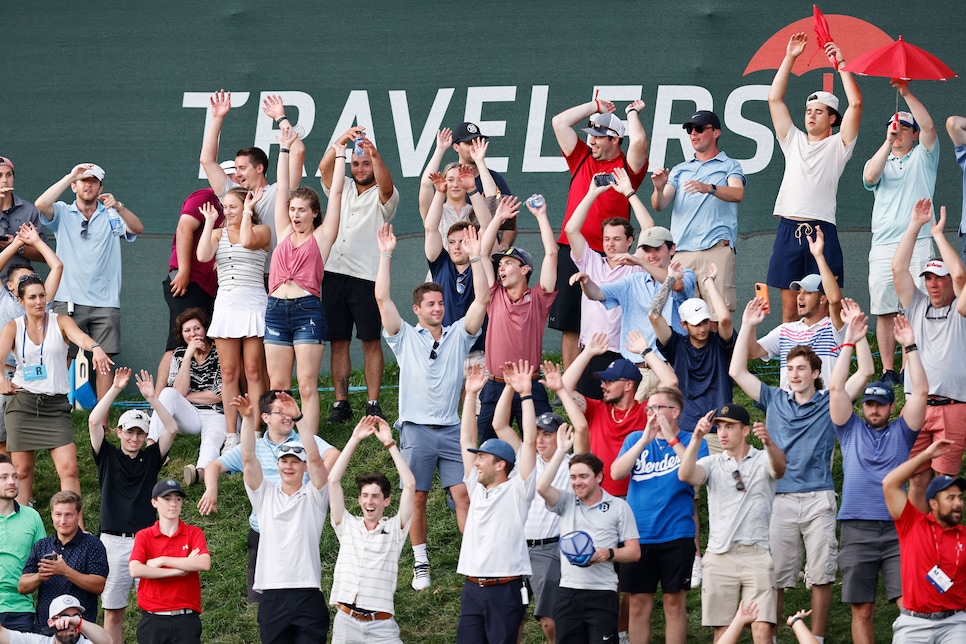 As the playoff went on and on, fans became more boisterous at TPC River Highlands.
Michael Reaves
Hickok should've been shaking in his boots and nervous as hell when he arrived at the 18th tee for the first extra hole. Only he could not stop smiling. The hard part was already done—Hickok had locked up a solo second at worst, which meant 300 FedEx Cup points, which meant he'd essentially locked up his spot on the Big Tour for at least another season after starting the day 139th on the FedEx Cup points list. The playoff? Gravy.
So, so, sooooo much gravy.
On the first playoff hole, English holed a six-footer for par.
On the second playoff hole, Hickok's 50-footer looked destined for the bottom, only to wiggle left and kiss the hole on its way by. English then got up-and-down from a plugged lie in the front bunker.
On the third playoff hole, TPC River Highland's 17th, both men holed testers for par after racing their birdie putts by.
On the fourth playoff hole, back at 18, it was Kramer's turn to get up-and-down from that front bunker.
On the fifth playoff hole, back to 17, Kramer's birdie effort to end it once again caught the lip, and English hearted a six-footer for par.
On the sixth playoff hole, back at 18—well, we already talked about that one.
On the seventh playoff hole, we're at 18 permanently now, they traded routine pars.
After the eighth playoff hole, they rested.