The Northern Trust
How Tony Finau blocked out the haters, grabbed his 'finally' win and put to rest a tired narrative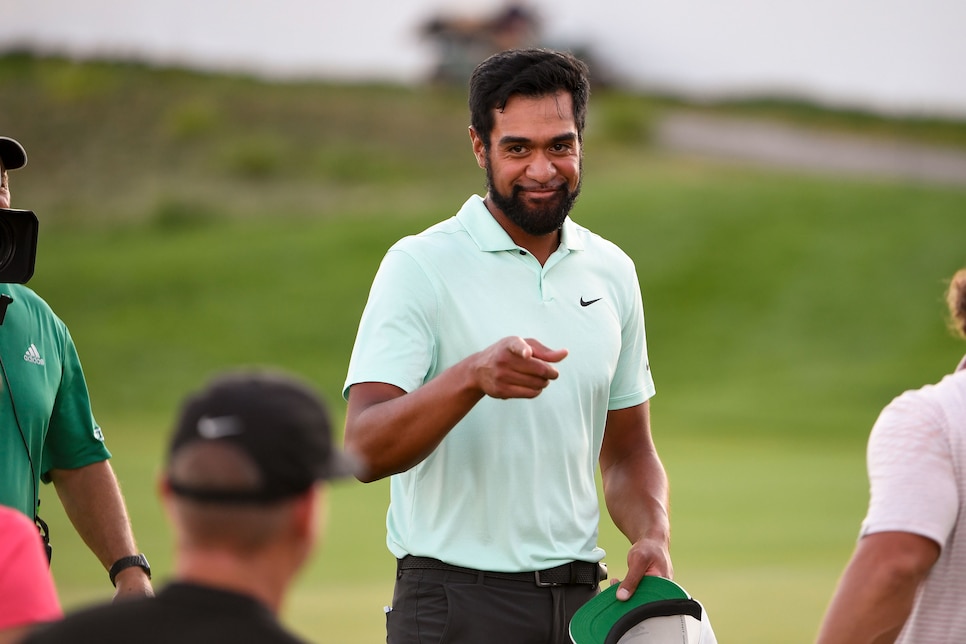 JERSEY CITY, N.J. — Sunday after Sunday came and went without a trophy. They brought top-five finishes galore and PGA Tour stardom and generational wealth, but no hardware. Tony Finau was, in a sense, a prisoner of his own success. When you give yourself dozens of opportunities to win and you don't do it, all anyone wants to talk about are the failures. This is the origin story of one of modern golf's tried-and-true narratives: Tony Finau can't get it done on Sunday.
Monday, however, proved a different story.
A day after Hurricane Henri passed through the Northeast and delayed The Northern Trust's final round, Finau returned to Liberty National and played like a man who hadn't won in five years. A back-nine 30, coupled with an unexpected wobble from World No. 1 Jon Rahm and a violent eject from Cameron Smith on the first playoff hole, brought Finau a second PGA Tour victory that felt more like a first.
"I have an extreme belief in myself, and I have to," Finau, 31, said. The victory takes him to No. 1 in the FedEx Cup points standings with two tournaments to go and, perhaps more importantly, into the last automatic-qualifying spot for the U.S. Ryder Cup team with one week left in the points race.
"This game is hard as it is. These guys are so good as it is. If you can't believe you can beat them, man, it's just an uphill battle, and I just continue to believe. I believe in myself. I believe in my team. I haven't had the wins to maybe have that type of confidence and belief, but you just have to. I have to believe I can go out there and beat J.T. today, and I can beat Jon Rahm. I have to believe that, and I did, and I continue to do that, and that's the only reason why I'm sitting here today as the champion. I continue to believe in myself no matter where the chips fall, and try and do my best."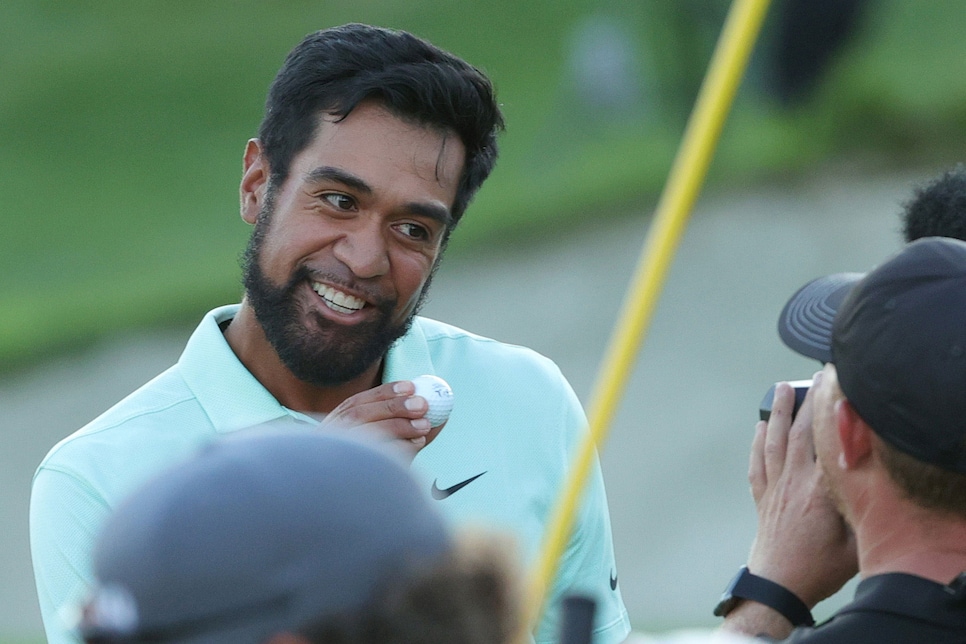 Finau's previous PGA Tour win, the 2016 Puerto Rico Open, came 1,975 days before he claimed The Northern Trust title.
Stacy Revere
The 2016 Puerto Rico Open surely brought sunshine and smiles for all who attended, but it looked a bit strange as the lone victory on Finau's résumé. He is a player of jaw-dropping natural ability—he carries it 310-plus yards with a three-quarter backswing that's probably closer to a three-fifths—and considerable accomplishments. In the 1,975 days since Puerto Rico, Finau has amassed eight runners-up, 11 top-threes, 39 top-10s, $20.4 million, a Ryder Cup start and a Presidents Cup appearance. Yet players of this caliber are judged by the Ricky Bobby criterion. If you ain't first, you're last. The focus, then, honed in on the near-misses. Why doesn't he win more? Can he hole the putts down the stretch? Does he have what it takes to close the deal?
For the longest time on what turned out to be a balmy afternoon, it didn't seem Finau would have any say in the matter. Rahm had kicked it into top gear, flashing the form that's seen him emerge as the clear-cut best player in the world. The Spaniard played no-nonsense golf to turn in two-under 34 on Monday, and hold a two-shot lead. Finau needed to hop on his horse to have any chance, and even then, he'd likely need some help. He got both.
It began at 12, when Finau carved a pitching wedge to a back-right pin for a kick-in birdie. "When you can hit it to kick-in on any hole when you're trying to chase someone—that's a great feeling and gives you a lot of momentum when you don't really have to look at a putt," Finau said.
The shot of the day came at 13, with an assist from Henri. The hurricane didn't quite bring its fastball, but a weak hurricane is a bit like a poor billionaire. In other words, it still rained. Really, really hard and for a really, really long time. The grounds crew deserve a Nobel for making Liberty National even playable after nine inches fell after Saturday night, even if it did require a four extra hours to get things started on Monday. Their best efforts still resulted in a pillow-soft golf course with greens that welcomed long-iron approaches with warm embraces. Finau roasted a 6-iron into the par 5 that drew a yard and plopped down a yard from the hole—three feet and one inch, to be precise, the exact same proximity as his approach on 12. After the round, Rahm asked Finau's caddie, Mark Urbanek, how he made the momentum-shifting 3. "Did he stick it?"
"Like this," Urbanek said, holding both index fingers about three feet apart.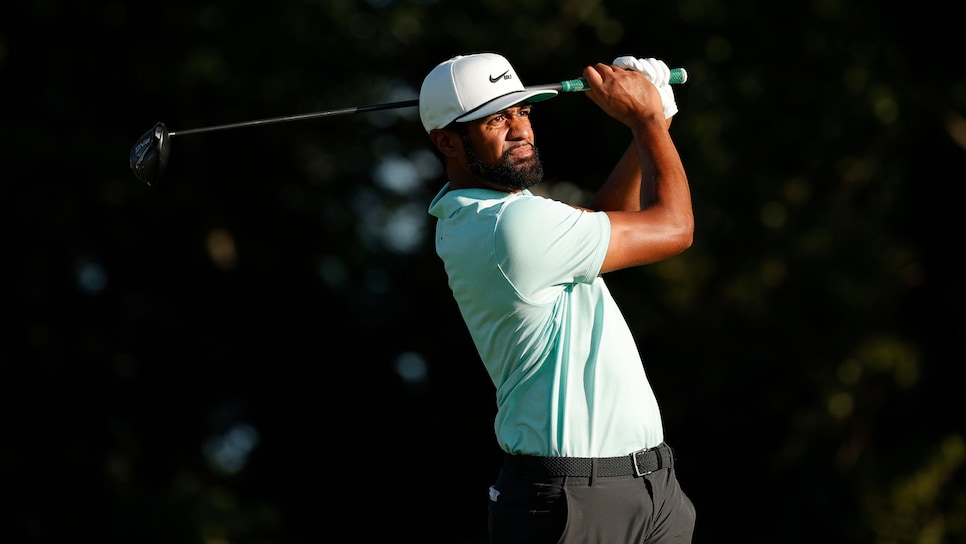 When falling short in the past, Finau has been criticized for his final-round performances, but no one could do that when he went five under on his final seven holes for a closing 65 on Monday at Liberty National.
Sarah Stier
The eagle brought Finau to 18 under and saw him catch Rahm for the first time, but Rahm too feasted on the par 5 to reclaim a one-shot advantage then got up-and-down for par at the next. He'd played bogey-free golf for 14 holes and looked destined for a second victory in 2021 and likely Player of the Year honors—until he hit a tee shot on 15 that he thought would carry the bunkers down the left. It did not carry the bunkers down the left, forcing a layup and an eventual missed par putt from five feet.
"You know 15, it's the one I keep going to," Rahm said. "I hit every single one of those five shots the way I wanted to, and that's the unfortunate part. That bunker, the wind didn't push the ball the way I thought, and I think that was the difference."
In the group ahead, Finau had followed up his eagle with a birdie at 14 and added another at the drivable par-4 16th to reach 20 under.
Rahm's chances took another serious blow when he failed to birdie 16—but Smith, his playing partner and co-leader after 54 holes, made no such mistake. Two days after setting the course record with a 60, the Australian made a late charge with another birdie at 17 to catch Finau, who managed a gutsy up-and-down from a short-sided bunker for par at 18. Smith played two perfect shots down the last but left a 24-footer for the win short in the jar.
The two men—Finau with a high-and-tight haircut and a manicured beard, Smith with a juicy mullet and whispy mustache—headed back to the 18th tee box for the playoff, which was decided before they left the tee box. Finau played first and pured his down the center. Smith countered with a foul-ball way right headed toward Brooklyn. It cleared the boundary fence, his re-tee found the bunker, and all the sudden Finau's walk turned into a stroll.
"Just a terrible swing, mate," Smith said. "Just a mis-hit, and in these conditions, you can't mis-hit the because ball. Got a little bottom-y and a little bit heal-y and just blew up in the wind and went a long ways right. You know, my driver has cost me a few tournaments this year. That makes mean more determined to try and figure it out before the end of the year."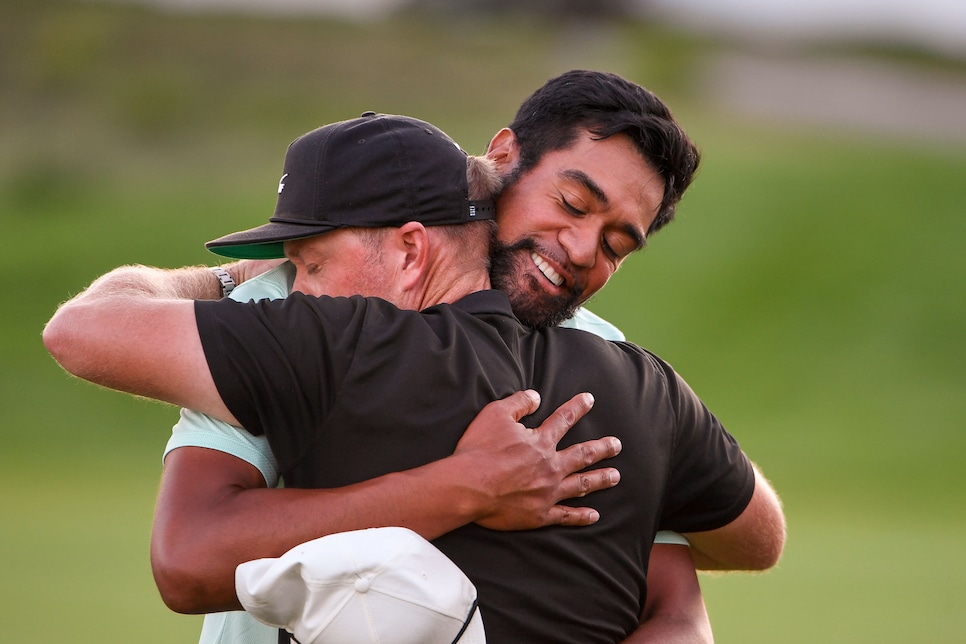 Tony Finau hugs his coach, Boyd Summerhays after winning in a playoff on Monday during the weather-delayed final round of The Northern Trust.
Tracy Wilcox
Finally, Finau headed to a final-round press conference knowing he wouldn't have to talk about losing. To his immense credit, he answered every question about his shortcomings with grace and a smile. He never turned bitter or snarky, for he maintained that he was playing great golf and that was all he could control. Stay the course, he told himself, and the wins will follow. The law of averages will eventually take hold, luck will fall his way, and his patience will be rewarded.
"I hit some really clutch shots when I needed to, and I think it's going to be huge for my confidence moving forward. I've played really nicely in big tournaments, but to turn in a 30 on the back nine of a playoff event, trying to chase down the best player in the world, those are all things that will go in the memory bank and hopefully I'll continue with the success moving forward."