59 Watch
Cameron Smith misses putt for 59, ends up shooting course-record 60 at Liberty National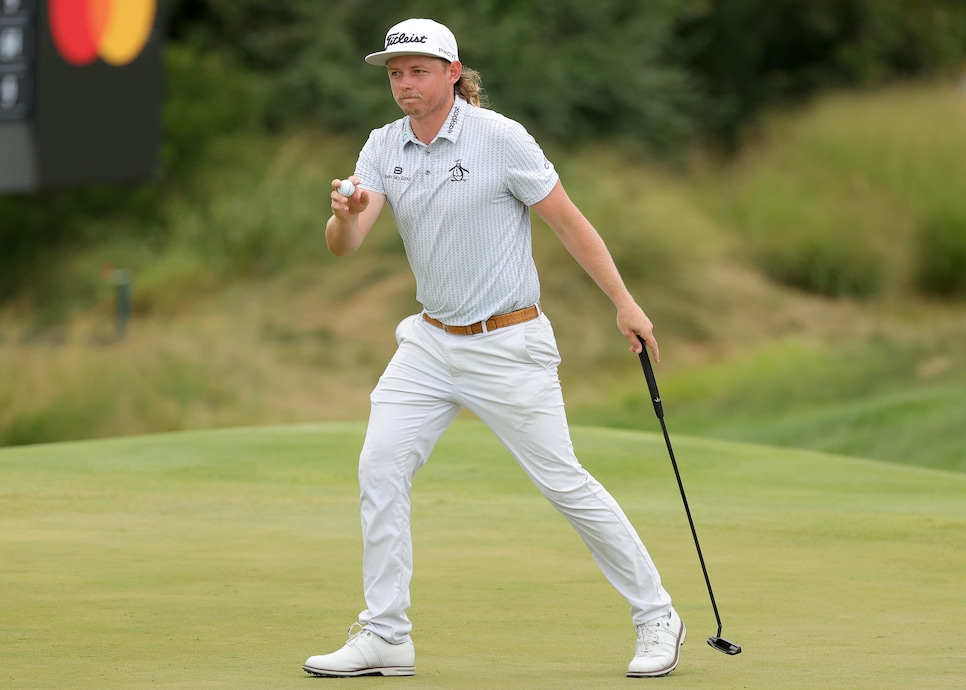 Cameron Smith of Australia waves after making birdie on the 17th green in the third round of The Northern Trust.
Stacy Revere
JERSEY CITY, N.J. — The quality of golf required to sniff 59 on a PGA Tour layout is hard to describe. You must drive it on a string, control your distance perfectly, get hot with the putter. So, so many good shots. And yet, when you really have a chance to shoot—all together now—golf's magic number, all anyone seems to remember is the last time your club struck the ball. Remember Phil Mickelson, in Phoenix? The horseshoe lip-out that denied him membership in the sub-60 club? Do you recall a single other shot he hit that day?
Yes, the 59 watch club is a what-have-you-done-for-me-lately business, and Cameron Smith's final putt on Saturday was his worst: a complete misread from 12 feet out on the 18th green at Liberty National, forcing the mullet-ed and mustached Aussie to "settle" for an 11-under 60 that breaks the previous course record by two.
"I actually thought it was going to kind of stay straight and then drop a little bit right there at the end off the bunker, and yeah, just didn't do it," Smith said. "I hit a pretty good putt, good speed and, looking back at it, I don't know how I read it to go that way, but it is what it is."
After opening the Northern Trust with 69-68—nothing to scoff at but nothing near contention on a pillow-soft Liberty National—Smith catapulted to 16 under par with the best round of his career. It started early; Smith birdied each of the first three holes with putts of seven, 16 and three feet. A par at the fourth preceded birdies at 5 and 6, and one last one before the turn had him at six under for the day heading into the back nine.
A nine-footer dropped at 10, but it wasn't until back-to-back birdies at 13 and 14 that whiffs of Scottie Scheffler started permeating through the air. Exactly one year ago Saturday, about four hours up the road, Scheffler shot 59 in the second round of the Northern Trust at TPC Boston. Smith would need to birdie each of his last three to equal that.
"I think I was nine under then and yeah, just wanted to press on and wanted to see what I could do," Smith said. "Obviously in a great spot, and that last four or five holes here are pretty tough, so I knew it was going to be a big ask. But yeah, I played some really good golf coming in."
Or an eagle. That would help too. That nearly manifested at the driveable par-4 16th, where Smith's tee shot left a 16-footer for a 2. It wouldn't drop, but the first leg of the tripe-birdie mission had been completed. He stuck his second to four feet at 17 and hearted the putt, and all the sudden this was very real. Smith did not say a word as he walked form the 17th green to the 18th tee, where he proceeded to absolutely mash a 342-yard knuckleball that didn't curve hardly a foot. Chez Reavie isn't long to begin with, but Smith outdrove his playing partner by 52 yards on the finisher.
The wedge shot was pushed a hair but perfect for distance, leaving a very makeable 12-footer for glory: up the hill, a hair right-to-left. It was low the whole way.
For the day, Smith picked up 2.1 shots off the tee, 4.2 on approach, .96 around the greens and just 1.165 with the putter. This was a ball-striking clinic.
The hardest part about shooting a low-low round, as one of golf's all-time axioms goes, is following it up with another. Perhaps an extra buffer day will do the trick—the final round has been postponed until Monday, with Hurricane Henri expected to bring bad weather to New Jersey on Sunday.
"I always think it's hard to back up a really good round, so maybe the day off will help me out," Smith said. "I don't know what I'm going to do [Sunday]. I've never been in this situation tomorrow. Probably just a little bit of a rest. A round like this usually takes it out of you a little bit, the adrenaline, the highs and the lows."