The Masters
Masters 2021: How Saturday's rain likely affected the outcome of this year's tournament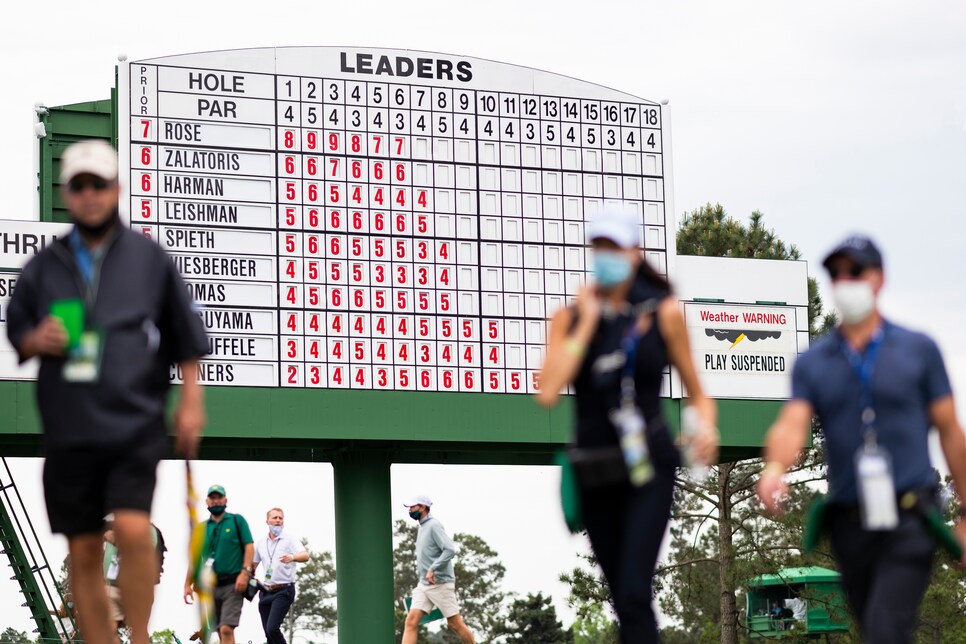 AUGUSTA, Ga. — As the old saying goes, "The Masters doesn't really start until the back nine on Sunday." This year, however, Mother Nature produced a head start.
A storm rolled in on Saturday afternoon, causing a weather delay during the third round. It lasted a little more than an hour, but that delay had a big effect on the outcome of this tournament.
If "firm and fast" were part of your Masters drinking game over most of the first three days of the event, well, you probably didn't make it through all of Saturday's coverage. But after the rain came, we saw a kinder, gentler Augusta National that finally yielded bursts of red on the leader board that fans come to expect from the year's first major. Before the rain delay, scores on Saturday were 28-over-par—but with softer greens after the delay, scores were collectively double-digits under par.
The Masters venue was finally there for the taking—and one man seized control of the tournament.
Hideki Matsuyama had just hit what he described as probably his worst shot of the week off the tee on the 11th hole when the horn blew. But after spending most of the delay playing games on his phone, he returned to hit a brilliant shot from the right rough, navigating his ball under some trees and to the back of the green to set up a rare birdie on the difficult par 4.
From there, he seemed like he couldn't miss,. First came a birdie on the par-3 12th. Then Matsuyama took advantage of the softer conditions when he hit a 5-iron second shot to six feet on the par-5 15th, setting up an eagle to give him the solo lead for the first time. He added birdies on 16 and 17 to extend his lead to four shots.
When he finally put himself in a tricky spot on a walkway behind the 18th green, Matsuyama responded with a beautiful chip that hopped onto the putting surface and rolled to within two feet to set up a closing par. Even that, though, he attributed to the softer conditions.
"Thankfully for the rain," Matsuyama said. "I was able to put some spin on the ball, and it checked up and got close to the pin."
Matsuyama's playing partner, Xander Schauffele, was sharp after the restart as well and also eagled 15, a hole where the green had previously proven tough to hold. After the round, he was part of the chorus saying the course was playing "softer and slower" than the course that had been giving most players fits.
"The tricky part was probably hitting your putts hard enough," said Schauffele, who will play with Matsuyama again in Sunday's final group. "I think Hideki kind of was an example of that on 13. Hit a great iron shot in there. Normally you'd kind of just touch your putt, it gets feeding down that hill and it's an easy two-putt. Now you're sort of looking down at the creek there and you have to hit your putt hard coming down the hill. It was a challenge in a different way."
Matsuyama wasn't the only person who three-putted 13 for par after the restart. Corey Conners and Jordan Spieth both did, and Zalatoris' three-putt resulted in a bogey. To be sure, players struggled a bit with the green speeds—Justin Rose said it took three or four holes to get used to it—but overall, the scoring got better over those final few hours. For most players, that is.
Justin Thomas went the other way in a tough two-hole stretch that also included a three-putt on 13. Unfortunately, his three-putt came after his third shot found Rae's Creek, and the resulting triple bogey followed by a bogey on 14 all but ended his chances of winning a first green jacket.
"It was two rounds," Thomas said. "I was playing great before the delay, and then I didn't afterwards. I mean, it's just a shame. I was really playing well. The golf course was playing very difficult, and I just couldn't adjust to the green speeds when I got back out. There was more to it than that, but I had a lot of putts that I missed that were short just because of how much slower the greens were, but everybody had to adjust to it, and I just didn't do it as well as everybody else."
There's a chance the course gets more rain Sunday morning, but with more wind coming in the afternoon, we may have seen the best window for scoring.
"I think there's a period of adjustment out there that probably doesn't reflect really good scoring," Stewart Cink said of the restart, "but if we played all day like this, the scoring would be really low for her. . . . unfortunately for us, we ran out of holes."
After all, don't forget Augusta National has its famed SubAir system. In other words, we could see the course return to firm and fast, well, fast. Still, that doesn't mean we won't see plenty of action come the back nine on Sunday.
Matsuyama may have a four-shot lead, but in addition to it being his first 54-hole lead at a major, he'll also have plenty of guys trying to track him down. In addition to Schauffele, Rose, Marc Leishman and Will Zalatoris are all at seven under. Conners is at six under and Jordan Spieth, the only player on the first page of the leader board with a green jacket, lurks at five under.
"Yeah, you know, and so I've been playing with the lead the whole week, and obviously there's been an hour of golf where Hideki has sort of moved out there in front," said Rose, who led after 18 and 36 holes. "You know, all the guys chasing at seven under par are all capable of that little run that Hideki has had, so it's all up for grabs tomorrow."