Stats
Masters 2021: The 5 most intriguing stats from Saturday at Augusta National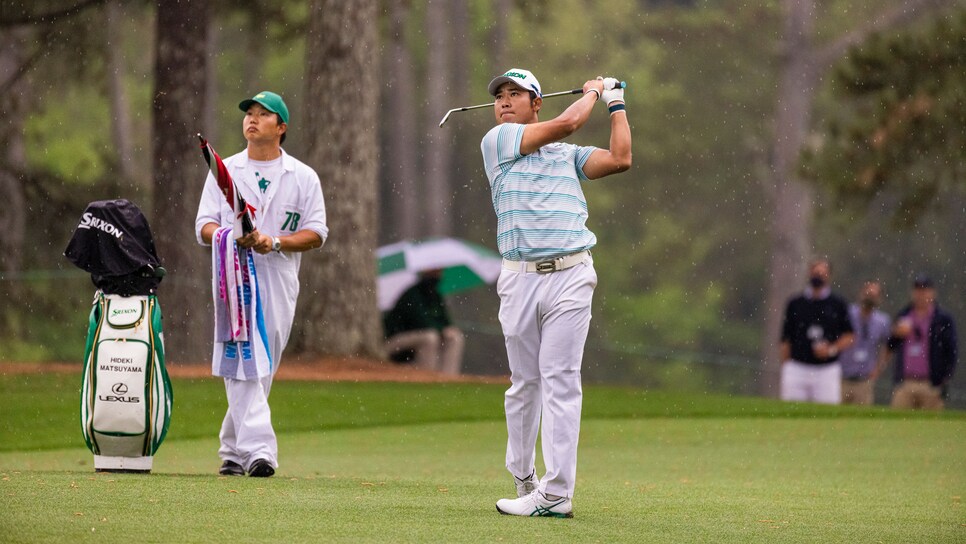 It was indeed "Moving Day" for Hideki Matsuyama but it became "Survival Day" for much of the rest of the field on Saturday at Augusta National as several near the top of the leader board struggled. The result was a scrunched group four strokes behind Matsuyama after 54 holes. Here are five stats worthy of our latest installment of the facts and figures that matter at this year's Masters.
Matsuyama's special Saturday
We noted how Saturday is often referred to as "Moving Day"—a term that evokes images of a player shooting lights out and racing past numerous players to the top of the leader board. That's often more fantasy than fact, but Matsuyama did just that Saturday at Augusta National. With the first bogey-free round of this year's tournament, Matsuyama produced a seven-under 65 to take the lead. In tournament history, only six other times has a player shot 65 or lower in the third round to have the 54-hole lead outright: Dustin Johnson last November; Peter Hanson in 2012; Tiger Woods in 2005 and 1997; Hubert Green in 1978; and Jack Nicklaus, with a 64 in 1965. Hanson and Green failed to hold on while Johnson, Woods and Nicklaus converted the win.
Matsuyama's Sunday struggles
Stats guru Justin Ray of 15th Club tweeted: "Hideki Matsuyama has been inside the top-10 entering the final round of major championships 8 times in his career—all since 2015. It is the most of any player without a major win in that span." However, a closer examination of those events reveal a player that has trouble taking advantage of that position. Matsuyama only bettered his position twice in eight tries, and in five of those tournaments he fell outside the top 10 entirely. In fact, Matsuyama's best finish in a major came at the 2017 U.S. Open, when he was T-14 after three rounds but rallied for a T-2 at Erin Hills. Here's a look at Matsuyama's struggles:
Event/Third round/Finish
2015 Masters: T-10, Fifth
2016 Masters: T-3, T-17
2016 PGA: T-5, T-4
2017 British: T-5, T-14
2017 PGA: T-2, T-5
2019 PGA: T-6, T-16
2020 Masters: T-10, T-13
2020 U.S. Open: T-4, T-17
The fourth proves fearsome
Xander Schauffele did something Saturday no one else did: He birdied the fourth hole. While No. 4 might be the least attractive of the par 3s at Augusta National, it is without question the most difficult. On Saturday, it proved particularly ornery, sharing the second-most-difficult ranking with No. 5, playing .4630 over par on average. Schauffele, however, proved the exception, striking his tee shot to about eight feet and making the putt.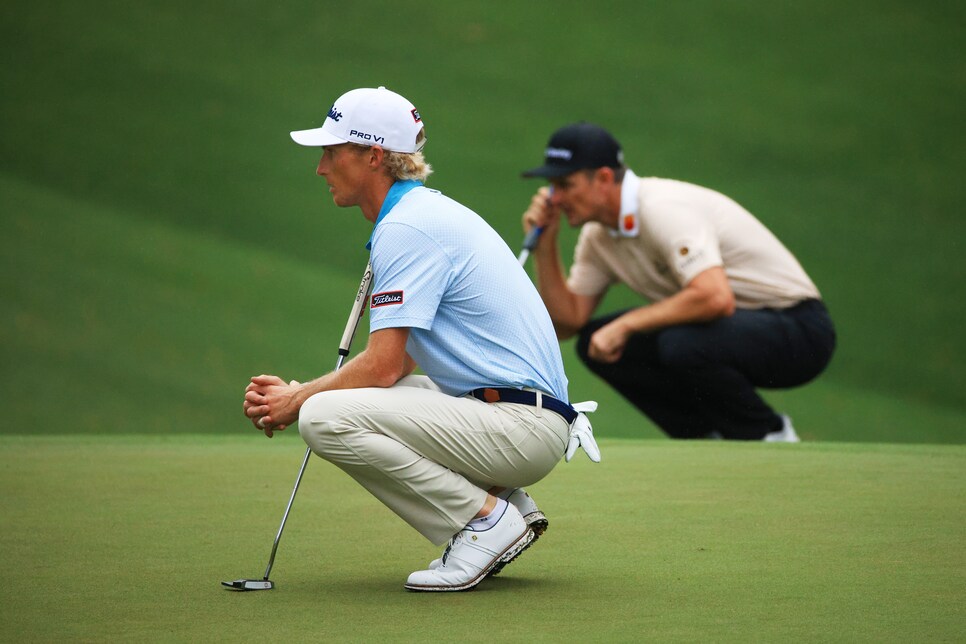 Justin Rose and Will Zalatoris look over their putts on the 10th green during the third round of the Masters.
Mike Ehrmann
In prime position
So, who will win the Masters? Look no farther than the top five spots on the leader board. Not since Nick Faldo in 1989 has a player been outside of the top five after 54 holes and won at Augusta National. In fact, 26 of the winners since then were either first or second heading into Sunday. That means look for Matsuyama or the four players tied behind him—Justin Rose, Schauffele, Marc Leishman or Will Zalatoris—to be wearing green on Sunday night. The closest anyone outside the top five is to Matsuyama is Corey Conners at six strokes back.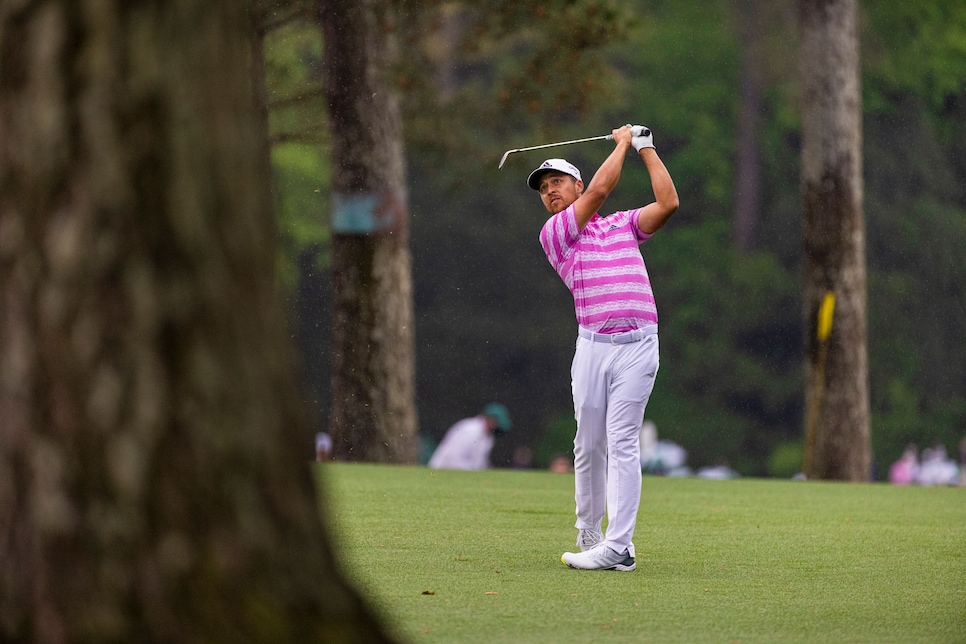 Greens in regulation lead to green jackets
Of course, if you don't like the above stats, another great indicator of Masters champions is greens in regulation. Since 2002 (the first year ShotLink has stats for), the winner has an average GIR rank of 6.79. Compare that to average ranks of scrambling (10.21); driving distance (17.79) and driving accuracy (25.11) and hitting greens is clearly paramount at Augusta National. In fact, the median rank is even better at 3, and in 13 of the last 19 Masters the winner has ranked fourth or better in GIR for the week. That's good news for Jordan Spieth, Justin Thomas, Xander Schauffele and Tommy Fleetwood, who occupy the top four spots in the greens in regulation stat after three rounds. OK, maybe not Thomas or Fleetwood, but you get the idea.