Legends
Masters 2021: How Jose Maria Olazabal's guile—and some inspiration from Seve—produced the most unlikely made cut in years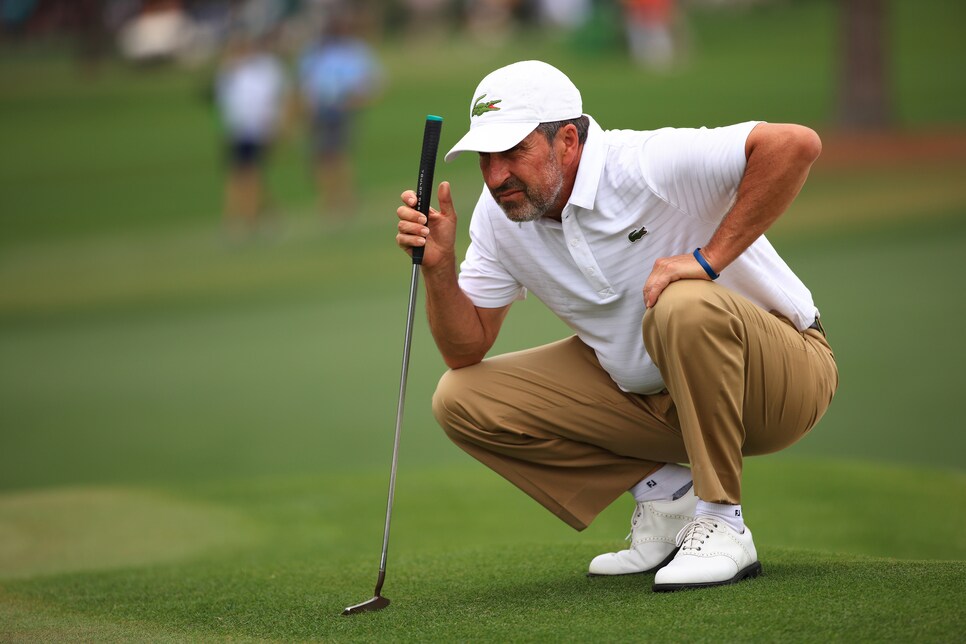 AUGUSTA, Ga. — Moments after Patrick Reed had pushed his drive on No. 2 and unsuccessfully pleaded with his golf ball to stop short of that cavernous fairway bunker, Jose Maria Olazabal hit one on a similar line. This time, however, there was no begging, because the two-time Masters champ knew there was no chance he was reaching the popular target.
Such is life when you're the oldest player to make the cut at the Masters. Augusta National plays longer than it does for the young whippersnappers. But that doesn't mean a 55-year-old still can't get it around.
Minutes later, it was Olazabal—and not the man who won a green jacket nearly two decades after the Spaniard last did—who made birdie on the par 5. And Olazabal would remain in red figures until a four-over stretch on holes 15-17.
But just the fact that he was playing in Saturday's third round at all was somewhat of a miracle—one that was inspired by the late great Seve Ballesteros.
"Well, yesterday was a special day. Yesterday was his birthday," said Olazabal, who wore navy and white on Friday to pay tribute to his close friend on what would have been his 64th birthday. "I had that in my mind. In those days, they're always special when you experience moments like I have close with him at the Ryder Cup, big events, the way he treated me all through the years, you know, those days are truly special. And I miss him, I have to say, especially around here, because I know that he would be enjoying every part of being here."
A fellow short-game magician, Ballesteros would have enjoyed watching Olazabal put on a scrambling clinic during his 75. The score doesn't seem all that impressive until you consider how many times he had to hit fairway woods into par 4s and even the par-3 fourth.
Olazabal had 245 yards for his approach to No. 11 and 220 on No. 14, but wound up getting up and down for par on both. For the round, he hit only six greens in regulation, bringing him down to 40 percent for the week, by far the lowest in the field.
That said, Olazabal wasn't all that surprised he's been able to post solid scores given his experience at Augusta National—highlighted by winning green jackets in 1994 and 1999.
"I know there's certain holes that I'm not going to hit greens most probably, but this is Augusta," Olazabal said on Friday. "If you know where to hit it, at least you have a chance to save par. In these conditions, par is not a bad score."
Olazabal grinded to two over through 36 holes, making the cut while other stars like World No. 1 and defending champ Dustin Johnson and four-time major winner Rory McIlroy went home. Because of golf's volatile nature, we see surprising results like that on a weekly basis, but Olazabal sticking around was downright shocking.
It wasn't that he came in with poor recent form, it's that he arrived with no form whatsoever.
Olazabal's last competitive rounds came at the last Masters when he missed the cut by 14 shots. And he said he only started playing practice rounds within the last three weeks.
Even crazier? Olazabal last made the cut at Augusta National in 2014. And it had been more than six years since he played the weekend anywhere, which is why he admitted that just advancing to the weekend felt "like winning the tournament." His friends and family apparently felt the same way.
"I think they were all in a state of shock, I have to say, most of them," said Olazabal of his well wishers. "Nobody expected it, and that's why I got so many messages."
Of course, sadly, none of those messages were from Seve, who died almost a decade ago. But Olazabal knows how his friend would have felt about his performance this week.
"I think Seve would be happy," he said. "I miss not having him here for a big hug."