Happy Patrons
Masters 2021: Limited fans at the Masters is actually pretty awesome—if you get to be one of them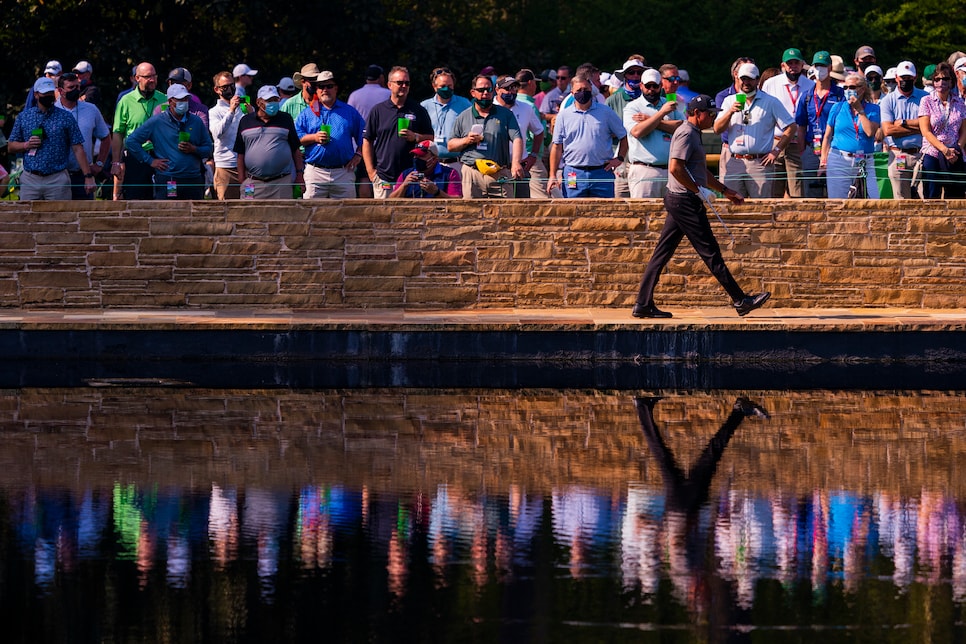 AUGUSTA, Ga. — About 20 minutes before the ceremonial opening tee shots on Thursday, another tradition unlike any other returned to the Masters. You just didn't see it on camera.
That's when tournament volunteers lowered the ropes to let fans in through the main entrance, and those in attendance assumed a familiar, hurried walk up the hill to the first tee. There's no running at Augusta National, but a certain level of speed-walking is permitted—and required—if you're going to get a prime spot to watch the action.
At least, in normal years.
Patrons are here this week in limited fashion due to COVID-19, lessening the sense of urgency to get in position. By the time Jack Nicklaus, Gary Player and Lee Elder got to the tee, the crowd seemed pretty typical. But once that memorable moment passed and those attending started (calmly) dispersing to various corners of the course—where there are no grandstands set up this year—there was a stark contrast to previous editions of the April event.
"It's entirely different," said Nonie Price, who has attended the tournament most years since 1966. Not that that's a bad thing.
"I was able to park right near the entrance and I can see so much better," added Price, who proudly hails from defending champ Dustin Johnson's Irmo, S.C. "I'm so short, normally it's tough for me to watch, but now it's wide open. You can really get great views and appreciate the flowers."
Appreciate was a word that came up often when talking to patrons. After all, a limited number (Augusta National never releases attendance figures, but we're estimating 20-25 percent) is a lot better than having none at all like last November.
During his press conference on Wednesday, Masters chairman Fred Ridley noted that patrons who did receive badges came from all the different credential holder categories that are traditionally offered (daily ticket holders, weekly badge holders and corporate partners) as well as additional badges for local healthcare workers.
"I'm so grateful to be back here," said Augusta resident Chuck Sabo, who has been coming to the tournament on and off for 15 years. "This is the most I've looked forward to the Masters maybe other than my first visit."
Thursday was the first visit for Sarah Autczak and her husband, Mark, who made the journey from the Milwaukee area.
"This is phenomenal," Autczak said. "You're not fighting for a spot with anyone."
Amen Corner, of course, is the busiest hub, but it's nothing like years past. During practice rounds, the seating section behind the 12th tee—arguably the most prized vantage point on the course—was mostly open. One patron sitting there remarked this was the first time he was taking out his camera in a decade.
"It's really neat to be out here with no grandstands," Sabo said. "You can really see the course as it's meant to be seen and you can walk right up to greens and the complexes. It really gives you an appreciation for what these guys are dealing with out here."
And it's given fans less to deal with in terms of mapping out their own gameplan. Marquee groups are drawing fairly large gatherings, but nothing like normal. And the absence of five-time Masters champ Tiger Woods has only opened things up even more.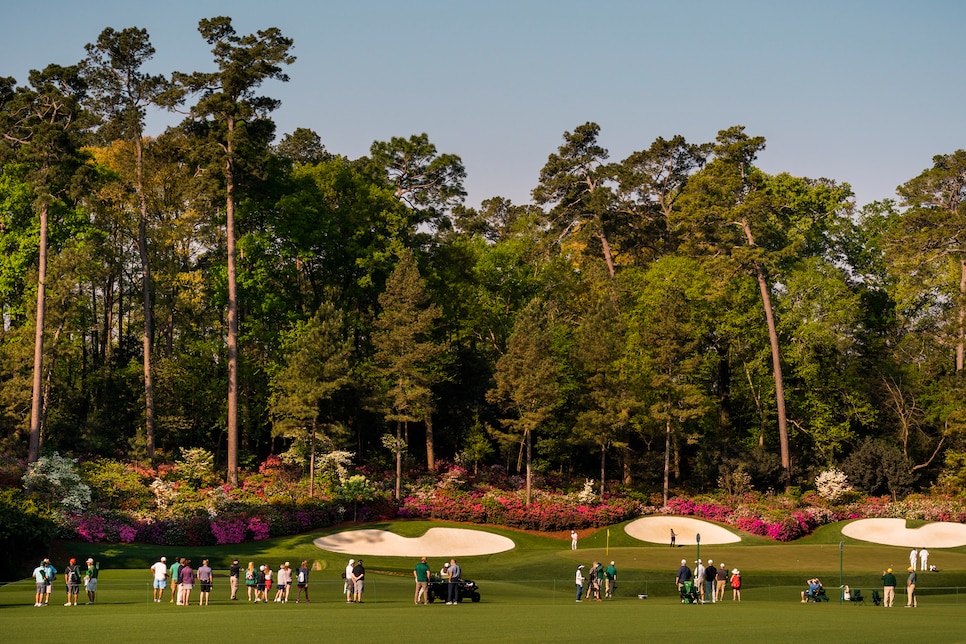 "In a pre-COVID year, you have to be really strategic," Sabo said. "Once you move and give up your spot, you can't get close to the action. This is fantastic."
Daniel Chavous of Aiken agreed.
"It's absolutely better," he said from behind the second green. "Usually, it's four-to-five rows deep already at this point. You can move around a lot easier and set up in different spots."
Smaller crowds also mean shorter waits for concessions, restrooms and the main merchandise shop, which usually has a snaking line that extends well outside the building and resembles a popular ride at Disney World.
"It's gorgeous here and everything is so well run," Autczak said. "This should be on everybody's bucket list."
Agreed. Although attending this year, specifically, might be at the top of that list.
There is one drawback, however, to fewer spectators. One that will probably be most noticeable come Sunday afternoon.
"It's going to take away from the noise," Chavous said. "I love those Masters roars."
Don't we all, Daniel. Don't we all.
But even if they're coming from fewer voices this year, they're still a welcome sound after being absent in November. And those fortunate enough to be here, might just be cheering more loudly than ever before.