Peanut Gallery
Masters 2021: Overheard from the (limited) gallery at Augusta National on Wednesday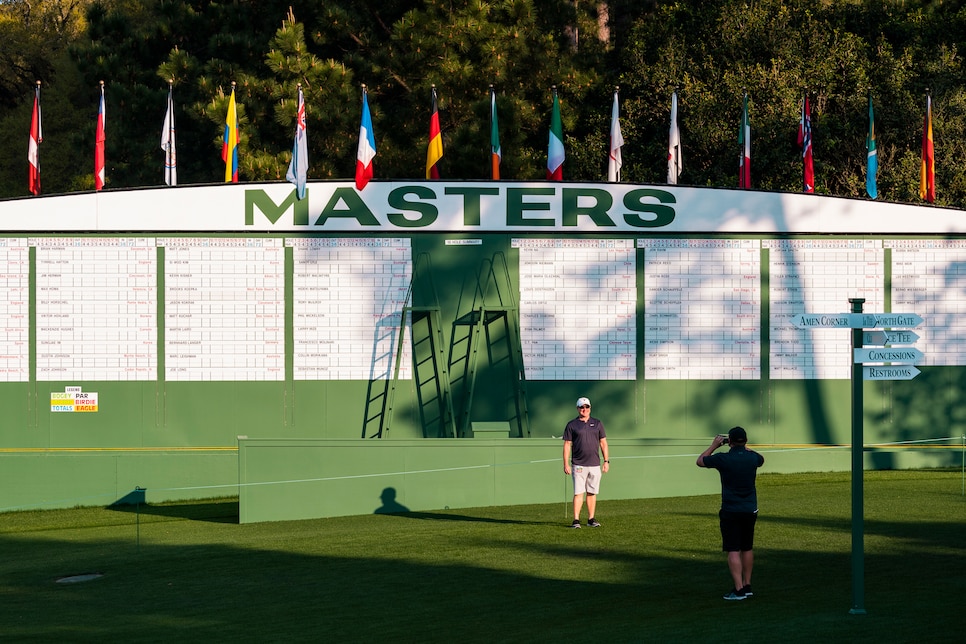 AUGUSTA, Ga. — It was another beautiful day at Augusta National, which meant more perfect conditions for me to creep on patrons attending the 2021 Masters. Kidding. Sort of. Anyway, here were some of the favorite things I heard on the eve of the year's first men's major championship.
"I wish this guy could come cut my grass." Agree. My yard is a disaster right now.
"Look at this grass! Look at this tree! It's beautiful!" Again, agree!
"It's so weird there's no Par 3 contest this year. SO. WEIRD." Perhaps, but now there's more time to hit up the merch shop. Speaking of which. . .
"Let's go swing by the golf shop. Just to get an idea of what they have." You might want to hurry because they're already almost out of all those cool sandwich shirts. And then a few hours later. . .
"That's why we shopped early," said a savvy patron while observing a huge line just to get into the store.
"What's the lowest you've ever gone?" "Well, on nine holes. . . " And just like that, there was an addition to the pre-tournament press conference schedule.
"Sorry, dude. I got delayed." Actually, that was Phil Mickelson, who was so late for his practice tee time with Bryson DeChambeau that another group got to play through. At least they didn't lose their spot altogether like your weekend foursome might have. Speaking of Bryson. . .
"Would you look at him, wow! The last time I saw him he wasn't even that big!" Yeah, that was probably 376,000 protein shakes ago.
"Is that. . . Jack Nicklaus?!" Why yes, it is. Oh, the people you'll see at Augusta National.
"We're so old, we're going to need several breaks to make it all the way around the back nine." Same here. In case you haven't heard, Augusta National is "HILLIER THAN IT LOOKS ON TV."
"I work for a local bank." You don't say? This could have been said by 99 percent of the people at the Masters.
"Walking doesn't bother him. It's the bending." A patron watching Brooks Koepka strut up the 17th fairway. Suddenly, everyone's a doctor.
"And that's really the key to life." Damn. Wish I hadn't missed the first part.
"Thank god it was still hairy!" OK, glad I missed the first part of that.