The Grind
Jordan Spieth is BACK(!), Brooks Koepka gets engaged(!) and a new Masters theme song(!) (sort of)
Welcome to another edition of The Grind, where we are so excited about this year's Masters that we wrote a song about it. Sort of. And since I didn't get laughed off the internet with my "Tiger's Chances" a couple years back, I went ahead and recorded this one. Thanks to Grind producers Michael Sneeden and Gregory Snedeker for helping me out with this, and thanks for going easy on me, especially my piano playing. I can't even play chopsticks, but I watched enough YouTube videos to at least try to attempt this version of "This Christmas" by the late great Donny Hathaway. So without further ado, here's the world premiere of "This Masters":
Just a guess, but you won't hear that during CBS' coverage. In any event, I'm fired up for this tournament. Let's have a great week, everybody, and here's what else has us talking/singing.
Jordan Spieth: He's BACK! And if you didn't see this one coming, I can't help you. Spieth had been trending toward ending his long winless drought the past couple months and he finally got over the hump with a win in San Antonio. The Valero Texas Open will never be confused with the Open Championship, but this had to feel like a major for the 27-year-old star after struggling for so long. It's possible that no one has ever been more happy to slip on a pair of ugly boots.
"This is a monumental win for me," Spieth said after. "One I've thought about for a long time." Good for him. And good for the game. Golf is (much) better when Jordan Spieth is playing better. Oh, and great timing by him considering what tournament is this week.
Patty Tavatanakit: In what has to be the most jaw-dropping performance of the year, the LPGA rookie averaged 323(!) yards off the tee while hitting 85 percent of her greens to win the ANA Inspiration. She also has to be the only major champion of the past decade to not have a Wikipedia page.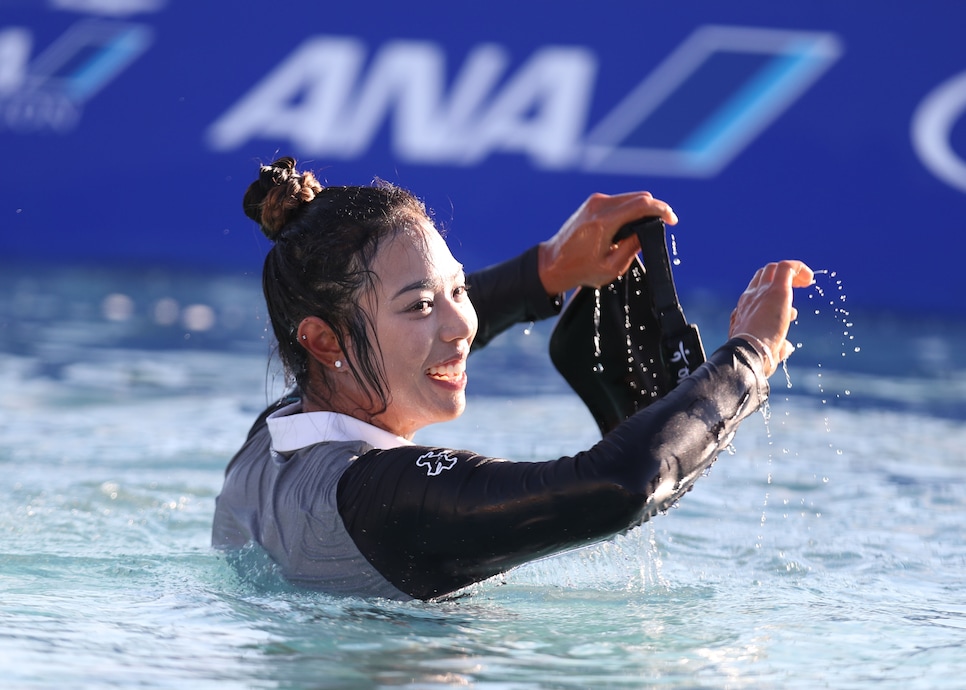 Someone with more tech savvy, please fix this. Only 21, she's just getting started.
Lydia Ko: She couldn't quite end a long winless drought like Spieth, but Ko left little doubt her winning days aren't over, either. The former phenom fired a sensational final-round 62 to nearly track down Tavatanakit. By the way, Ko has been on the scene for a decade already and she's still younger than Collin Morikawa. Just incredible. Speaking of young stars …
Tsubasa Kajitani: Admittedly, I was rooting for fellow Demon Deacon Emilia Migliaccio at the Augusta National Women's Amateur over the weekend. With another Deac, Jennifer Kupcho, winning the inaugural ANWA in 2019, it would have been nice to say Wake Forest dominates at something. But the 17-year-old Japanese golfer winning in a playoff was an incredible story as well. She's barely older than some of the Drive, Chip and Putt competitors! Amazing. Kudos to those kiddos as well. I couldn't be more jealous of their golf swings.
Rickie Fowler's major streak: We've known this was coming for weeks, but it's still pretty stunning to say out loud: Rickie Fowler won't be playing in this year's Masters. In fact, it's the first major he's missed since 2010—his first full year as a pro—snapping a streak of 42 consecutive majors. On the bright side for Fowler, 32, he's still younger than Phil Mickelson when Lefty won his first major. Let's hope Rickie keeps grinding like Spieth, because the game is also better with him playing better.
Dustin Johnson's house: As in, DJ is selling his Palm Beach Gardens pad for a LOT of money. Try $16.5 million. After buying it for "only" $5 million six years ago:
Hey, even mega-rich PGA Tour stars are cashing in right now. The real-estate market is on fire! Savvy move, DJ. And I love the fact that Dustin will be serving pigs in a blanket at his Masters champions dinner. This guy just gets it.
This dude's golf career: To be fair, he was battling both first-tee jitters and camera jitters when a local news station showed up, but wow. This is rough:
Also, how about the anchor saying, "At least he's not in a bunker"? There's no "at least" in this situation unless you say, "At least he didn't lose his golf ball." And even that wouldn't soften the blow. This poor dude just completely embarrassed himself on TV. And then went viral. He will never live that down. And considering my (in)ability under pressure, if I ever see a news station set up near the first tee as I'm about to hit, I might just go drop one out in the fairway.
As previously mentioned, we are literally singing for joy because it's Masters week. In April. Azaleas blooming, extended twilight, (limited) roars from (limited) patrons, etc. If you're a golf fan, this is the best week of the year. Let's. Freaking. Go.
Random tournament fact: According to 15th Club's Justin Ray, only one golfer has gained more strokes on average at Augusta National than Jordan Spieth. And it's not even Tiger Woods.
Pretty impressive. Even Jim Nantz picked Spieth to win while calling the Final Four. And he hates making predictions. In other words, it's Spieth #szn, y'all.
RANDOM PROP BETS OF THE WEEK
—Jordan Spieth will win the Masters this week: 10-to-1 odds
—Odds I have on Spieth winning this week from a February bet: 50-to-1(!)
—Spieth will win this week now that I've bragged about my ticket: 1 MILLION-to-1 odds
Brooks Koepka is a social-media assassin:
Guess that knee is feeling pretty good!
VIRAL VIDEO(S) OF THE WEEK
We are still on a Joel Dahmen high in the wake of his recent win in the Dominican Republic. Look at this fantastic reaction he gave to a tee shot:
Way to play it cool, JD. And this video of a Jordan Spieth recovery shot has everything. Spieth being a bit finnicky, a kid getting literally dragged off the course and another kid talking trash. Oh, and not to mention a great shot by Spieth:
But seriously, what a brat! Spieth said after the round he didn't hear the kid. Talk about being locked in. No wonder he wound up winning.
THIS WEEK IN PUBLIC DISPLAYS OF AFFECTION
Congrats to Jon Rahm and Kelley Cahill on the birth of their first child!
And another congrats on the timing as Rahm can now play the Masters without worrying about having to rush to the hospital. And I can feel (a little) better betting on him again. Can you say, "Danny Willett in 2016," which, coincidentally, happens to be the biggest win of my gambling career. Oh, yeah, I'm feeling good about this one. Oh, and that 50-to-1 bet on Spieth. But Jon and Kelley weren't the only superstar couple with a big announcement …
Congrats to Brooks Koepka and Jena Sims on getting engaged!
What great photos—and a clever Nike ad in the second one. Those kicks are fresh! And I'm sure Brooks' friends have been telling him to "Just Do It" for sometime now. Actually, the most amazing part of this is that they actually waited a month to publicly share the exciting news. That's incredible discipline in the Social Media Era. On the other hand …
THIS WEEK IN PUBLIC DISPLAYS
Otherwise known as "This week in Greg Norman being Greg Norman":
Geez, Greg. There are kids on Instagram!
Slow play is never good, but good for the LPGA for cracking down. And good for Noh for taking full responsibility. The 19-year-old gave no excuses for dawdling. How about that? My colleague and Be Right co-host Chris Powers has coined the phrase, "The Year of Accountability." Well, Noh is a glowing example of that. Now, just go play faster. Everyone. Let's make this the year of respectability—when it comes to 18-hole times, that is.
Henrik Stenson has gone back to his trusty 3-wood, which has a current value of $13.50. Normally, I wouldn't advise getting back with an ex, but given Henrik's track record with that thing it seems like the smart move. … Eddie Pepperell promised to "play a tournament round next year topless" if Jordan Spieth doesn't win at Augusta National this week. Greg Norman isn't impressed. … Adam Scott prepared for this year's Masters by … hosting a podcast about preparing for this year's Masters. How meta! He joined us on this week's Be Right podcast to discuss. … And speaking of podcasts, our latest episode of Local Knowledge examines the regular golfers who have gotten to play Augusta National:
Unfortunately, with no media lottery this year due to COVID, I won't be joining them this week. Maybe next year …
RANDOM QUESTIONS TO PONDER
Will I ever get to play Augusta National?
Why didn't I take more piano lessons as a kid?
Why didn't I bet more on Jordan Spieth at 50/1?