Hanging Around
Masters 2021: Phil Mickelson hasn't stopped believing he'll find more Augusta magic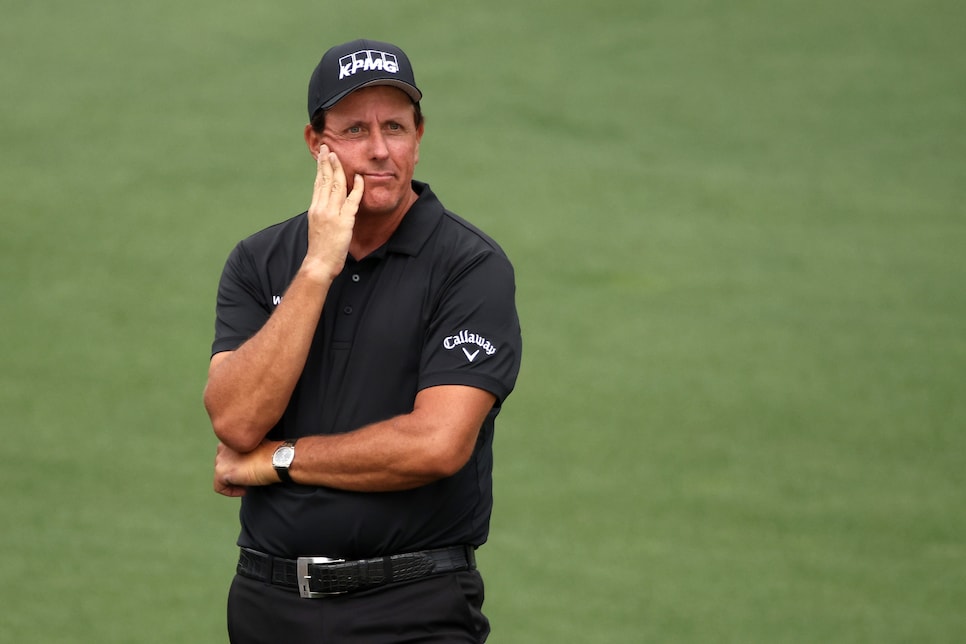 AUGUSTA, Ga. — Before the campus grew to the size of Disneyland, the Masters was an intimate affair. There's a reason Bobby Jones originally named his tournament the Augusta National Invitation Tournament; it was a small gathering of his friends and the game's masters, and it was only the grandiose vision of his co-founder Cliff Roberts that led to the inexorable expansion … and a name change Jones never liked.
Phil Mickelson is a throwback to those simpler times. He's forged friendships with many of the Augusta National members and during tournament week presides over long, schmoozy lunches. Following the second round Mickelson remarked to green jacket John Carr how much he enjoyed chatting with his daughter earlier in the day, noting that she was waist-high when they first met and is now a grownup. "I can't believe how fast the time goes by," Mickelson mused.
Like pencil markings on a doorjam, the Masters is how we will always measure Mickelson's growth. The walk-off win in 2004 ended more than a decade of frustration in the major championships and, as Davis Love said at the time,"We can finally stamp him APPROVED." The dominant win in '06 was peak Phil and confirmed him as a player for the ages. The Masters has a way of summoning big emotion—think of Ben Crenshaw doubled over on the final green, or Tiger's iconic hugs with his father and son—but Mickelson's victory in 2010, for his cancer-stricken wife Amy, was as wrenching as it gets. A lone tear streaked his cheek as they embraced behind the 18th hole, and the golf world cried along with them. Not for nothing, that was the same Masters at which Augusta National Chairman Billy Payne used his bully pulpit to lecture Tiger Woods about his moral failings. Mickelson's human side and very public embrace of his family (including his willingness to skip major championships for his kids' life events) is part of the reason why, around Augusta National, Tiger may be more revered but Phil will always be more beloved.
But Mickelson arrived at this Masters at a crossroads. At 50, he still has enough game to dominate the PGA Tour Champions in his spare time, but his heart remains with the best players in the world. Two years ago Phil prevailed at Pebble Beach for his 44th PGA Tour win (ninth all-time on tour) and as recently as last August he finished tied for second in the WGC at Memphis. But he's pretty much been in a funk ever since COVID largely took away the galleries that inspire this consummate entertainer to show off. Amy hoped being at Augusta National might help her hubby turn back the clock. "He loves this place so much he's like a little kid when he gets here," she says.
But two rounds into this Masters, Mickelson has been unable to generate any momentum. During an opening 75 he struggled with the lightning-fast greens, making six bogeys and putting himself on the precipice of a missed cut. On Friday, Mickelson flushed it from tee-to-green but a series of miscues whilst chipping and pitching and more middling putting doomed him to a 72. That was good enough to make the cut on the number but afterward Mickelson was not in the mood for moral victories.
"I mean, it could have easily been [a low round] today," he said. "It could have been yesterday. I'm just making a lot of scoring errors. I played a great back nine, right? Hit every green, every par 5 [in two], but I two-putted every hole. Yeah, I shot two under, but I've got to make some putts and got to start capitalizing on some of the shots I hit in there close. But that's part of the challenge of the game of golf. It's part of what I love. "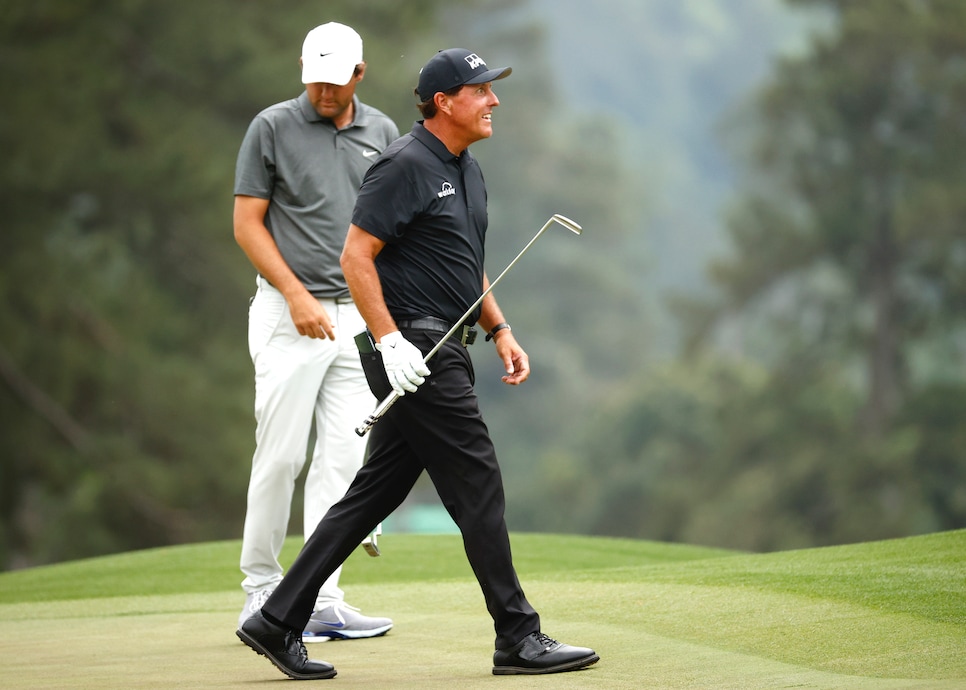 Phil Mickelson reacts on the eighth green during the second round of the Masters.
Jared Tilton
Mickelson will not stop trying to find the answers. The man who has played majors with both two drivers and no drivers in the bag worked with Callaway in recent weeks to perfect a 260cc 2-wood that he has been able to shape into tight fairways like at the seventh hole. On Thursday, Phil was the last man on the practice putting green as the sun began to set on Augusta National. His college coach and career-long agent Steve Loy thinks Mickelson might actually be overdoing it. "Man, he wants so much to play good," Loy says. "He's working at it harder than ever. Sometimes you can try too hard and get in your own way."
Which is not to say Mickelson isn't still having some fun. Walking to the 17th green on Friday, after another pure approach shot, he spied Amy on the rope line. He offered a devilish grin and shouted from the fairway, "I'm going to birdie this hole for you!" That made yet another missed putt even more painful.
On the 18th tee Mickelson smoked a drive that stopped one pace short of the fairway bunker. He cracked up the smattering of fans on hand by quoting Ben Stiller from "Something About Mary": "Strong like bull."
After the round, Mickelson excitedly informed a small gathering of friends that drive had traveled 312 yards, uphill. And he offered a relatively rosy assessment of his game: "It's close. It's very close. When it clicks I'm gonna go off."
That remains to be seen. But all that really matters is that Mickelson believes it to be true.
MORE MASTERS 2021 STORIES FROM GOLF DIGEST: