U.S. Open
U.S. Open 2022: Why the man who shot 83 still feels pretty damn good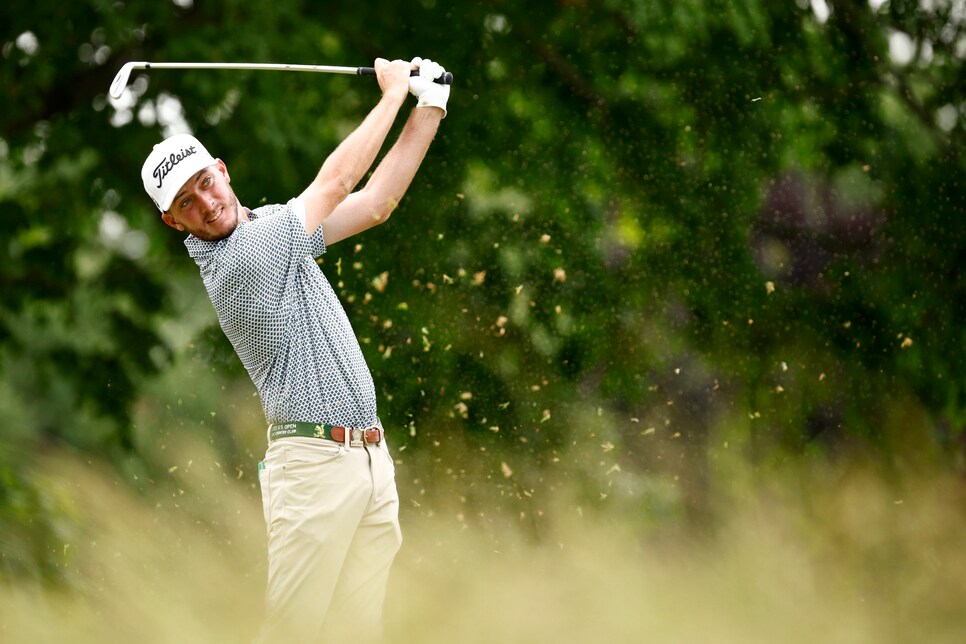 BROOKLINE, Mass. — He had earned the right to be sullen, to be detached, to find a punching bag and unleash the fury that this course unleashed on him. Instead Keith Greene walked along the steel barrier that divides the practice area from the public at The Country Club Thursday afternoon signing autographs and talking to fans, telling them, yes, it is as hard as it looks. A cadre of grown men—dressed in green shirts with Greene's name on their backs—extended a beer in his direction, one he gladly accepted and rightfully earned. As Greene later explained, what happened Thursday in Brookline did not change his journey here or change what could happen ahead. Besides, after spending a lifetime chasing this moment Greene didn't know how much longer it would last. So yeah, you're damn right he was going to take a swig of beer.
"Hey, look around where we are at," Greene says minutes later, the smell of Corona lightly dancing off his breath. "How could you possibly be upset being here?"
Keith Greene epitomizes the romanticism of the United States Open. The 29-year-old has made 12 career starts on the PGA Latinoamerica and Canada tours, making one cut for a whopping $656. There's little to show for the seven years he has spent bouncing around Florida's mini-tours since graduating from Lynn University in 2015. But he endured, sensing there were places he had the ability to go and believing his sense of direction was true.
The inherent beauty of the U.S. Open is found in its name. This championship does not care who you are or what you have done, its invitations not given but taken. It is meritocracy incarnate. Proving himself first at local qualifying, Greene turned in a 70-68 at the final stage—two shots better than Rickie Fowler, who has a runner-up at this event—to earn one of the four spots up for grabs at Admiral's Cove.
Afterward, realizing what he had done—that the demon he had spent a lifetime chasing had been caught—Greene gave an emotional interview that instantly went viral.
"This is a dream, man. Man, family and friends, belief in God," Greene said that day. "I just believed so much in myself. It's just been hard, man. The family's there, though. The texts from Mom and Dad. They believe in me. I'm just trying to do what I can, and I know I got it. It just takes so much out here."
Shortly after the interview Greene says he was inundated with messages. From friends and family, but also from people he lost touch with and people he barely knew. Golf is often a singular pursuit, yet it's at its best when it becomes communal.
"To get that treatment, to take time out of their days to let me know how they felt, man, no price on that," Greene says.
A group of Florida buddies, the aforementioned men in green, followed him here to Massachusetts, and he has tried to soak up this week for all that it is. Greene is also a competitor, and there was a tournament to be played. He was good enough to get here, and a good week could be the catalyst for something more.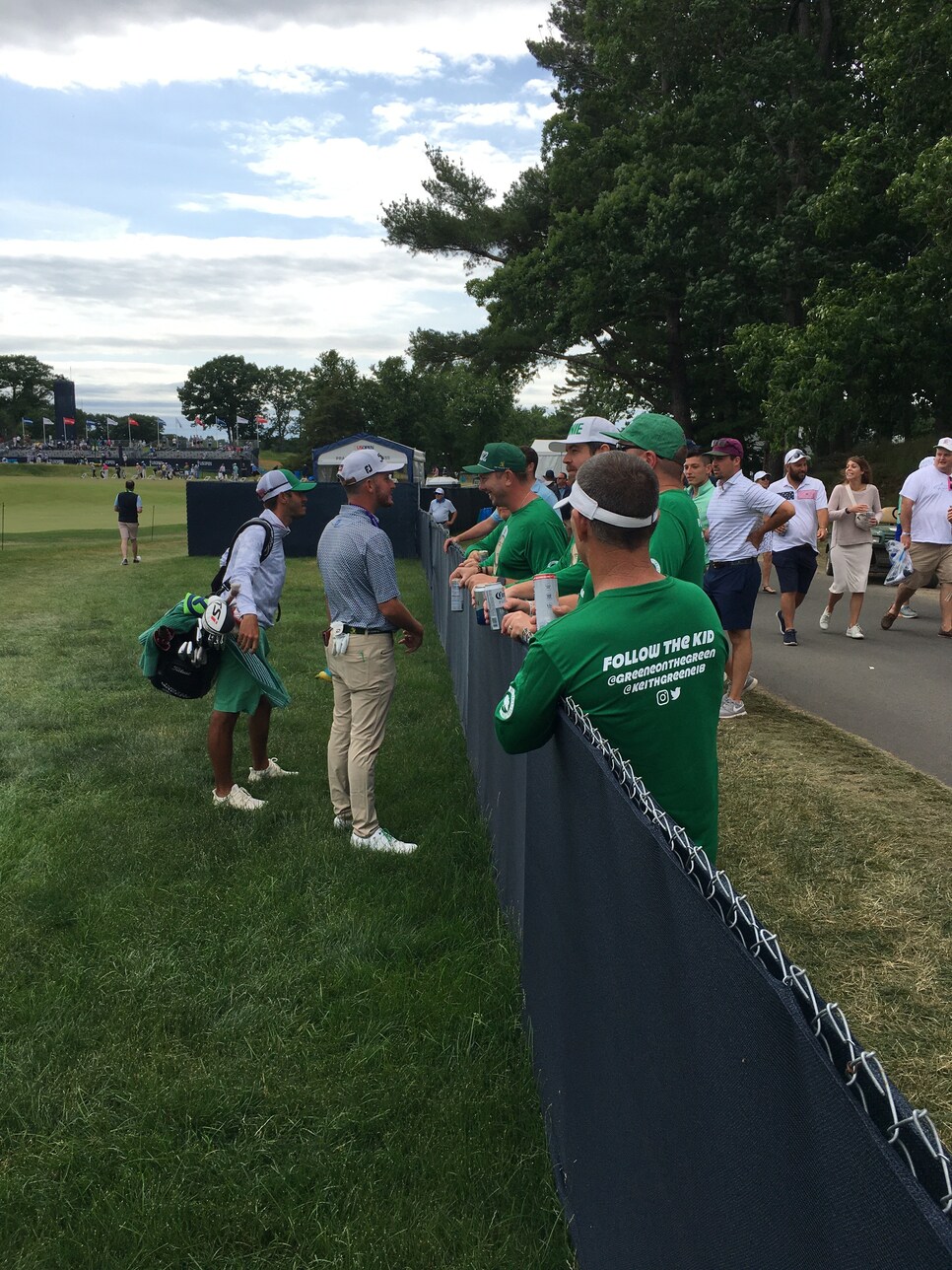 However, for all its inherent beauty there is a beastly underside to the U.S. Open. That meritocracy stuff? True, but also diplomatic. At its core, stripped of refinement and nuance, it's cannibalistic. Absolutely and unequivocally merciless.
Greene found this out Thursday, and found out early. He made par at the first but bogeyed the second. And third. And fourth. And fifth. The sixth and seventh, too. There was a birdie at the eighth to stop the bleeding, but he made a mess around the 10th green that ended with a quadruple, and at the 12th he walked away with double. He finished swith three consecutive bogeys but the damage was done, a 13-over 83 that matched amateur Caleb Manuel for the highest scoring of the morning wave.
Now, even the best have bad days with poor breaks and out-of-sync swings, where their putts seem allergic to the cup. To have such a day in his first tour-level start, though, can spur an existential crisis.
Greene is not oblivious to where his name is on the leaderboard, and he is a prideful soul. Conversely, to distill this day to a number on a scorecard seems wildly obtuse.
"There are some of the best guys in the world that had high scores," Greene says. "It's the U.S. Open. Things are going to go wrong. It's going to be hard. I had a few loose swings, but honestly, I don't feel like I'm that far off. Just need to get used to these northern greens a bit more."
Greene did admit to being slightly thrown off by the scene here at The Country Club, only because he's never played in front of tens of thousands of people before. "I guess you could say it's a bit like being thrown out to the lions," he says. "You can tell yourself you're ready, but there's nothing that can prepare you for actually experiencing it."
Still, there was no negative connotation attached. Nor should there. More than 9,000 golfers set out for Boston; only 156 arrived. No matter where he goes from here, Keith Greene—for one week, at least—made it.
As for where he goes, his next start will come at the Florida Open. As for that, more mini-tour starts, more qualifiers, more fighting the pangs that come with professional golf. Of course, a Friday tee time remains, a chance to add an extra two days to this dream. After a brief chat and a handshake, Greene heads to the range.
"This isn't the end," Greene says. "This is a dream come true. It also shows the other things I want to do I can do. I feel like I belong here. I just have to show it."
The men in green had dispersed. Most of the range was empty. Greene may have caught his demon, but the truth is the chase never stops.
MORE U.S. OPEN COVERAGE FROM GOLF DIGEST