The Grind
Jordan Spieth's (winning) putting tip from his wife, golf's dumbest criminal gets sentenced to jail, and John Daly II gets the sponsorship everyone saw coming
Welcome to another edition of The Grind, where we had an extra special Easter thanks to Jordan Spieth. You know those "free" bets that gambling sites get you with? Well, this time, I got them by using one on Golf Twitter's favorite roller coaster. It wasn't easy—that missed tap-in on Saturday nearly gave Jim Nantz a stroke—but I came away with my biggest golf gambling win ever, eclipsing my 66-to-1 bet on Danny Willett to win the 2016 Masters.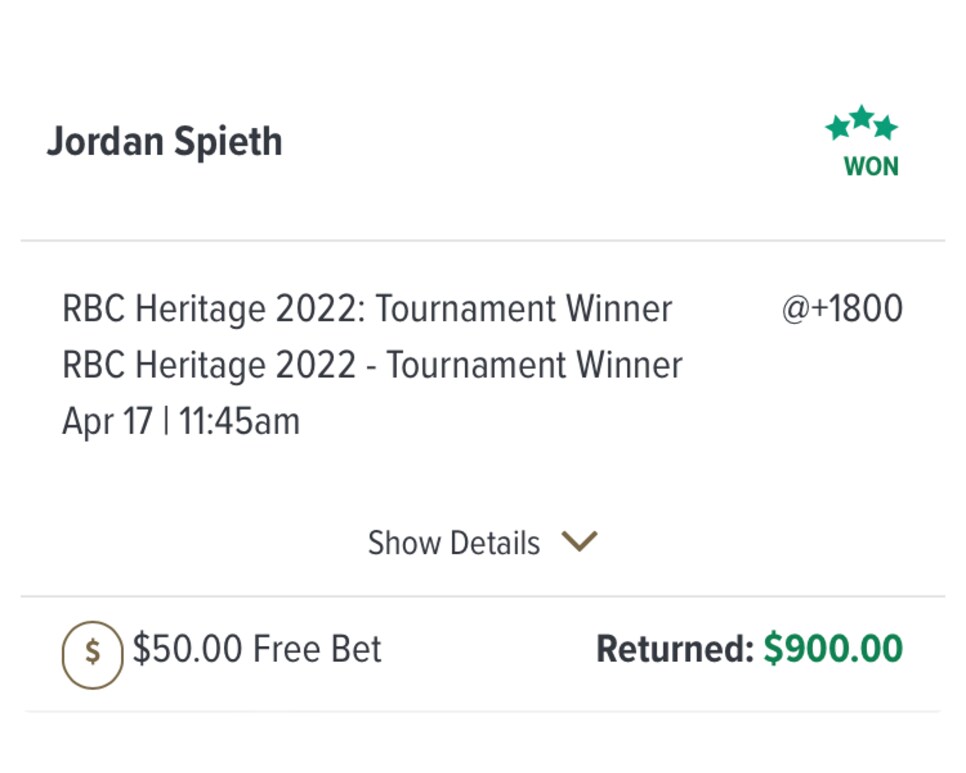 So a big thanks to Jordan for winning on Sunday—and for letting Willett win in 2016 (Sorry, Jordan). Anyway, I'll try not to brag (too much) more about my big haul as we talk about everything else happening in golf. But I make no promises.
Jordan Spieth: What a tournament the week after the Masters, huh? This was probably Spieth's most dramatic performance of his career, which is saying something considering he nearly fell off a cliff earlier this season. According to Data Golf, Spieth had a 0.8 percent chance of winning on the 18th tee on Sunday. But he rolled in a rare nice putt (more on that later) for birdie, watched everyone else squander numerous chances—particularly Shane Lowry—and beat Patrick Cantlay in a playoff with yet another magical bunker shot to claim the green plaid jacket:
This guy is absolutely electric to watch, but if you have any heart issues, it's probably best to stay away from betting on him. Even during a Sunday 66, there were two short misses for par and a bunker shot played toward the bar at Harbour Town's ninth hole. (I needed to make a drink at that point, too.) But again, he got it done. For a 13th time overall on the PGA Tour and for a second consecutive Easter Sunday. And with the 2023 Masters scheduled to finish on Easter Sunday, well, I'll let Kramer take this one:
Cameron Young: The Day 1 leader at Harbour Town wound up missing the Spieth-Cantlay playoff by a shot, but it was still another great week for this budding young star and fellow New Yorker/Wake Forest grad. And this was at a course that gambling "experts" didn't think suited him. A week after missing the cut at Augusta National, a place where those same "experts" expected big things.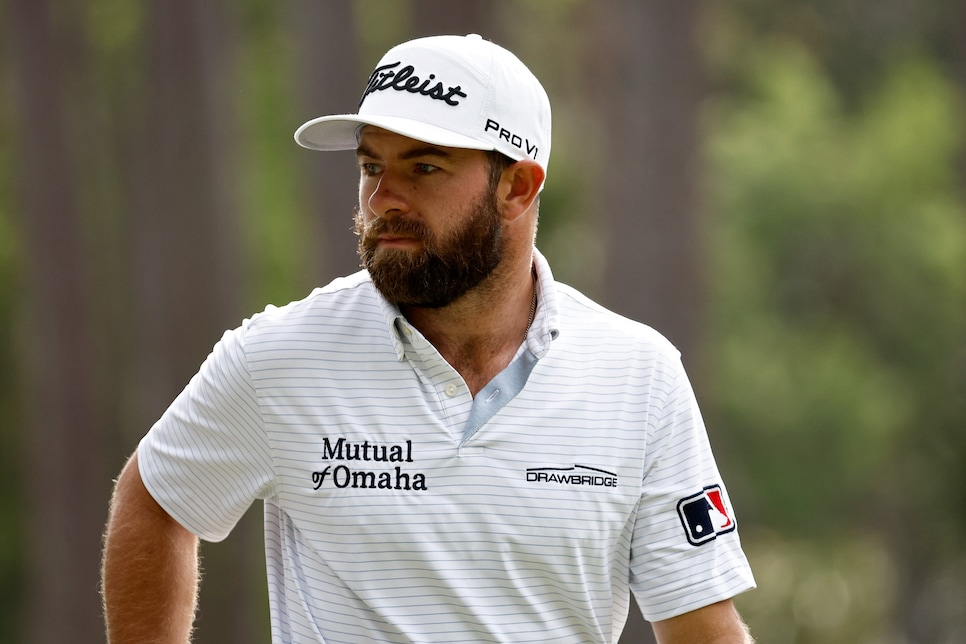 Nicely done, Cam. I just wish I had made that top-10 bet this week instead of last week. Not that I can complain. Did I mention that I won a big bet on Jordan Spieth?
Ryan Palmer's recruiting: This guy is like Nick Saban and John Calipari rolled into one when it comes to luring fellow golfers to partner with him. This week's teammate? Only World No. 1 Scottie Scheffler. This, after previously partnering with Jordan Spieth and Jon Rahm, with whom he won the title in 2019. If Palmer wasn't such a good golfer, I'm guessing he'd be one helluva salesman.
Jordan Spieth's putting: First of all, that missed tap-in. HOLY SMOKES!
But that one-footer wasn't exactly a one-off. Spieth has been routinely missing gimmes at an alarming rate the past couple months, and he currently ranks 179th on tour in strokes gained putting. And on Sunday, Spieth went as far as to say, "I won the tournament without a putter." It was that ugly. In fact, according to 15th Club's Justin Ray, Spieth had the worst putting performance by a PGA Tour winner in 13 years!
Even Spieth's wife, Annie, who apparently never comments on his golf, told him to take five seconds before putting those short ones. So thanks to Annie, too. Because it wasn't just her husband with money on the line on Sunday! Woo! By the way, that winning RBC Heritage jacket looks like the one I won for winning the 2015 Golf Digest Spring Opener office putting contest: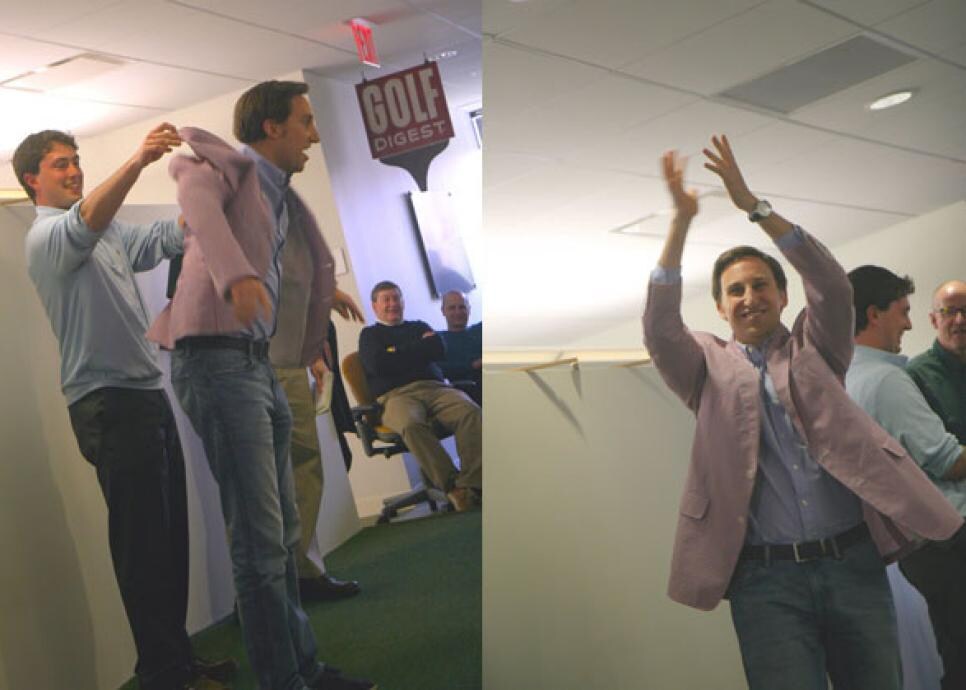 So Jordan, if you want any putting tips from someone other than your wife—or if you guys ever need a babysitter—just give me a call. Hey, I owe you one.
Dylan Frittelli's penalty: I get that by the letter of law, this is a penalty, but why?! The dude already got a bad break by having his ball get stuck in a tree and now he gets docked two more strokes for chopping it out like he's swinging an ax?
We're with you, Dylan, that doesn't seem right. In our book, that's the par save of the year. Well, other than Spieth's par save from the bunker on that first playoff hole. Not sure if you heard, but that won me a few bucks.
Stealing golf carts: A Florida man (of course) was sentenced to two years in prison for stealing or attempting to steal 84 golf carts over two years and across several states. And while that may seem like a complicated, elaborate scheme, the guy was no criminal mastermind. He wound up getting caught by using his personal number to sell them under an alias—and by leaving scorecards and pencils from the golf courses in some of the carts. Brilliant! Anyway, don't do this. But if you do (again, don't), clear out the golf carts first.
The PGA Tour heads to New Orleans for the Zurich Classic, AKA that one where they play as teams now, AKA that one where Ryan Palmer always seems to punch (way) above his weight. As usual, there are some interesting pairings, but none more so—and yes, none more so near to my heart as a Wake Forest alum—than Bill Haas playing with his 68-year-old dad Jay. Pretty darn cool. Go Deacs.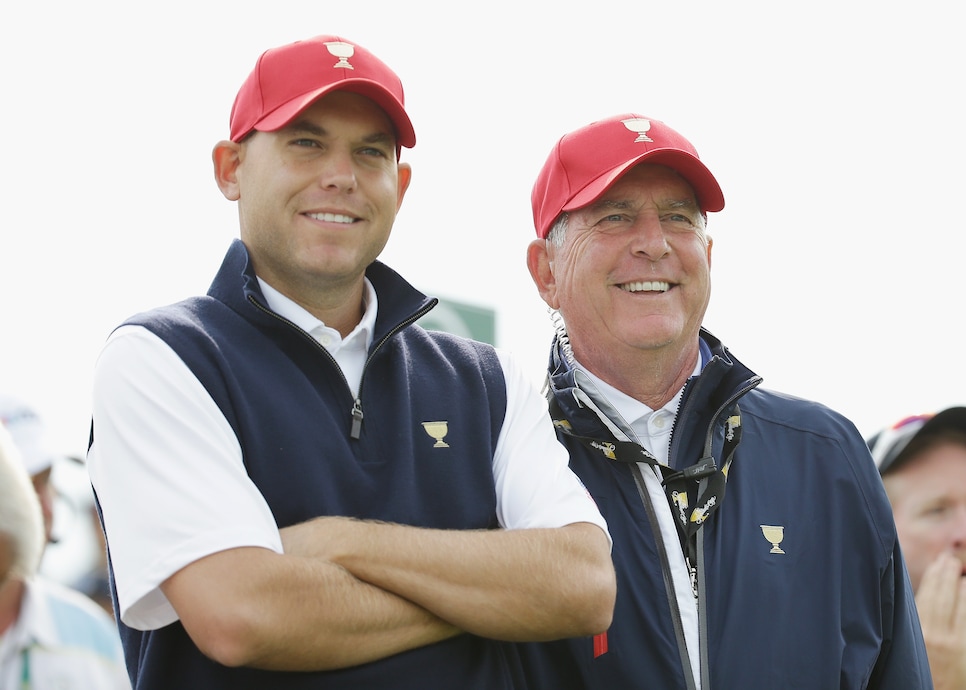 Random tournament fact: Cameron Smith has won this two of the four years it's been a team event. He's won with an Aussie (Marc Leishman) and a Swede (Jonas Blixt). And he's won with a mullet and sans mullet. Truly one of the most versatile players in the sport.
RANDOM PROP BETS OF THE WEEK
—I will win another bet that big this week: 1 MILLION-to-1 odds
—Team Haas will win the Zurich Classic: 400-to-1 odds (actual odds)
—Team Haas will have a memorable week no matter what: LOCK
Dustin Johnson missed the cut at Harbour Town and still managed to reel in the week's biggest trophies in South Carolina:
This is what it's like trying to play golf in the Northeast these days:
Awful. Wake me up when it's summer.
THIS WEEK IN CELEBRITY GOLFERS
The Match VI was announced! And while it's a bit odd that the founders of this franchise—Tiger Woods and Phil Mickelson—won't be involved for the latest reincarnation, going to a foursome of celebrity golfers was an obvious move at some point.
These have been very entertaining thus far, and pitting two old NFL GOATs against two future ones is about as star-studded of a group as you can ask for. Although I still feel bad for Josh Allen every time I see him, including at the Masters, for somehow losing that playoff game to Patrick Mahomes and the Chiefs. Poor Josh Allen. Go easy on him, Patrick. He's your teammate now. How about Joe Burrow randomly playing golf while a wedding is going on?
Amazing. Keep it up, Joe. That kind of dedication to the game could land you a spot in The Match VII.
THIS WEEK IN PUBLIC DISPLAYS OF AFFECTION
Jordan Spieth won for the first time as a father, which sent Annie—and little Sammy—literally running/bouncing onto the green to celebrate:
Awww. That's a man just beaming with PERSPECTIVE right there. And by the way, I saw Annie lugging Sammy all over Augusta National the previous week. Talk about a workout. Not sure if you've heard this before, but that place is a LOT HILLIER THAN IT LOOKS ON TV.
THIS WEEK IN PUBLIC DISPLAYS OF ADVERTISING
John Daly is a longtime Hooters ambassador (yes, that's his official title), but he and his son, John Daly II just signed fresh partnership deals with the restaurant chain in one of the most obvious sponsorships in sports history. This is almost as heartwarming of a father-son story as Bill and Jay Haas playing together this week: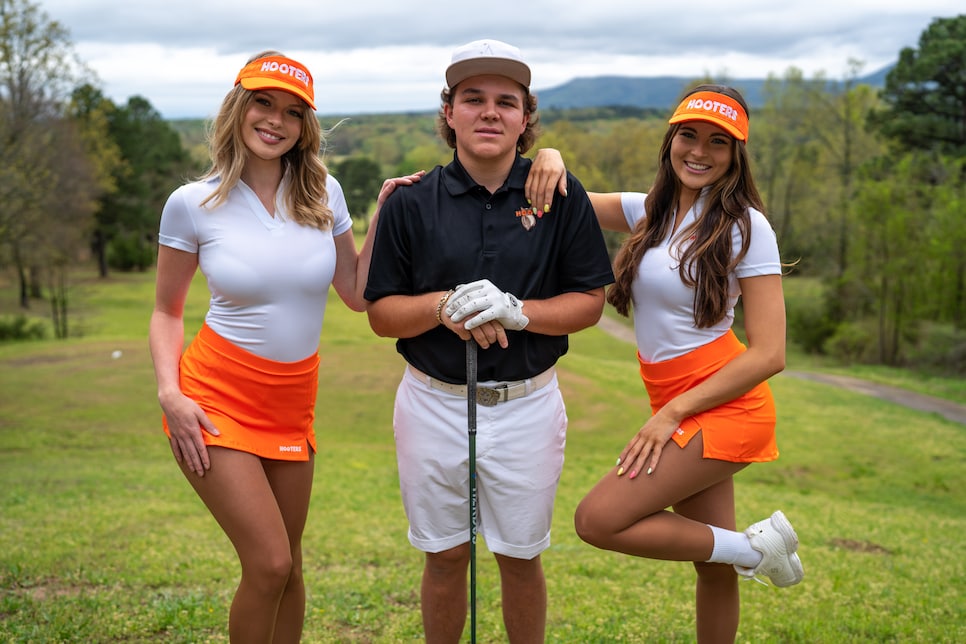 IT'S A FAMILY AFFAIRRRRRRR. IT'S A FAMILY AFFAIRRRRRRR. NILs, man. What a time to be alive. If you're a high-profile college athlete, that is.
"I've just put it on a few times around the house when trying to mess with Meredith. When she tries to get me to clean the dishes or something like that, I'll put the jacket on and be like, 'Really, I still have to do this?' I've had some fun with her with that." —Scottie Scheffler to Golf Digest's E. Michael Johnson. Good stuff, Scottie, but that's not going to fly once you start having kids. Just ask Jordan Spieth.
Congrats to Hyo Joo Kim on winning her fifth career LPGA title at the Lotte Championship in Hawaii. We'd show her winning hula dance after, but, let's just stick with the positives. . . . Congrats to Tyson Alexander for becoming the first player in Korn Ferry Tour history to successfully defend a title. That sounds impossible until you remember that the entire point of the developmental tour is to not be in a position to defend a title. . . . With his win on Sunday, Jordan Spieth eclipsed the $50 million mark in career earnings. OK, so he doesn't need me to babysit when he can hire an army of babysitters. . . . 17-year-old golf prodigy Alexa Pano is turning pro. That's one less babysitter on the market. . . . And, finally, pray for me, because I relapsed: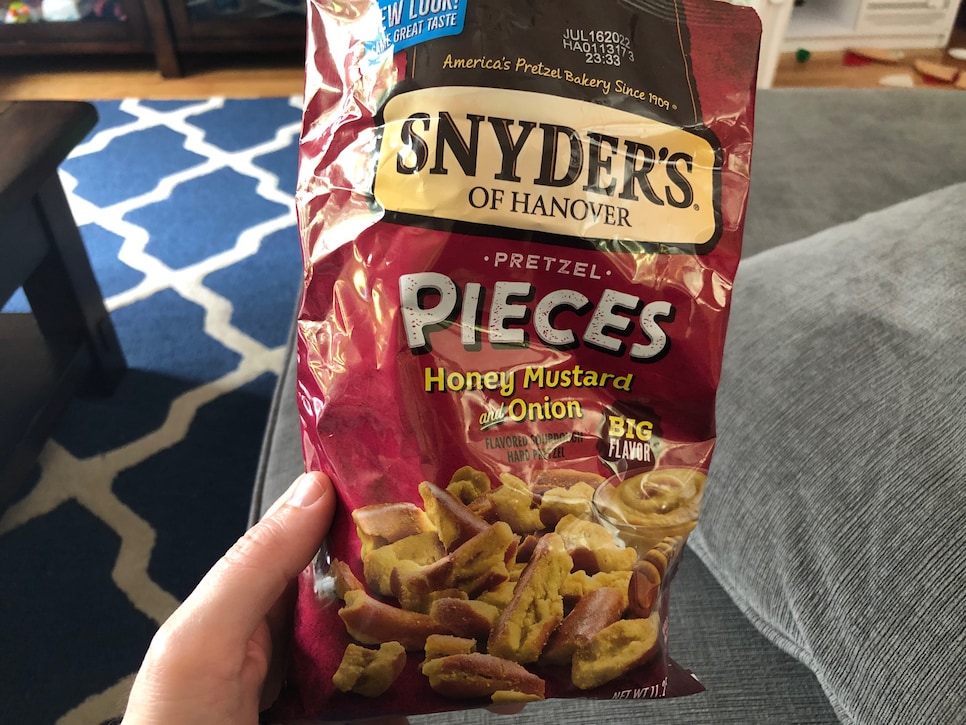 Damn those are good. Too good, really. They should be made illegal.
RANDOM QUESTIONS TO PONDER
Who is the best fisherman on the PGA Tour?
Who would you want as your Zurich Classic partner?
How quickly will I lose all that money back?