The Match
Tom Brady and Aaron Rodgers to face Patrick Mahomes and Josh Allen in next installment of 'The Match'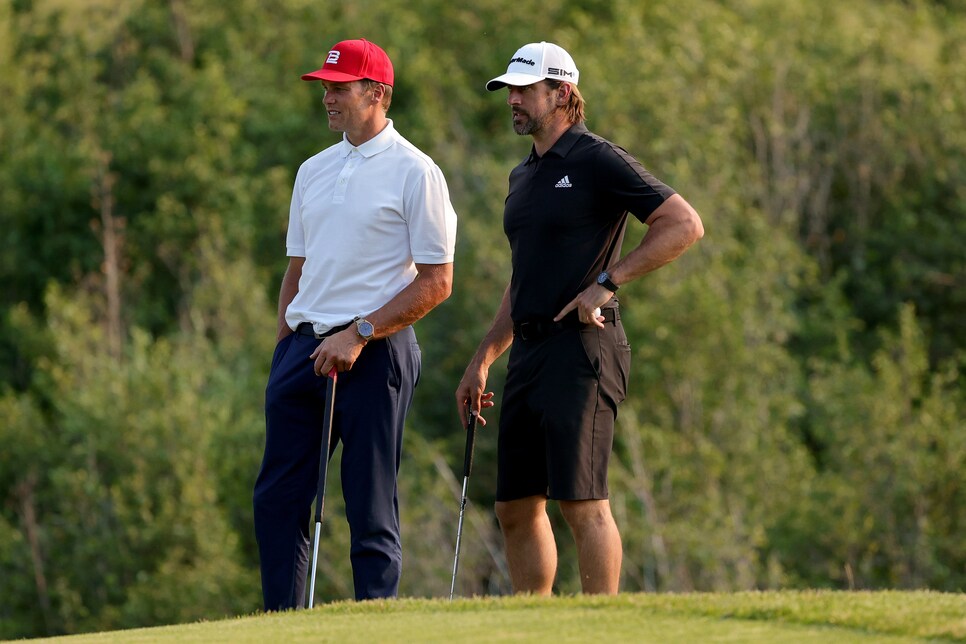 Reigning All-Pro quarterbacks Tom Brady and Aaron Rodgers will take on fellow NFL superstars Patrick Mahomes and Josh Allen in the next installment of "The Match."
The Turner Sports exhibition will take place on Wednesday, June 1 at Wynn Golf Club in Las Vegas. The Wynn—a Tom Fazio design that ranks 10th in Golf Digest's Best Golf Courses in Nevada list—previously hosted the last iteration of "The Match" in November, with Brooks Koepka defeating Brooks DeChambeau in a 12-hole battle. TNT will televise the contest, with coverage beginning at 6:30 p.m. ET.
Like previous versions of "The Match" players will be mic'd up during competition, allowing viewers to hear the chatter inside the ropes and facilitate banter between the broadcast crew and players during the event. The 12-hole challenge format from the Koepka-DeChambeau bout will also return. Information regarding the broadcast team will be shared at a later date.
This will be Brady's third appearance in "The Match." He previously played alongside Tiger Woods, Phil Mickelson and Peyton Manning in the "Champions For Charity" event at Medalist G.C. in Hobe Sound, Fla. in May 2020 and returned last July to team up with Mickelson in a losing effort against DeChambeau and Rodgers at the Reserve at Moonlight Basin in Big Sky, Mont. Brady, a seven-time Super Bowl champ, returned from a short retirement this offseason and will be entering his 23rd year in the NFL this fall.
This will be Rodgers' second Match outing following his aforementioned victory in Big Sky last summer, while both Mahomes and Allen will be making their Match debuts. Combined the four gunslingers have won nine Super Bowls and made 86 playoff appearances.
This is the sixth edition of "The Match," which has raised nearly $33 million for various charitable endeavors and has donated 17 million meals to Feeding America. Capital One will return as title sponsor, with Excel Sports Management serving as tournament organizer along with Brady's 199 Productions.