There are more than 4,000 athletes in the NFL, MLB, NBA, MLS and NHL alone. Add all the other sports leagues, and there are thousands of athletes who are eligible for Golf Digest's Best Athlete Ranking. We expanded that list of 100 by contacting each team's communications staff in the four major sports leagues, along with the overall communications leader in other sports leagues. To fill in gaps, we worked with sports agents, sports agencies such as Octagon, Wasserman, Newport Sports Management, Excel, CAA, and Tandem Sports and Entertainment, as well as online search engines and research services of journalistic periodicals. We supplemented that with in-house research and GHIN.com. Some handicaps are estimates from players or representatives. This ranking was compiled in 2018.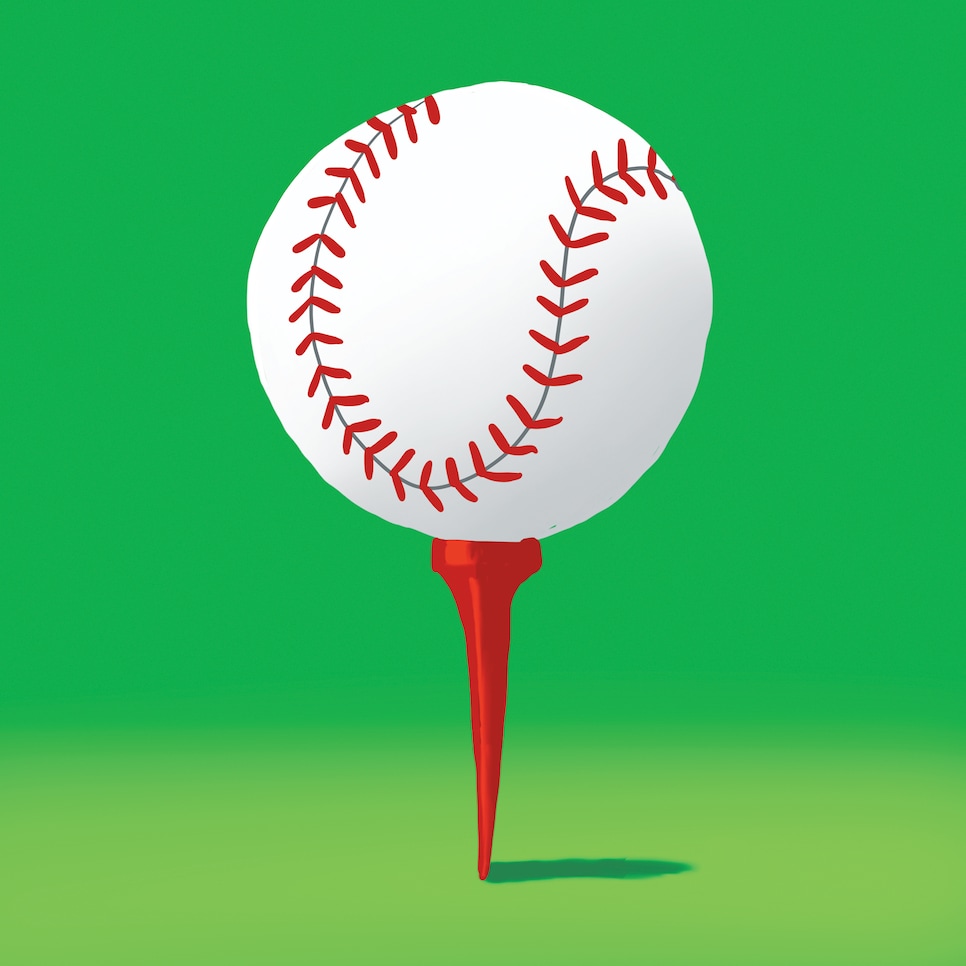 Illustrations by Mark Ulriksen
TYLER CLIPPARD
+1.9 | Toronto reliever travels to the golf course in his pickup truck with 15 to 20 pairs of golf shoes. One of our editors can attest to this: Clippard can hit a 3-iron 260 yards.
JOHN SMOLTZ
+1.5 | Hall of Fame pitcher qualified for the U.S. Senior Open this summer at The Broadmoor and missed the cut after rounds of 85-77. Has eight holes-in-one, including one on a 334-yard par 4. Plays out of Hawks Ridge in Atlanta.
JEFF MCNEIL
0 | Mets infielder once qualified for the United States Junior Amateur and considered playing in college before switching to baseball.
KYLE FREELAND
0.2 | Rockies pitcher's favorite golf movie is "Tin Cup."
AARON HICKS
0.7 | Yankees slugger began playing golf at 4 or 5.
ZACK GREINKE
1.1 | Arizona pitcher once considered a career in professional golf during his early years in the major leagues.
CRAIG STAMMEN
1.1 | Padres relief pitcher captured an ace by his wife, Audrey, on video during their honeymoon in Hawaii in January 2017, and the big event went viral.
DAN OTERO
1.6 | Cleveland pitcher has two favorite layouts: Chambers Bay and Whistling Straits.
BUD NORRIS
1.9 | Cardinals reliever plays at the Olympic Club and took up the game as a boy with his father, who competed at Cal-Berkeley.
IAN HAPP
2 | The Cubs OF/INF's father, Keith, served as a USGA agronomist for 23 years.
JASON HAMMEL
2.5 | Best round for the Royals pitcher was a 72 at Nicklaus Golf Club at LionsGate.
SHELBY MILLER
3.0 | Arizona pitcher has improved by four shots since our 2015 ranking. Home course is Arizona C.C. in Phoenix.
ADAM WAINWRIGHT
3.0 | The 6-7 Cardinals pitcher says golf is "the ultimate one-person challenge." Home course is Frederica G.C. in Georgia.
WILL HARRIS
4 | Astros reliever and 2016 American League All-Star is an avid golfer whose favorite course is The Floridian, Astros owner Jim Crane's place that is played by PGA Tour stars Brooks Koepka and Dustin Johnson. Harris has played with DJ.
DAVID PRICE
4.1 | The best golfer on the Red Sox, he regularly plays at Talis Park G.C. in Florida and Nashville G. & Athletic Club.
JUSTIN VERLANDER
4.1 | Astros pitcher has played in the AT&T Pro-Am at Pebble Beach. He founded the Wins for Warriors Foundation in 2016 to support veterans and the military community and has invited more than 5,000 veteran family members to his suite for games.
IAN KINSLER
4.5 | Red Sox 2B created two charity outlets: Kinsler's Kids (a ticket program for children who normally wouldn't have the chance to go to games) and the nonprofit Birthday Party Project.
JON LESTER
4.6 | Cubs pitcher once shot an 81 at Augusta National, where he reached the par-5 13th in two but didn't make birdie after his cross-the-green eagle putt.
ZACH EFLIN
5.0 | The 6-6 pitcher began in the Padres organization and was with the Dodgers briefly before going to the Phillies.
BRYCE HARPER
5 | Nationals slugger took part in an Under Armour promo playing golf with fellow endorsers Jordan Spieth and Michael Phelps.
KYLE BARRACLOUGH
5.2 | Marlins pitcher's favorite course is San Francisco G.C.
JOSH DONALDSON
5.4 | Cleveland All-Star 3B can bomb 300-yard drives and loves the social aspects of golf, hanging out with members at Lake Forest Yacht & C.C. in Alabama.
TIM WALLACH
5.4 | Marlins bench coach is a five-time All-Star and three-time Gold Glover whose home course is Alta Vista C.C. in California. He has aced No. 14 there.
MIKE MOUSTAKAS
5.5 | Traded in late July from K.C. to Milwaukee, the 3B is known as Moose Moustakas: Monterey Peninsula C.C. is his fave, and he had a hole-in-one on Pebble Beach's 17th in 2015.
DREW BUTERA
6 | Rockies catcher loves Pebble Beach and once shot an even-par round.
KEVIN PLAWECKI
6 | The favorite course for the Mets catcher: Atlanta's Peachtree G.C.
A.J. SCHUGEL
6 | Whistling Straits is the favorite course for the Pirates pitcher, who is a member at Highlands Ranch (Colo.) G.C.
VINCE VELASQUEZ
6.0 | Favorite course for the Phillies RH is Congressional Blue.
BRIAN SCHNEIDER
6.1 | The 13-year MLB catcher is now a catching coach for the Marlins. C.C. of Mirasol in Florida is his home course. Favorites include Burning Tree, Pine Valley, Cypress Point and Merion.
MICKEY CALLAWAY
7 | Mets manager's favorite course: Spyglass Hill.
BRYAN HOLADAY
7.4 | Marlins catcher's home course is Colonial. Oakland Hills, Isleworth and Whisper Rock are favorites.
JEFF MATHIS
7.5 | Florida native and Arizona catcher is loyal to his home state: His favorite course is Camp Creek G.C. in Panama City Beach.
CLAY BUCHHOLZ
7.5 | Arizona pitcher plays out of UT G.C. in Austin.
JOHN RYAN (J.R.) MURPHY
7.5 | Born in Bradenton, Fla., the Diamondbacks catcher's home course is there: The Concession G.C. His top course is Cypress Point.
JAKE ARRIETA
8.0 | Phillies pitcher and 2015 Cy Young Award winner for the Cubs calls golf "a stress-reliever."
MATT ANDRIESE
8 | The Rays traded the pitcher to Arizona in July. His home course is Dos Lagos G. Cse. in California. His favorite is The Duke University G.C. in North Carolina. He aced the 11th hole at the General Old G. Cse. in California.
EVAN LONGORIA
8 | Slugging 3B for the Giants says golf "is a lot tougher mentally" than baseball because you're on your own.
WHIT MERRIFIELD
8 | Merrifield was playing Chambers Bay in 2016 when he got the call to the big leagues.
PAUL SEWALD
8 | Mets pitcher will enjoy the Tiger Woods-Phil Mickelson showdown, which will be at his favorite course, Shadow Creek, in North Las Vegas.
ALBERT PUJOLS
8.5 | Angels 1B still has ties to his Cardinals roots and the Pujols Family Foundation Celebrity Golf Classic.
MIKE TROUT
8.5 | Angels All-Star CF started playing golf in high school. Got his first ace in 2017 (56-degree wedge at the 127-yard second hole at Raven G.C. in Phoenix).
DANIEL DESCALSO
9 | Arizona utility infielder plays out of Castlewood C.C. in California. Favorite is the Stadium Course at TPC Scottsdale.
JAMES SHIELDS
9.2 | White Sox pitcher plays often with close pal Charley Hoffman and with Davis Love III and Rocco Mediate in pro-ams. Dream partner would be Jack Nicklaus.
CHASE UTLEY
9.3 | Longtime Phillies 2B was due to retire as a Dodger after this season. Plays golf in the San Francisco area, including the Olympic Club.
JOE MAUER
10 | Twins 1B had an albatross on the ninth hole at Colony G. & C.C. in Florida in February 2017, holing a 236-yard shot.
RICK PORCELLO
10 | Boston pitcher has played in the Red Sox celebrity golf tournament benefiting Golisano Children's Hospital of Southwest Florida.
BUSTER POSEY
10 | Home courses for the Giants catcher and 2012 National League MVP are Orinda (Calif.) C.C. and the California Club in South San Francisco.
J.T. REALMUTO
10 | Marlins All-Star catcher's low round is 73. He plays out of John Conrad G. Cse. in Oklahoma.
ARCHIE BRADLEY
11 | Arizona pitcher lists Pebble Beach as his top course.
SETH LUGO
11 | Mets pitcher and native of Louisiana enjoys going to Arkansas to play Mystic Creek G.C., one of Golf Digest's Best New Golf Courses of 2013.
MOOKIE BETTS
12 | Red Sox RF regularly shoots 80 to 85 and frequents Talis Park G.C. in Florida and Nashville G. & Ath. Club in Tennessee.
JEFF SAMARDZIJA
12 | Giants pitcher was also a football star at Notre Dame.
COLE HAMELS
13 | Veteran Cubs pitcher's many charitable acts support children and education.
DARREN O'DAY
13 | Braves relief pitcher has played in charity outings, including The Battle of the Birds (Ravens versus Orioles) to raise money for Young Life Baltimore City, and the Birdland Classic to benefit the Miracle League of Manasota.
CHAD PINDER
14 | Oakland utility player's favorite course on the road: Bluejack National in Houston.
ZACK GODLEY
15 | Arizona RH starter lists his top course as Cypress Point.
T.J. MCFARLAND
15 | Arizona pitcher plays out of Crystal Tree G. & C.C. in Illinois. Los Angeles C.C. is his favorite.
CHRIS OWINGS
15 | Arizona's multi-position player loves Whisper Rock G.C. in Scottsdale.
TAIJUAN WALKER
15 | Arizona pitcher had to undergo Tommy John surgery during the summer. His top choice to play is Firestone C.C. Home course is Camelback G.C.
BRAD ZIEGLER
15 | Arizona pitcher calls Wolf Creek in Kansas his home course and Torrey Pines a favorite place to play.
MATT OLSON
20 | Athletics RF/1B always wanted to play Torrey Pines in La Jolla, Calif., and finally got to do so in 2017. Has scored from 82 to 108.
MARCUS SEMIEN
25 | Oakland SS heads to the TPC Stadium Course in Scottsdale during spring training. Has shot an 82.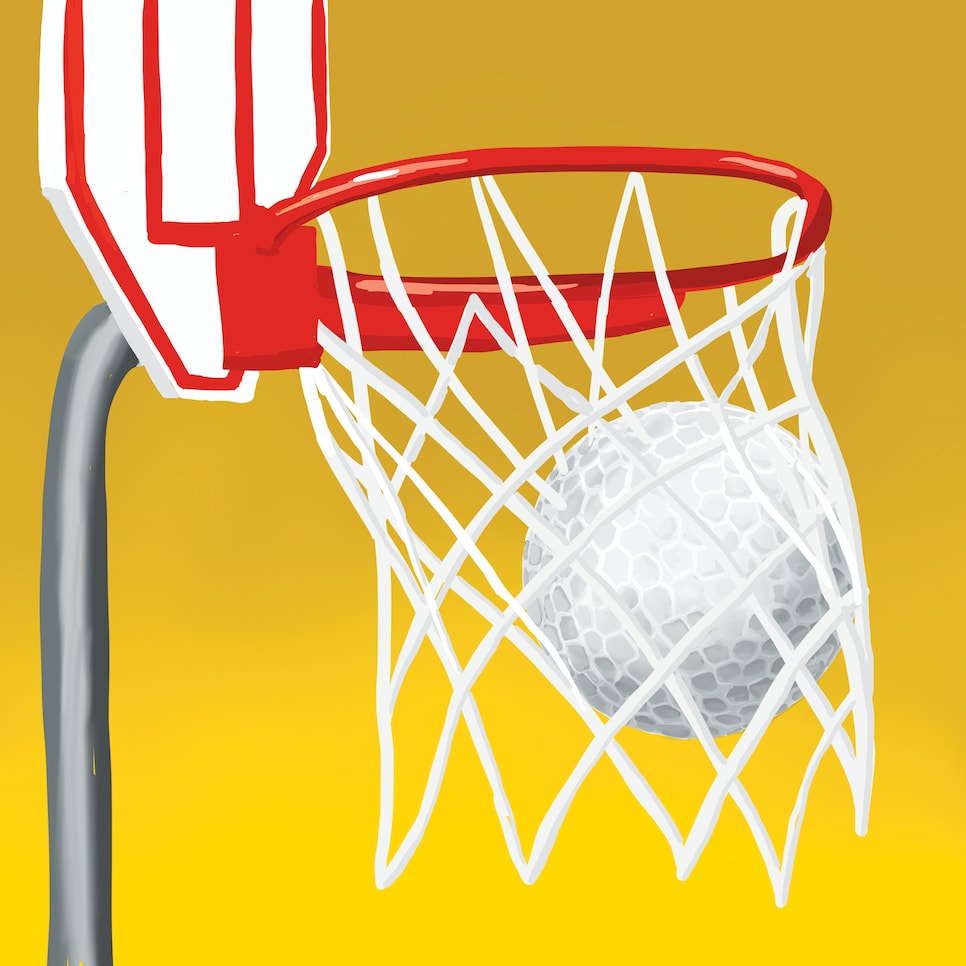 Illustration by Mark Ulriksen
STEPHEN CURRY
0.0 | Golden State superstar competed in the Web.com Tour's Ellie Mae Classic the past two years, shooting 74-74 in 2017 and 71-86 this year. He's a golf fanatic, who partners with PGA Reach to provide scholarships to boys and girls with needs to increase their access to golf, his own golf clothing line with Under Armour and is the executive producer of the ABC miniature golf show, Holey Moley. He has one career ace, with a pitching wedge on the 142-yard third hole at the Ocean Course at Half Moon Bay in California.
Read more about Stephen Curry →
RAY ALLEN
0 | Two-time NBA champ will go into the Hall of Fame this year and has held the Ray Allen Ray of Hope Foundation Celebrity Golf Tournament. Has made four holes-in-one.
DERON WILLIAMS
0.9 | Last with Cleveland in 2017, the three-time All-Star point guard played the Provo Open this year and missed the cut. In Utah, he has had matches with Michael Jordan. In his spare time, Williams serves as a Golf Digest Course Rating panelist.
SUGAR RODGERS
1.6 | New York Liberty guard has the name and background—a Coca-Cola ad as a 10-year-old star with the Tiger Woods Foundation—to stand out in golf. Mainly plays charity golf.
KYLE KORVER
4.0 | Cavs three-point sharpshooter doesn't play a lot, but he's still close to or near his last registered handicap. Was an All-Star in 2015 with Atlanta.
JAY BILAS
6.8 | Former Duke four-year starter is a top college basketball analyst for ESPN and a member at Charlotte C.C.
MIKE CONLEY JR.
7 | Grizzlies point guard is a fervent golf fan and can often be found on the golf course during the summer.
J.R. SMITH
8.0 | Cavaliers guard, a frequent Golf Channel viewer, credits golf with helping him have the right frame of mind to play basketball. Plays at Lakewood Country Club in Ohio. In August, he held the J.R. Smith 12th Annual Golf Classic to benefit the J.R. Smith Youth Foundation.
GERALD HENDERSON JR.
10 | The free agent had golf success at a young age when he holed a 119-yard pitching-wedge shot on the final hole to win a junior golf tournament. He plays out of Blue Bell (Pa.) C.C.
KENT BAZEMORE
10.2 | Atlanta Hawks shooting guard started playing golf in 2014 and is a regular at Topgolf.
KLAY THOMPSON
12 | Golden State guard played with teammates Steph Curry and Andre Iguodala at Augusta National in 2016. Other favorites: Pebble Beach and Pelican Hill in California.
CHRIS PAUL
13.7 | Rockets guard has improved from a 20-handicap in our 2015 ranking. He led the NBA team of eight at the State Farm Showdown this summer at Mohegan Sun G.C. in Connecticut.
ANDRE IGUODALA
15.6 | Golden State swingman shot an 86 at Augusta National with a birdie on No. 2.
ELENA DELLE DONNE
18 | The 2015 WNBA MVP and Mystics superstar has been busy with her skills academy. This year she launched her first golf outing to benefit the Elena Delle Donne Charitable Foundation to raise funds for and awareness of Lyme Disease research and special-needs programs.
LINDSAY WHALEN
18 | The retiring Minnesota Lynx guard and her husband, former golf pro Ben Greve, are members at Olympic Hills G.C. in Eden Prairie, Minn., where he was sectional-qualifying medalist July 23 to play at the U.S. Amateur at Pebble Beach. A favorite golf outing for Whalen was at Doral in 2013.
DIANA TAURASI
30 | The Phoenix Mercury and former UConn star laughs and calls her handicap an estimate. Golf "was something that I always watched; I finally got out there," she told Golf Digest. "In the offseason, I try to go at least once or twice a week. I go with my best bud, Todd Troxel—he's kind of my teacher and mentor on the golf course." Taurasi's golf highlight? "Todd usually gives me two strokes, and we play skins on the back nine, and I beat him, and he's pretty much a par golfer, so that was huge for me. That was my highlight. That was probably his lowlight." Taurasi adds that she talks to UConn coach Geno Auriemma about golf "all the time."
NOELLE QUINN
No handicap. | An uncle introduced the Storm guard to golf at a young age; at the range one day, she watched a young guy practice as his father coached him, and it turned out to be Tiger Woods.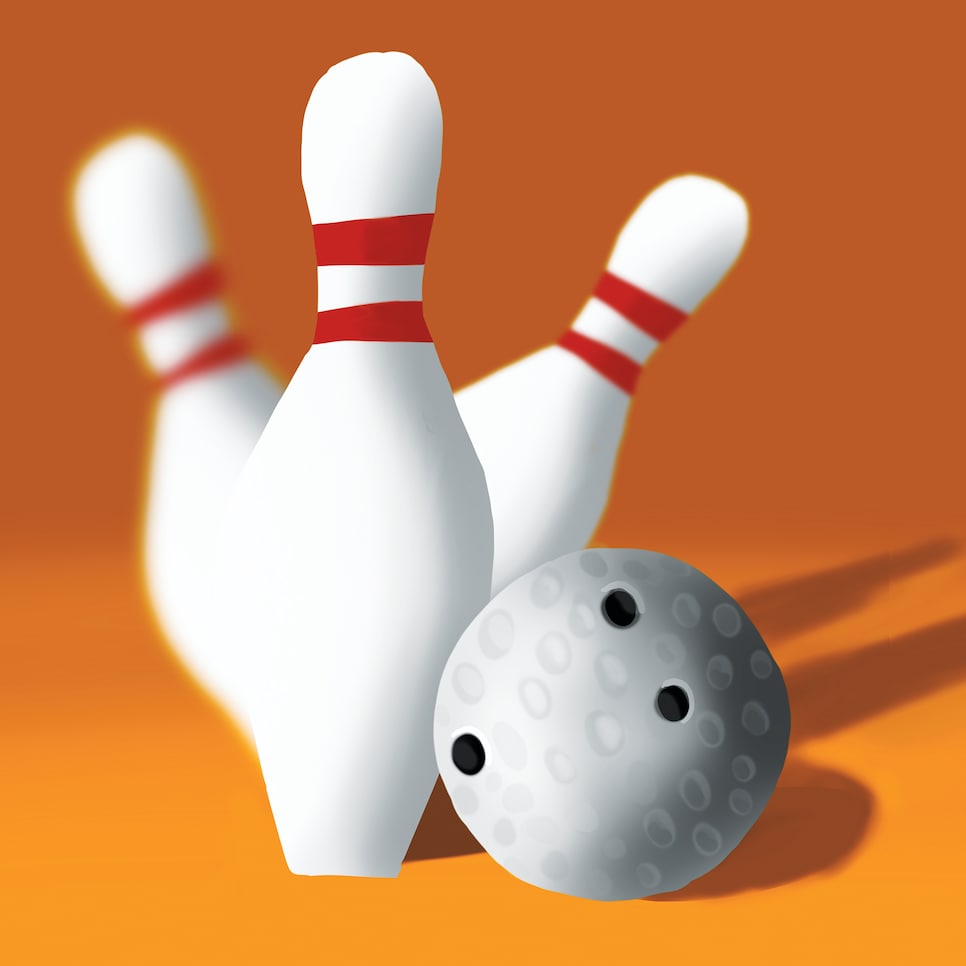 Illustration by Mark Ulriksen
E.J. TACKETT
2 | The 2016 PBA Player of the Year has won 11 times on tour. Home club is Orchard Ridge C.C. in Indiana.
RONNIE RUSSELL
3.2 | Four-time PBA winner calls Meshingomesia G.C. in Indiana home.
TOMMY JONES
5 | The 2005-'06 PBA Player of the Year, who has 18 tour victories, plays at Holly Tree C.C. in South Carolina.
PETE WEBER
9 | The 37-time PBA Tour winner and Hall of Famer plays at Bogey Hills C.C. in Missouri.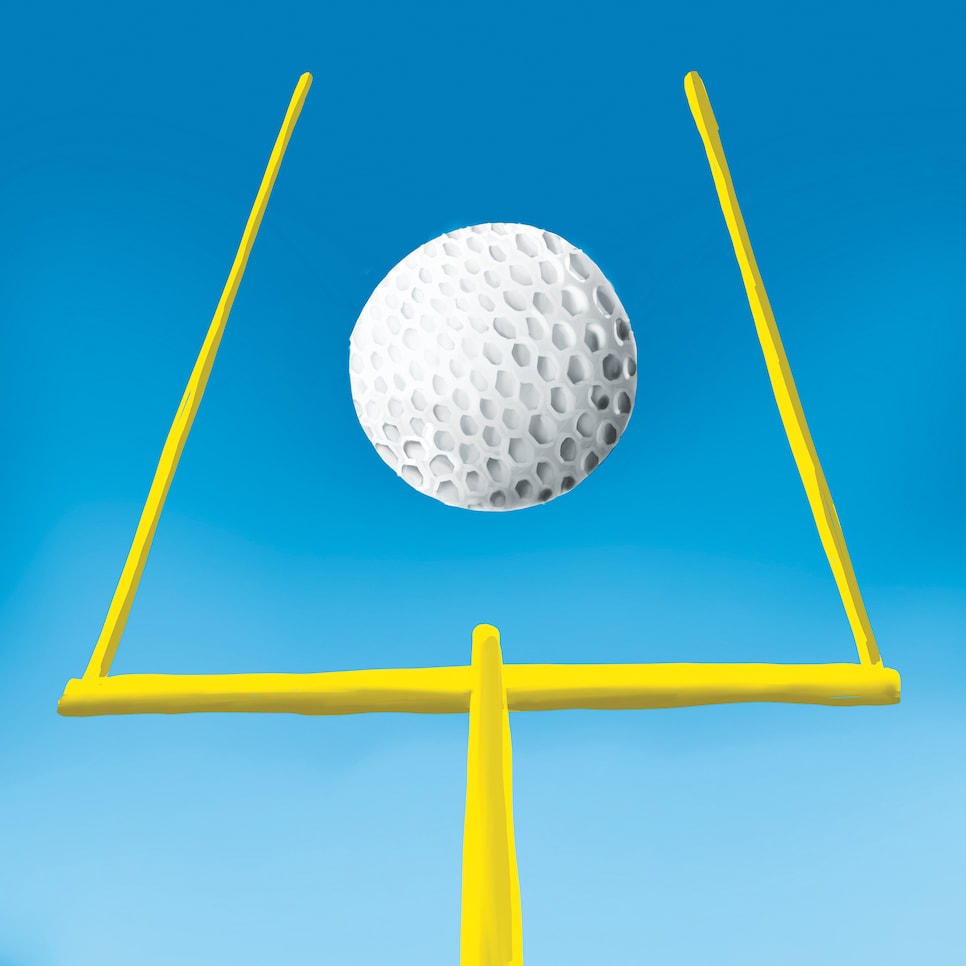 Illustration by Mark Ulriksen
RYAN SUCCOP
+2.2 | Titans kicker was a scratch in our 2015 ranking.
MATT RYAN
+1.2 | The 2016 NFL MVP for the Falcons holds his Celebrity-Am Classic at TPC Sugarloaf to support the Matt Ryan Foundation and Aflac Cancer and Blood Disorders Center of Children's Healthcare of Atlanta.
BRETT KERN
+0.8 | Titans Pro Bowl punter is a member at Nashville G. & Athletic Club.
TONY ROMO
+0.4 | Former Cowboys QB retired to the TV booth and dabbles in pro golf. In March, he shot 77-82 during his PGA Tour debut at the Corales Puntacana Resort & Club Championship. In August, he got to the first stage of Web.com Tour qualifying. He won twice in the summer, including the American Century Championship. Plays at Dallas National G.C., Trinity Forest G.C. and the Four Seasons G. & Sports Club. Was a 3-handicap in our 2015 ranking.
KYLE WILLIAMS
0 | Bills six-time Pro Bowl DT is 6-1 and 300 pounds with an excellent short game. Once shot 75 at Oak Hill.
JERRY RICE
0.3 | Hall of Fame wide receiver has competed in Nationwide Tour events. Home course: Sharon Heights Golf & Country Club in California.
SAM BRADFORD
0-1 | Arizona QB has no formal handicap. Has raised more than $1 million for St. Jude Hospital through the Sam Bradford Golf Classic.
BRANDON WEEDEN
1 | Texans QB walked on to the Oklahoma State golf team while leading the football team.
DEREK ANDERSON
1.2 | QB was a +0.6 in 2015; played seven seasons as Cam Newton's backup in Carolina before becoming a free agent.
DICK ANDERSON
2 | Former Dolphins safety plays at Riviera C.C. in Florida. He serves as a board member for The Miami Project to Cure Paralysis and The Buoniconti Fund.
JAKE ELLIOTT
2 | Eagles kicker's home course is The Ace Club, north of Philadelphia.
RASHEAN MATHIS
2 | Retired Jaguars cornerback is a member at Glen Kernan G. & C.C. in Jacksonville. Favorite course is Tobacco Road G.C. in North Carolina because of its elevation changes. "And Oakland Hills speaks for itself."
ADAM THIELEN
2 | Vikings WR was part of this summer's State Farm Showdown at Mohegan Sun G.C. Plays StoneRidge G.C. in Minnesota most often.
CHANDLER CATANZARO
2.3 | Bucs kicker is from Greenville, S.C., site of his home course, Thornblade Club.
BEN ROETHLISBERGER
2.3 | Steelers QB was as low as 0.4. Often-played courses: Allegheny C.C. in Pennsylvania and Reynolds Lake Oconee in Georgia.
MASON CROSBY
2.8 | Packers kicker has been a co-chair for the annual Vince Lombardi charity golf event in June.
DAN MARINO
3 | Hall of Fame QB started the Dan Marino Foundation to improve the lives of those with autism and other developmental disabilities. His home course is Adios G.C. in Florida.
NICK O'LEARY
3 | Grandson to Jack Nicklaus—Nick's mom is Jack and Barbara's daughter Nan—had his best career year last season with Buffalo.
PHILLIP SUPERNAW
3.5 | Free-agent TE played for his home-state Titans. Top layouts played in recent years: Torrey Pines, Erin Hills and Kapalua.
ROBBIE GOULD
3.9 | 49ers kicker plays Medinah C.C. every week in the offseason and each summer hosts the Robbie Gould Celebrity Golf Invitational, which has raised more than $2.6 million for Lurie Children's Hospital. He has been an eight-time participant in the American Century Championship and played in pro-am events on the PGA, Champions and LPGA tours.
PATRICK DIMARCO
4 | Nephew of Chris DiMarco is in his second season as a Bills FB.
ERIC WEDDLE
4.2 | One of the Ravens safety's favorite courses is Ko'olau Golf Club on Oahu.
AARON RODGERS
4.3 | Packers QB has competed in the AT&T National Pro-Am and attended the Masters and the PGA Championship.
STEVEN HAUSCHKA
5 | Bills kicker was hooked on the game from the first moment he went to a golf camp in Brookline, Mass., before eighth grade.
PATRICK PETERSON
5.1 | Cardinals seven-time Pro Bowl cornerback's love for golf began during the 2011 NFL lockout. Hosts the Patrick Peterson Celebrity Golf charity event.
BRYAN BULAGA
5.5 | Packers OT smashes the ball from a 6-5, 314-pound frame.
LARRY FITZGERALD
5.7 | Cardinals WR has been playing for seven years. In February, he teamed with Kevin Streelman to win the AT&T National Pro-Am by seven shots.
Read more about Larry Fitzgerald →
COLT MCCOY
6.0 | Redskins QB joined fellow Texas alum Jhonattan Vegas this past spring to hit trick shots at his college field in Austin.
JOHNNY MANZIEL
6 | "Johnny Football" from Texas A&M didn't make it in Cleveland, but the quarterback is starting over with Montreal of the CFL. His golf handicap has improved by two strokes since 2015.
NAT MOORE
6 | Dolphins great at WR plays his home golf at Melreese Country Club/Miami International Links. His charity focus has been education, with the Nat Moore Scholarship Fund within the Miami Dolphins Foundation.
ALEX SMITH
6.8 | Veteran QB, now with Washington, partnered with Mackenzie Hughes at this year's AT&T Pebble Beach Pro-Am.
KAI FORBATH
7 | Free-agent kicker can most often be seen playing at Los Angeles C.C.
ADAM HUMPHRIES
7 | Bucs WR went to Clemson at the same time as teammate and fellow golf nut Chandler Catanzaro. Plays at Carolina C.C.
AJ MCCARRON
7 | Raiders QB led Alabama to the 2012 and 2013 national championship and has taken part in charity golf events.
STEPHEN GOSTKOWSKI
7 | "In golf and in field-goal kicking, most of the times I screw up is when I try to hit the ball too hard," says the Patriots kicker, who holds the NFL record for extra points made.
A.Q. SHIPLEY
7.2 | Arizona C goes on an annual off-season golf trip with his father, Allan. A.Q.'s home course is Seville G. & C.C. in Arizona.
GOLDEN TATE
7.6 | Lions WR tells Golf Digest: "No matter how bad I play, I try to have fun. What do they say? 'A bad day on the course is still better than a good day at the office.' "
SHANE LECHLER
7.8 | Free-agent punter was a four-sport athlete at East Bernard (Texas) High School, including golf.
TERENCE NEWMAN
8 | Minnesota DB founded the Terence Newman's Rising Stars Foundation in 2007. He most often plays at Stonebriar C.C. in Texas.
MATTHEW STAFFORD
8 | Lions QB and his father have done a Father's Day golf trip seven years in a row; this year they played at Whistling Straits.
TRESS WAY
8.5 | Washington punter says nothing compares with how nervous he felt teeing off No. 1 at the 2017 Quicken Loans National Pro-Am at TPC Potomac.
KYLE FULLER
8.8 | Bears CB has a favorite course near camp in Lake Forest, Ill. (Conway Farms), and another in Scottsdale (Whisper Rock).
FRANK ZOMBO
8-9 | Chiefs LB once met Alice Cooper while playing in an outing. Calls Twin Lakes G.C. in Michigan his home base.
JAKE RYAN
9.0 | Packers linebacker takes part in the Lombardi Golf Classic.
DREW BREES
9 | Saints QB and the Brees Dream Foundation have collaborated in recent years with Topgolf to hold the Brees Topgolf Challenge.
ELI MANNING
9.3 | Among the courses the Giants QB frequents are Garden City G.C., Sebonack and the National G. Links of America.
MARK INGRAM JR.
10 | Saints RB and 2009 Heisman Trophy winner at Alabama is just as competitive on the golf course as he is playing football, according to Nick Saban.
KYLE RUDOLPH
10 | Vikings TE is co-host of the Champions for Children Celebrity Golf Classic. His favorite course is Spring Hill G.C. in Minnesota.
JOSH ALLEN
11 | Bills rookie QB played college football at the University of Wyoming and was drafted in the first round. "The type of throws where I struggle are kind of the underneath patterns where I've got to tone down my arm a little bit. . . . It's like I'm 100 yards out, and I have a 4-iron."
CHAD HENNE
11 | Chiefs QB once played a round at Pine Valley with 2015 U.S. Senior Amateur champion Chip Lutz.
MAXX WILLIAMS
11 | Favorite for Ravens tight end is Waverly Woods G. Cse. in Maryland.
JAMES WINCHESTER
11.0 | Chiefs long snapper broke his driver in half attempting a "Happy Gilmore" swing.
KIRK COUSINS
11.8 | Vikings QB worked at a driving range for minimum wage as a college student. He plays charity golf when he's not at Clearbrook G.C. in Michigan or his favorite layouts on the Robert Trent Jones Golf Trail.
MORGAN COX
12.0 | Ravens long snapper says one of his favorite courses to play is Spring Creek Ranch in Collierville, Tenn., which happens to be his hometown.
BRICE BUTLER
12.5 | Cardinals WR says being with Arizona excites him because of the plentiful course options and year-round playing weather.
MARCUS MARIOTA
13 | Fourth-year Titans QB and 2014 Heisman Trophy winner improved 17 shots from his 2015 ranking. Once got golf clubs from his parents as a graduation present. He utilizes golf events to promote the Motiv8foundation, which he co-founded.
PATRICK MAHOMES II
14 | Chiefs QB diverted his mind on draft day in 2017 by playing a round with his dad and friends. Plays out of Hollytree C.C. in Texas, where his mom works.
TY MONTGOMERY
14.2 | Former Stanford WR is the Packers' big hope as a converted running back.
TRAVIS KELCE
15-20 | As a youth, Chiefs TE received a glove from Shigeki Maruyama during the Bridge-stone Invitational at Firestone.
GEHRIG DIETER
17 | Chiefs WR has a cousin who is the head golf pro at Desert Mountain in Scottsdale. Dieter's home course is South Bend (Ind.) C.C.
KEENAN ALLEN
20 | Chargers Pro Bowl WR favors California layouts: Monarch Beach G. Links; most often plays at Strawberry Farms G.C.
ALEX LEWIS
20 | Ravens OT loves playing in his home state of Arizona at Whirlwind Golf Club at Wild Horse Pass.
SAM DARNOLD
30 | Former USC quarterback, selected by the Jets as the No. 3 overall pick in the NFL draft, says he has just started to pick up the game. He attended the U.S. Open this year at Shinnecock Hills.
MITCHELL SCHWARTZ
35 | During his first trip to a range, at about 11, he swung his father's driver and snapped the clubhead off, sending it about 75 yards. That was before the Chiefs OT grew to 6-5, 317.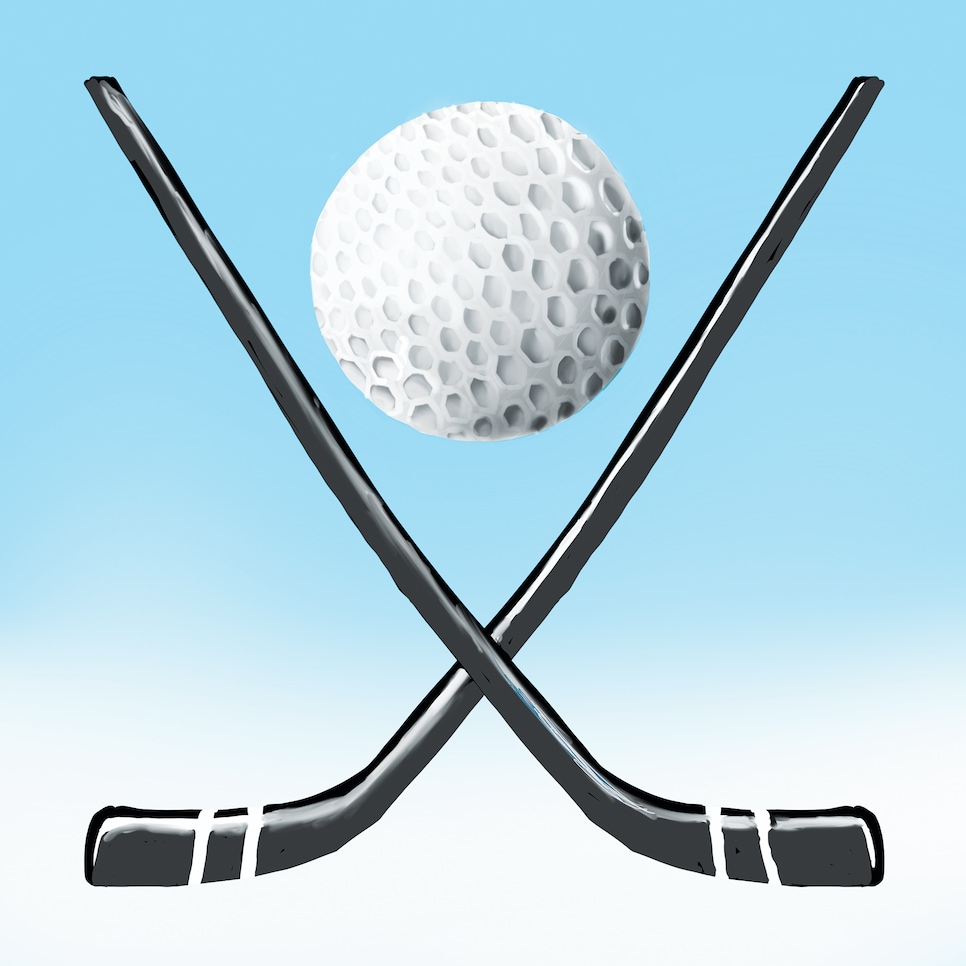 Illustration by Mark Ulriksen
ANTHONY MANTHA
+3.2 | Detroit's 6-4 wing led the team last season with 24 goals and plays in several charity golf outings during the summer.
NICK SORKIN
+3 | Now with the Worcester Railers of the ECHL, Sorkin qualified for the 2016 U.S. Amateur. Has had his only ace (when he was 18) and holds the course record of 63 at Lakewood C.C. in Maryland from its full 7,119 yards.
JAMES WISNIEWSKI
+1.9 | Longtime NHL defenseman won the 2012 Muirfield Village club championship and plays frequently with Jason Day.
CAL CLUTTERBUCK
+1.2 | Islanders right wing is capable of shooting in the 60s.
GUSTAV NYQUIST
+0.6 | Red Wings star plays several charity golf outings during the summer and preseason.
JOE PAVELSKI
+0.4 | Sharks center and captain has been invited the past two years to play in the American Century Championship at Lake Tahoe.
ANDREW POTULARSKI
+0.3 | Forward for the AHL's Charlotte Checkers, his favorite course is Quail Hollow in Charlotte. He is just starting to enter amateur golf tournaments.
MARCUS JOHANSSON
1 | Swedish-born left wing for the Devils has attended the Quicken Loans National. Earned a silver medal in the 2014 Olympics.
GREG MCKEGG
1 | Center for the Charlotte Checkers of the AHL won his stroke-play club championship in each of the past three years and got his first hole-in-one this summer.
NICK SCHMALTZ
1 | Blackhawks forward came within three feet of making an albatross in 2017 with a 3-wood from 255 yards.
J.T. MILLER
1.5 | Lightning center/left wing's three dinner guests would be Phil Mickelson, David Feherty and Leonardo DiCaprio.
JUSTIN WILLIAMS
1.5 | Carolina right wing, a three-time Stanley Cup winner, is a good friend of PGA Tour player Morgan Hoffmann.
MATT READ
1.7 | Minnesota Wild right wing is a member of Midland Hills C.C. in Roseville, Minn.
MARTIN JONES
2.0 | Home course for the Sharks goalie, who won the 2014 Stanley Cup with the Kings, is Seymour G. & C.C. in North Vancouver, B.C.
CLAYTON KELLER
2.0 | The 20-year-old forward for Arizona was a Rookie of the Year finalist for 2017-'18 and has played golf with Toronto center Auston Matthews
BRENDAN PERLINI
2.0 | Arizona forward is a rare UK-born NHLer.
BRAD RICHARDSON
2.0 | Arizona center won a Stanley Cup with the Kings in 2012.
BLAKE WHEELER
2 | Winnipeg right wing says golf is his favorite hobby.
RYAN GETZLAF
2.4 | Ducks captain/center held the eighth annual Getzlaf Golf Shootout, at Monarch Beach Golf Links, to benefit CureDuchenne.
CHRIS BUTLER
3.0 | St. Louis Blues/San Antonio Rampage defenseman has four career rounds under par and plays in a charity golf tournament every year to benefit the United Heroes League.
NATHAN MACKINNON
4 | Avalanche center, who trains in the summer with Sidney Crosby, caught the golf bug a few years ago.
ERIC STAAL
4 | Minnesota Wild center and his brothers started the Staal Family Foundation, which sponsors a Canadian PGA Tour event each summer.
CAMERON CRITCHLOW
5 | Forward with the Jacksonville Icemen of the ECHL; his favorite course is Dye's Valley Course at TPC Sawgrass.
JAKE GUENTZEL
6 | Penguins star comes from a hockey family.
BROCK NELSON
6 | Islanders center plays out of Oak Ridge C.C. in Minnesota.
CAM WARD
6.0 | Goalie is newly signed with Chicago. Won the Conn Smythe Award with Carolina when it won the 2006 Stanley Cup.
T.J. OSHIE
6.1 | Capitals RW showed Stanley Cup celebrations last a long time when he was seen drinking out of a beer helmet at the American Century Championship in July.
WAYNE GRETZKY
7.2 | The Great One is a regular in the AT&T Pebble Beach Pro-Am.
SHAWN THORNTON
10 | Former wing now a Florida Panthers VP, Thornton has a Boston-based golf tournament for his Shawn Thornton Foundation the past eight years at Ferncroft C.C., benefiting pediatric cancer and Parkinson's.
ERIC TANGRADI
10.2 | At 6-4 and 230 pounds, the left wing in the Devils organization is an imposing presence.
JOHN TAVARES
11 | Former Islander center, now with Toronto, ran into Stephen Curry playing at Sebonack in September 2017.
KYLE OKPOSO
11.3 | Buffalo RW tweeted this about Tiger Woods: "All these other young guys are good players, but the look in his eye is something that nobody can replicate."
SIDNEY CROSBY
12 | Penguins star doesn't play as much as he used to, pushing his handicap up. His foundation supports a variety of causes.
AMANDA KESSEL
12 | Forward on the USA Hockey national team since 2011 won an Olympic gold medal this year and wishes she had more time for golf. She plays for the Metropolitan Riveters of the NWHL.
MARK SCHEIFELE
12 | In August, the Winnipeg center played on the Mackenzie Tour at the Players Cup and shot 87-86. He holds a golf classic in support of KidSport Winnipeg.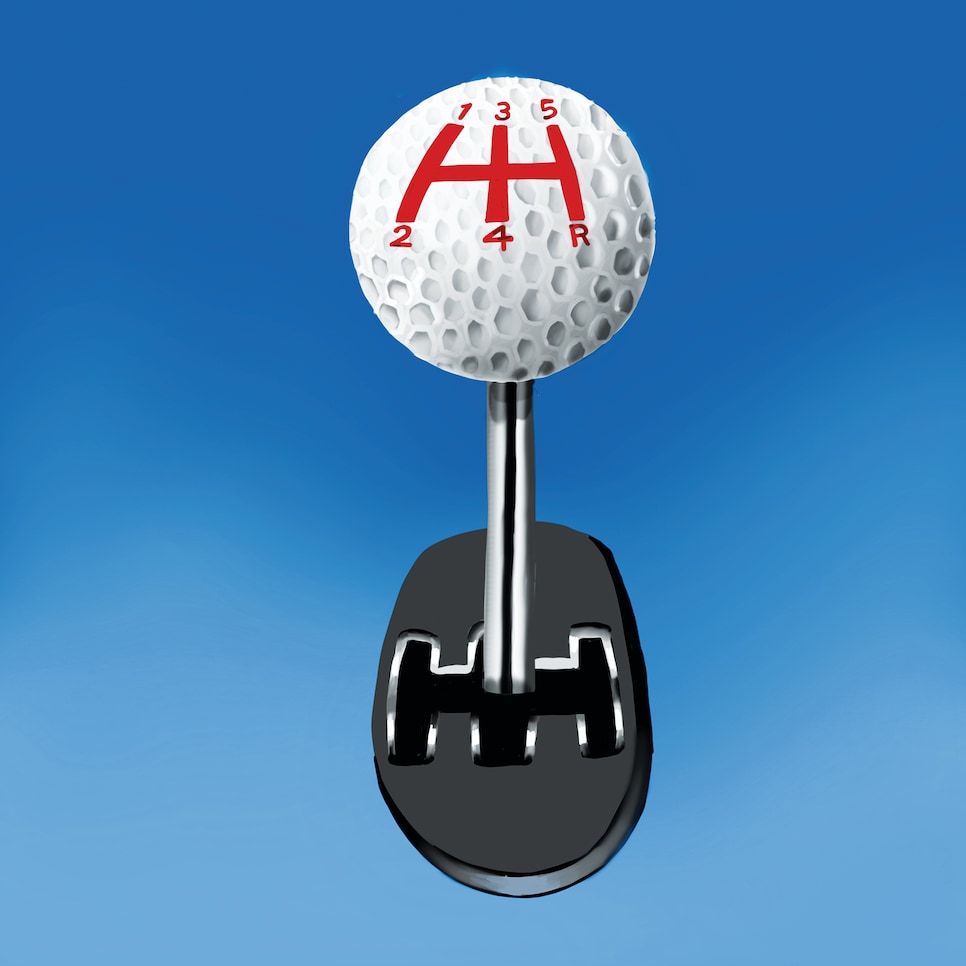 Illustration by Mark Ulriksen
DENNY HAMLIN
3.3 | NASCAR veteran is a genuine golf nut. Home course is The Peninsula Club in North Carolina. Also has memberships at three other clubs in the state: River Run C.C., Trump National G.C. and Diamond Creek G.C.
GRAHAM RAHAL
5 | Six-time IndyCar winner teamed with Rickie Fowler to win this year's Honda Classic pro-am at 19 under par. It was Rahal's third Honda pro-am victory. His foundation funds childhood cancer research.
RICKY STENHOUSE JR.
6.7 | NASCAR driver uses Trump National G.C. as his home course in North Carolina and favors rounds at Scottsdale National G.C. and The Virginian G.C.
KYLE LARSON
14 | NASCAR rising star calls Trump National in North Carolina his home course.
AUSTIN DILLON
14.9 | North Carolinian NASCAR driver plays at Sapona Ridge C.C. He also enjoys playing The Greenbrier in West Virginia, and at Old North State Club and Trump National G.C. in North Carolina.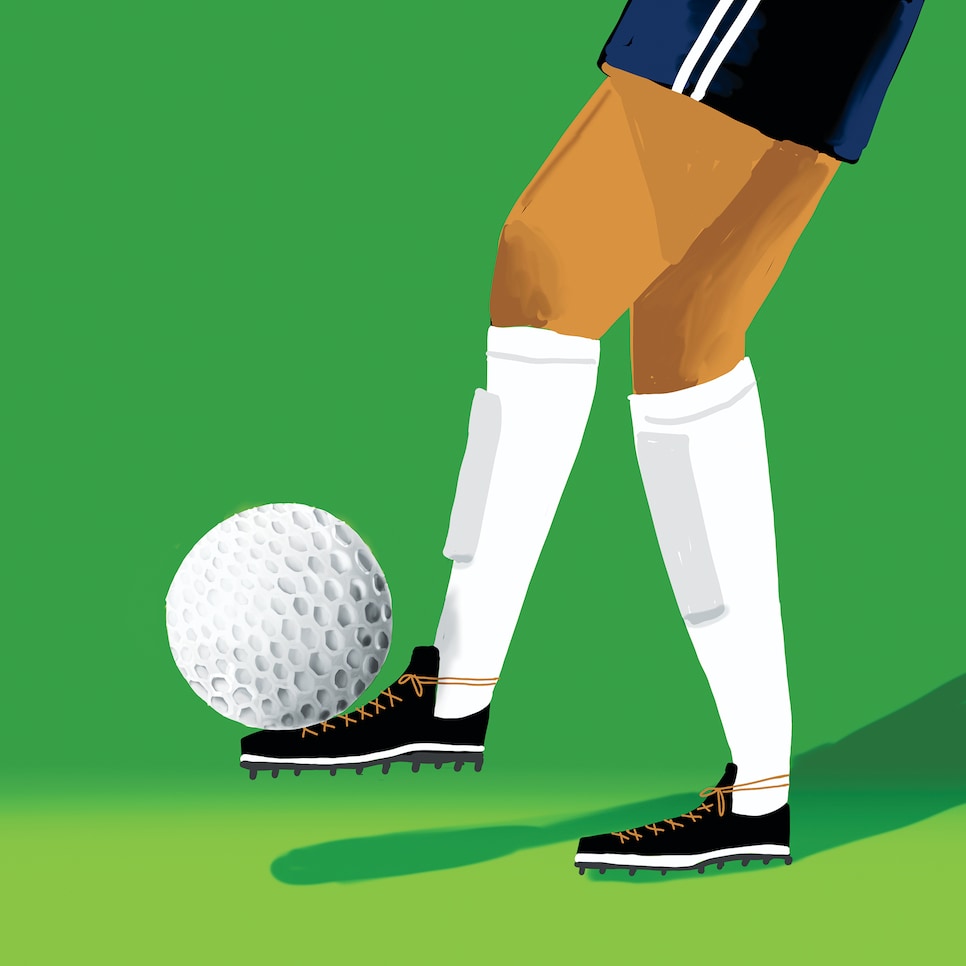 JULIAN GRESSEL
1.2 | Atlanta United midfielder, the 2017 AT&T MLS Rookie of the Year, tweeted this in May: "Played a round of golf today under par for the first time, and that at East Lake. Solid 69."
HARRY KANE
4 | Striker for Tottenham captains England's national team. Kane often plays even-par golf. He plays at the Centurion Club in Hemel Hempstead.
GARETH BALE
5 | Wing for Real Madrid had replicas of the 17th hole at TPC Sawgrass, the 11th at Augusta National and No. 8 at Royal Troon built in his back garden.
KEEGAN ROSENBERRY
5.3 | Philadelphia Union right back plays close to where he was born in Harrisburg, Pa.
CHRIS WONDOLOWSKI
9.2 | Forward for San Jose and the U.S. national team, he took part in the Ellie Mae Classic Celebrity Shootout, along with teammates Chris Wehan, Magnus Eriksson and Nick Lima, and is part of the Common Goal Movement. As a national ambassador for the organization, he donates a portion of his salary to Street Soccer USA. He is also an advocate for Native American awareness and recognition, and is a member of the Kiowa tribe of Oklahoma.
KEVIN ELLIS
10.0 | D.C. United defender used a swing coach while with his hometown club Sporting KC. Memorably formed a bond with Kit Van Sickle, a young girl dealing with leukemia and was declared cancer free.
THEO JAMES WALCOTT
10 | Forward for Everton and his native English national team has played with countryman Justin Rose and finds Wentworth's West Course "a great experience from start to finish."
MATT BESLER
12 | Captain of Sporting KC is extremely active each year when the club hosts the SKC Golf Invitational. He recently began his own foundation.
ZAC MACMATH
12 | Colorado Rapids goalkeeper is very involved with the Rapids Charity Golf Classic and regularly plays golf with Special Olympics athlete Vincent Egan.
ABBY WAMBACH
12 | Legendary forward for the U.S. Women's National Soccer Team was born in Rochester, N.Y., site of her favorite course, Oak Hill.
CHRIS WEHAN
12 | San Jose winger enjoys reading Golf Digest. He was the 2017 United Soccer League Rookie of the Year.
CARLOS TEVEZ
13 | Avid golfer caddied for friend Andres Romero in the final round of the 2012 Open Championship at Royal Lytham.
BENNY FEILHABER
14 | Brazilian-born midfielder joined Los Angeles FC before the club's inaugural 2018 season. Actively posts golf items on social media.
WAYNE ROONEY
16 | Englishman plays for the MLS club D.C. United. In the spring, Rory McIlroy credited Rooney for getting his putting on track to win the Arnold Palmer Invitational: "We were talking about triggers and how you start a putting stroke," McIlroy said. "Rooney, before he hits a free-kick, or before he hits a penalty, he taps his toe on the ground before he actually starts his run-up."
DANIEL SALLOI
No handicap | Hungarian-born striker plays for Sporting KC. In July 2017, he and three teammates took on four Web.com Tour players in a FootGolf match.
BASTIAN SCHWEINSTEIGER
No handicap | Chicago Fire midfielder is a casual player with star power and 9.3 million Instagram followers. He is married to retired tennis star Ana Ivanovic.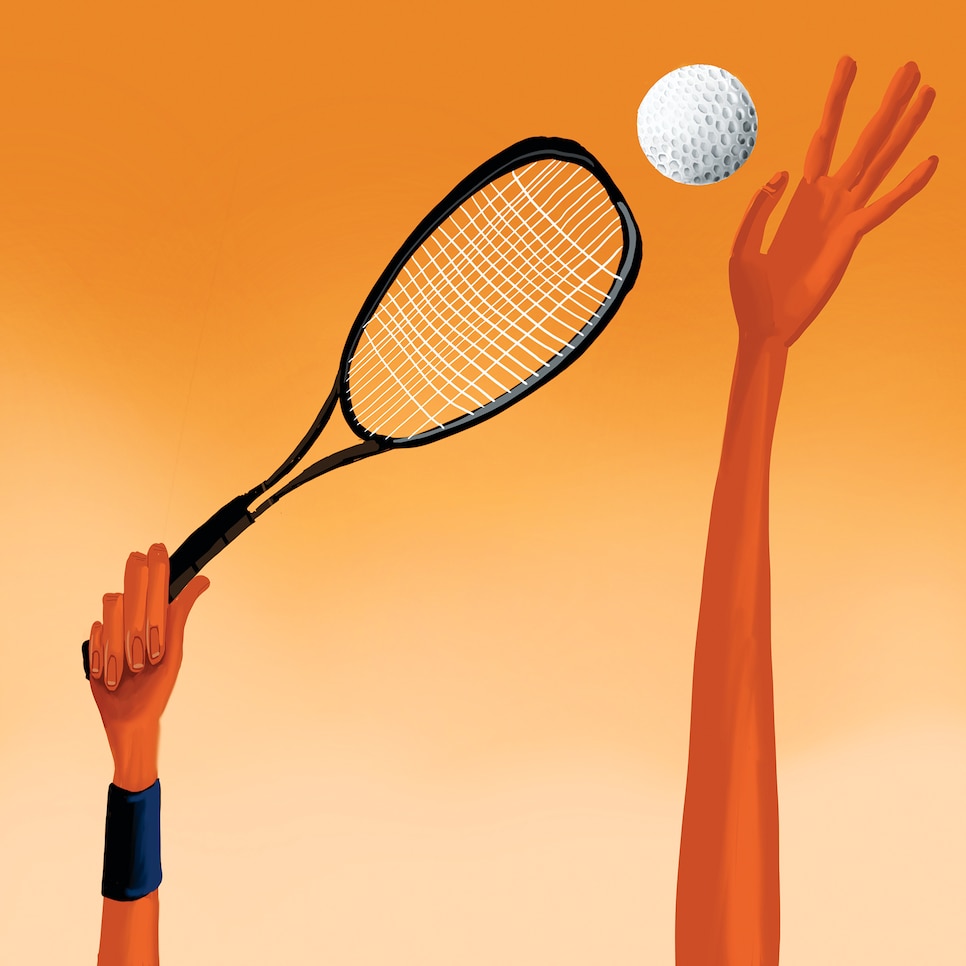 Illustration by Mark Ulriksen
PETE SAMPRAS
0.5 | Winner of 14 Grand Slam titles doesn't have recent scores posted, but his golf swing says scratch player.
ANDY RODDICK
1.5 | The 2003 U.S. Open winner has had a golf event in the past for the Andy Roddick Foundation. His home course is Spanish Oaks G.C. in Austin.
IVAN LENDL
2.3 | Winner of eight Grand Slam titles, he plays mainly at Torrington C.C. in Connecticut and the Windsor Club in Florida.
RAFAEL NADAL 2.5 | The 17-time Grand Slam winner puts his game on display in charity events and was in Tiger Woods' gallery at the 2017 Hero World Challenge. In 2018, he hosted the first Rafa Nadal Golf Challenge.
BORIS BECKER
8 | Six-time major winner did not develop a love for golf until retiring from tennis. He prefers to play as a scratch against friends in stroke play.
ASHLEIGH BARTY
10 | Turned pro at just 14. Now 22, she has won two WTA titles.
BODE MILLER
2.8 | Olympic skiing gold- medalist is a star on slopes (snow or grass).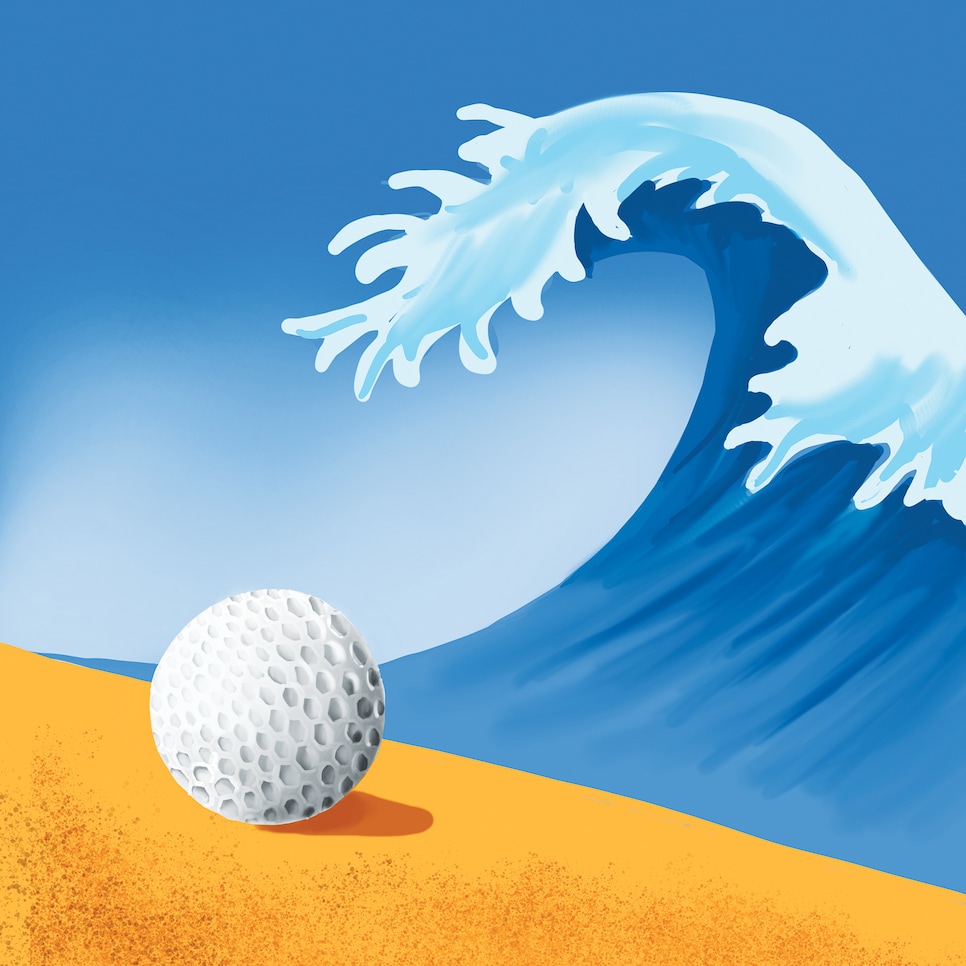 Illustration by Mark Ulriksen
KELLY SLATER
2.8 | "When the waves are no good, we always say the golf course is six to eight feet and offshore," the 11-time World Surf League champion tells Golf Digest. He travels the world and takes advantage of the golf scene: favorite course is Kingsbarns in Scotland.
Read more about Kelly Slater →
ROB PANNELL
3 | Four-time lacrosse All-Star with the New York Lizards, who also plays for the U.S. National Team, played varsity golf at Smithtown (N.Y.) High School.
JULIAN WILSON
7 | Aussie on the World Surf League tour calls his country's Noosa Springs his home course. His favorite is St. Francis Links in South Africa, where he made his first hole-in-one.
VINCENT HANCOCK
8.8 | Two-time Olympic gold-medalist in skeet shooting calls his sport "golf with a shotgun," citing the pre-shot routines. Grew up playing golf after he was introduced to the sport by his grandfather at about age 3.
AB DE VILLIERS
9 | South African national team cricketer, considered one of the best batsmen of all time, was as low as a 1-handicap. Announced his retirement in May.
DANE DOBBIE
9 | All-time leading scorer for lacrosse's Calgary Roughnecks has a few favorite courses, all in Canada: Country Hills G.C., Priddis Greens G. & C.C. and Stewart Creek G. & C.C.
ERIC KOSTON
9 | Skateboarder is an 11-time X Games gold-medalist and has gotten his handicap as low as 5.
SEAN MALTO
9 | Skateboarder once competed in a golf tournament exclusively for action-sport athletes.
COREY LANERIE
9.5 | Jockey tells Golf Digest, "I work to play golf."
MARK COCKERTON
10.0 | NE Black Wolves lacrosse forward plays golf two to three times weekly, April to October in Canada, and plays golf for the competitive and social aspects. "You're constantly competing against yourself since it is an individual sport, to shoot the best round possible."
KYLE BUCHANAN
10 | San Diego Seals lacrosse forward lives in Ontario. "You never play as much as you'd like," he says, but he plays one to two times weekly during the summer.
MICHAEL PHELPS
10.5 | Olympic record-holder with 28 swimming medals has improved his Index by almost five shots from 2015. Phelps' annual golf gala in 2018 with guest Jason Day provided support to both their foundations.
Read more about Michael Phelps →
JOE KOVACS
12 | The silver-medalist in the shot put at the Rio Olympics tells Golf Digest his handicap "all depends on where I am in my training for the year. The heavier the lifting training is, the shorter my backswing."
STACY MAY-JOHNSON
12-14 | Favorite course for the Chicago Bandits softball infielder is Finkbine, the home course for the University of Iowa, where she attended college.
RYAN SHECKLER
14 | Pro skateboarder's Sheckler Foundation had its 11th Annual Celebrity Golf Tournament to benefit the Be The Change initiative.
MEGAN BLANK
No handicap | Chicago Bandits pro softball 1B shoots around 100.
RED GERARD
No handicap | Snowboarder won gold in 2018 Winter Olympics in Slopestyle. Plays golf for fun and rarely keeps score.
APRIL ROSS
No handicap | Olympic beach volleyball silver- and bronze-medalist is good from the sand but doesn't keep a handicap.
KYLE SNYDER
No handicap | Olympic wrestling champion can walk on his hands as far as he can hit a wedge.