No chance Larry Fitzgerald was going to be seen playing golf as a youngster in Minneapolis. Golf just wasn't cool for a football player in the inner city, he says. He does remember looking for his dad's tee shots when he and his brother tagged along to the course, and the family watched a lot of Tiger Woods on TV when Larry was in high school. Other than that, golf wasn't his thing.
That has all changed. Not quite three years after playing golf for the first time, the Arizona Cardinals' best receiver of all time is hooked. "I'm definitely a golf addict," says Fitzgerald, who plays at Whisper Rock and Paradise Valley in Arizona, and Hazeltine, Interlachen and Spring Hill in Minnesota. Fitzgerald tries to play every Tuesday during the NFL season, the one day off a week he can count on. If he isn't playing Tuesday at Whisper Rock with some of the club's top players, it's because he's playing with friends at another of the top courses in the area.
The day before he scored three touchdowns in the Cardinals' 48-23 victory over the Bears in Week 2 at Soldier Field, Fitzgerald and his tour-player buddy Kevin Streelman were treated to a round with members at historic Chicago Golf Club. "We rode," he said. "I wouldn't walk 18 holes the day before a game."
Former teammate Andre Roberts, now a Redskins receiver, gets credit for bringing Fitzgerald to golf. Just a few months after taking it up, Fitzgerald converted "a bladed 6-iron from 180 yards" into his first hole-in-one.
'Golf is so humbling. ... You've got to put in the time.'
"The best part was, Andre and my dad were playing with me," Fitzgerald says. "I was with Andre for his first hole-in-one, but my dad has been playing golf for 40 years and has never made one. Here I am making one after playing only three months. I think he was happy and pissed at the same time." Fitzgerald has improved his handicap to 14.2, and his touch around the greens impresses even the best players at his clubs. If Fitz can learn how to consistently hit fairways with a driver or 3-wood, he'll be a 70s-shooter in no time. "I've been playing football since I was 6 years old, and I was born with a gift," he says. "I could run, jump and I had superior hand-eye coordination. None of that was really worked for. Golf, I have to work for.
"I'm horrendous off the tee, but from 150 yards and in, I'm a single-digit golfer," he says. "Golf is so humbling. It doesn't matter how great of an athlete you are, what color, religion or size you are, you've got to put in the time."
His challenge is finding time. Every off-season, Fitzgerald combines his passion for travel and photography with his dedication to improving the lives of others. An award-winning humanitarian, Fitzgerald has been to nearly 100 countries, providing life-changing aid to people in India, Rwanda, Ethiopia, Senegal, Tanzania, Uganda, Malaysia and the Philippines. His Larry Fitzgerald First-Down Fund supports kids and families in crisis, and he has been hugely involved in the fight against breast cancer, the disease that claimed the life of his mother, Carol, when Larry was a freshman at the University of Pittsburgh.
"My earliest childhood memories are of my mother's dedication to philanthropic work," Fitzgerald says. "She was always helping people with HIV and AIDs or providing resources to the African American Breast Cancer Alliance. She'd bring my brother and me along. We'd much rather have been playing basketball or football, but we were there, and it taught us some valuable lessons."
Whenever Fitzgerald has free time in Phoenix, he'll drop in to visit kids at a hospital or swing by the Society of St. Vincent de Paul to pass out food to the homeless. Sometimes he brings his boys Devin, 7, and Apollo, 2. During their drive home recently, Devin asked when they could go back and do that again.
"I know how I was raised, and now I'm passing it on to my kids," Fitzgerald says. "I watch my son, and I can see that he's coming along because he genuinely wants to help. As a parent, that makes me feel so good."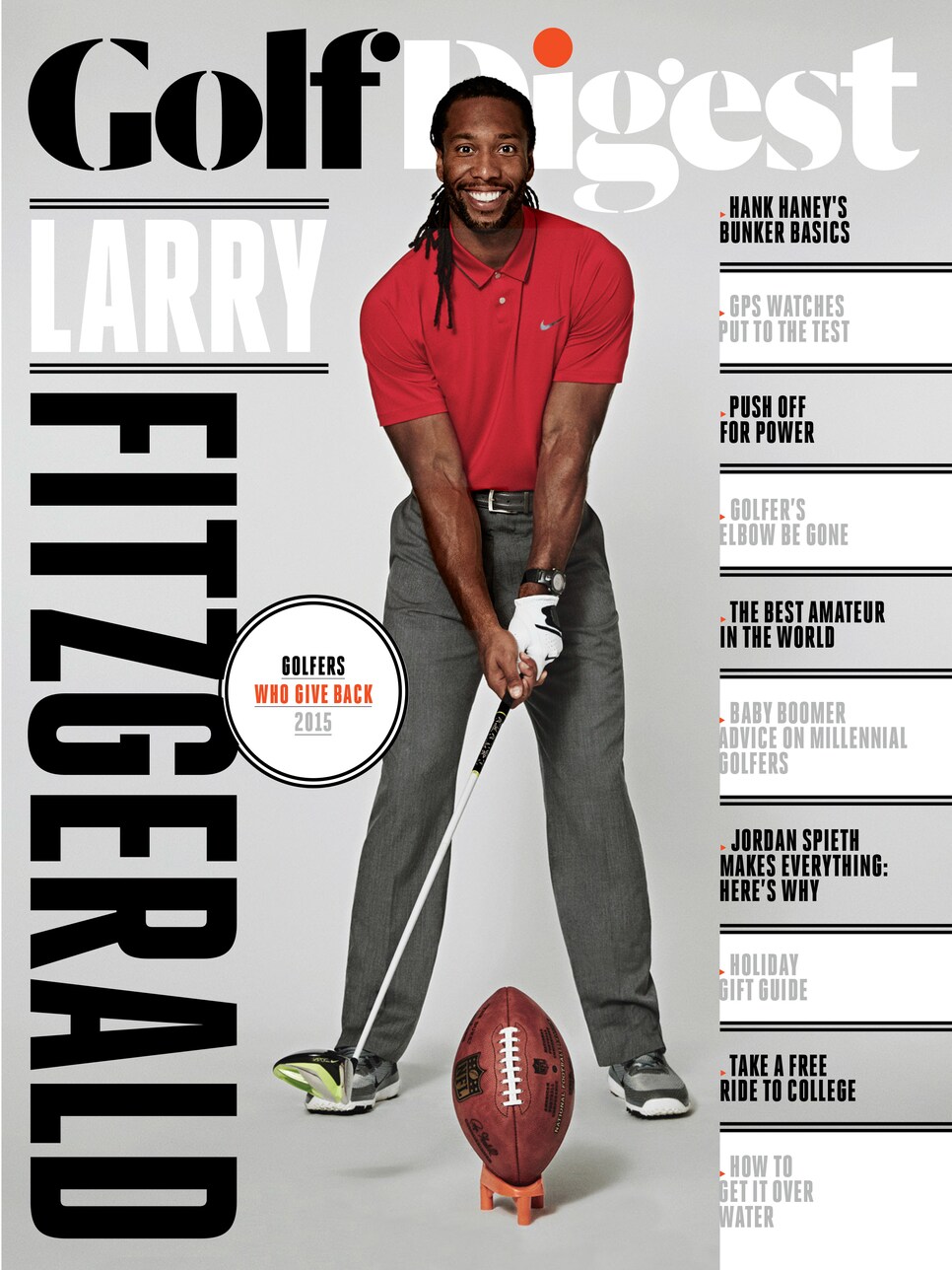 Cover photo by Walter Iooss Jr.