We're proud of what golf does for charity, and for the sixth year, Golf Digest is celebrating Golfers Who Give Back, partnering with the AT&T Pebble Beach Pro-Am and Monterey Peninsula Foundation. Our joint committee has selected world surf champion Kelly Slater, country-music artist Clay Walker and World Golf Hall of Famer Juli Inkster as this year's Golfers Who Give Back.
No individual golfer gave more than Arnold Palmer, and each of the three honorees will receive The Arnie Award, Golf Digest's highest honor, at the AT&T in February. The Arnie is a trophy-size version of a Palmer bronze sculpture created by artist Zenos Frudakis. As part of the Golfers Who Give Back program, Golf Digest will donate a total of $100,000 to MPF and Arnie's Army Charitable Foundation.
Editor's note: Kelly Slater, the World Surf League champion a record 11 times, took up golf at 23 and has played more than 150 rounds a year. Christian Iooss, the executive producer of video at Golf Digest and a surfer since he was 7, interviewed Slater, 45, at his Surf Ranch wave pool in California after Slater's return from competing in the European Tour's Dunhill Links Championship pro-am in Scotland. The photo was taken by Christian's father, Walter Iooss Jr., a surfer-turned-golfer who has been photographing Slater for 27 years.
Ten to 15 years ago, there were no professional surfers playing golf. Now it seems like it's the activity of choice on lay days at contests. What about golf appeals to surfers?
It was about 10 years ago that it started. We've got a group you can follow on Instagram [@golfgeek]. We get quite a few pro golfers who are followers. It's just a good yin/yang with surfing and golf. They're almost opposite sports. The common theme is, they're solitary. But in golf, nothing's moving, whereas surfing, everything is moving. It's a different dynamic altogether. When the waves are no good, we always say the golf course is six to eight feet and offshore.
Golf is defined by rules; surfing has very few. Do you like the balance?
I've often thought if you switched the two, how different the environments would be. I've played with a lot of pros over the years, and they like the freedom that surfers have. When they play on their own with no cameras around, the shoes come off, there's no shirt—they want to peel off that layer of formality. Surfers are kind of the opposite. We're like, Oh, we finally get to dress up a few times a week with a nice shirt and tuck it in. We sort of feel like we've joined society again.
There are quite a few pro golfers that have gotten into surfing. Geoff Ogilvy. Greg Norman was thinking about being a pro surfer before he was a golfer. I saw a documentary where he talked about that, and I've spoken to him about it. He knew some of the old-school shapers and pro surfers from the Gold Coast before we had a world tour. Rafa Cabrera-Bello, he's gotten into it. We were all stoked when Adam Scott won the Masters, because he was the first surfer to win it.
Is Adam the best surfing pro golfer?
I haven't seen them all surf yet. Nick Watney loves surfing, too. When I see him, he starts geeking about John John [Florence, current surf champion].
You've been on a break from the surf tour while nursing broken bones in your foot, but you seem to be finding time for golf. How's the game?
I was in a boot for about two months but played golf a couple of times. It was nice because it took the foot out of play—luckily it was my back foot—so I could just hit some low balls and sit on the front foot.
What's a good score for you?
My best is four or five under. I shot four under at the Pebble event—five birdies and a bogey at Monterey Peninsula—but mind you, that wasn't from the pro tees. It was my birthday; I figured it was a gift from the universal golf god. I've actually been as low as six or seven under through a round, but I've never finished it out. I flirted with shooting 30 for nine holes before, just one of those days where I was on and everything was going in. [Slater's most recent Handicap Index is 2.8.]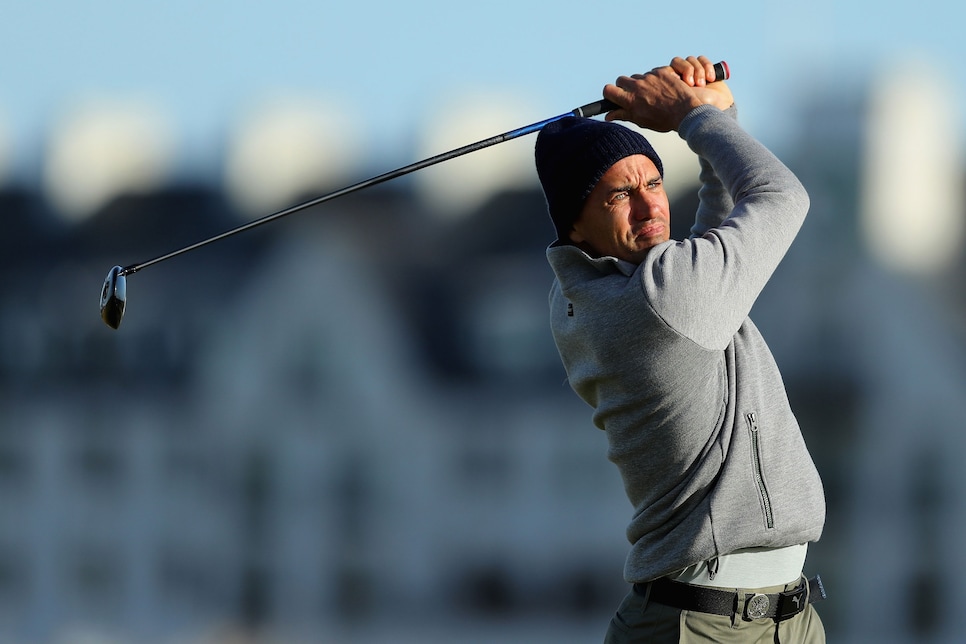 Richard Heathcote/Getty Images
Very few professional surfers have been more in tune with equipment than you. Has that translated to your golf clubs and your swing?
I've tinkered with stuff here and there. I've got my theories on putting, the way to hit the ball and set up. I take things I've read and watched and learned from different people. I'd say the basis for my golf swing is two parts. No. 1, when I first started, I played with Tommy Armour [III] and Sandy [Armour's brother] a lot. Sandy had a swing like Ben Hogan. And then I read the Hogan Five Lessons book, and I really got into that. But I started hooking the ball really bad. I heard that a lot of people who read that book start hooking the ball really bad [laughter]. Then eight years ago, I really got into Moe Norman and watching his old stuff. I never met him, but I felt like I had this connection to Moe because he spent six months a year down in Florida, Titusville and Cocoa, the area where I grew up.
The first few months I started playing golf, Golf Digest did a 23-page article about him, so I always had it in the back of my mind. I felt that I'd plateaued at a 7-handicap, maybe a 6. Then I got into hitting the ball like Moe did—hands up on a plane and a 10-finger grip. Instantly I could feel where the plane was in my swing and where the clubface was at the top of my backswing. I felt like I could finally feel control of my swing. There were simple things, like keep your back heel on the ground when you hit through the ball, that would keep me from sliding forward or lifting my spine.
So I did my version of that. Sometimes one small thought can make a big difference.
For sure. Sometimes you feel like you play a round or play for a couple of days with that thought, and you're like, Oh, I've got this game; it's over. Then all of a sudden you fall off the side of the cliff, and you're like, What happened to my swing? Surfing is a never-ending challenge, and golf is a never-ending challenge. There's something that translates there.
Do you ever surf and play golf on the same day?
Golf takes so long. When I play golf with someone who walks, I get irritated. If I want to walk, I go to the beach. I like to ride to keep it moving. If I were at a classic golf course, it's a different thing. I'm not out there for exercise. I go surf and work out for exercise. I just want to hit the ball. I don't want someone in front of me. I like to play, man. I want to bust through 27 holes in 2½ hours.
Any betting when you play?
We have side games, nothing that makes anybody nervous. Half the time we don't even pay out. It's more the bragging rights.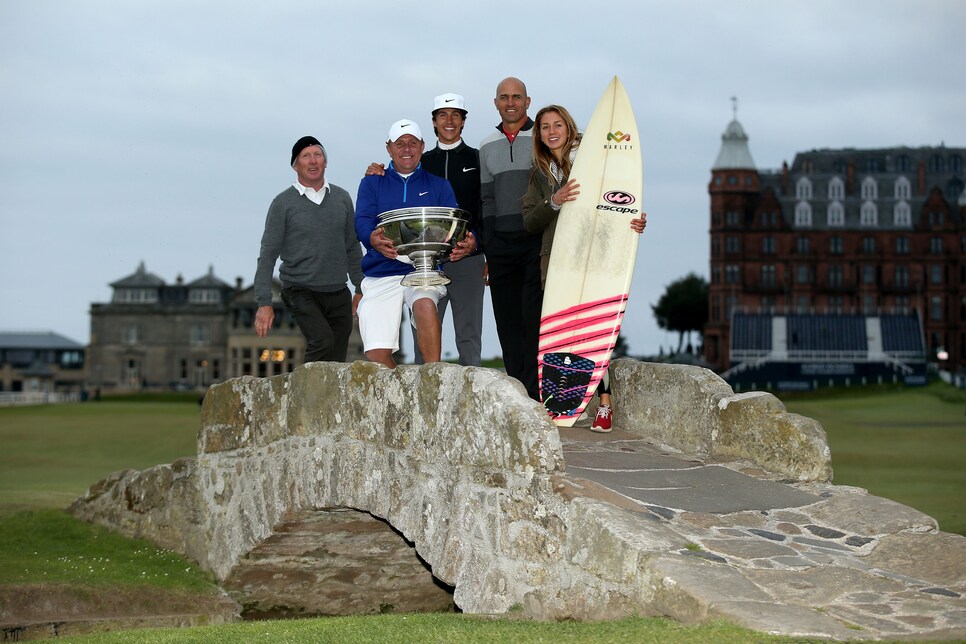 The world surf league takes you all over to countries with amazing golf courses. what's your favorite?
I've been fortunate to play in the Dunhill a few times. I'd say Kingsbarns. St. Andrews, for the experience and the history there, but Kingsbarns is just such a beautiful course, and there's a perfect right-reef break off the 15th green. If the tide's high and there's a little swell, winds always out of the west, you know you're going to get a good wave there. Since I first went there in '09, I said if there were waves there, I could live in St. Andrews. The course that I play the most through the year is the Arnold Palmer course at Turtle Bay [in Oahu, Hawaii]. It feels like my home course. I usually go out the last two hours before dark with my buddies and get 18 in.
Bucket-list course?
I really want to get to Barnbougle Dunes in Tasmania. I also want to go to the King Island course, which is halfway between Tasmania and Melbourne. It's an island down there that I go surf. Oh, and Cape Kidnappers in New Zealand, I really want to go there. Obviously Augusta and Pine Valley. I've been invited to both. I had a trip to Pine Valley, and the day I was supposed to fly there, I came down with a two-day flu. It was a bummer.
Travel has also given you a unique perspective on the health of our planet. Has that guided your philanthropy and environmental activism with omaze.com?
Yeah, Omaze is a cool online fundraising group. I've done three or four projects in the past with them. We've done two trips to Fiji, where we've given the winner a free trip to Tavarua. We raised quite a bit of money from that and gave it to a couple of different funds. Shane Dorian and I donated to More Than Sport, which builds skate parks around the U.S. I gave money to Skate to School, which gives money for college tuitions. It helps kids get through college without so much debt. That money is going to the local community [Lemoore, Calif.] to do things in the area. We'll do one more giveaway here, and that money will go to hurricane-disaster relief in the Caribbean, Puerto Rico, Florida and Texas. We had devastating fires here in California, so we might give some money to that, too. I like educating people about diet and helping animals. I've got my hands in a lot of different places, but all are close to my heart.