News
An elite golf club's elite member-guest: A brief history of the Seminole Pro-Member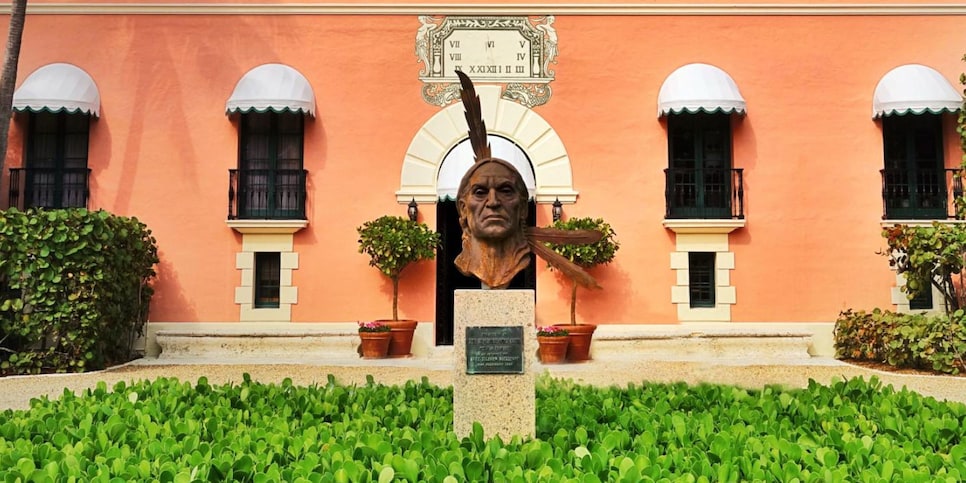 Before the COVID-19 pandemic shut down much of the world, golf played its first major of the year. What, you missed it? Understandable. It wasn't on television. Johnson Wagner won (along with partner John T. McCoy) with a best-ball 64 for a one-stroke victory over Matt Kuchar (and Carlton Forrestor) and Richy Werenski (and Robert Long III). Carlos Ortiz (and partner Christie Flanagan) shot a net 62 for the other Indian head trophy.
We're talking about the annual Pro-Member at Seminole Golf Club. It's the first major every year—in the minds of some of its participants at least—held the Monday after the Honda Classic in March. Davis Love III has called it that. He won it in 2009, getting his name on the mahogany board that hangs on the wall in the northeast corner of the club's locker room, along with other early champions like Ben Hogan, Sam Snead and Arnold Palmer.
Who says Rickie Fowler doesn't have a major? If you count the Pro-Member, he's got three. Playing with Buddy Marucci, the duo completed took top honors from 2011-'13. Rory McIlroy, who has actual majors with four, has won the Pro-Member, too, shooting a 63 on his own ball while partnering with John Pinkham in 2015. Dustin Johnson, who won a U.S. Open, and Matthew Wolff, who won on the PGA Tour last year, have played in the Pro-Member, but they've never won it.
On Sunday, those four will be back on Seminole's hallowed grounds, with Rory and DJ taking on Rickie and Wolff in the TaylorMade Driving Relief skins match. Like the Pro-Member, there are no World Ranking points or prize money, though there is $3 million for organizations leading coronavirus relief efforts.
The event is notable, for its charitable endeavors and live golf, of course, but also for another reason: The course and its television debut.
Located 15 miles north of glitzy Palm Beach in Juno Beach, Seminole is the privatest of the privatest clubs. Augusta National, Pine Valley and Cypress Point are as exclusive, perhaps more so, but they have been oft seen. Seminole, which also is scheduled to host the Walker Cup in May 2021, has never before been available to so many eyes. It's the golfiest of the big four, too.
Hard against the Atlantic Ocean, Seminole was founded by New York investment banker E.F. Hutton in 1929, designed by Donald Ross and is where Ben Hogan practiced before the Masters. Claude Harmon Sr., who was the club's winter professional from 1945-'57 when he wasn't summering at Winged Foot, owns the course record, a 60 that he shot in 1947—a year before winning the Masters.
It's also where Claude's son, Butch, learned to play the game as a 6-year old. "It's a special place," he says.
Indeed. The club was frequented by Dwight Eisenhower, John F. Kennedy and Bing Crosby, to name a few, and its membership is significant. Past members include the Duke of Windsor, Henry Ford II, Jack Chrysler, Joe Kennedy, Pete Dye; current ones include Michael Bloomberg, USGA chief Mike Davis, PGA of America CEO Seth Waugh, Rees Jones and a new member – of the club and of the Tampa Bay Buccaneers—Tom Brady.
The only tour pros extended memberships? Ray Floyd and Nick Price. Arnie was offered (but politely declined) and Jack never got in. Rory's dad Gerry is a popular member and a regular in the Pro-Member, though he's never won it playing alongside his son.
It's little wonder then why the Pro-Member draws a field as good if not better than some PGA Tour events, routinely attracting at least half of the top 10 players in the world and several more down the ranking. Tiger has never played in it, but plenty of other one-name types have.
The event kicks off every year with a cocktail and dinner party at Seminole on Sunday night, and the format is a two-man best ball with gross and net divisions. Though the current version has only been around since 2004, its origins trace to 1937, when it was a big-money Calcutta where tour professionals would mingle with the titans of industry they'd befriended. Back then, six-figure sums often changed hands. Eventually, the USGA cracked down on Calcuttas in 1961 and the event lost a little luster but carried on for another decade as a friendly, low-key game between members and club pros, sans Calcutta, before dying a natural death.
Four decades later, it resurfaced when then-club president Tim Neher, who was close to Arnold Palmer, thought it would be a good idea to resurrect the event. So he tapped Waugh and other high-profile members who count tour pros among their friends. The first few years, fields were small and the Sunday night party was at Waugh's house. Things grew from there.
"One year [2014], all four major winners from the previous year played and brought their trophies," Waugh said (see photo below). "It's become a big deal. There's a reason all these guys are showing up. It's the relationships."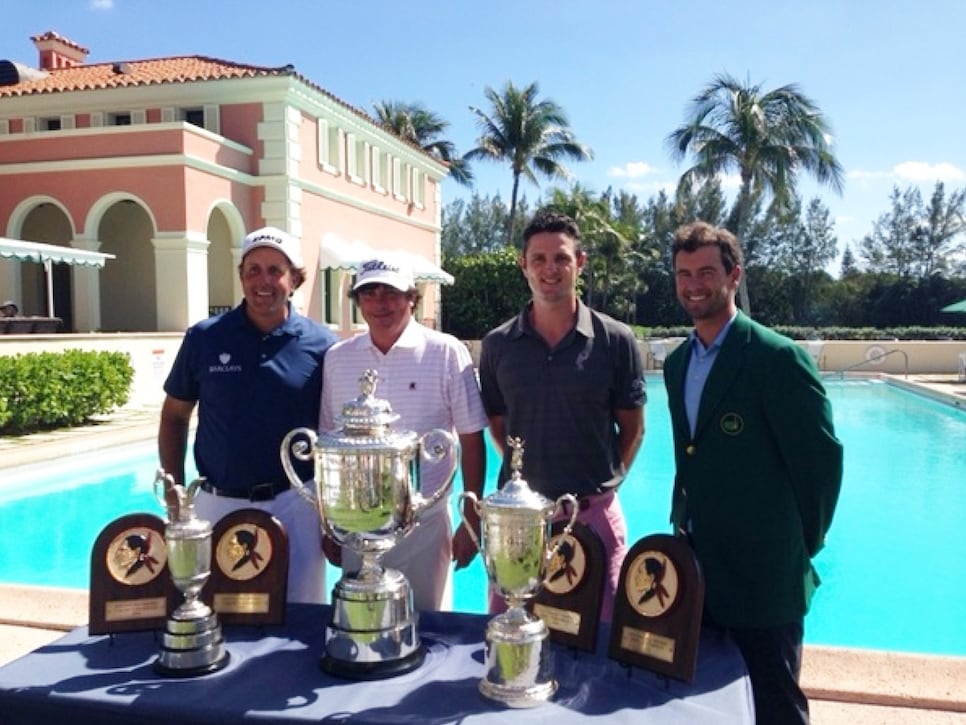 Like the ones Waugh, the former chief of Deutsche Bank before he retired in 2013 and eventually took to running the PGA of America two years ago, has with Brad Faxon and Justin Rose. He got to know them through his own New England ties, which included signing off on sponsorship of the on the Deutsche Bank Championship at TPC Boston. The first few years of the new Pro-Member, Waugh teamed with Faxon. "Bob Ford would come out and tell us what we needed to do on the last hole and I'd inevitably hit a bad shot," Waugh says. The duo came close but never won.
Then in 2011, with Faxon nursing an injury, Waugh asked Rose, whom he'd first met after having given the Englishman a sponsor's exemption into the Deutsche Bank, to fill in. A year later, Faxon was ready to rejoin Waugh but the Pro-Member was light on tour pros so Waugh invited Rose to play. Only Rose thought he was teaming with Waugh again. Waugh and Rose decided they'd stick together and Faxon teamed with CVS CEO Tom Ryan to round out the foursome. Waugh made a 3 for 2 on the last to win the tournament by a stroke.
"I turned to Faxon and said, 'Sorry!'" said Waugh. An 8-handicap, he and Rose eventually went on to win two more Pro-Members.
Money still changes hands today, of course. The sums just aren't as big. The competition is another story.
"It's kind of fun but serious." Fowler said. "Everyone acts like they are just having a good time, but they are being very serious."
It's the year's first major, after all.