Golfers Who Give Back: Peyton Manning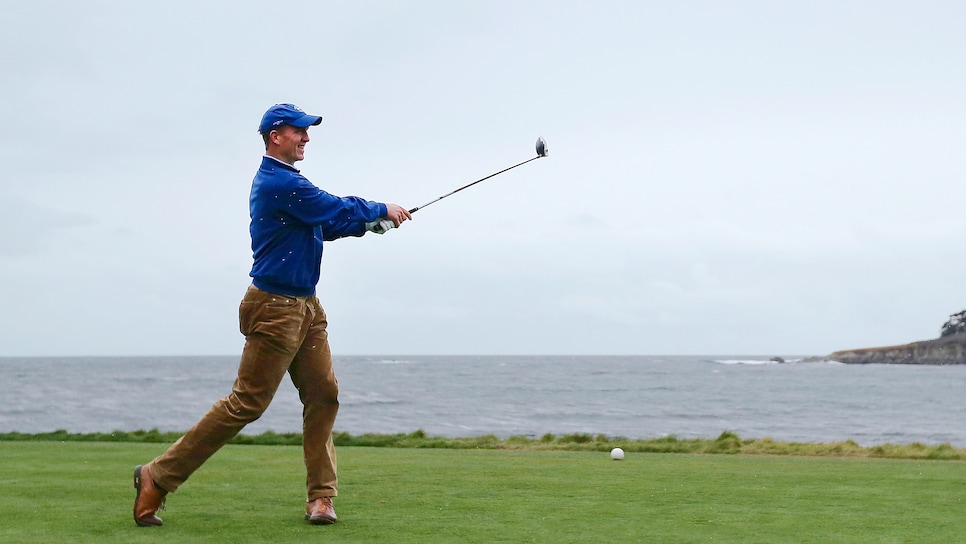 Photo by Christian Petersen/Getty Images
When Peyton Manning said during his retirement speech in March, a month after quarterbacking the Denver Broncos to his second career Super Bowl win, that life was not shrinking for him, "it's morphing into a whole new world of possibilities," an improved golf game was at least somewhere on his wish list. Manning wore No. 18 and played 18 seasons in the NFL, leaving as the league's all-time leader in career passing yards (71,940), touchdown passes (539) and wins (200). "Eighteen is a good number," Manning said, "and today I retire from pro football." Now when Manning references the number 18, at least throughout our October sit-down at Castle Pines Golf Club near his Denver home, the number is mostly about golf.
For the first time in forever, you've had time to work on your golf game during the fall. How well are you playing?
I was telling Eli the other day that my 18-year theory is being proven untrue. For all of these years, I've thought that once I was able to play in the spring, summer and fall, I'd be able to lower my handicap. But it just isn't true. I'm the same golfer. I'm not getting any better, and I might even be playing a little worse.
Have you been playing a lot?
I guess I played a little more this past spring, with not having football and other commitments. And I played in a couple of tournaments in the fall. Played in a pro-and-three-members event at Pinehurst with some of the guys from Crooked Stick, and I got invited to a member-guest on the East Coast.
But you aren't playing as well as you'd like?
I used to compare golf to football, and I've stopped doing that. Considering the amount of repetitions I put into football, and knowing the amount of reps the best golfers in the world put into their games... I just haven't had the reps, and I'm probably not willing to put in the reps. I really try to have a good attitude when I play. I don't get too frustrated, because I know I haven't put in the time. But, every day I go out thinking, This might be the day I'm gonna shoot a great score.
What's a great score for you?
Oh, something in the 70s. I'm a 5-handicap in the books, but I wish I were a little more consistent. When I play well, I break 80, but that hasn't happened a lot lately.
What's the best round you've shot?
It was at St. Andrews seven or eight years ago during a great trip to Scotland with my dad and my brothers, Cooper and Eli, and let me preface it by saying we were on some up tees. It was maybe 6,300 yards, but I shot even-par 72. My dad, Cooper and I had gone to a golf school in Orlando, and I learned how to "knock it down" before we went over there. I had it for the week we were in Scotland, but I don't have it anymore.
You've played a number of the courses on Golf Digest's list of America's 100 Greatest. Are you trying to play them all?
I wouldn't say I'm on a mission to play all of them, but I do enjoy golf trips. I love planning the details, putting the itinerary together and, nowadays, the email exchanges leading up to the trip are fun, the banter and all that. I had to postpone a trip to Ireland with some of the guys when I was injured a few years ago, and we're hoping to do that next year.
How do your football injuries affect your golf?
I'm healthy, no problems. I still work out and try to take care of my body. Golf is an incentive for me to stay healthy and fit.
You aren't one to talk about the charitable work you and your wife, Ashley, have done for the past 18 years, but it's impressive. between the Peyton Manning Children's Hospital at St. Vincent in Indianapolis and your Peyback Foundation for disadvantaged youth, you've given back a lot.
I like to say that the Children's Hospital is one of the cooler teams I've been a part of. Let's face it, no one wants to be in a hospital, and you certainly don't want your child to be in a hospital. Ashley and I have visited patients and their parents in that hospital through the years. You see the look on the faces of these parents—they're scared—and you just feel for them and wonder, What can we do to help? That drives me to help the fundraising efforts I lead to get our doctors and nurses every resource they need.
What role does golf play in the fundraising?
There's a gala every year where we honor a patient and a member of the staff. We've had big singers come and perform. Jake Owen, Luke Bryan, Darius Rucker and Vince Gill, for example, have donated their time. Jim Nantz and Mike Tirico have been among our MCs. I'll have them come in the day before, and we'll play golf and then enjoy raising funds the next evening.
What's your Peyback Foundation all about?
Ashley and I started that in 1999, and we've given grants to programs that provide leadership and growth opportunities for kids who don't have life easy. We've helped kids specifically in Indiana, Tennessee, Louisiana and Colorado as a way to "pay back" the communities that helped us. Louisiana is where I grew up. Tennessee is where Ashley is from and where I went to school. And we've lived in Indiana and now Colorado.
What inspired you to do all of this?
My dad hosted a golf tournament for almost 30 years to benefit cystic fibrosis. It felt like he made a difference, and I guess that had an impact on me. I just feel that if you can help people in some way, fund more programs, make a difference, it's definitely worth your time.
The bronze sculpture of Arnold Palmer you'll receive as one of our golfers who give back is called the arnie because we think he was the model of a golfer giving back. what did Arnie mean to you?
I read where he spent almost six figures in stamps responding to fan mail. That made a big impact on me, that he took the time to take care of his fans. I believe in the power of a handwritten letter. Whether it's a congratulations on your career or Hey, thinking about you during this time.
It's more personal than an email or a text, and I think Arnold Palmer was the standard-setter on that. And, of course, his commitment to giving back through philanthropy set a standard as well. Not only was that Arnold Palmer's impact on golf, but he did that for all sports.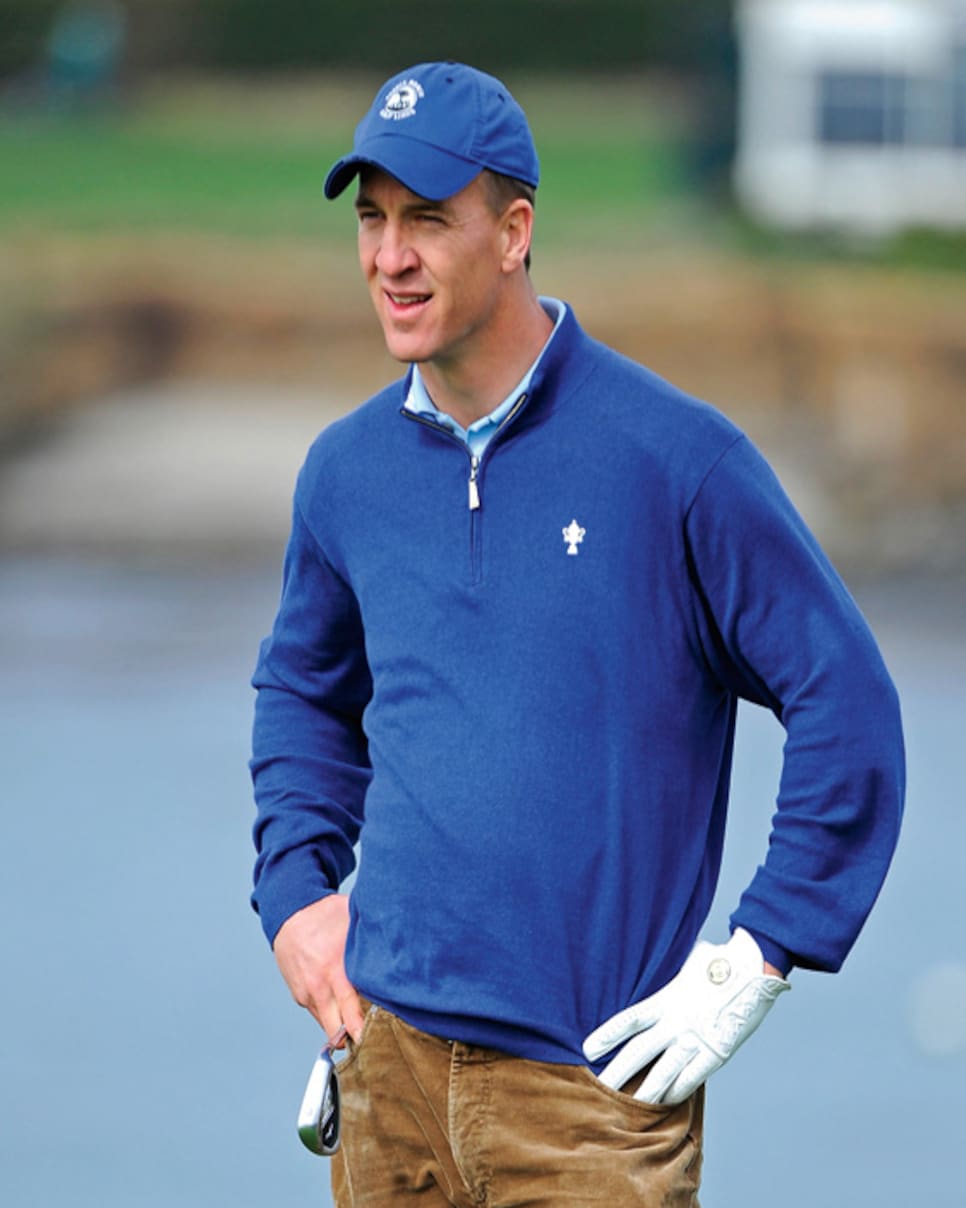 Photo by Chris Condon/PGA Tour