The Match
What you should know about the Wynn Golf Club's 12-hole setup for 'The Match' between Brooks Koepka and Bryson DeChambeau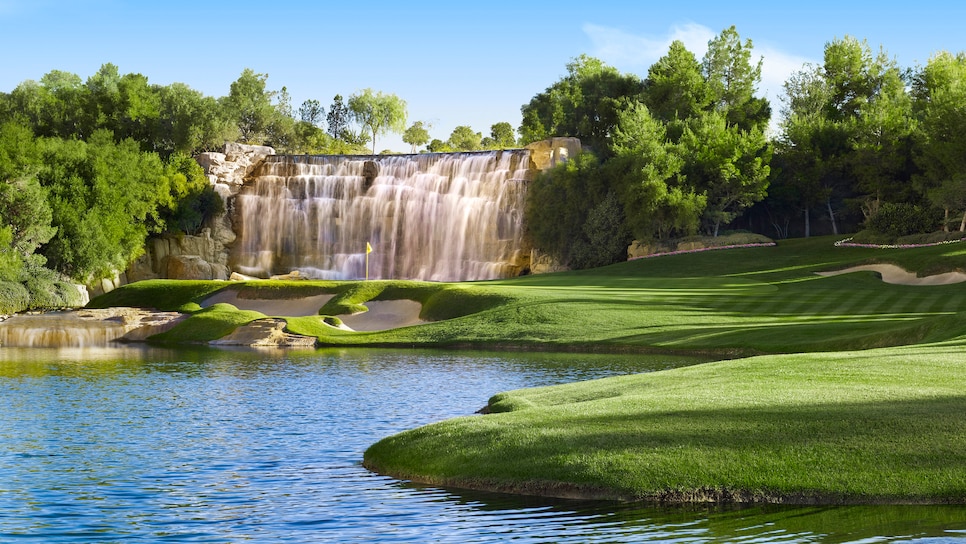 The par-3 18th hole at the Wynn Golf Club.
Barbara Kraft
After a year of following verbal jabs and one viral eye-roll, golf fans will finally see Brooks Koepka and Bryson DeChambeau settle their feud on the golf course this week. But they'll also get a nice, even if not complete, look at one of the country's most interesting—and pricey—layouts.
The Wynn Golf Club, just off the Las Vegas strip, will play host to this latest edition of "The Match." Well, most of the Wynn Golf Club, that is.
Only 12 holes of the Tom Fazio design that has a $550 green fee will be used when Koepka and DeChambeau play on Friday at 4 p.m. ET in an event that will be aired on TNT. So how were those 12 holes selected?
"We drove around with the Turner folks and they chose the ones that would be best on camera and would work in terms of length," said Scott Cowan, director of golf operations at Wynn. "So it had a lot with camera angles and flow."
The PGA Tour, which has overseen the setup, also had a big say in the routing. So did Cowan, who is pleased with the collection of holes that will be used.
"What we're hoping people will see is this wonderful parkland escape," Cowan said. "It's hard to believe No. 7 is really only a flip wedge away from the biggest convention center in the world. And yet, we have beautiful wildlife. It really is an escape oasis that will look great on TV and will hold up to the challenge of the players."
One such challenge will be the par-3 signature finishing hole, which will play as the penultimate hole in "The Match." Cowan says the hole that's famously framed by a giant waterfall will be set up at 220 yards—a number that should play a lot longer by the time the players reach it as the sun goes down in Sin City.
Located on the site of the old Desert Inn Golf Course, Fazio was hired to design a new layout after Steve Wynn bought the property in 2000. The Wynn Golf Club opened in 2005 and re-opened in 2019 after a Fazio renovation. But many of the mature trees from the Desert Inn—which hosted the PGA Tour, PGA Tour Champions and LPGA—remain, making the Wynn feel like its been there for much longer.
"We're really excited to have it here," Cowan said. "The whole Wynn family is thrilled to show it off, and we think it will be a great competition."
Here's the full lineup of holes in the order they'll be used on Friday: 16, 3, 12, 13, 11, 5, 14, 9, 7, 8, 18, 17. Should the match reach the 12th hole, the downhill 377-yard par-4 17th will provide a great risk-reward finisher.
While it's a fun mix of holes, Cowan believes the brutish par-5 11th, which will play as the fifth hole in "The Match," could be pivotal. At 590 yards and with a tiny green guarded by water, both players could be faced with difficult decisions.
"With it being 12 holes and all of us golfers programmed for 18, I think there's going to be an urge to press early," Cowan said. "It's going to be a different mindset for these guys, but they are more than capable of handling it."
And we should be more than capable of watching. Just plan your turkey-induced nap accordingly—because otherwise, you might miss the finish.