Q&A with the Masters champ
Scottie Scheffler talks about his approach to equipment and his first week with the green jacket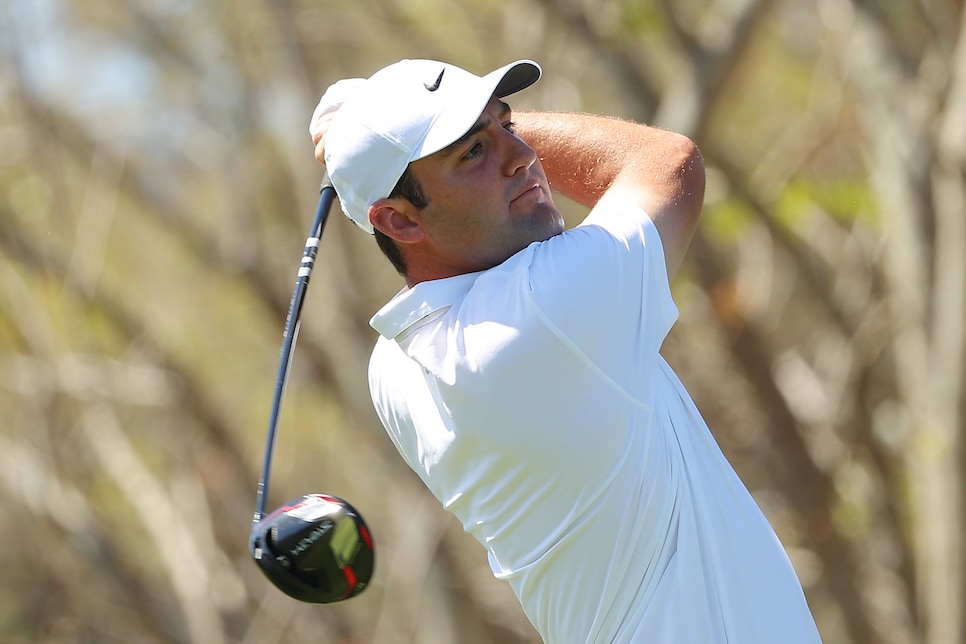 Scottie Scheffler is on quite the heater. The reigning Masters champion not only won the first major championship of the year, but three other PGA Tour events since early February, ascending to No. 1 on the World Ranking. During that time, he also signed with TaylorMade after several years as an equipment free agent. "I won't put clubs in the bag if I feel like I'm sacrificing anything on the course," Scheffler told Golf Digest in March. "I liked being able to pick and choose what I play but the TaylorMade woods and irons have been performing so well there was really no reason not to align myself with them. You have to develop a trust in your equipment. You have a connection to what you have in the bag."
Golf Digest equipment editor E. Michael Johnson spoke with Scheffler less than a week after his Masters win about the process of getting in his Stealth Plus driver, why he uses a high-lofted 3-wood and how he tries to use the green jacket to get out of household chores.
What was your first thought on the driver? Not just the red face, but the tech story behind the carbon face?
A driver has to pass the eye test for me and the first time I saw it from a distance I was like, "What's the deal with the red face?" Then when I sat it on the ground I thought, "Wow, this thing actually looks pretty good." Then we got to work and got to testing and I saw ball speed gains and distance gains and wasn't losing any accuracy, so what more could you really ask for.
You have a preferred flight off the tee with a fade. But I've noticed the movable weight is in the neutral or pretty close to neutral setting. Did you tinker at all with the weight before arriving at that setup?
I did. We tested a number of drivers with different configurations and found a few good options that I took home and took out on the course. The weight was in the fade setting but I then moved it about half an inch more toward the center. I went to Palm Springs [for The American Express event] and I noticed it was over-fading and I was missing a few more to the right than I typically would and I found myself trying to control the face. I'm weird in that if we put the weight all the way out on the toe in the fade position, I would almost feel that and flip it over. So before the final round in Palm Springs I moved it a little more towards the middle and drove it much better that day. I was around 60th place so I was just testing it out. Then we get to Torrey and I was still seeing more curve than I wanted and I definitely didn't want to see anything going left, either. So we changed shafts. I was using that white Atmos shaft and went to a Fujikura Ventus Black 6x. I moved the weight to the middle because I felt like I could hit more shots with how stable that shaft felt. I put it in the middle or a tinge to the fade setting and have been driving the ball great ever since.
You talked about seeing ball speed gains, which are getting harder to notice as time goes on. What type of gains are you seeing?
It's on average about 3 mph faster but where it's really noticeable for me is at my top speeds, when I'm really trying to hit it hard, it was almost a 15-yard difference which is really noticeable. When I'm trying to take a bunker out of play, 15 yards means a full club less into a green and that's huge. That was one of the things I tried when I took it out on the course to test and see what I could do with it. It's been a seamless transition and feel a connection to the club.
Because of that gain was there a hole at Augusta National where you hit driver that perhaps you wouldn't have before?
On No. 2 that fairway bunker on the right used to be a big deal for me and in play. This year, I felt like in no wind I could take it right over that bunker with no problem. That's the driver but also due to some work in the gym. I'm not really trying to gain speed, but more maintain what I have. But this new driver allows me to be more aggressive off the tee as well.
Your previous Nike VR Pro fairway wood was ancient by today's standards, but you put the TaylorMade Stealth in recently. At the Masters it looks like you used it 14 times off the tee and a couple of times off the deck. How difficult is it to find a fairway wood that serves both purposes well?
It's very difficult. It's why I had that Nike one for so long. The first thing for me again is the eye test, so it has to sit in the right position. Also some fairway woods I had in college had too much offset so it was difficult for me to get down and after a shot. If I have a funny lie in the fairway with this TaylorMade head, that front edge is a touch further ahead than my Nike one so I'm able to get it out of those lies easier. Which also makes it easier to hit out of the rough as well. I've also noticed that my mis-hits are just so much better. To me, I felt I had to be swinging well to get my old 3-wood in play. I couldn't take the 3-wood off the tee if I wasn't swinging well. I wanted to see with the Stealth if I still had all the shots and I first put it in play in Austin at the Match Play and my mis-hits were good and I kept fiddling around with it and saw I still have all my shots but my mis-hits were better, particularly off the heel.
In talking with some tour pros in recent years, they talk about how the new 3-woods sometimes go too far for them. Is that one of the reasons you have 16.5 degrees of loft on yours?
It's definitely the length. I have that same problem, too. The TaylorMade tour guys are so good. We worked on the shaft and the shaft length and the loft to get it right. I don't like to see my 3-wood launch too high. It's a club I want to get the ball in play with, especially off the tee. There's only so many times I'm going to need to hit a high towering 3-wood into a green [editor's note: Scheffler used his 3-wood 14 times off the tee at the Masters and just twice off the fairway, including a 257-yard shot to 19 feet on the par-5 eighth hole in the opening round]. I still have the ability to do that with this club, but it's not how I'm going to set up the club to play. That loft hit the right distance and the proper flight window for me.
Your irons are based off Tiger Woods' irons and he had a hand in the design of them. But from the playability standpoint, what about muscle-back blades in general and the TaylorMade P7TW in particular resonated with you?
I see all my shots with these. If you think about how Tiger plays, he hits a lot of different shots and I felt like I had to give these irons a chance because, shoot, if Tiger can use them, they have to be good enough for the rest of us, right? I noticed I was able to do some things with these irons I couldn't with my P730s. If you were watching me hit balls you might not notice much, but there is a definite difference in feel through the hitting area and a couple of yards in the flight. It wasn't a huge difference, but it was significant for me. I could see a little flatter flight when trying to flight it down and could elevate it higher when trying to do that. It felt more stable, too, when trying to hit it straight.
What was the first TaylorMade club you ever played with?
I think it was a driver right after Nike stopped making clubs [in 2016]. It was one of those deals where the first thing I noticed is that the Nike driver was the one club that wasn't totally maximized for me. It was a distance thing. I picked up ball speed and I could feel it off the face that it was hotter than my Nike driver. I fiddled around with it for a while then played a Ping for a while then TaylorMade came out with this new carbonwood driver, and I've been all over it.
I'd be remiss not to ask a green jacket question. Tiger slept in his, Mickelson drove through Krispy Kreme with his. What's the best Scottie Scheffler green jacket story from week one with it?
I've just put it on a few times around the house when trying to mess with Meredith [Scheffler's wife]. When she tries to get me to clean the dishes or something like that, I'll put the jacket on and be like, "Really, I still have to do this?" I've had some fun with her with that.