LPGA Tour
After bogey at 17, Hyo Joo Kim recovers to win Lotte Championship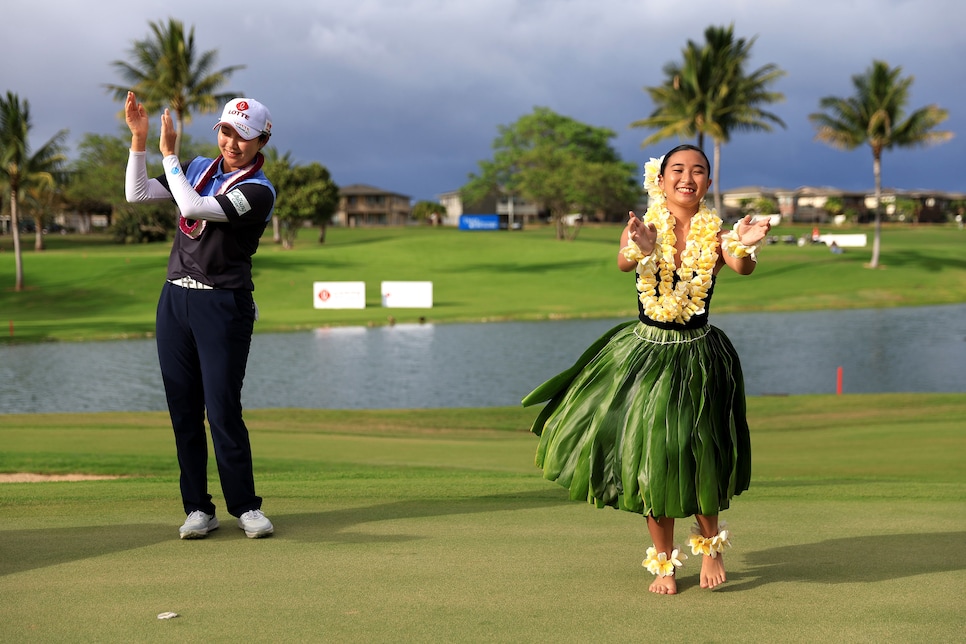 Hyo Joo Kim attempts to hula dance during the awards ceremony after winning the Lotte Championship.
Sean M. Haffey
Hyo Joo Kim made the finish to her fifth career LPGA win more stressful than it needed to be Saturday at the Lotte Championship presented by Hoakalei. A bogey at the 17th shrunk her three-shot lead at the start of the round to one over Hinako Shibuno. But Kim recovered immediately, taking advantage of the par-5 18th with a birdie. She finished at one-under 71 for the round and 11-under 277 for the tournament, two shots ahead of Shibuno.
"I feel very proud, a little confident about the future," Kim said. "The outlook looks great for me and I feel like I can do better moving forward."
The final group at Hoakalei Country Club in Ewa Beach, Hawaii, was a reminder that there's more than one path to getting into contention at an LPGA tournament. Kim, the 26-year-old winner from South Korea, has something in common with one of her Sunday playing partners, Shibuno: Both women had won majors before becoming members of the LPGA Tour. Kim won the 2014 Amundi Evian Championship and Shibuno won the 2019 AIG Women's Open. For Shibuno, the event was the first time she'd played outside of her home country, Japan.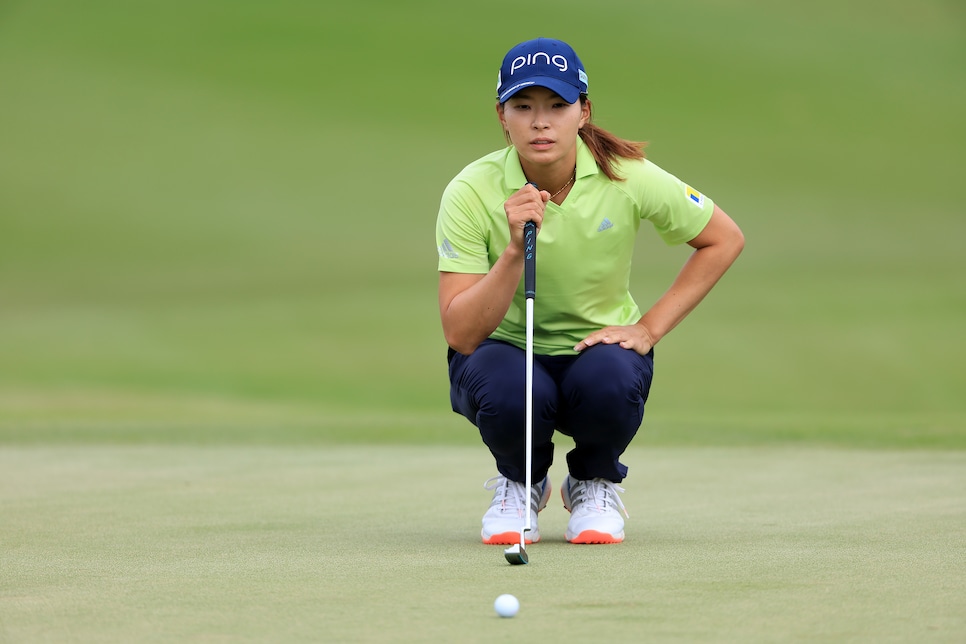 Hinako Shibuno lines up her putt on the 18th green during the third round of the Lotte Championship.
Sean M. Haffey
While Kim accepted LPGA membership immediately after her win, Shibuno opted not to. She continued playing on the Japan LPGA Tour until making it through LPGA Tour Q-School in 2021. This year is her first full season on the LPGA Tour.
The third player in the final group was Brianna Do. The 32-year-old played college golf at UCLA and won the 2011 U.S. Women's Amateur Public Links title before turning pro in 2012. At the beginning of the week, Do was ranked No. 510 in the world and wasn't even in the Lotte Championship field. She played in the Monday qualifier to earn her last-minute spot and she made the most of it. Rounds of 72-70-67 put her into the final group for the rare LPGA Saturday finish. But the gusting winds caught up with her, and she closed with a 77. Though she slid down the leader board to T-12, it's her best finish in an LPGA event.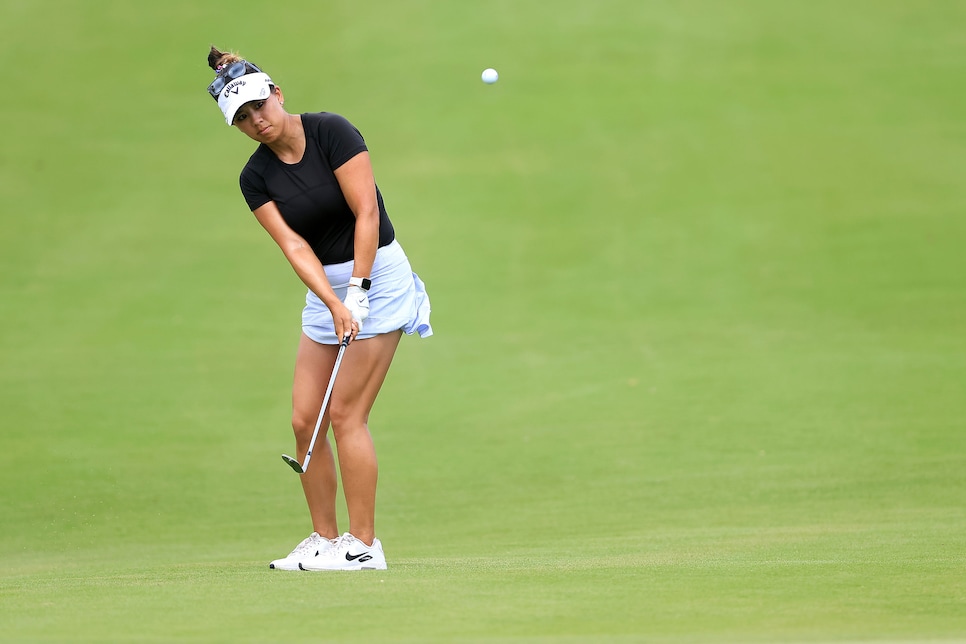 Brianna Do was a Monday qualifier into the Lotte Championship who played well enough to get into the final threesome on Saturday.
Sean M. Haffey
As the three players took different routes to the final group at the Lotte Championship, their paths now diverge again. Kim is hoisting her fifth LPGA trophy, Shibuno is working towards her first win as an LPGA Tour member, and Do is awaiting the reshuffle, hopeful this finish will help her gain better status and more LPGA starts.