Payday at Hoakalei
Here's the prize money payout for each golfer at the 2022 Lotte Championship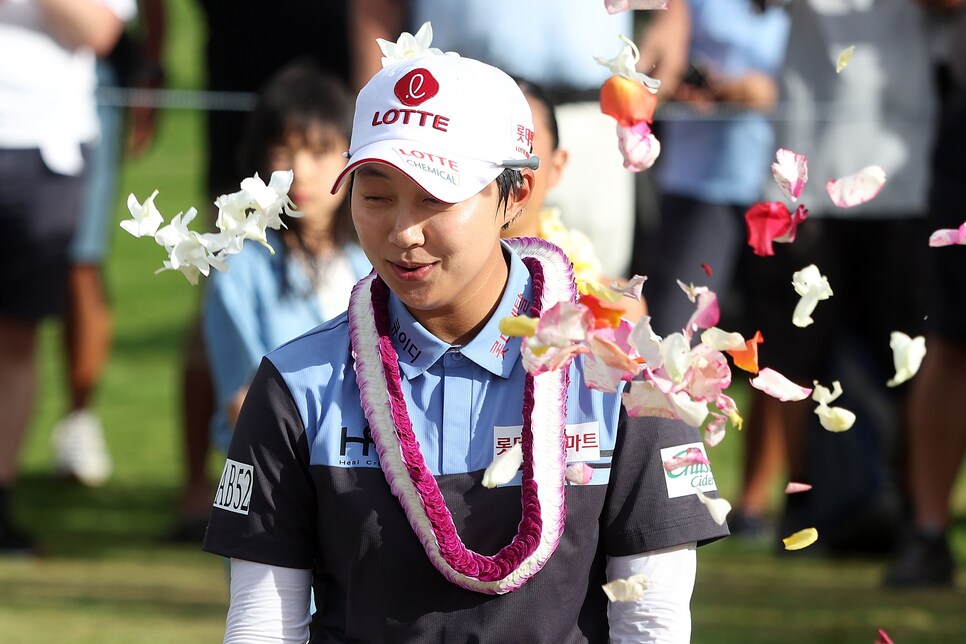 Hyo Joo Kim has flowers thrown over her prior to the awards ceremony after winning the Lotte Championship on Saturday.
Sean M. Haffey
South Korea's Hyo Joo Kim claimed her fifth career LPGA victory on Saturday at the Lotte Championship, closing with a one-under 71 to beat Hinako Shibuno by two shots.
Kim, 26, started the day with a three-shot lead but saw it fall to one after a bogey on the 17th hole at Hoakalei Country Club in Ewa Beach, Hawaii. On the par-5 18th, Kim pitched her third shot from 40 yards off the green to within two feet for a comfortable birdie to reach 11-under 277 for the tournament.
With the victory, Kim earns the first-place prize money payout of $300,000. That gives her $487,431 for 2022, putting her sixth on the LPGA's season-long money list.
The overall purse at the Lotte Championship was $2 million. Here's the prize money payouts for all the golfers who made the cut.
Win: Hyo Joo Kim, -11, $300,000
2: Hinako Shibuno, -9, $182,956
3: Hye-Jin Choi, -7, $132,721
4: Ashleigh Buhai, -6, $102,670
T-6: Atthaya Thitikul, -4, $54,591
T-6: Gerina Mendoza, -4, $54,591
T-6: Ryann O'Toole, -4, $54,591
T-6: Na Rin An, -4, $54,591
T-10: Brittany Altomare, -3, $39,065
T-10: Celine Boutier, -3, $39,065
T-12: Charlotte Thomas, -2, $30,217
T-12: Sophia Schubert, -2, $30,217
T-12: Andrea Lee, -2, $30,217
T-12: In Gee Chun, -2, $30,217
T-12: Ariya Jutanugarn, -2, $30,217
T-12: Brianna Do, -2, $30,217
T-18: Jodi Ewart Shadoff, -1, $21,874
T-18: Lauren Stephenson, -1, $21,874
T-18: Jennifer Kupcho, -1, $21,874
T-18: Lydia Ko, -1, $21,874
T-18: Emily Kristine Pedersen, -1, $21,874
T-18: Allisen Corpuz, -1, $21,874
T-18: Ruixin Liu, -1, $21,874
T-18: Stephanie Meadow, -1, $21,874
T-26: Emma Talley, E, $15,793
T-26: Esther Henseleit, E, $15,793
T-26: Gaby Lopez, E, $15,793
T-26: Anna Nordqvist, E, $15,793
T-26: Perrine Delacour, E, $15,793
T-26: Stephanie Kyriacou, E, $15,793
T-26: Sarah Kemp, E, $15,793
T-26: Chella Choi, E, $15,793
T-26: Gemma Dryburgh, E, $15,793
T-35: Georgia Hall, +1, $11,586
T-35: Cheyenne Knight, +1, $11,586
T-35: Wichanee Meechai, +1, $11,586
T-35: Min Lee, +1, $11,586
T-35: Kelly Tan, +1, $11,586
T-35: Megan Khang, +1, $11,586
T-41: Amy Olson, +2, $8,901
T-41: Lindsey Weaver-Wright, +2, $8,901
T-41: Janie Jackson, +2, $8,901
T-41: Aditi Ashok, +2, $8,901
T-41: Haeji Kang, +2, $8,901
T-41: Annie Park, +2, $8,901
T-48: Haru Nomura, +3, $6,749
T-48: Leona Maguire, +3, $6,749
T-48: Ana Belac, +3, $6,749
T-48: Jeongeun Lee5, +3, $6,749
T-48: Alison Lee, +3, $6,749
T-48: Hannah Green, +3, $6,749
T-48: A Lim Kim, +3, $6,749
T-56: Yealimi Noh, +4, $5,184
T-56: Matilda Castren, +4, $5,184
T-56: Yuka Saso, +4, $5,184
T-56: Giulia Molinaro, +4, $5,184
T-56: Maria Fassi, +4, $5,184
T-56: Albane Valenzuela, +4, $5,184
T-56: Pernilla Lindberg, +4, $5,184
T-56: Dewi Weber, +4, $5,184
T-64: Paula Reto, +5, $4,508
T-64: Linnea Johansson, +5, $4,508
T-64: Dottie Ardina, +5, $4,508
T-67: Bianca Pagdanganan, +6, $4,117
T-67: Ayaka Furue, +6, $4,117
T-67: Lilia Vu, +6, $4,117
T-67: Isi Gabsa, +6, $4,117
T-67: Dana Finkelstein, +6, $4,117
72: Frida Kinhult, +8, $3,906
73: Jenny Coleman, +9, $3,856
T-74: Yu-Sang Hou, +10, $3,783
T-74: Ssu-Chia Cheng, +10, $3,783
76: Anne van Dam, +11, $3,713
77: Mi Hyang Lee, +14, $3,666