Money Matters
Jordan Spieth eclipses a huge number in career earnings with RBC Heritage win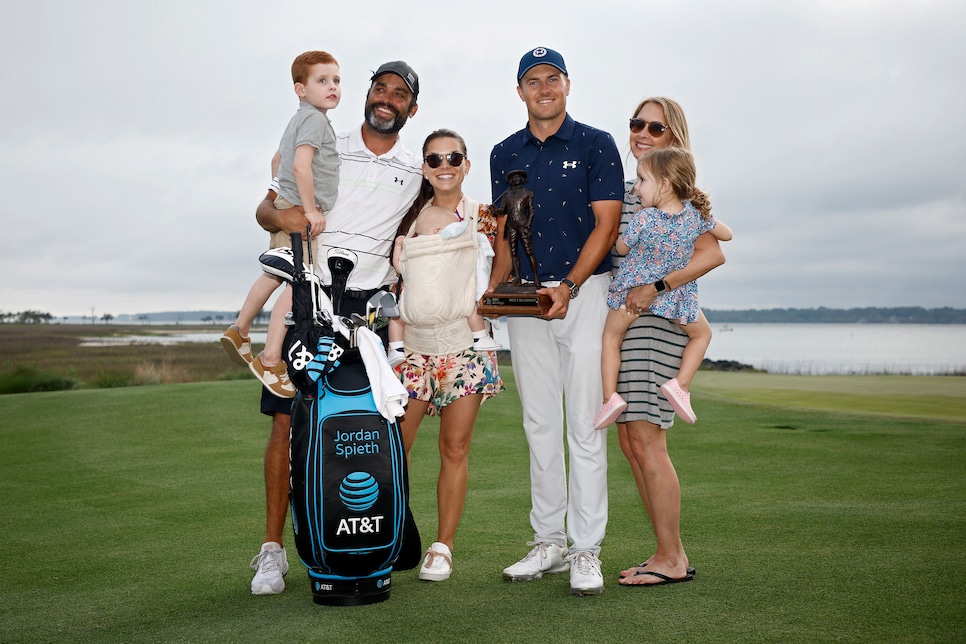 Jordan Spieth and caddie Michael Greller pose with the trophy with their families after winning the RBC Heritage in a playoff at Harbor Town Golf Links.
Jared C. Tilton
Jordan Spieth had already tapped in for par on the 18th hole, the first of a sudden-death playoff against Patrick Cantlay Sunday at the RBC Heritage at Harbour Town. He watched as Cantlay's par attempt sped past the hole and it hit him that he had won his 13th PGA Tour title.
"The whole thing took me by surprise because I legitimately thought Patrick was going to make it from 35 feet," Spieth said afterward, while wearing the tartan jacket that historically is presented to the winner.
Spieth's wife, Annie, came running out, holding 5-month-old son Sammy, and the family celebrated the victory. This was the second consecutive year that Spieth won on Easter Sunday. Last year he won the Valero Texas Open.
With the victory, Spieth earned $1,440,000, which turns out to be a bigger deal than you might think. The first-place prize money payout pushed Spieth past $50 million in career earnings, lifting him to $50,578,855.
Just 10 other tour pros have broke the $50 million barrier. Spieth now is No. 11 on the all-time list, having jumped Ernie Els and Jason Day from 13th prior to this week. Spieth is now less than $4 million behind 10th-place Sergio Garcia. Matt Kuchar, who earned $330,857 for a third-place tie at the RBC Heritage, jumped past Garcia and moved into ninth on the list with $54.5 million.
Tiger Woods tops the list with more than $120 million in career earnings. Phil Mickelson and Dustin Johnson are second and third, respectively.
Here is an updated look at the PGA Tour's career money:
1: Tiger Woods, $120,895,206
2: Phil Mickelson, $94,955,060
3: Dustin Johnson, $74,256,508
4: Jim Furyk, $71,507,269
5: Vijay Singh, $71,236,216
6: Rory McIlroy, $61,526,095
7: Adam Scott, $58,312,649
8: Justin Rose, $56,373,923
9: Matt Kuchar, $54,506,297
10: Sergio Garcia, $54,302,770
11: Jordan Spieth, $50,578,855
12: Jason Day, $49,578,815
13: Ernie Els, $49,339,400