Road to the LPGA
Alexa Pano turns pro at 17 years old, in part because of NCAA rule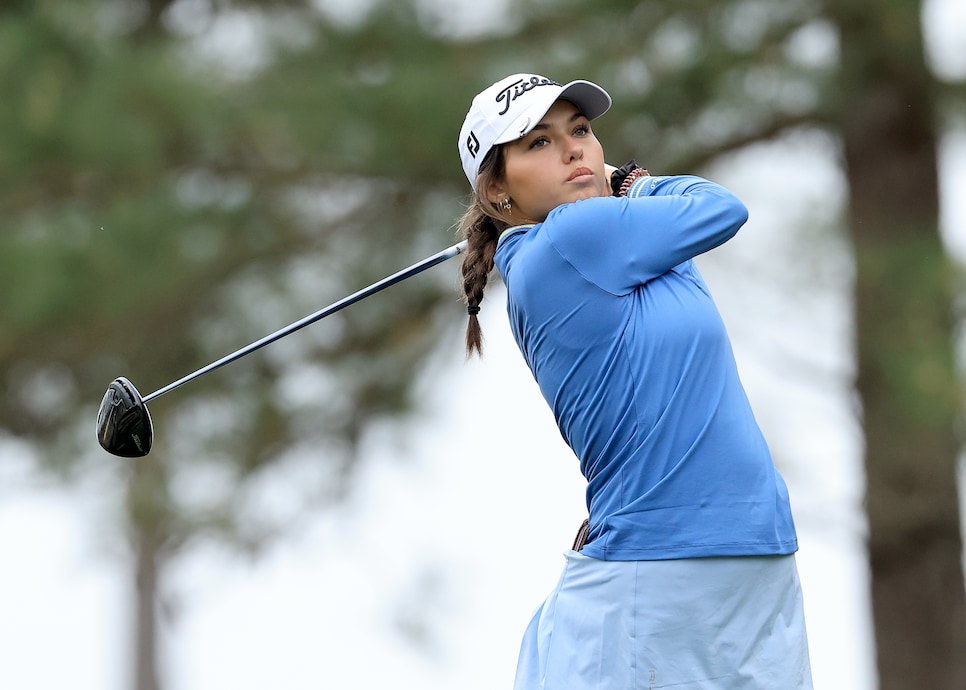 Following her T-12 finish at the 2022 Augusta National Women's Amateur, standout junior golfer Alexa Pano announced her decision to turn professional at just 17 years old. The teenager posted the career update on her Instagram account—where she has more than 30,000 followers—stating that she'll make her professional debut on the Epson Tour on April 21 at the Cooper Rock Championship in Utah. In the fall of 2021, Pano secured Epson Tour status by finishing T-10 in Stage II of LPGA Q-School.
"How I played in Q-School definitely aided the decision and made it a little bit easier," Pano said. "Timing was a big thing, too. I knew I wanted to play in the Augusta Women's Amateur. My biggest goal, ever since they announced ANWA, was to make the cut. There was no way I could turn professional without accomplishing that."
When Pano did achieve her goal of playing the final round of ANWA—the only round of the tournament that is played at Augusta National—the next step in her career was inevitable. The 64th ranked amateur in the world has competed in all of junior and amateur golf's top individual tournaments, as well as prestigious team events such as the Junior Ryder Cup and Junior Solheim Cup, which she says she'll miss the most.
The timing of Pano's decision makes sense considering the conclusion of the ANWA and her Epson Tour status. However, as soon as the news broke of the 17-year-old's announcement, chatter began circulating: Why was the high-profile junior bypassing college?
Pano's answer involves a rule change in NCAA recruiting that took effect on May 1, 2019. The update in regulations stated that athletic prospects could no longer take scheduled unofficial visits with college coaches until their junior year of high school. Before the NCAA put this rule into effect, players could reach out to coaches, speak to them and organize campus visits regardless of the student's age. The rule was instituted to reduce early recruiting and give students time to make informed decisions about where they'd like to attend college.
"Before they changed the rules, when I was 12-, 13- and 14-years-old, I did do college visits. I've been super lucky to have been able to meet a lot of coaches," Pano said. "I've actually discussed this with my dad quite a bit: If the rules hadn't changed, I think I might have ended up committing to a college pretty early, around 14- or 15-year-old. But it turned out that the rule change gave me more time to think about my options, and that was a really good thing for me."
For Pano, the NCAA's new regulation served its intended purpose in giving a young athlete time to make an informed decision about her future. Just in this case, it didn't lead her to making a decision about where to go to college; it led to her choosing to not go to college at all. Had Pano been enticed by more Division I programs as just a middle schooler, her path may have looked different. Despite this detail, the star amateur maintains that her decision is the right one.
"Everyone has the best plan for them," Pano said. "For some people that may be college golf, and so many people do amazing in college and then go on to do amazing things in their professional careers. But for me, turning pro now is what I think is going to work out the best."