College Golf
'This girl has no fear': Junior standout with familiar last name is starting her college career early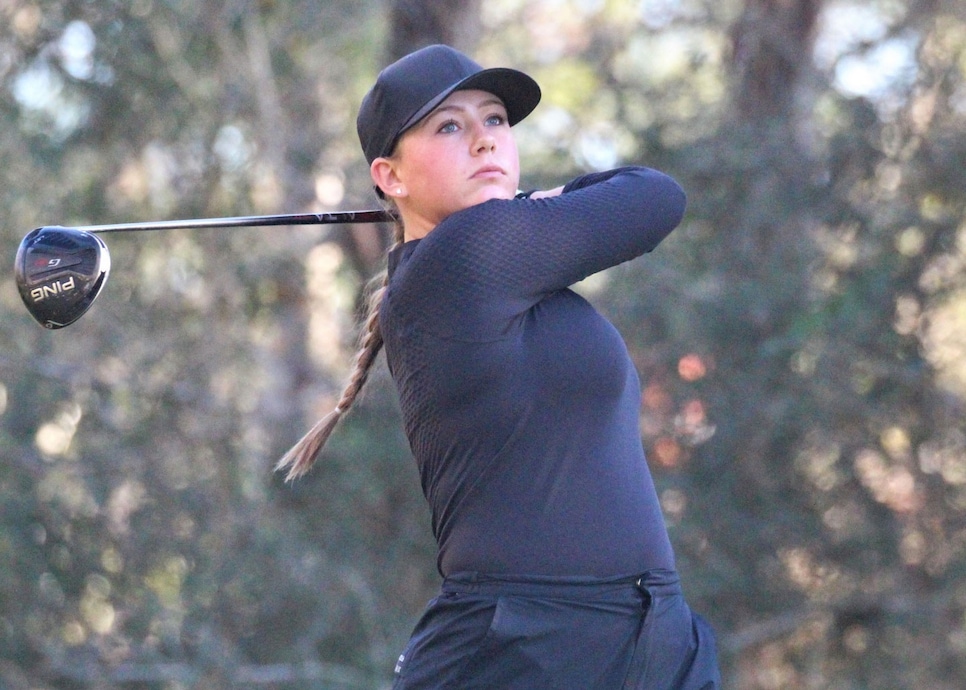 Grace Summerhays is no stranger to tournament golf. In fact, she has tested herself at almost every level of competitive play there is: junior golf, amateur championships, women's professional events, even men's Korn Ferry Tour qualifiers. But there's one stage she has yet to step on: college golf.
Next month, Summerhays will take care of that as she enrolls mid-season at Arizona State, just weeks after earning her high school diploma one semester early. At first glance, this would seem like an unusual decision for a 17-year-old. Why make a quick transition into college when you could take some time off and practice for the next big stage?
The answer is easier to understand the more you know about Summerhays. She isn't your average high school senior. She won the Utah Women's State Amateur at age 16, the youngest ever to do so. But beyond her tournament record, she is a spirited and fiery competitor who would take an action-packed schedule over an extended break without hesitation. The move makes perfect sense.
"As a tournament golfer, the reason why we practice is for tournaments," Summerhays said. "I like having a full schedule so I know what I'm working towards. The junior golf spring season only has two or three events. I thought that for me it would be more productive to play a full schedule in the spring."
Summerhays' competitive drive is honed from within, but her upbringing in what can be called a golf powerhouse family certainly played a factor in developing her mindset. Her father, Boyd Summerhays, coaches a handful of top PGA Tour players—Tony Finau and Taylor Gooch included—and briefly played on tour himself. Her older brother, Preston, is a former U.S. Junior champion who started his freshman season at ASU in the fall, which will make them the first brother-sister golf duo in school history. The youngest Summerhays sibling, 14-year-old Cam, is trending to follow in his older siblings' footsteps as he begins to ramp up his AJGA schedule.
Grace's decision to begin her college golf career in January was also driven by other factors. The Scottsdale native began taking her high school classes online when she was only a freshman, and the flexible class format made it easier for her to get ahead and graduate early. ASU is a short drive from home, and the 2022 NCAA Championship is being held at Grayhawk Golf Club, giving Summerhays the potential to play in front of a familiar audience.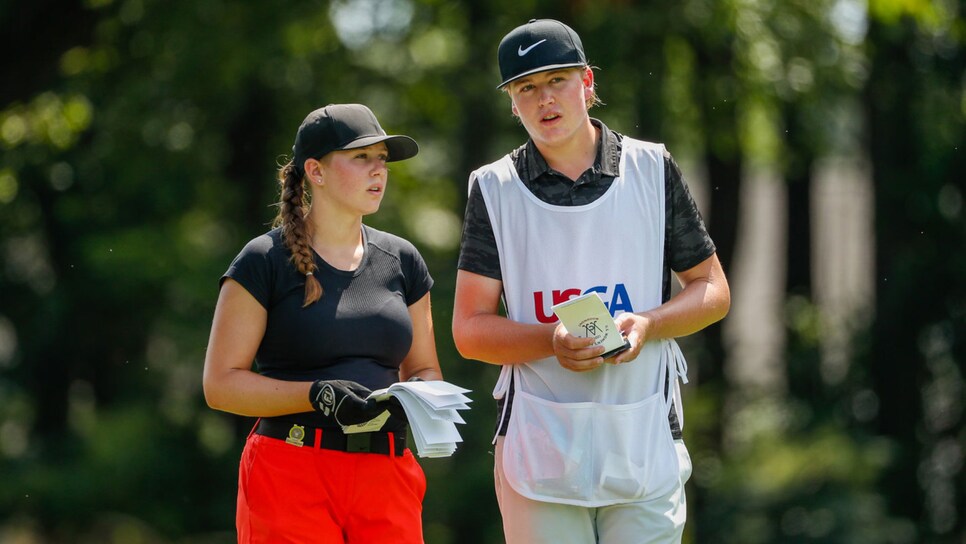 Older brother Preston caddied for Grace during the 2020 U.S. Women's Amateur. The two will be the first sister-brother combination to play college golf simultaneously at Arizona State. (Chris Keane/USGA)
But there was one more element that aided in Grace's choice: the ASU women's team lost its top player this fall. Linn Grant, a 22-year-old from Sweden, left the program to turn pro, immediately securing full LPGA and LET status. Her departure meant the Sun Devils had just six players on their roster, and head coach Missy Farr-Kaye was eager to have Summerhays start as soon as she could. Farr-Kaye has a feeling the newcomer can bring a new "spark" to her already solid team, ranked No. 21 in the final WGCA coaches' poll of the fall.
"I'll see pictures where she's duking it out with Jon Rahm and Tony Finau. I love that," Farr-Kaye said. "The cool part is that it doesn't faze her. She told me, 'I really don't want to play junior golf for six more months, I'm ready. Let's do it.' A year ago, I wondered if this was the right thing for her, but I think everything's really fallen into place organically. She's ready to go."
One of the keys to Summerhays' development as a golfer has been her willingness to push herself. And in college, she'll encounter brand new forces fueling that inner fire. "Playing for a coach, playing to represent your team, your school—I'm excited for those new challenges," Summerhays said. "And I think they'll help me prepare for the rest of my golf career."
Boyd Summerhays has raised all of his kids under the philosophy that you have to put yourself in uncomfortable situations to train yourself to become comfortable. Playing against tough competition is the only way to truly simulate that challenge.
"The fact that she wants to play in a Korn Ferry Tour event." Boyd said, "she knows that everyone's going to watch, she knows that if she botches it people are going to be like 'What's she doing?' She doesn't care. She wants to push herself."
Playing in a college team environment will surely present new challenges for a 17-year-old, but it's nothing Summerhays doesn't think she can handle with the experience she already has under her belt. Plus, she'll be right there with her older brother, who she's trained with practically every day for five years.
"Watch out," Farr-Kaye said, "This girl has no fear."