The Grind
Jon Rahm's ridiculous record, Talor Gooch's staggering tax bill and a beauty queen's pretty first 'pitch'
Welcome to another edition of The Grind, where we forgot how amazing the organ-led "DE-FENSE" chant sounds at Madison Square Garden during a big Knicks game. There's truly nothing like it and it's great to see New York buzzing over my beloved orange and blue. I'm not sure there's a way to incorporate something like that into golf—surprised LIV hasn't tried to—but it's the best noise in sports. And it's been way, way too long since fans have experienced it. So again, nothing to do with golf, just wanted to mention it before the Knicks (Go New York, Go New York, GO!) get bounced from the NBA Playoffs. And in the meantime, there's plenty of big-time golf that has us buzzing as well.
Tony Finau: Two years ago, Finau was still stuck on one PGA Tour title. A year ago, he'd upped it to two. Now? He's a verified winning machine after his impressive showing at the Mexico Open gave him a sixth career victory. That's more wins than Rickie Fowler has in his career. Heck, that's more wins than the number of Finau children!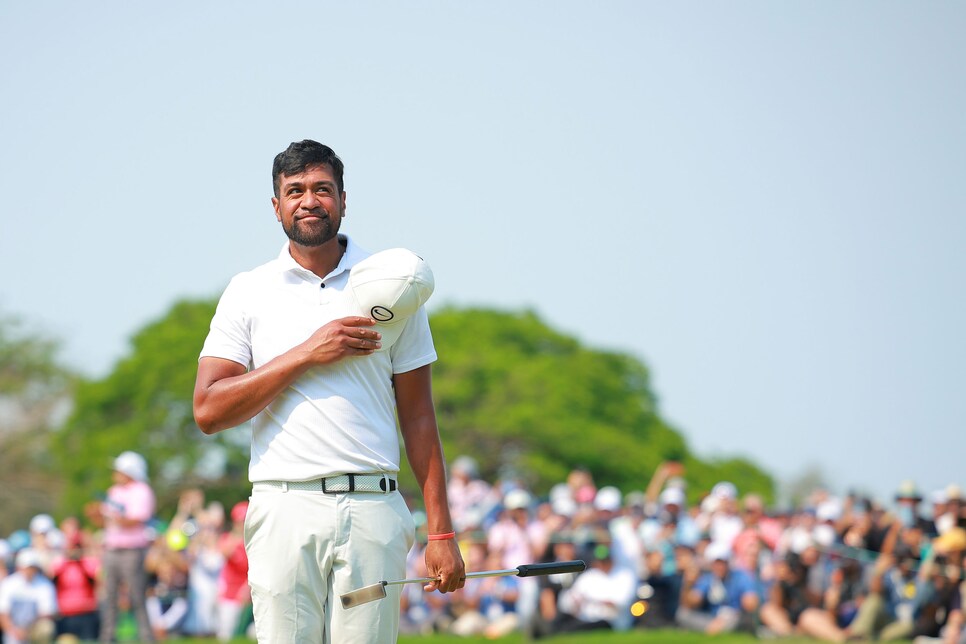 If you haven't seen Netflix's "Full Swing" episode focusing on Finau, it's a must. Hopefully, there's another one next year. We're pretty sure this scene will make the cut.
Jon Rahm: He didn't quite defend his Mexico Open title, but a runner-up finish allowed him to break the PGA Tour single-season earnings record. Before May. The Spaniard has now made nearly $14.5 million this season, passing the $14 million made by Scottie Scheffler last year.
Yes, it's not exactly an apples-to-apples comparison due to inflation or increased purses—in part because of the PGA Tour's money-whipping contest with LIV Golf—but that's incredible no matter how you look at it. Rahm played in the final group on Sunday for a remarkable sixth time in 10 starts this year. Inflation or not, if he keeps that up, he's going to put this record out of reach for a very long time. And he just might have to when you consider that Scheffler is already at $12.5 million for this season, too.
Katherine Morikawa's swing: We've long known Collin Morikawa's college sweetheart has a sweet swing, but we hadn't seen it in a while. Turns out, it's as pure as ever thanks to her husband and coach:
Not that the former All-WCC selection at Pepperdine needed much help. I can speak from experience that it can be tough to keep your golf game sharp after getting married … but not for these two!
Talor Gooch: Eight days. Eight million dollars. That's Gooch's incredible haul after becoming the first player to win back-to-back LIV events. And that's not even including the money he made for leading his RangeGoats to their first LIV team victory.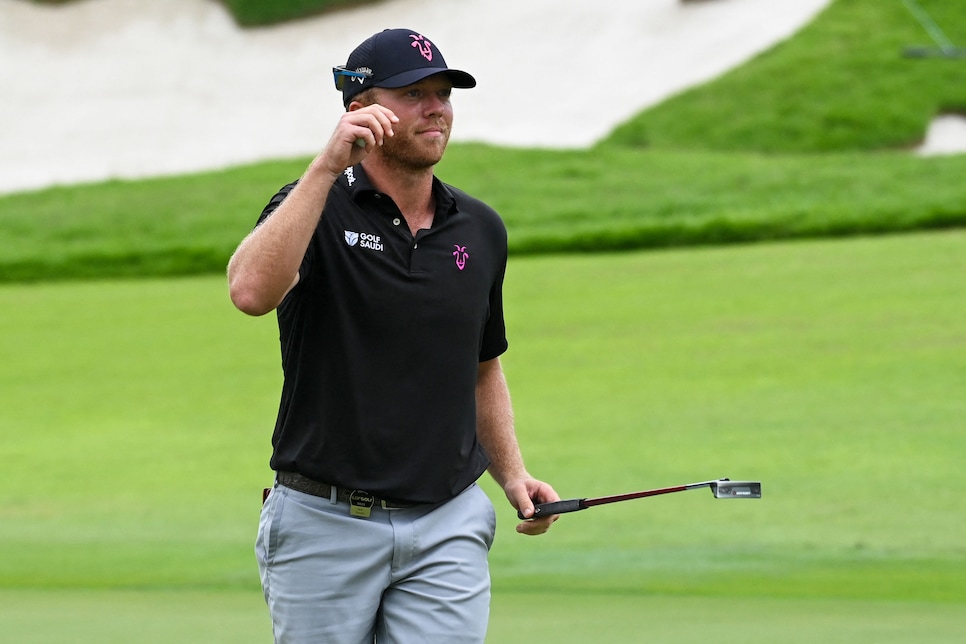 While we're still trying to figure out how to properly evaluate LIV events (as is the Official World Golf Ranking), there's no disputing the 31-year-old Oklahoman is playing some impressive golf. By the way, he's now made $19 million in 13 LIV starts. That's Talor Gooch averaging more per start than what Tony Finau just earned for winning a PGA Tour event. Again, we're talking about Talor Gooch here. Nice player, but it's Talor Gooch. Anyway, if you're Greg Norman, you couldn't find a more enticing sales pitch to prospective LIV golfers than Talor Gooch routinely raking in $4 million first-place checks. What a world.
Talor Gooch's tax bill: Look, we all pay taxes. It's part of life, hence the saying, "Death, taxes, and (insert something funny)." But apparently they don't waste any time getting you in Australia. Gooch revealed that by the time his $4 million first-place check hit his bank account, $1.9 million had already been taken out. And that doesn't include the taxes he still has to pay in the U.S. "It was a big one this last week, but yeah, it sucked that 47 and a half percent was withheld for Australian taxes, unfortunately," he told the "Fore The People" podcast. We're not shedding any tears for Talor, but still, that's tough. No wonder so many of the big-time Aussie golfers rarely play Down Under!
Justin Thomas' "starter home": As in Justin Thomas is selling his first pad after recently upgrading to a $13.5 million mansion. And you can only imagine how sweet that place must be if he's selling this spot for $3.5 million: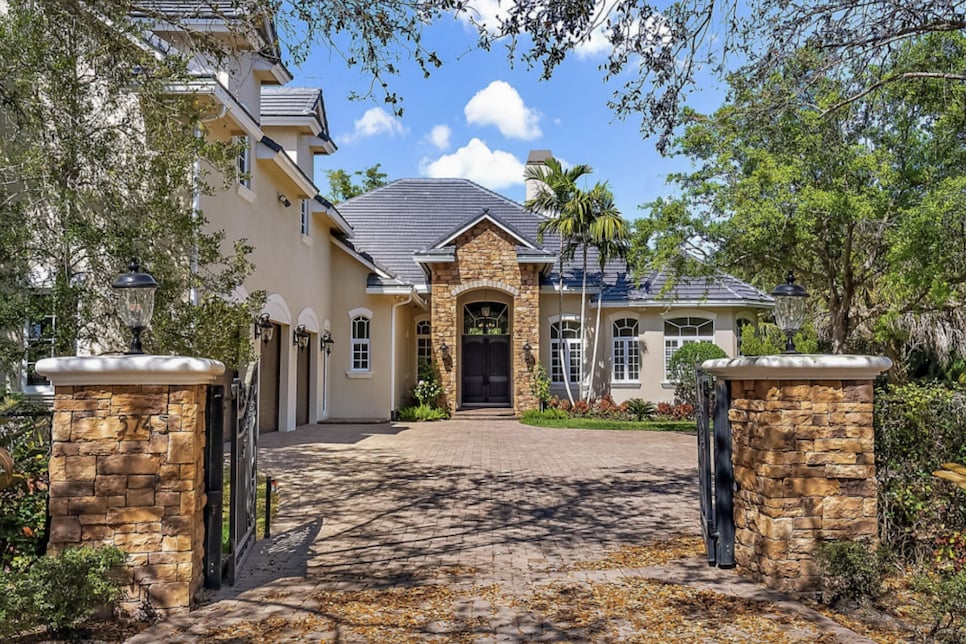 Again, that's his "starter home." It's good to be a PGA Tour star, huh?
Bee attacks: Well, except when you have to worry about a random bee attack. What an absolutely bizarre—and scary scene—at the Mexico Open during Thursday's first round:
Did these guys have honey in their golf bags? Wait, do bees eat honey or make honey? Or both? I should have been paying more attention in elementary school. Regardless, that's scary stuff.
The PGA Tour heads to Charlotte for the Wells Fargo Championship, AKA that one at Quail Hollow, AKA that course with The Green Mile, AKA one of those designated events this year where they're playing for even more green than usual. It's also that place that Rory McIlroy plays so well he has a bald eagle named after him there. True story.
Random tournament fact: Last year's event, won by Max Homa, was played at TPC Potomac at Avenel Farm with Quail Hollow hosting the Presidents Cup. Which explains why Rory didn't win.
RANDOM PROP BETS OF THE WEEK
—Talor Gooch regrets going to LIV Golf: 19 MILLION-to-1 odds
—Collin Morikawa will win this week's PGA Tour event: 22-to-1 odds (Actual odds)
—Collin and Katherine Morikawa would win a PGA Tour couples event: LOCK
Once again, Greg Chalmers gets the honors in this space, this time for a two-parter. You see, in February, Chalmers mistakenly was sent a fan survey by the AT&T Pebble Beach Pro-Am and sent it back suggesting more Greg Chalmers merch, including a Greg Chalmers bobblehead. And the tournament actually delivered!
The best part is it's a good-looking bobblehead. Unlike those Jordan Spieth ones a few years back.
CLUB PRO GUY TWEET OF THE WEEK
What the heck happened?! Did he park in a line-drive section? Jeez. And only 360 miles put on a car that cost $450K? What a waste! Anyway, Patrick appears OK. And somehow the car still sold for $132K! Some people have a LOT of money to burn.
VIRAL VIDEO OF THE WEEK (SKILLS DIVISION)
Introducing Solbi Kim, a Korean LPGA player and a former Miss Korea finalist. Ms. Kim was selected to throw out the first pitch at a Korean baseball game, but chipped it instead:
Nicely done! Also gotta love the one mascot carrying her full golf bag out to the mound and another mascot shooting the distance with her rangefinder. Talk about covering all the, um, bases.
VIRAL VIDEO OF THE WEEK (FIGHT DIVISION)
From the dude saying, "Dude, we could go viral!" to the actual punches(!) and kicks(!!) to the "Where the f— you been, ranger?" at the end, this is an instant classic:
It shouldn't need to be said that we absolutely do NOT condone this type of behavior on the golf course. That being said … if you happen to see something like this happen … and no one winds up getting hurt … we don't mind watching these videos. And judging by the web traffic they draw, neither do most golf fans!
THIS WEEK IN PUBLIC DISPLAYS OF AFFECTION
We stay in Korea where we loved seeing the father and caddie of 18-year-old amateur Wenyi Ding getting pumped up watching his son making a putt at the Korea Championship. The reigning U.S. Junior champ made his third DP World Tour cut in three tries:
That might be Tony Finau in a few years.
"On Sunday out here I've learned that you just have to be aggressive, you have to make birdies. … So my mindset on Sundays I think has just changed. You never get comfortable with the lead. That's my nature anyway is to be an aggressive player. I always have been that way, and so Sundays are starting to shape up better for me since I've been in contention, but I think I just have learned a lot."—Tony Finau. And the rest of the players on tour have learned that's not a good thing for them.
Congrats to Pablo Larrazabal for winning the Korea Championship, his eighth career DP World Tour title. It's also fitting that this bee attack survivor won the same week as another bee attack on the course. … Just nine days after being involved in that bizarre Korn Ferry Tour cart penalty situation, Alejandro Tosti and Wilson Furr bounced back with a T-10 at the Mexico Open and a seventh-place Korn Ferry Tour finish, respectively. Good job, golf gods. … Phil Mickelson and Colt Knost got into a Twitter debate that ended in Knost asking Mickelson to come on the Subpar podcast three times and Phil giving him the Heisman. Ouch. … And, finally, my oldest daughter, Julia, wanted me to draw something so I whipped this up: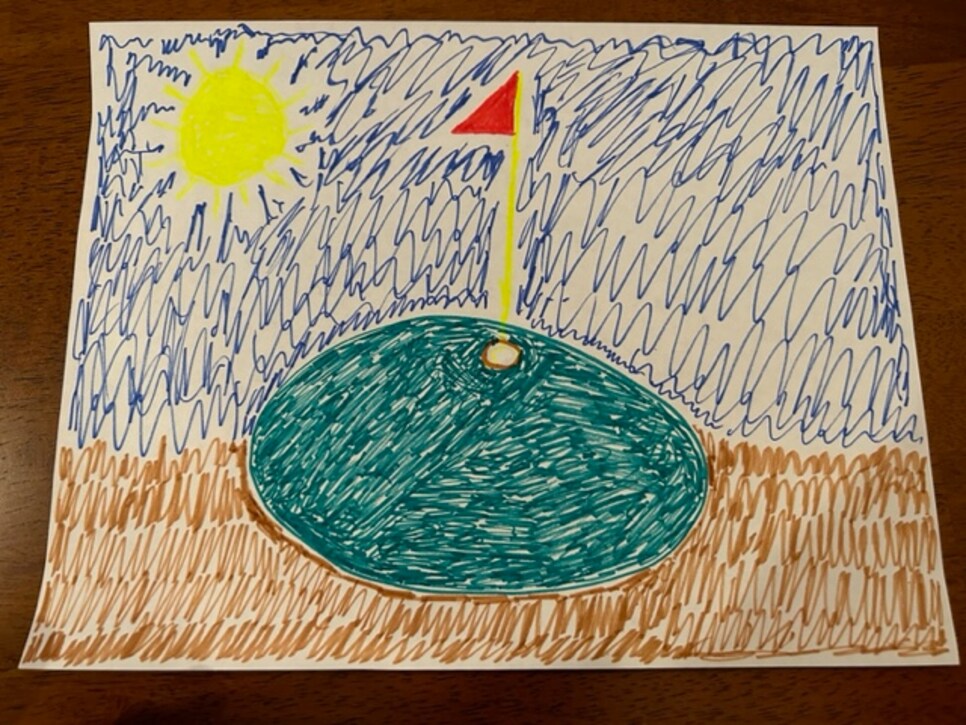 Don't act like you're not impressed.
RANDOM QUESTIONS TO PONDER
What the heck happened to that Porsche?
Will the Knicks win an NBA title in my lifetime?
Does Phil want to come on our podcast?