Bounce backs
A week after costly penalties, Alejandro Tosti and Wilson Furr rebound with stellar performances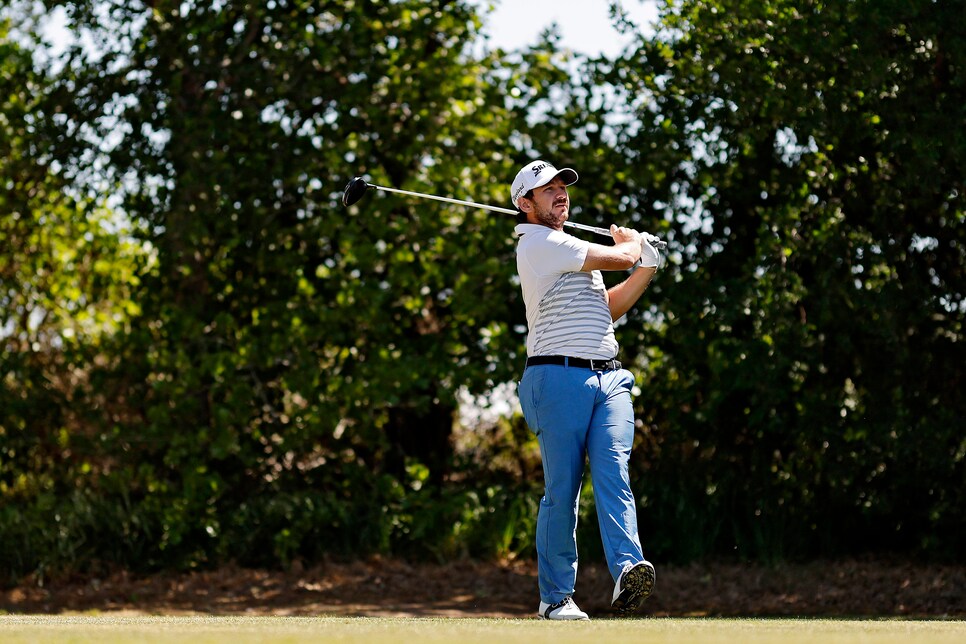 Alejandro Tosti shot a final-round 64 Sunday at the Mexico Open to qualify for next week's Wells Fargo Championship.
Mike Mulholland
Just a week ago, Alejandro Tosti and Wilson Furr were among those caught up in one of the more bizarre rules gaffes in recent memory. Playing together in a Korn Ferry Tour event, both took a shuttle from the 18th green to the first tee mid-round and were hit with two-shot penalties for breaking an obscure Model Local Rule that said players could not take transportation during a round.
Nine days later, each can boast about how they bounced back rather well from such ignominy. Competing this week on a sponsor exemption at the PGA Tour's Mexico Open, Tosti shot a final-round seven-under 64 to vault 20 positions up the leaderboard and into a tie for 10th place, giving him a last-minute spot in next week's Wells Fargo Championship, a designated event with a $20 million purse.
Furr, meanwhile, shot a second-round 61 in the weather-plagued HomeTown Lenders Championship in Alabama on the Korn Ferry Tour and tied for seventh place. The finish will likely get him unlimited starts on the tour for the remainder of the year.
Tosti, 26, started the final-round in Mexico on the 10th tee and was only one under after the first seven holes. But he made eagle on the par-5 18th hole by making a putt from just outside 20 feet, then birdied Nos. 1 and 2 immediately after. He then made another eagle on the par-5 sixth hole, this time from 15 feet, made birdie on the seventh hole and recorded a 64, which was tied for the lowest round of the day. He collected $179,025 for his performance, a 13-under-par total that was 11 shots behind winner Tony Finau.
"I've been playing really good for a long time, and I'm very happy that a good round showed up in good timing," Tosti said.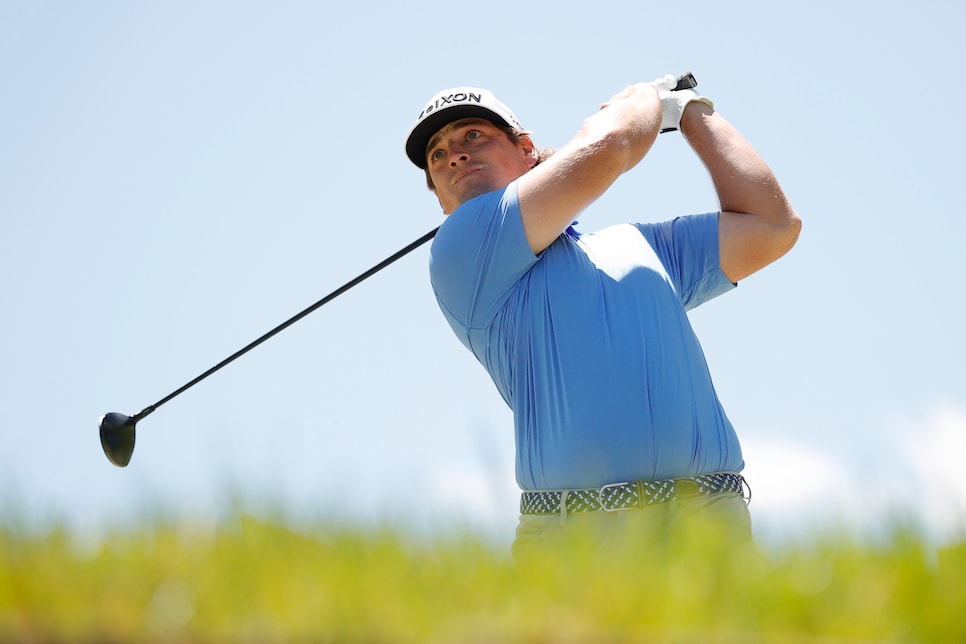 Wilson Furr during the final round Sunday in Alabama on the Korn Ferry Tour.
Alex Slitz
Furr, 24, shot a first-round 70 and a final-round 70, but it was his second-round 61 that moved him into contention. He recorded an eagle, eight birdies and a bogey on the day.
Last week at the Korn Ferry Tour's LECOM Suncoast Classic in Florida, Tosti and Furr were grouped with Mason Andersen at Lakewood National Golf Club. They started their round on the 10th hole there and when walking off the 18th hole they noticed a volunteer sitting in an empty golf cart, similar to the one that took players from the practice range to the 10th tee to start their rounds.
Asked by Tosti if he could shuttle them to the first tee while making the turn, the volunteer mistakenly said yes, but was not authorized to do so; the tournament had a rule that said the only place on the golf course where players were allowed a shuttle was from the seventh green to the eighth tee. Each player was given a two-shot penalty. Tosti eventually tied for 22nd place at 13 under. A 15-under score would've been good for a 16th-place tie. Furr, however, missed the cut by two shots at a crucial time of the year where he was looking to get reshuffled into a position where he could play more events the rest of the season. The next reshuffle is in three weeks and his finish this week in Alabama will move him into a place where he will earn more events.
Tosti's 10th-place tie automatically qualifies him for the Wells Fargo Championship at Quail Hollow in Charlotte, which will be his fourth PGA Tour start.
"I'm happy that I'm able to have the opportunity to show my game at this level," Tosti said. "This is only my third start and I know I have a lot to improve, but I know I belong to this level."