Payday in Mexico
Here's the prize money payout for each golfer at the 2023 Mexico Open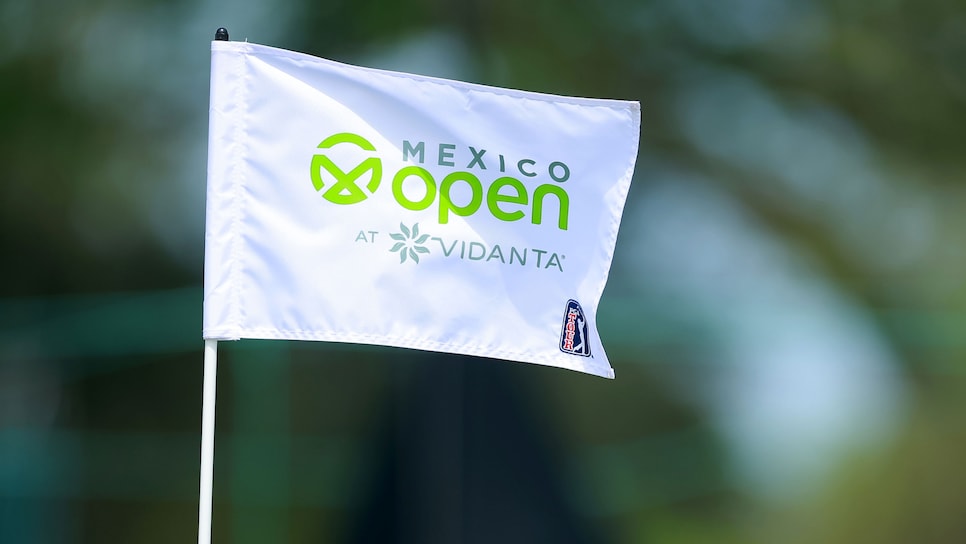 Golf tournaments are rarely predictable, and yet entering Sunday's final round of the Mexico Open, the two players at the top of the leaderboard were the most predictable of any of the 144 who started the week at Vidanta Vallarta. OK, so maybe you were expecting defending champion Jon Rahm to be the one holding the two-shot lead over Tony Finau with 18 holes remaining, rather than the other way around. Regardless, they were the two highest-ranked players coming into the week—Rahm the World No. 1, Finau No. 16—and they finished 1/T-2 a year ago in the event.
Come Sunday, however, the unpredictable returned. Or at least the surprising. Because just when you thought that Finau and Rahm were destined for a tight, down-to-the-72nd-hole finish in Mexico, it turned out to be anything but.
Methodically making five birdies over his first 14 holes to stretch his lead to as much as four shots, Finau cruised to a closing 66, a three-shot triumph and his sixth career PGA Tour title.
"It feels amazing," Finau said. "Rahmbo is the best … he's on top of the world right now. I knew I was going to have my hands full with him all the way until the end."
It's not that Rahm played poorly—the Spaniard made four birdies over his first 15 holes, too, finishing with a 67. But even for a golfer playing as unbelievable as Rahm has over the last 12 months (seven wins in 24 starts, 15 top-10s and zero missed cuts), you can't let an opponent who has now won four tour titles in 280 days wander too far in front.
To Finau's credit, he has made sure the hype surrounding Rahm entering the week didn't impact his play. Finau's 65-64-65 start matched his career best opening 54-hole score that he shot at last summer's Rocket Mortgage Classic.
With the victory, Finau claimed a first-place prize money payout of $1.386 million from an overall purse of $7.7 million. Here's the prize money payout for each golfer who made the cut this week in Mexico.
Win: Tony Finau, 260/-24, $1,386,000
2: Jon Rahm, 263/-21, $839,300
3: Brandon Wu, 265/-19, $531,300
4: Akshay Bhatia, 266/-18, $377,300
T-5: Eric Cole, 268/-16, $284,900
T-5: Emiliano Grillo, 268/-16, $284,900
T-5: Austin Smotherman, 268/-16, $284,900
T-8: Cameron Champ, 270/-14, $232,925
T-8: Ben Taylor, 270/-14, $232,925
T-10: Joseph Bramlett, 271/-13, $179,025
T-10: Harry Hall, 271/-13, $179,025
T-10: Beau Hossler, 271/-13, $179,025
T-10: Patrick Rodgers, 271/-13, $179,025
T-10: Alejandro Tosti, 271/-13, $179,025
T-15: Jimmy Walker, 272/-12, $132,825
T-15: Dylan Wu, 272/-12, $132,825
T-15: Carson Young, 272/-12, $132,825
T-18: Mark Hubbard, 273/-11, $98,431.67
T-18: Stephan Jaeger, 273/-11, $98,431.67
T-18: Adam Long, 273/-11, $98,431.67
T-18: Greyson Sigg, 273/-11, $98,431.67
T-18: Vincent Norrman, 273/-11, $98,431.66
T-18: Kevin Roy, 273/-11, $98,431.66
T-24: Kevin Chappell, 274/-10, $62,755
T-24: Wyndham Clark, 274/-10, $62,755
T-24: Will Gordon, 274/-10, $62,755
T-24: S.H. Kim, 274/-10, $62,755
T-24: Francesco Molinari, 274/-10, $62,755
T-24: Andrew Putnam, 274/-10, $62,755
T-30: Michael Kim, 275/-9, $50,435
T-30: Taylor Pendrith, 275/-9, $50,435
T-30: Trevor Werbylo, 275/-9, $50,435
T-33: Brice Garnett, 276/-8, $41,066.67
T-33: Ryan Gerard, 276/-8, $41,066.67
T-33: Nicolai Hojgaard, 276/-8, $41,066.67
T-33: Ryan Moore, 276/-8, $41,066.67
T-33: Byeong Hun An, 276/-8, $41,066.66
T-33: Erik van Rooyen, 276/-8, $41,066.66
T-39: Aaron Baddeley, 277/-7, $30,415
T-39: Austin Cook, 277/-7, $30,415
T-39: Michael Gligic, 277/-7, $30,415
T-39: Nate Lashley, 277/-7, $30,415
T-39: Geoff Ogilvy, 277/-7, $30,415
T-39: Scott Piercy, 277/-7, $30,415
T-39: Gary Woodland, 277/-7, $30,415
T-46: Ben Martin, 278/-6, $22,817.67
T-46: S.Y. Noh, 278/-6, $22,817.67
T-46: Richy Werenski, 278/-6, $22,817.66
T-49: James Hahn, 279/-5, $19,198.67
T-49: Satoshi Kodaira, 279/-5, $19,198.67
T-49: Andrew Novak, 279/-5, $19,198.67
T-49: Chez Reavie, 279/-5, $19,198.67
T-49: Zecheng Dou, 279/-5, $19,198.66
T-49: Austin Eckroat, 279/-5, $19,198.66
T-55: Jonathan Byrd, 280/-4, $17,787
T-55: Cody Gribble, 280/-4, $17,787
T-55: Charley Hoffman, 280/-4, $17,787
T-55: Sebastián Vázquez, 280/-4, $17,787
T-55: Carl Yuan, 280/-4, $17,787
T-60: Derek Ernst, 281/-3, $16,940
T-60: Tano Goya, 281/-3, $16,940
T-60: David Lipsky, 281/-3, $16,940
T-60: Maverick McNealy, 281/-3, $16,940
T-60: Cameron Percy, 281/-3, $16,940
T-60: Raul Pereda, 281/-3, $16,940
T-66: Nico Echavarria, 282/-2, $16,247
T-66: Lanto Griffin, 282/-2, $16,247
T-66: Derek Lamely, 282/-2, $16,247
69: Augusto Núñez, 283/-1, $15,939
T-70: Trevor Cone, 284/E, $15,708
T-70: Bill Haas, 284/E, $15,708
72: Jonas Blixt, 287/+3, $15,477
73: Lee Hodges, 288/+4, $15,323