Tony Finau, arguably the second-hottest player in the last 12 months, outdueled the hottest golfer at the Mexico Open at Vidanta on Sunday. Finau, runner-up to Jon Rahm a year ago, flipped the script, beating Rahm head-to-head and winning for the fourth time since tying for second in 2022.
With a final-round five-under 66, Finau beat Rahm, the World No. 1 and reigning Masters champion, by three strokes to record his sixth career PGA Tour victory and join Rahm, Max Homa and Scottie Scheffler as multiple winners during the 2022-23 tour season. Finau, who finished with a record 24-under 260 total, has won four times in his last 18 starts spanning 280 days. He has five wins in his last 41 starts after needing 188 starts to register his first victory.
Before Finau tapped in for par on the par-5 home hole, Rahm put his arm around his American friend and offered congratulations.
"It feels amazing," said Finau, 33, who was the second-highest ranked player in the field behind Rahm at No. 16 in the world and moved to 11th. "Rahmbo is the best … he's on top of the world right now, and I knew I was going to have my hands full with him all the way to the end. … I was really put to the test and came out on top, which feels great."
Finau, who has won by an average of four shots in his last four victories, converted for the third time in eight tries when holding the 54-hole lead by sinking an 11-footer for birdie on the first hole and going on to complete a bogey-free final round to collect $1.386 million. He led the field in strokes gained/tee-to-green with a whopping 14.779 strokes and also led in total birdies with 27.
"I played great golf all week," said Finau after posting his career-low aggregate score. "That's something that I wanted to do. Every day I was striking the golf ball really nicely, but the biggest thing is I was able to convert the birdie putts that I really needed to and also some of the par saves that were momentum swingers for me. Very happy just with the four rounds I was able to put together."
"I knew I needed a low one again today, somewhere 23, 24, 25 under was, maybe if I had a target in mind, that was it," Rahm said. "It was a day where I didn't do much wrong, but I didn't do much right, either. Still proud to come back after the year that has been and put on a show and have a good defense of the title."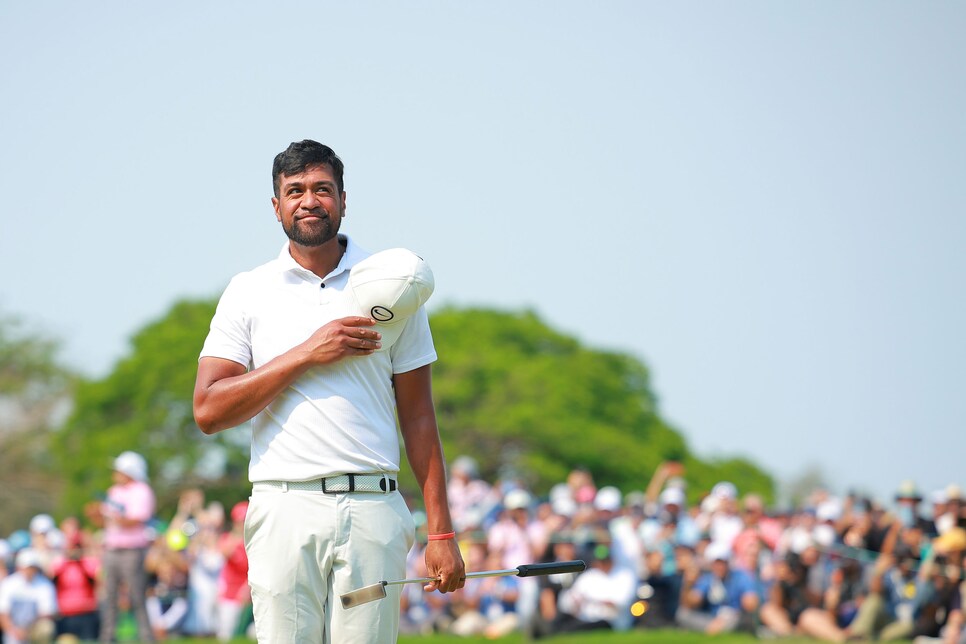 En route to his sixth PGA Tour victory, Tony Finau shot the lowest 72-hole aggregate score of his career (260).
Hector Vivas
Rahm was disappointed but found a silver lining for the week—and it wasn't just setting the new single-season earnings record. "I mean, it's a great reminder that what you've done means absolutely nothing, you still have to go out there and do it," he said. "It's also good so you don't think too much of yourself, right? Like obviously I wanted to win, but it's a reminder that everybody out here is a great player, and Tony came out with a two-shot lead and played fantastic golf."
Brandon Wu, who briefly tied Finau for the lead Sunday, closed with 68—265. Wu caught Finau at 21 under when he went eagle-birdie at No. 6 and No. 7, respectively, to cap a five-under burst in his first seven holes. However, Finau birdied the short seventh from five feet while Wu bogeyed the eighth from the right greenside bunker to re-establish Finau's two-stroke lead by which he began the final round.
Tied for second with Finau and Kurt Kitayama last year, Wu fell farther behind when he drove into the water at the par-4 10th and suffered a double bogey, leaving Rahm as the closest pursuer three shots back. Rahm never got closer, and neither did anyone else thanks to timely birdies and a few key par saves, including an 18-footer from the fringe at the eighth that kept Finau in control.
"Yeah, no doubt, it was the par putt on No. 8," Finau said of perhaps the most important shot of the day. "I hit in the left bunker with my second shot, which is not too crazy of a bunker to get out of, and I just chunked the bunker shot and it barely got out. I had about 20, 22 feet for par off the fringe, and it was just huge for my momentum at that time."
Akshay Bhatia, who has special temporary membership on tour, began the day tied for second with Rahm two behind Finau, but only managed 70 to end up fourth at 266.