PGA Tour
It couldn't be better in Mexico Open than a final-round showdown between Jon Rahm and Tony Finau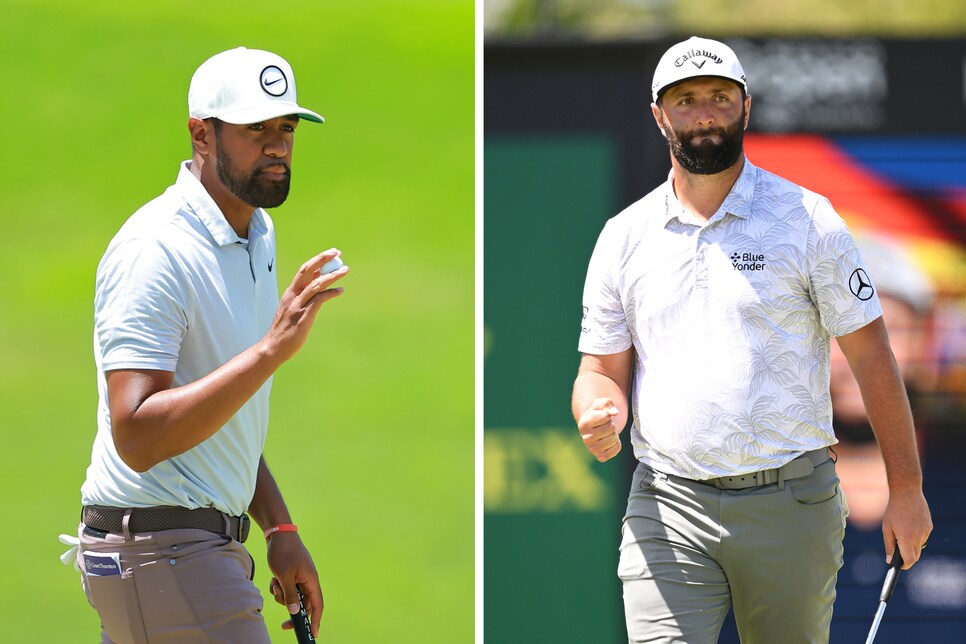 Tony Finau leads Jon Rahm by two shots heading into Sunday's final round of the Mexico Open.
919039361464473
When you finish a round on the PGA Tour first in strokes gained/approach, second in SG/putting and fourth in SG/off-the-tee, you know you've had a special day. For newly minted Masters champ and World no. 1 Jon Rahm, that special day almost became a historic Saturday at the Mexico Open, where stood on the par-5 18th at Vidanta Vallarta needing an eagle for the 12th 59 in PGA Tour history.
Unfortunately, his classic cut drive didn't cut, and Rahm got a piece of terrible luck when his ball lodged into the upper lip of a bunker just off the fairway, forcing him to pitch out. He "settled" for a bogey-free 61, but it was still historical in a few minor ways. The Spaniard hit the most feet of putts in his entire career (a whopping 156), and he set the course record. When it was over, Rahm stood at 17 under, two behind tournament leader Tony Finau, who shot 65, and safely in a final group that also includes 21-year-old Akshay Bhatia, who is tied at 17 under after scoring 63.
In a strange bit of foreshadowing, the three of them played a practice round together earlier in the week.
"It was about as good a ball-striking round as it can get," Rahm said afterward. "I played really well the first two rounds; it's just that contact with a lot of the iron shots wasn't quite what I'm used to, and a couple of those miscues cost me to fall a little bit out of the pace. … I knew I had to take advantage of the early conditions."
Rahm faced very little wind on the front nine and used the combination of favorable elements and some of the easier holes on the course to race out to a six-under start through eight holes. In the process, he holed some jaw-dropping putts for birdie, starting with a 38-foot bomb on the first. He followed that up with a 26-footer on 3, but the remaining birdies on the front came with pinpoint approaches, and, amazingly, his next four birdie putts amounted to less than 10 feet put together.
The wind rose up on the ninth hole, but Rahm made three clinical pars before arriving at the next "easy" stretch on the course, which he took advantage to the tune of three straight birdies, including a 24-footer on 13. That put him on official 59 watch, and though he missed a pair of agonizing birdie putts on 15 and 16, he poured in a 36-footer on 17 to give himself a prayer on 18.
(His wife Kelly put it a little more succinctly: "That was fun.")
As good as he was, it wasn't quite enough to make up a starting six-shot deficit on Finau, who struggled with the putter on Saturday, losing strokes to the field, but was so unbelievably efficient from tee to green that he still shot a 65 and made just a single bogey. (A chip-in for birdie on 13 didn't hurt, either.) All day long, he was hitting the kind of shots for which Shot Tracer was made, including this lovely dart of a draw on 16:
With his wife and son looking on, Finau put on the kind of clinic that brought to mind his back-to-back wins at the 3M Open and the Rocket Mortgage Classic last summer, when he put up consistently low scores to blow away the field. On Saturday, he couldn't help but notice Rahm on the back-nine leaderboards.
"I'm definitely a leaderboard watcher," Finau admitted, "but I didn't see my first leaderboard until I think about 13. So, I think it definitely got my juices going a little bit, and I was able to make a few birdies coming in to stay in front of him. It was something I expected going into today—he's an amazing golfer. I play with him a lot, and to see him at the top of the leaderboard after only 12 or 13 holes was not a big surprise to me."
It was a shooter's day in Mexico, the kind of round where contenders like Brandon Wu shot 67, but still managed to fall down the leaderboard. Will Gordon suffered the same fate, while Erik Van Rooyen, who started the day in the last group, plunged to T-7, eight shots off the lead, with a 72.
If chaos is a ladder, Bhatia was the man who climbed almost as fast as Rahm, posting a 30 on the back nine that was punctuated by an eagle on 18. He played his way into the final group, which is about as exciting a threesome as the tour could have hoped for in a non-elevated event.
Rahm and Finau already have a bit of history together. Finau outdueled him at the 2021 Northern Trust to capture his first title in five years, while Rahm got a measure of revenge at this very event last year, surviving a windy day to capture the title that started what has been a phenomenal 365 days.
As for what will matter most on Sunday, Rahm pointed to Mother Nature.
"It all depends on how windy it gets," he said. "If it gets to be as windy as it was yesterday afternoon, it's ball-striking, which is kinda how I won last year. We had a really windy Sunday, and tee-to-green I was really solid, and that's what got me the win. But if I putt as good as I did today, I'll give myself a really good chance."
Rahm may have won in the wind last year, but when Finau beat him in 2021, it happened the day after a hurricane swept through New Jersey. Whatever the weather gods deliver, we can rest assured that players like these won't need lightning to show us something electric.