PGA Tour
This putting method has turned Akshay Bhatia into a contender against titans in the Mexico Open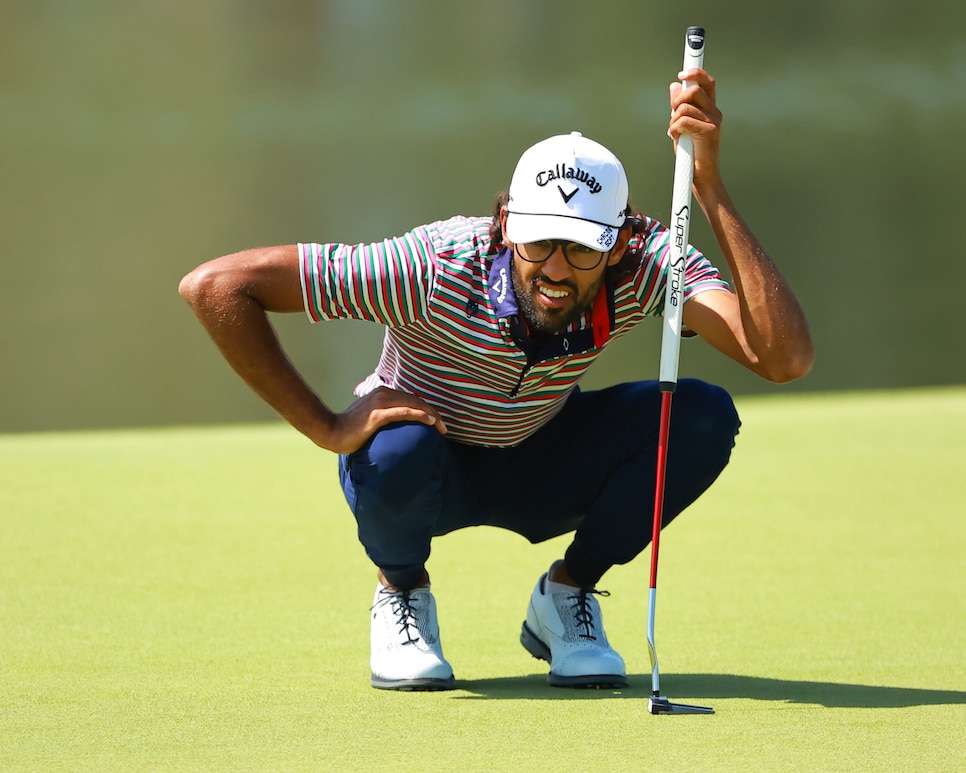 Akshay Bathia lines up a putt during the third round of the Mexico Open.
Hector Vivas
In the Mexico Open this week, Akshay Bhatia has been like the kid who is hooked on a new video game. His current obsession, and maybe his ultimate salvation on the PGA Tour, is the AimPoint green-reading system that has been employed by the likes of Justin Thomas, Adam Scott, Jordan Spieth and Brooks Koepka.
The method of a player using his fingers to identify how much a putt will break is recognizable to most golf fans, though it's not universally beloved. At the Masters, Rory McIlroy rolled his eyes dismissively when he noted that some of the youngsters in Drive, Chip & Putt were using AimPoint.
We're not here to debate the merits, but to note that Bhatia probably would not be in position to win among titans on Sunday in Vallarta, Mexico, without him turning to AimPoint for the week. After shooting 63 in the third round on Saturday, Bhatia is tied for second with World No. 1 Jon Rahm, and the pair trails World No. 16 Tony Finau by two.
Ranked 283rd in the world, Bhatia, whose glasses, curly black hair and wiry beard make him an instantly recognizable figure on tour, is the North Carolinian who turned pro at 17 and earned a Special Temporary Exemption this season on the PGA Tour after finishing solo second in Puerto Rico. He said before the first ball was struck this week that he was beginning to use AimPoint, but it hadn't yet clicked on the course the way it did on the practice green.
Honestly, the man was desperately in need of a solution. Through nine starts this season heading into this week, Bhatia was 174th in strokes gained/putting, losing nearly a half-stroke (.459) to the field. That is brutal for a guy who is among the better ball-strikers; he's 28th on tour in approach.
This week, using AimPoint on the Paspalum greens at Vidanta Vallarta, Bhatia has been a different player. He's second in SG/putting, bettering the field by a whopping 6.22 strokes.
"Stats show it," Bhatia said after the third round. "It's pretty cool to make some more putts; speed's been way better and just a little more confident where I'm aiming the ball. And I know my stroke's really good, and I roll it very well on a consistent basis.
"It's really exciting for me just to keep figuring this out and get better and better because it's my first week doing it and I really like it. I'm excited, for sure."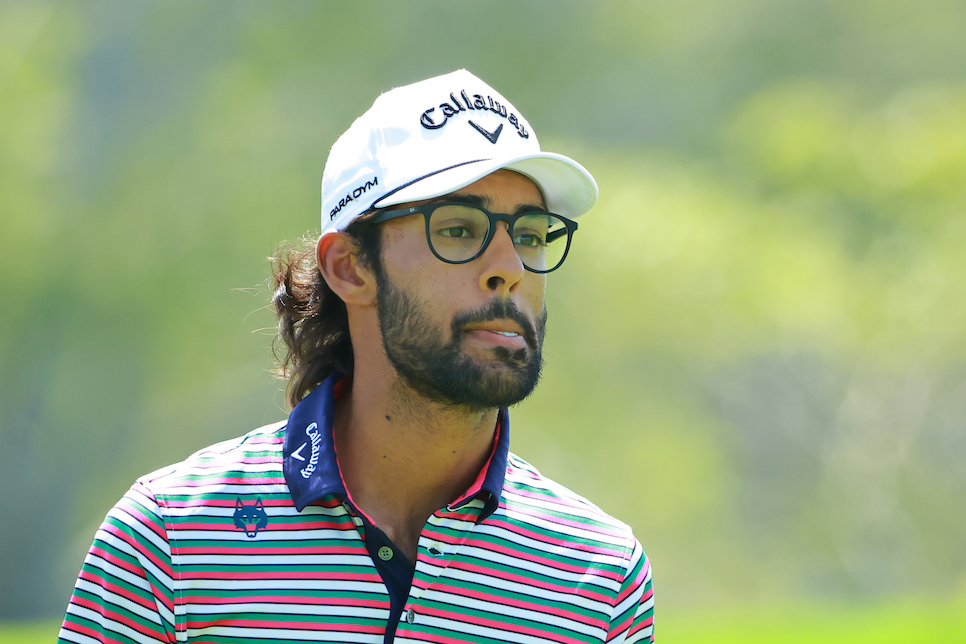 It's almost as if Bhatia has been so focused on the AimPoint task that he's had tunnel vision about where he stands on the leaderboard. In an interesting twist, he played a practice round with Rahm and Finau on Tuesday and joked afterward that the tournament winner could very well come out of the group. He likely was talking about the two players who have 16 tour wins between them. Now, they'll all be together again on Sunday, vying for the $1.386 million first prize.
Bhatia, who has earned $611,000 this season versus Rahm's $13.6 million, didn't achieve a top-level victory as a pro until he captured the Korn Ferry Tour's Bahamas Great Exhuma Classic in early 2022. That set him up for a likely promotion to the PGA Tour for 2022-23, though Bhatia struggled, missing 13 cuts in 24 total KFT starts. He still got promoted, and in another tropical setting in early March, Bhatia opened with a 66 and closed with a 65 to place solo second in the Puerto Rico Open.
Again, he has slumped a bit, with three cuts missed and only one-top 25 finish over his last five starts. But Bhatia is once more contending in breezes and warmth on the Mexican Riviera, and he's got his new toy in AimPoint. Against two of tour's true beasts, he's seemingly got nothing to lose.
"I know I'm capable of winning, obviously won on the Korn Ferry Tour, so I know what the feelings feel like going into tomorrow," Bhatia said. "We're just going to have fun."