LIV Golf
8 days, $8 million: Talor Gooch closes out crazy stretch on and off the course with a second straight LIV Golf win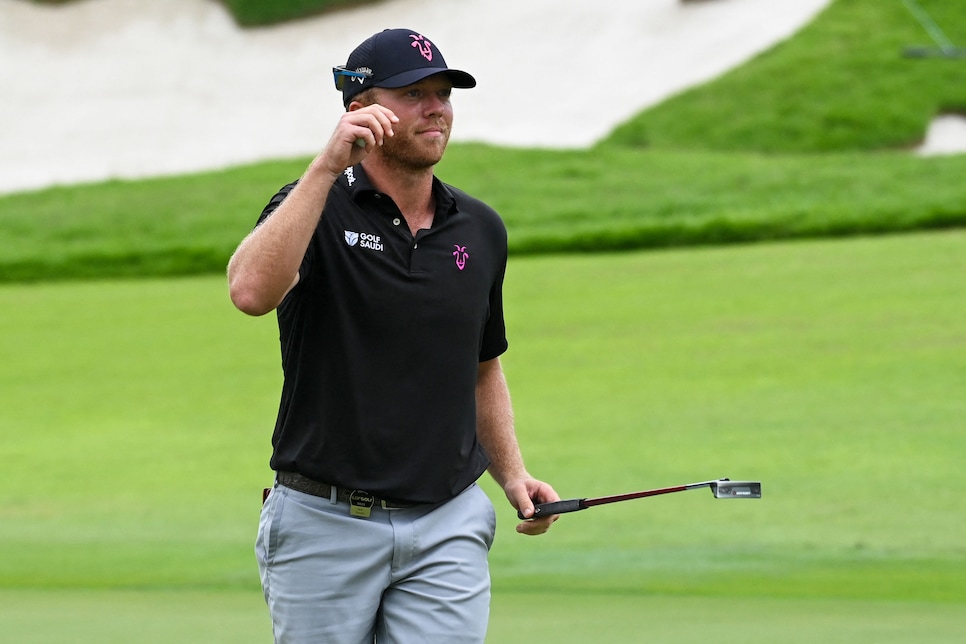 With a playoff victory over Sergio Garcia on Sunday in Singapore, Talor Gooch became the first golfer to win back-to-back events in LIV Golf history.
ROSLAN RAHMAN
But the 31-year-old brushed aside his frustration—and rode the high from claiming his first victory in 17 months just days before in Australia—to win the LIV Golf event at Sentosa Golf Club in a playoff with Sergio Garcia. In becoming LIV's first individual champion in back-to-back events, Gooch finished the trip to the Asia Pacific region $8 million richer.
Pulling out the title this time was a little different for Gooch, who came in with a 10-shot lead in the final day at Adelaide and hung on for the victory. On Sunday in Singapore, Gooch held a share of the 36-hole lead and had to step up to claim victory.
And indeed, that's what he did, tied with Garcia at 16 under when an hour-long weather delay stopped play with four holes remaining. When the round resumed, Garcia closed out a 67 with a birdie on the last hole to get to 17 under. Gooch matched that with a birdie of his own on the last hole to card 67 as well to set up the fourth playoff in LIV history.
Returning to the par-5 18th, Gooch, an Oklahoma State alum, took an aggressive line from the tee, allowing him to reach the green in two. Garcia's second shot found a greenside bunker and when he couldn't get up and down for birdie, Gooch had his title.
"You just try to bottle it up and make it last as long as possible," Gooch said of his recent form. "I know that I'm not going to continue playing this level of golf forever. When it [eventually] goes away you try to get back on the train as quickly as possible. You try to savour these moments.
"[Battling Garcia] is one of those days that I'll remember," Gooch said. "I grew up watching Sergio. He's one of the greatest golfers of this generation. To go and battle with him and come out on top is something I'll never forget."
What Gooch did manage to forget was a blowback from his decision to leave the PGA Tour last summer to join LIV Golf, which is funded by Saudi Arabia's Public Investment Fund. While Gooch technically qualified to play in the PGA Tour's Tour Championship, being banned from tour events meant he wasn't eligible to compete at East Lake. And that became a semantical problem when the USGA changed the language of the qualifying criteria for the 2023 U.S. Open regarding the Tour Championship. In February, the USGA announced that "those players who qualified and were eligible for the season-ending 2022 Tour Championship" received the full exemption. That knocked out Gooch.
"That was obviously disappointing because that changed rule only affected one person, which was me," Gooch told the 73rd Hole Podcast. "So that was frustrating and tough because with LIV still not being rewarded with World Ranking points, I have only two options to qualify for the U.S. Open: via my World Ranking, which is going to be very challenging, or trying to obviously go through the qualifying route of sectional qualifying."
Gooch also noted that Augusta National and the R&A, which has similar exemptions for those who qualified for the Tour Championship, let him in their 2023 majors despite not actually playing at East Lake.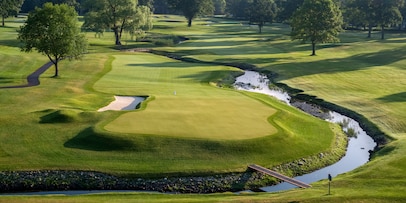 Back in 1979, George Fazio and nephew Tom were roundly criticized by Donald Ross fans for removing a classic Ross par 4 on Oak Hill East and replacing it with two new holes, including the bowl-shaped par-3 sixth, which would later become the scene of four aces in two hours during the second round of the 1989 U.S. Open. They also built a pond on another par 3 and relocated the green on the par-4 18th. The club hired golf architect Andrew Green to remodel those holes to bring them more in line with Donald Ross' original style. In addition to putting the final touches (at least for now) on a significant tree removal program, Green re-established Ross's original par-4 hole, then the fifth and now playing as the sixth (pictured here). Reconstruction occurred after the 2019 Senior PGA Championship on the East Course and was completed in May 2020. Oak Hill's East Course will host the 2023 PGA Championship.
View Course
"It was cool this morning waking up and seeing an invite from the PGA of America," Gooch said. "It's going to be a fun week, and it's cool that they recognize the body of work and gave me a spot in the field."
Gooch, who also finished T-34 at the Masters, then went and proved why he can still mix it with some of the world's best. After all, one shot shy of the playoff with Garcia was four-time major winner Brooks Koepka, a joint runner-up at Augusta National earlier this month, whose closing 67 at Sentosa left him in third place.
Gooch's Range Goats team, which is captained by two-time Masters winner Bubba Watson and features Harold Varner III and Thomas Pieters, took home the $3-million team component. They beat Garcia's Fireballs GC side by three strokes.
"There's nobody around professional golf that doesn't understand how good Talor Gooch is … not just our own team or our own league," Watson said.
No doubt Gooch wishes LIV Golf's next stop, which is taking place in his home state of Oklahoma at Tulsa's Cedar Ridge Country Club May 12-14, could be happening this coming week. Instead, he'll have to wait a little bit before seeing if he can continue his strong play with a virtual home game.