CHICAGO — The most polarizing golfer in the world is a god-fearing country boy who is intelligent enough to have been his high school valedictorian. He is a jock who grew up playing the pretty-boy positions of quarterback and shortstop but was tough enough to wrestle competitively and line up as a free safety. His home golf course was a scrappy muny tended by prison inmates, but he earned a spot among golf royalty at Oklahoma State. During his eight-year pro career, Talor Gooch has slowly and tenaciously developed into a world-class player. Soft-spoken, polite, blue-eyed, he should be a poster boy for the sport. Instead, he has become the unwitting face of the most tumultuous period in golf history.
When LIV Golf announced in early June the field for its inaugural tournament in London, Phil Mickelson and Dustin Johnson were the biggest names, but Gooch's inclusion created the most intrigue: He was youngish (30), ascendant (35th in the World Ranking on the strength of his win last fall at Sea Island) and with a seemingly unlimited future on the PGA Tour. It was the kind of get that LIV desperately needed in what was otherwise an unimpressive haul of players. Gooch had toiled in obscurity on the PGA Tour, so LIV London would be his first impression with the larger golf world. Alas, he came across as a country bumpkin when he said he planned to play only the London event and then return to the tour, even though commissioner Jay Monahan had made it exceedingly clear it was us-or-them. Gooch was indeed suspended by the tour, compelling him to go all-in with LIV.
Following the second event, in Portland, Ore., Justin Thomas roasted Gooch for his much-ridiculed comment that the atmosphere at LIV tournaments compares with the Ryder Cup. (Gooch, who has never played in the event, admitted his remark was over-the-top and that in the moment he was drunk with exhilaration from spraying champagne on teammates during a podium ceremony celebrating the 4 Aces team victory.)
In late June, the PGA Tour announced a revamped schedule with eight "elevated" tournaments and three no-cut, limited-field international events, a move that sounded suspiciously like the LIV product. Gooch offered some playful trolling by posting on Twitter a GIF of the Rock crooning, "You're welcome." This inspired Tron Carter, the No Laying Up provocateur, to label him "a huge twat," which was representative of a good chunk of the Gooch-related discourse.
Following the Open Championship, Gooch signed on to a lawsuit against the tour, seeking a temporary restraining order that would allow him (and Matt Jones and Hudson Swafford) to barge their way into the FedEx Cup playoff event in Memphis, as they had accrued enough points to qualify before bolting to LIV. In the courtroom, Jones and Swafford were barely mentioned, but Gooch had a starring role, largely because his LIV contract had been entered as a key bit of evidence. (A lightly redacted version would later become public, creating another Gooch-centric news cycle.) When the LIV insurgents lost the case, there was much chortling by the establishment, although Jones and Swafford barely registered. "I wonder if Gooch and Co. are going to now sue LIV since they didn't get to play the Playoffs," PGA Tour Champions player Steve Flesch tweeted. "I'm sure they were told the suspension wouldn't hold up in court. That would be a ballsy play." My Fire Pit colleague Ryan French summed it up nicely by tweeting, "Talor Gooch is going to easily win the LIV PIP. Dude is in every tweet tonight."
Locked out of the playoffs, Gooch flew to Wentworth in early September for the BMW PGA Championship in pursuit of enough World Ranking points to stay in the top 50, which should qualify him for next year's major championships. (Stay tuned for political wrangling on that front.) He was one of 17 LIV golfers in the field, but he was also playing in his first European tour event. Gooch's wildly unexpected heel turn went to another level when he was called out by everyone from Rory McIlroy to Billy Horschel for being, in their view, an unwelcome interloper who was preventing a deserving loyalist from teeing it up in the Euro tour's flagship event. Gooch responded with one of the ballsiest performances of the year, a tie for fourth that shot him back up 11 spots to 35th in the World Ranking.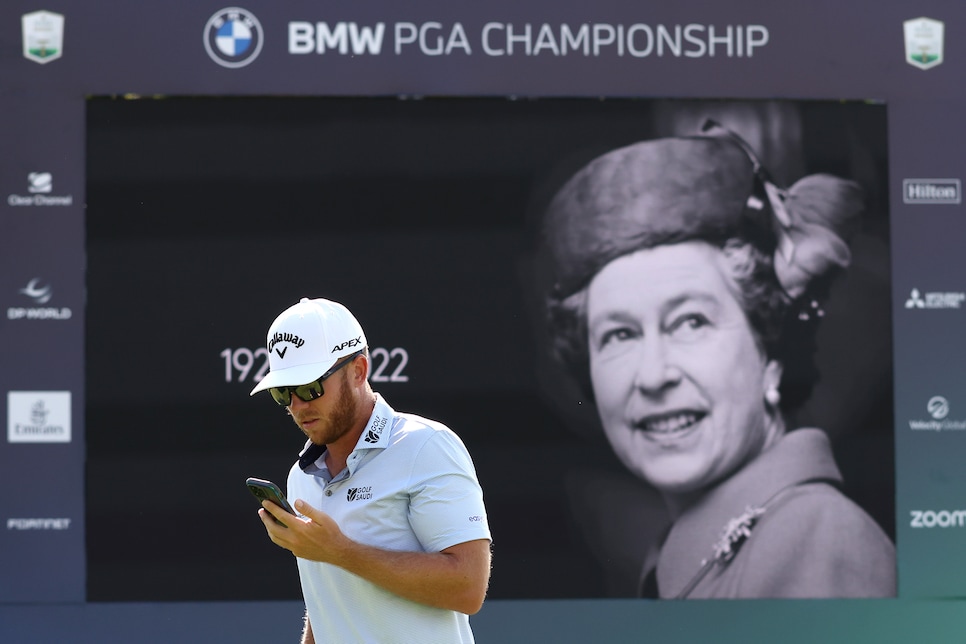 I recently asked a PGA Tour contemporary to speak about Gooch, and he agreed to do so only anonymously: "He always seemed like a nice guy, but now I just want to punch him in the face." When I beseeched the player to put his name on the quote, he replied, "I want to because the guys out here would love it, but I don't need all the noise that would come with that."
Gooch is acutely aware of all the mojo that has engulfed him. On Saturday morning, a few hours before the second round of the LIV Invitational Chicago, Gooch slumped in a chair in the lobby of his suburban hotel and, pulling up the sleeve on his oversized 4 Aces hoodie, pantomimed looking at his watch before saying, "My wife and I always say, 'OK, is 2022 over yet?' Because we're ready for things to slow down."
The irony is that, until a few months ago, Gooch's life was basically a corny after-school special. He grew up in Midwest City, a small Air Force town outside of Oklahoma City. His friend group consisted of a half-dozen dudes who all became college athletes, including J.T. Realmuto, who is now the catcher for the Philadelphia Phillies. "They taught me how to be a gamer," Gooch says. "We just grinded each other out and we pushed each other and we had to figure out how to beat each other, whether it was bowling or Ping-Pong or pickup basketball or organized sports. That is still in me today, that survival mode you go into on the golf course at times."
Gooch loved football until, when he was a 13-year-old safety, he encountered in the open field a future Canadian Football League running back named Timothy Flanders, whom he describes as "already a grown man." After getting "blown up," Gooch decided to focus on less violent sports. (He does note with some pride that he managed to drag Flanders to the ground.) The next year Gooch played a baseball game one day and a golf tournament the next, but the differing swings didn't translate. After uncorking a couple of hosel rockets on the golf course, he declared he would focus exclusively on golf. But Gooch comes from a baseball family; his father, Ron, made it to the Texas Rangers Triple-A farm club as a second baseman. After pledging his allegiance to golf, Gooch says his dad, uncles and cousins convened "a low-key intervention" to try to talk him out of it. But the kid was unmoved.
Gooch's home away from home became John Conrad Regional Golf Course, a tree-lined, no-frills track. The simple surroundings molded a sophisticated game. "You couldn't hit moon balls and the same shot every single time," he says. "It's obviously windy conditions in Oklahoma; you have to be able to maneuver the ball and adjust flights. Also, I grew up on a muny, so I'd have a wedge and be like, Well, I'm on a hard pan now. I gotta figure out how to make solid contact." Another feature of John Conrad were the convicts who performed community service by tending to the golf course in their orange jumpsuits. Many of Gooch's rivals attended a high school in Edmond that was a golf powerhouse. Gooch would surreptitiously snap photos of the felons and send them to his adversaries with the message, "I hope you're enjoying Oak Tree"—the very private club where the rival practiced. "I guess I've always had a little chip on my shoulder," he says redundantly.
Despite growing up a die-hard Oklahoma football fan—Heisman Trophy winner Sam Bradford is now a golf buddy—Gooch matriculated to Oklahoma State, joining a stacked squad that included future pros Peter Uihlein, Morgan Hoffmann, Kevin Tway, Brad Gehl and Kevin Dougherty. On three occasions during his freshman season, Gooch was not going to make the tournament lineup if he didn't win the qualifier, and every time he came through, including a 62 at Stillwater Country Club. That earned him two cracks at the lineup at the 2011 national championship, at the Cowboys' home course, Karsten Creek. Gooch won both of his matches by lopsided scores. "That's when I knew he had the It Factor," Dougherty says. "There were 10,000 fans walking down the fairway, and this little freshman was steamrolling juniors and seniors."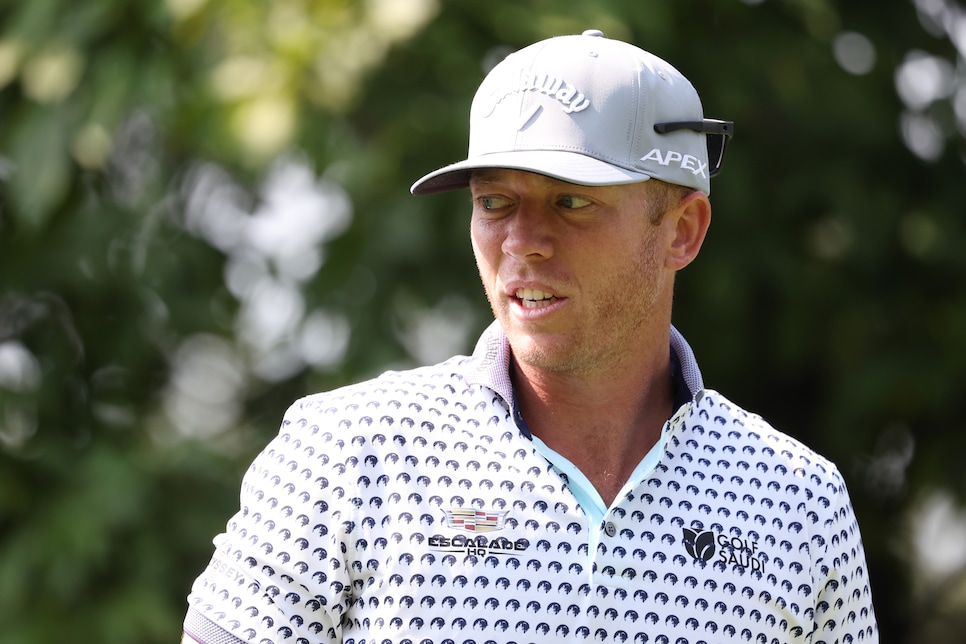 Gooch never won an individual title in college, but he got incrementally better each year, earning third-team All-American honors as a senior. Asked to name the best part of his former player's game, Mike McGraw says, "Oh man, if I could bottle that putting stroke, I wouldn't have to coach anymore." Upon turning pro in 2014, Gooch repeated the pattern of slow, steady progress. He played in Canada in 2015 and '16 and then graduated to the Korn Ferry Tour, where he won the 2017 Visit Knoxville Open. That shot Gooch to the PGA Tour. He barely kept his job in 2018, gaining partial status by finishing 139th on the FedEx Cup list, but he improved to 101st in '19 and 60th the following year.
"At every level it takes me just a second to get my feet under me, and when I do, I can compete at a high level," he says. "There's no doubt it's a comfort level of some sort. I think, from within, I have to prove to myself that I belong in a sense and that just comes through performance, through results. There's a lot of cockiness that has to come with being great at golf, and some guys are a little bit more blessed with cockiness, and I just don't think I'm as blessed as others. So I have to build it a little bit more."
Throughout 2021 there were rumblings that well-funded upstart leagues were trying to steal PGA Tour players with big money offers. Gooch had a code word when trying to determine which of his more heralded colleagues were being courted: "So have you signed any NDAs lately?" Gooch wasn't on the radar of LIV commissioner Greg Norman until he began piling up high finishes in the fall of '21: top fives at Napa and Las Vegas and then the breakthrough win at Sea Island. After the victory, Gooch broke ground on a dream house for his college sweetheart, Ally, and their baby daughter, Collins, in Oklahoma City's old-money enclave of Nichols Hills. "Growing up I thought to myself, 'Gawd, those rich bastards,'" Gooch says with a laugh. "It's so crazy, my buddy who's the baseball player for the Phillies, bought a house about a block and a half from where we're building and we talk about, 'I can't believe we've turned into those people.' We never imagined that we would be thinking about private school for our kids and stuff like that. We're kind of disappointed in ourselves, but it's also cool."
During this year's West Coast swing, Gooch began having conversations with LIV Golf. He was intrigued from the very beginning. He insists he initially committed to play only in the first event, the week before the national championship in Boston. "I wanted to still stay sharp for the U.S. Open," Gooch says. "I wanted to get a tournament in that week." This is slightly disingenuous, as he could have played the PGA Tour stop in Toronto, which is less than a two-hour flight from Boston, rather than crossing the Atlantic. And the contract that became part of the public domain was dated May 28, a full week before LIV London began. The Tour had made it clear it would suspend any members who competed in a LIV event, but Gooch believed that might be brinkmanship. "I knew of the possibility of what could happen [if I played in London]," he says. "And I know this is unprecedented times, but the Tour has never reacted in that way in its history." It should be noted that shortly after the London event, Gooch parted ways with his longtime agent, a hint at behind-the-scenes discord.
Gooch finished ninth in London, earning $580,000, and he enjoyed the freewheeling energy compared to the Tour's buttoned-down vibe. He caught the LIV charter straight to the U.S. Open and could feel all the eyes on him on the driving range at The Country Club. "I felt like the hot chick," he says with a smile. "It was funny. It was unlike anything I've ever experienced." Only the most sleepless Golf Channel viewer can tell Aaron Wise from Davis Riley from Denny McCarthy, but suddenly Gooch was somebody. "Talor always always wanted to be in the limelight in professional golf," McGraw says. "I definitely think he believes it's good for his brand. Any notoriety must be good, right?"
Suspended indefinitely by the PGA Tour, Gooch committed to LIV shortly after the U.S. Open, where he missed the cut in just his second appearance. His contract includes a non-relegation clause through 2025, meaning he cannot be banished to the Asian Tour no matter how badly he might slump. Of course, with top-10 finishes in his first four LIV events, plus four straight team wins, that seems unlikely. In just five LIV starts he has made $5.85 million, on top of millions in upfront money. (During the TRO hearing, LIV's lawyer let slip that the guaranteed money merely counts against future earnings, but in fact it is more nuanced than that. Each contract is different, and although some do count significant portions of the upfront money as an advance against earnings, a young player with Gooch's leverage could command the guaranteed money as a de facto signing bonus and pocket the subsequent earnings.)
Gooch has batted away questions about Saudi sportswashing by saying, "I don't think that's fair, but also I'm a golfer. I'm not that smart." It should be noted that Gooch had the highest GPA in a high school graduating class of 270, and his mom, Amber, is a lawyer who has specialized in civil rights cases. Speaking more generally of LIV, he says bluntly, "It was a business decision." And business is booming.
This is exactly why Gooch has become such a lightning rod. Of all the shrapnel he has taken from tour stars, he says, "I've never meant anything to them. And so it is wild when I have buddies send me videos back home and they're like, God, can you believe they're saying this about you?" Yet Gooch still has supporters on the PGA Tour, including resident good guy Max Homa, who made a point of playing practice rounds at the last two major championships with Gooch in a show of support. "Talor is one of my closest friends," Homa told me last week. "He has always been there for me and my wife, and he's one of the most talented and underrated golfers I've ever been around."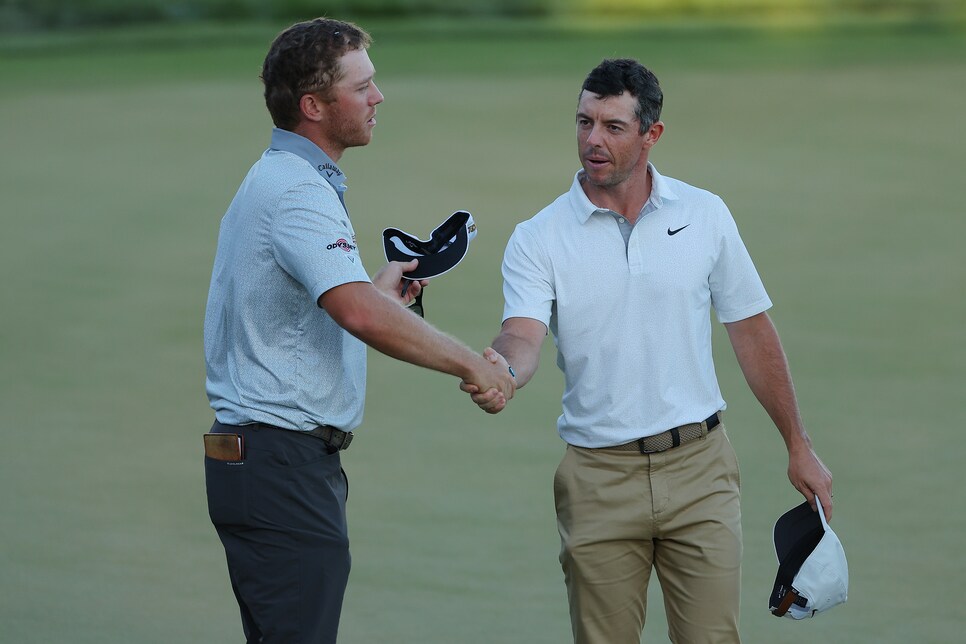 Indeed, Dustin Johnson recruited Gooch to be a member of the 4 Aces. Johnson's career-long agent, David Winkle, who long ago became accustomed to jaw-dropping golf, has made a careful study of Gooch. "He's a throwback," Winkle says. "He's clearly a great athlete with a lot of speed, but he's different from most young players, who try to make the same exact swing over and over. Talor plays all these cool shots—sawed-off irons, chippy little drivers, you name it. He's creative, and it's fun to watch."
That Gooch has become an agent of change is all the more unlikely because he says he venerates the traditions of the game. He insisted that Ally (along with their daughter) travel to the Open Championship so together they could savor the timelessness of St. Andrews. "The majors are the Mecca," Gooch says. "Friday, April 11, 1997, my sister was born and then that Sunday Tiger won his first Masters. So for me, my whole life changed when I saw Tiger in a red sweater, fist-pumping and hugging his dad. From that point on, I wanted to play golf at the highest level. I wanted to play for majors. I wanted to win majors." Preserving his access to the major championships through the World Ranking is why Gooch sued the tour to play in the FedEx Cup and why he competed with so much ferocity at Wentworth.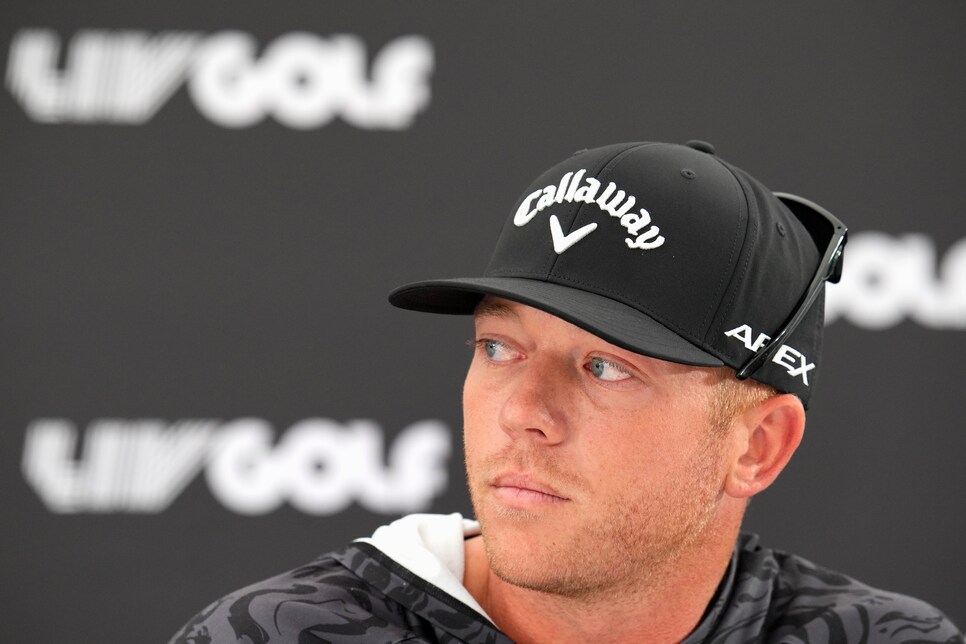 Throwing in with LIV represented a calculated risk. Gooch and Dougherty have had a few heart-to-hearts on the difference between being successful and being great. "He's burning to be great," Dougherty says of his friend. In professional golf, the traditional measure of success used to be the money list, and by this metric Gooch's foray to LIV has already been wildly successful. But on a circuit with 54-hole no-cut events, shotgun starts and guaranteed money, can Gooch become truly great? His walk-off eagle at Wentworth offered a hint. If Gooch has access to the majors, those exacting tests should favor his grit and shotmaking. If he is denied a chance to compete in the game's most important championships, which remains a possibility, we might have to trust our eyes. "That kid is incredible," says Pat Perez, a 4 Aces teammate. "He has everything. He has so much talent it's a joke. The sky is the limit for him."
As long as Gooch remains at the forefront of the game, it will continue to be a gift from the content gods. To fans, reporters, LIV loyalists and the haters on the PGA Tour, Gooch has a simple message: You're welcome.