BMW PGA Championship
Patrick Reed makes a case for why playing for LIV isn't much different than his past dedication to compete in England and Europe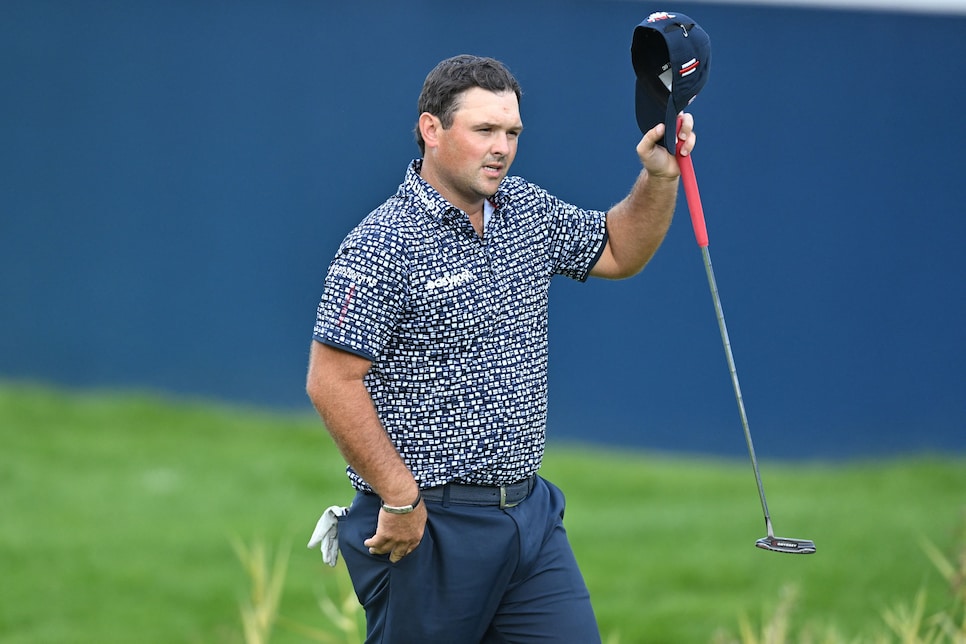 Patrick Reed reacts on the 18th green after shooting 64 in the third and final round of the shortened BMW PGA Championship.
GLYN KIRK
VIRGINIA WATER, England — Amidst all that has gone on and continues to go on in his eternally controversial existence, no one has ever doubted Patrick Reed's ability to play golf. Just about everywhere and anywhere that is. Long before the former Masters champion committed a large chunk of his future to the endlessly lucrative but less-challenging entity that is LIV Golf, he was a member of the European Tour (he is now an honorary member of what is now the DP World Tour). In contrast to many of his compatriots, he was willing and able to test himself on unfamiliar courses that contrasted wildly with the relative sameness of the PGA Tour.
A particular devotee of links golf—he is a past winner of the Junior Open Championship—the now-32-year-old Reed clearly enjoys the variety of golf by the seaside and the amount of time the ball necessarily spends on the ground rather than in the air.
"I enjoy the different questions we get asked on a links," he says. "There are like 10 different ways you can play every shot. So you have to commit to one way and allow all that other noise in your head to escape. In that respect, links golf is more mental than physical. On tour, we all have the physical talent. But the winner is always the guy who can really believe the ball will fly a certain number and let it run to the hole. Or the guy who can hit a shot so far off what appears to be the correct line, yet know that the ball will get back to the flag."
None of which has anything to do with the nine-under-par 63 Reed shot at Wentworth on Sunday in the final round of the BMW PGA Championship. The wind was almost non-existent, the ground soft underfoot. In other words, conditions were set up perfectly for low scores. And Reed took advantage. As did playing partner, Lee Westwood, who shot 65. The pair combined for a better-ball score of 58, one or other making birdie on each of the last nine-holes. It might not be the most interesting form of the game, but Reed can clearly do hit-and-stick as well as bounce-and-roll.
Still, it wasn't for details of a round that contained only one 5 (on the 18th) that Reed was asked to speak to the press. Inevitably, he was quizzed more on his experiences off the course at the end of a controversial week marked by conflict between those of a LIV persuasion and those more inclined to an establishment view. And, as ever, Reed was stout in his defense of the Saudi-backed circuit that has done so much to upset professional golf's equilibrium and insistent that his trips across the Atlantic continue to be filled with nothing but fun and laughter.
"The guys have been supportive and acting the same way to me as if whenever I was playing on the PGA Tour," he said. "I feel like we have a mutual respect, the guys on The European Tour and myself. I've consistently played over here since 2015, whether in this tournament, a Rolex Series or a regular European Tour event. So I've shown my support consistently. The fans were great this week and very supportive. Which is nice because I plan to continue coming to England."
Indeed, in contrast with Westwood and Ian Poulter, and at the request of DP World Tour chief executive, Keith Pelley, Reed made didn't wear his LIV Golf-logoed clothing.
"LIV worked really hard to get clothing for me to wear this week," he said. "That shows not only respect for the sponsors but the respect they have for me as a player. There's a picture out there of me on Wednesday with a logo on. But I got my clothing literally an hour and 40 minutes before I teed off on Thursday. It was awesome that we were able to get that done.
"At the end of the day, I hope all the tours work something out and get together. There's no point in all this going back and forth and people smearing other people because it does nothing for us, does nothing for the brand and does nothing for golf. We need to allow the guys to play, be competitive and do what we do best. That's play golf and allow us to take care of ourselves."
He wasn't done there either. Repeating a familiar refrain, Reed pleaded the case that playing the DP World Tour and LIV is no different from a schedule combining DP World and PGA Tour events.
"I've played on two tours my whole life, my whole career," he insisted. "I've played on the PGA Tour and European Tour at the same time. I don't see any difference between me playing the PGA Tour and here and playing on LIV and here. LIV only have 14 events next year, which means I'll be over here more. Guys are like, oh, you joined LIV to play a lesser schedule. Well, I'm a guy that's played 31 to 34 events a year. So if I played 14 on LIV and I play six here, that's 20 and 11 to 14 extra weeks I can spend time with my family. As a player, I hope the tours do the right thing and allow us to play but at the end of the day that's not our decision."
There was time for one more question, one that was only mildly loaded: If it were to happen, how did Reed think the world would react to a LIV player winning here this week?
"The guys that are on LIV are really, really good golfers," he pointed out. "I'm sure there would be some kind of media s--t storm That is the easiest way to put it. But, that being said, it would be no different if it was last year and the same guys were playing the PGA Tour, would it? At the end of the day, if you take everything away—all the hoopla—it would be just another top player coming over and winning a golf tournament. There's no big media frenzy when a European comes over and wins on the PGA Tour. And when Billy [Horschel] won here last year it felt like the same as if a normal player won from over here. I don't think there should be anything different in terms of reaction. It just shows that the LIV guys are still ready to play and hungry for competition."