LIV Golf
Phil Mickelson might drop out of LIV Golf suit against PGA Tour, per report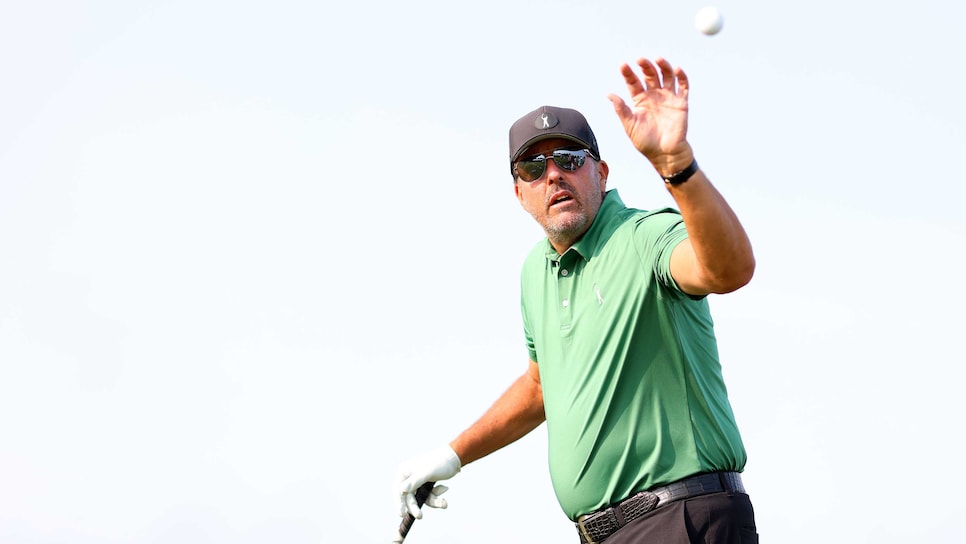 Phil Mickelson plays a shot on the driving range during the pro-am prior to the LIV Golf Invitational - Chicago.
Chris Trotman/LIV Golf
The 52-year-old World Golf Hall of Famer insisted that there was additional money that PGA Tour officials could be using to benefit players and improve the product, but was unwilling unless pressed to do so. Forced, then, to counter the insurgence from LIV Golf so as not to lose more players to the fledging circuit that Mickelson helped bring to market, PGA Tour officials will now offer 12 "elevated" events in the 2022-23 season with $20 million purses each while players will compete for $415 million overall. There also will be $100 million awarded to the top 20 players in the Player Impact Program, $75 million in bonuses from the FedEx Cup and all fully exempt players will be guaranteed to make a minimum of $500,000.
"I think the fans are getting a lot of benefit out of this, and all golfers, all professional golfers are getting a lot of benefit," Mickelson said two weeks ago while competing at the LIV Golf Invitational outside of Boston. "The guys on the tour are playing for a lot more money. It's great that they magically found a couple hundred million; that's awesome. Everybody is I think in a better position now than they were a year ago."
"Now that LIV [Golf] is involved [in the suit], it's not necessary for me to be involved,'' Mickelson told Sports Illustrated on Thursday ahead of this week's LIV Golf Invitational event at Rich Harvest Farms outside of Chicago. "I currently still am. I don't know what I'm going to do, really."
Since the original court filing, four players (Carlos Ortiz, Pat Perez, Abraham Ancer and Jason Kokrak) have dropped out of the proceedings but, as Mickelson references, LIV Golf itself has joined as a plaintiff. It's the latter decision that apparently has Mickelson thinking he now might step aside from the legal matter.
"The only reason for me to stay in is [monetary] damages, which I don't really want or need anything," Mickelson said. "I do think it's important that the players have the right to play when and where they want, when and where they qualify for. And now that LIV is a part of it, that will be accomplished if and when they win.''
Part of the reason for withdrawing might have to do with just how long the trial is likely to run. The date set for a summary judgement filing isn't until July 23, 2023. And the earliest a trial is likely to begin is January 2024.
Among the players still in the suit are Bryson DeChambeau, Talor Gooch, Hudson Swafford, Matt Jones, Ian Poulter and Peter Uihlein.
While the quality of Mickelson golf game has been off since his return to competition, his reward for helping launch LIV Golf has been substantial. In July, Forbes reported that Mickelson's guaranteed money for joining LIV Golf would be $106 million for the year, and when combined with off-course earnings of $36 million, make him the highest-paid athlete in the world in 2022.